With the outburst of the coronavirus threat (186,992 confirmed cases of COVID -19 as of 17 March) currently the world is redefining the whole idea of workspaces. A lot of companies including giants like Amazon, Google, Facebook, and Twitter have taken the threat seriously and announced that their staff is going to work from home to avoid spreading the virus. So, telecommuting is gaining even more traction.
Does that mean that the efficiency of remote work is bound to be lower? Of course not. Efficient work has long been associated with staying late in the office while working remotely has been linked to poor communication, longer responses, postponed results, and, which is more important, to the loss of control. However, the experience of the many giants has revealed the immense pros of staying away from offices. For instance, they are a higher retention rate, access to broader talent pools, and a better life-work balance, etc.
With the undeniable benefits of remote work, many people have now found themselves at a loss because of this new experience they are facing due to the quarantine restrictions enforced by the government in many countries to prevent the contamination of other areas with the virus. So, our article is going to focus on helping you prepare and successfully navigate in this possibly new world for you – working from home.
Tips for Efficient Telecommuting
We have prepared a list of tips to allay any uncertainties and worries to help you see the great potential of working remotely.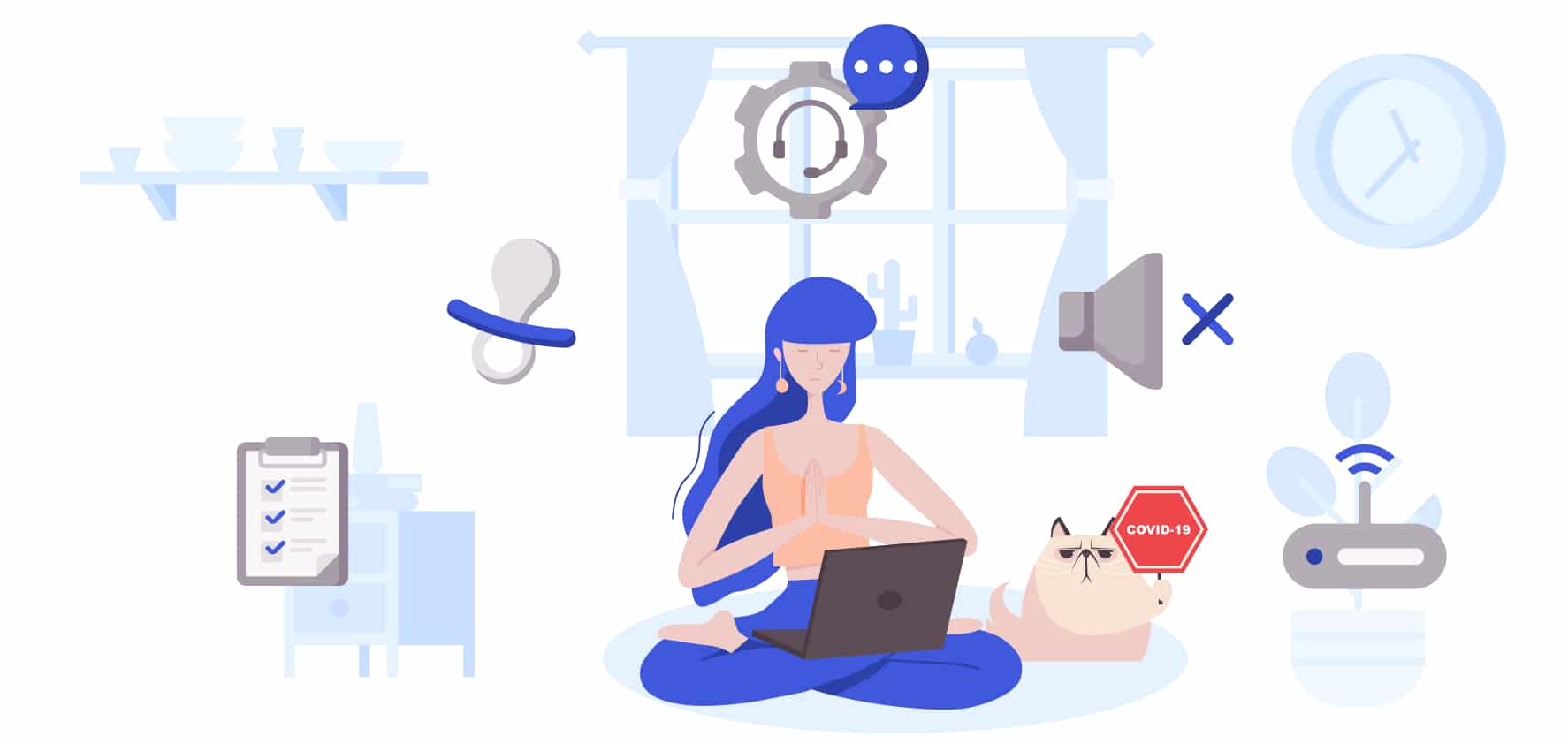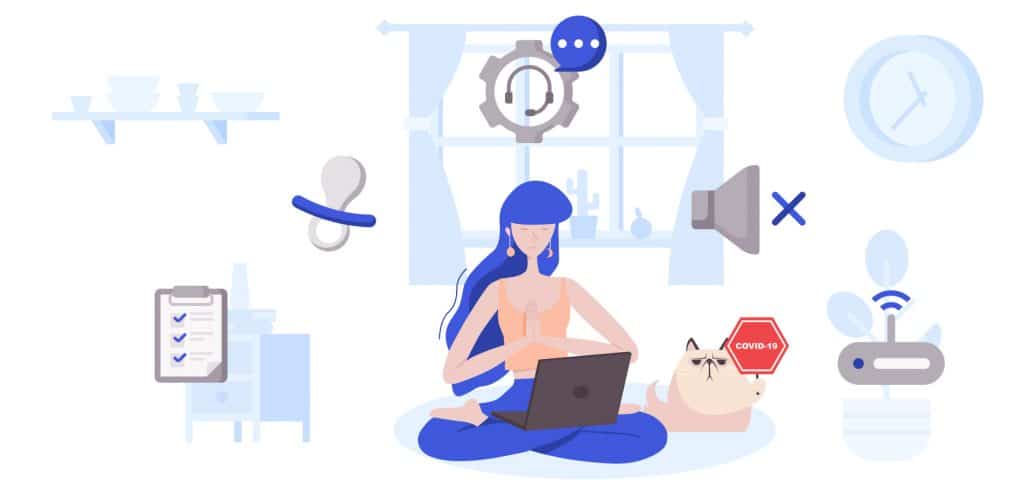 1

Set Up All the Tech at Home

Technology makes remote work possible. Laptops, for instance, make you more flexible. So, make sure to grab a charger and a mouse if you are using your device from work.
Unless you have a laptop at work and you are planning to work remotely for quite a long period of time (like in case of COVID-19 quarantine), you can ask your employer/supervisor to allow having your PC transferred to home.
2

Check the Software

Besides having the hardware taken care of, it is also really important to make sure you have all the applications needed to work remotely successfully. Also make sure they are up-to-date to avoid wasting time during work.

The most common tools for seamless telecommuting are Slack, Skype, Trello, and Zoom. Ensure the whole team agrees on the selected instruments and has them set up on their computers. We recommend checking you remember your passwords and these tools are not restricted by your home network security settings.
3

Take Care of the Bandwidth
Bandwidth is really important when it comes to working remotely. Since it is recommended to limit nonessential meetings, everyone is moving to online video conferences, which requires uninterrupted connection.
If your Internet bandwidth is not enough to maintain a high-quality teleconference, you could consider shutting down all the other programs and switching off the video.
If you do use the video, make sure to find the right spot where the Wifi signal is the strongest and the background is not distracting. (By the way, skype has a feature of blurring the background if you don't want anyone to see what is at the background).
4

Set Ground Rules with the Kids Beforehand

Another often disregarded point is kids. When they are at school or in kindergarten, there is basically no problem. But if they are on holiday or a quarantine, you should think about some rules ahead of time.

Make sure to explain to your children that at certain hours you will be out of reach and need them to be quiet or ask someone to keep them busy to avoid any interruptions during important meetings.

You can also plan some educational activities like learning tasks, apps, games, and books.
5

Create a Morning Routine

Setting a schedule is one thing, but it is not the same as getting yourself to get down to work in the morning. Think of what normally signals you about the beginning of the working day: be it a cup of coffee, a walk outside or just changing your clothes. Such a routine can help you set your mind to the working mode faster.
6

Stick to Regular Working Hours

It is important to set your working schedule and follow it. Make sure to start and finish your day on time to not overwork and maintain a healthy work-life balance. Avoid the temptation of being online all the time not to have a burnout.

If your schedule requires adjusting to another time zone, arrange your day accordingly. Check out Time Zone Trouble: How to Manage Teams Effectively Across the Globe.

You can also use time tracking apps or a CRM system that will help you log your time. Such tools can also help you define your most productive hours to schedule your hardest task.
7

Set Aside Time for Lunch and Breaks

Scheduling your lunch time and time for breaks is important. First, this will allow you to switch offline without interrupting the working process. You can snooze the notifications in the applications or set a status that you are not available. Avoid the temptation of answering during that time and make sure to respect the other colleagues during this time.
8

Avoid Distractions

Make up a short list of distractions you may be tempted with at home. Keep it in your sight and set a reward for yourself for not going for them during your working hours. For instance, you can log out of all your social accounts (or use an Incognito mode) and remove all the shortcuts to the entertaining resources from your desktop because we are used to surfing them at home and it is easy to fall into that trap because nobody is watching.

Moreover, avoid the temptation of diving into the fridge all the time and making endless cups of coffee. This will do no good to either your productivity or even health.
9

Make a Plan for the Day

It is very helpful to create a to-do list before the beginning of the working day. Having a list of tasks in front of your eyes helps you stay focused and avoid wasting time on figuring out what to do next. You may still need to be flexible as some more urgent tasks may pop up, but following the agenda is also a very good practice.
10

Set Up Your Working Space

Many people face the temptation to work in bed. This is not the best idea. You should separate work from rest.

Take care of the space you are going to work in. It should be comfortable, silent, you should be able to maintain the right posture to avoid health issues. So, pick the spot with a good chair at a well-lit space and make sure your monitor is positioned properly to not strain your eyes and cause you to slouch.
11

Be Accessible

Since effective communication is vital for seamless working processes, it is really important to agree on the frequency of communication. Some people leverage chatting too much. However, this method is quite distracting and less efficient. You can agree to reply at least once an hour or so. This will help people how to plan their activities and when to expect the answer, which will eliminate a lot of stress and pressure.
Final Thoughts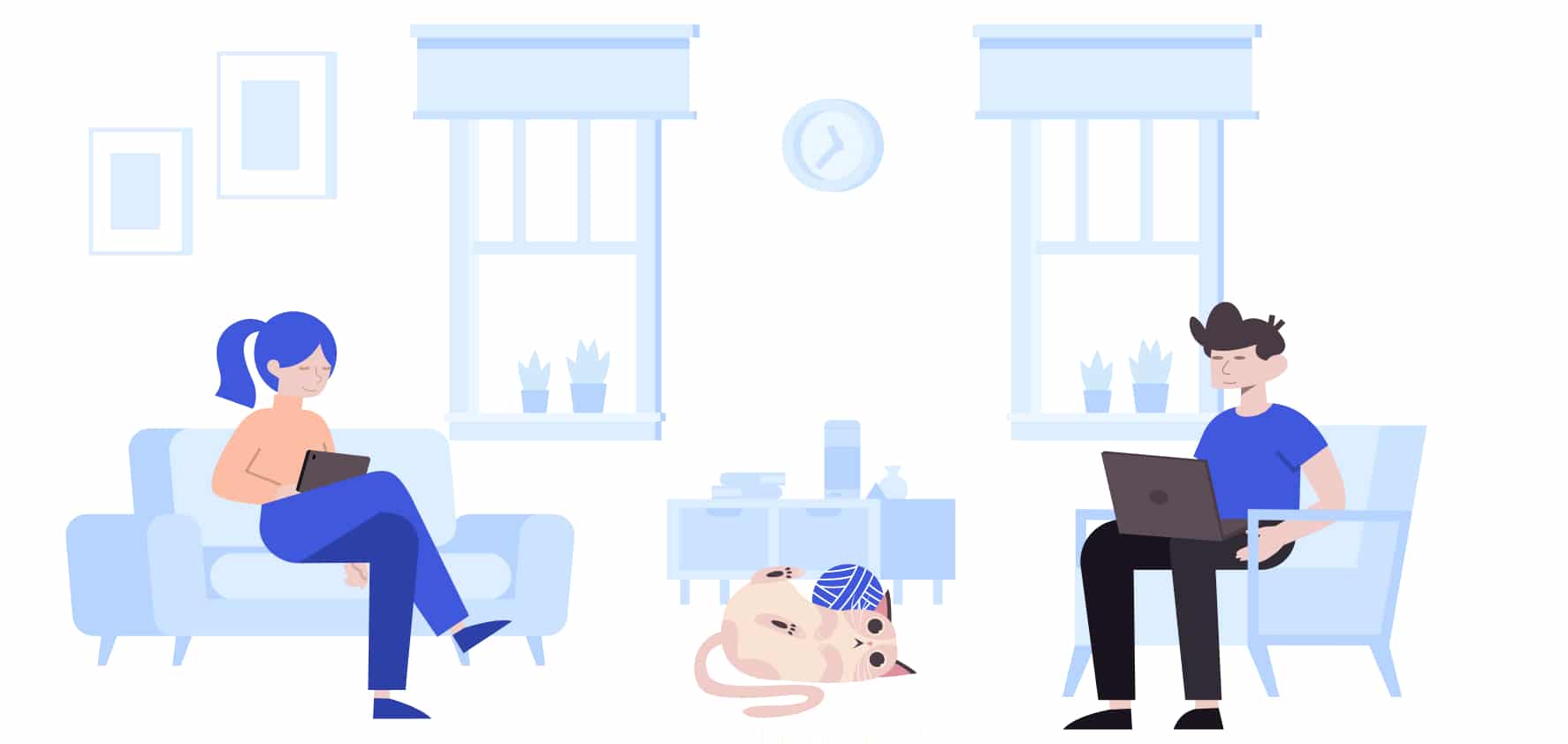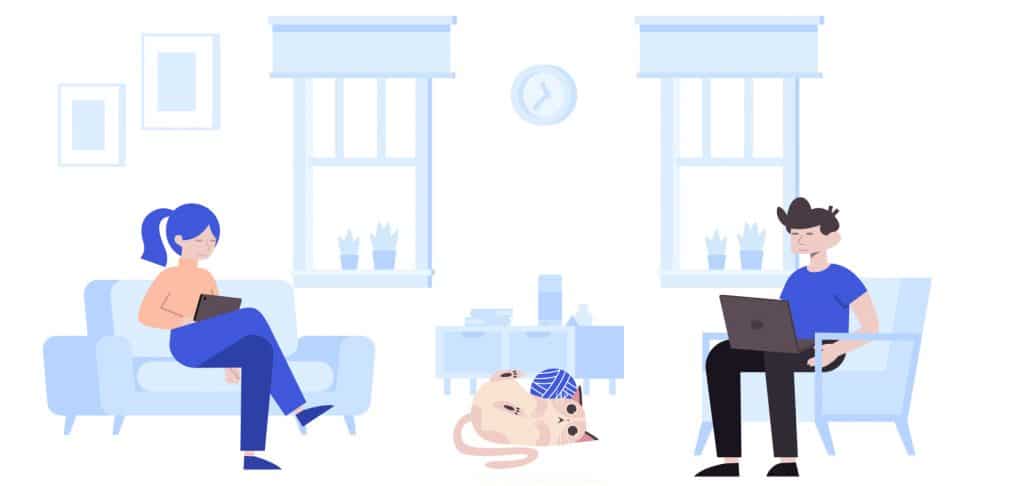 As you can see, it is quite easy to arrange efficient work from home if you just make a little effort and apply some self-discipline.
Unfortunately, current circumstances are forcing us to stay at home. But let's try to look at the bright side – this may as well be a new stage of development and we will see not only problems but positive sides of telecommuting such as more time with the family, no wasted time on transportation, and more working day flexibility. This may lead to companies hiring remote staff or teams more.
If you have any questions as for how we arrange our remote work during this pandemic, make sure to contact us and we can share this with you.