Anti-Conference #TRUKIEV 2017 in Kiev
November 17 – Kyiv. This date could have become another ordinary day in our HR's life but for the anti-conference TRUKIEV 2017 held by Indigo to mark their 10th anniversary.
This happened to be a breath-taking event loaded with fruitful discussions and brilliant speakers from Ukraine, Belarus, the Netherlands, Germany, Hungary, the UK and the USA.
Katerina dashed from the station right to the facility and arrived right in time to catch the 'UnArtists' workshop by Igor Zabolotnyi, CEO and founder of Artscribe. He visually demonstrated the use of scribing for filling vacancies. He kept amazing the audience with his incredible graphical and analytical skills throughout the event.
At the very beginning, the attendees faced 4 empty sheets with the sketches of the speakers. See what they turned into in the end.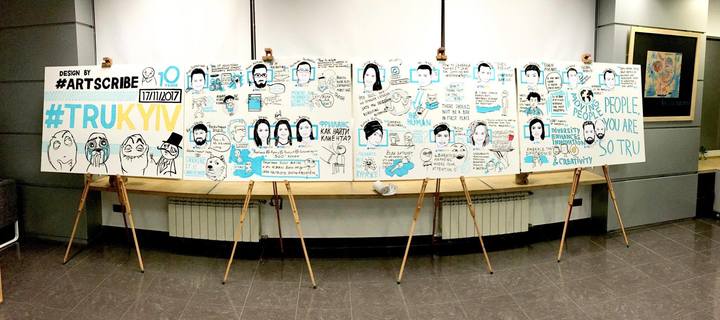 The role of AI in recruiting was also discussed. Mostly everyone agreed that chatbots are useful in eliminating drudgery at the sourcing and selecting stages although robots are not particularly good at assessing soft skills and still need a human operator.
There was also a presentation from the recruiters representing freelance, agency and outsourcing about the pros and cons of working as a recruiter in these type of employment.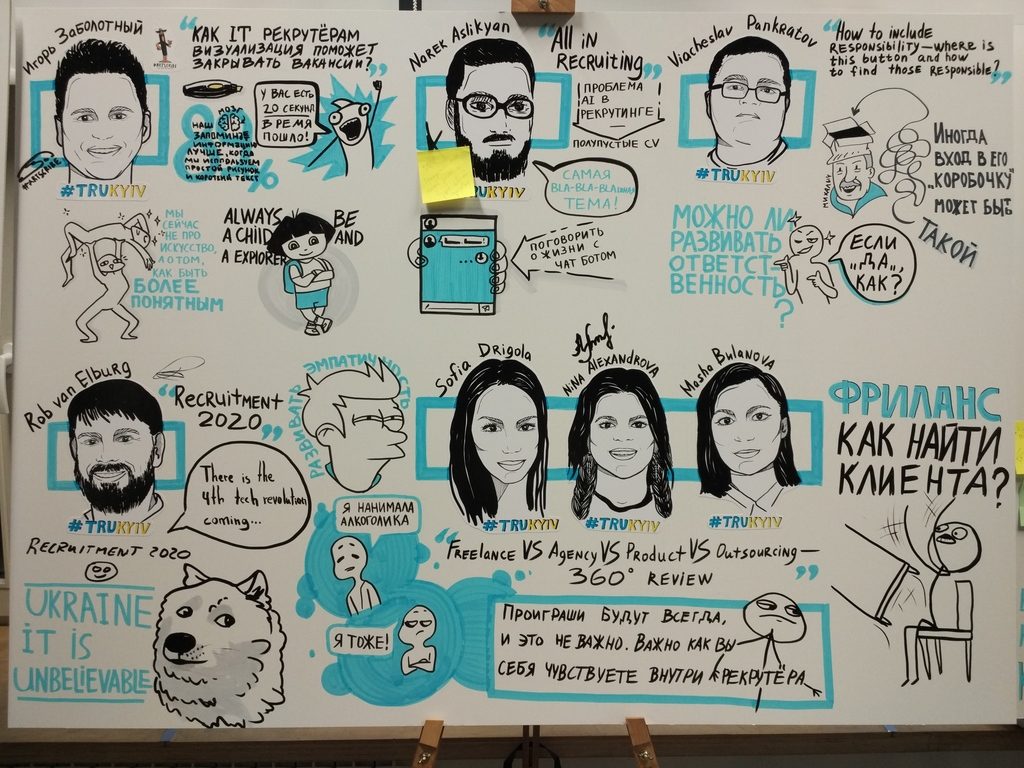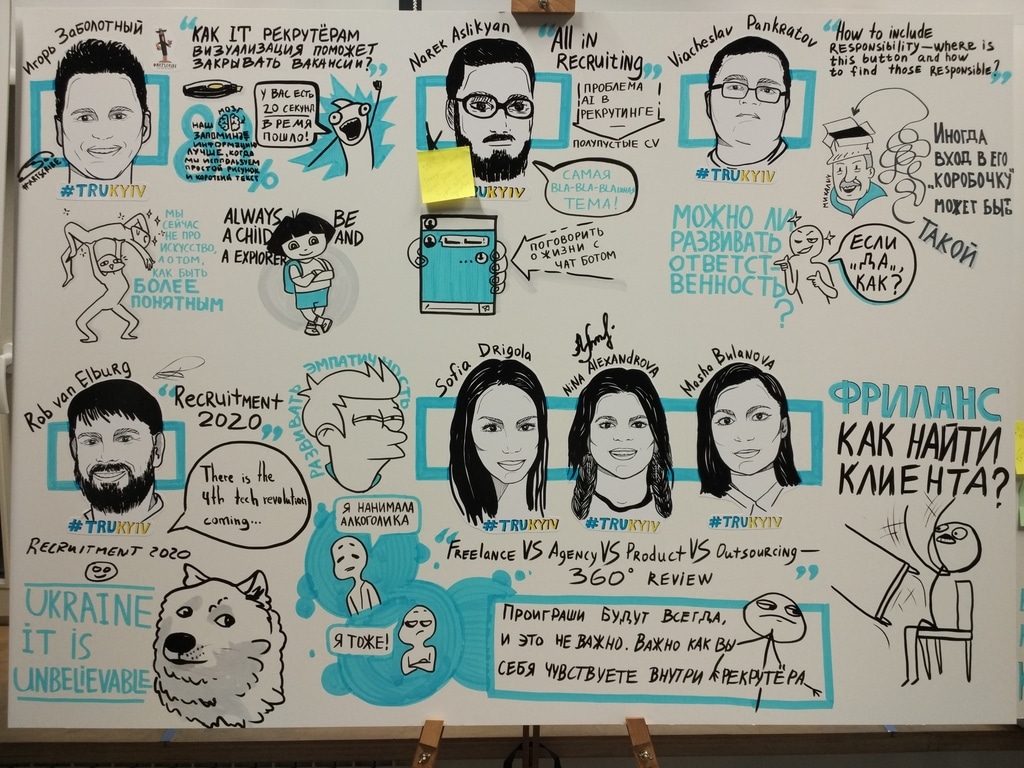 USEFUL LIFE HACKS
Besides the important food for thought, the attendees also discovered useful hints on how to hire an alcoholic or a drug addict, which happened to cause an unexpectedly hot discussion.
One of the most beloved topics was Content Recruitment. Kseniya Kutsaya spoke about different ways of presenting job offers, all of which having their advantages and disadvantages. Everyone concluded that the text should be as sincere and transparent as possible. These are the offers that normally resonate with people. It is also great to shoot video job offers to demonstrate your friendly staff and facility.
Be all blaster. Even if you get pranked, it's fine, it's even OK.
Ekaterina Vasilenko made a point at "Digital in Recruiting" that both recruiters and HRs should possess the same soft skills as Sales Managers do. They need to spread the brand awareness and promote personal brands.
Create personal brands. Ignite talents and stars.
On top of that, our Katerina was excited by the atmosphere at the Open format discussion with Anna Stetsenko. There was a hot discussion about what matters more: personal brand or reputation development. Our HR advocated for personal brand promotion, by the way.
Now we are ready to use new recruitment techniques to attract the best candidates to our company.
So, if you are willing to join our team, please contact us directly at https://attractgroup.com/career/.