Bid4Ask – a Cryptocurrency Exchange Application
Today I would like to tell you about an interesting project we are currently working on. It is a convenient instrument for managing investment portfolios and the center of stock analytics in the crypto world.
We like keeping up with trends and taking up new challenges. Bitcoin and other virtual currency have recently become a hype. Anyone who feels like it dwells on the pros and cons of this virtual currency. Our loyal client (for whom we have released and are supporting a few projects) happened to be the one who advocates for "the currency of the future".
He struggled to get through the jungles of different cryptocurrency exchange markets and platforms with their uncontrolled crypto-anarchy. He was trying to get hold of this whole blockchain system and analysis on his own. However, the entire calculating process turned out to be very time/energy-consuming.
So, he came up with a brilliant idea of creating a bespoke unified platform to facilitate exchange and margin calculations, apply predictive analytics and make them available in one place. Later in the fall, he contacted us to put his business idea into practice.That is how it all started.
How It All Began
It is worth mentioning that the story of our cooperation with the customer began long before in March 2015 when he contracted us to develop a small (as we thought so then) piece of software performing simple calculations, which later turned into a massive 18-month-long financial project – an intellectual business management system.
Our cooperation turned out to be so successful that about 8 months later here we are working on another interesting project.
Just like the first time, he came with just a raw idea – 1 screenshot + 3 tables and little understanding of the whole scope of the project.

Nevertheless, after a lot of talks and trials, we finally managed to develop "the big picture" and created a detailed specification. Now our customer has rather a clear plan for future development and monetization.
Having received the first requirements we got round to discussions. After splitting the task into smaller ones, we divided them between sprints (we use Scrum methodology to manage our projects).
At first, we developed mockups to make sure we understood what our customer really wanted. We had many discussions (actually still do). Sometimes the customer thought he needed some feature but after implementing it, he changed his mind. Nothing special, just a working process.
We faced different challenges but were always able to create the best solution. For instance, one of the most problematic cases we had was calculating margins. We tried many different formulas before coming up with the one that reflects the marginality most accurately.
Besides, there have been a lot of interface versions in the project. So, let us have a look at what it looks like now.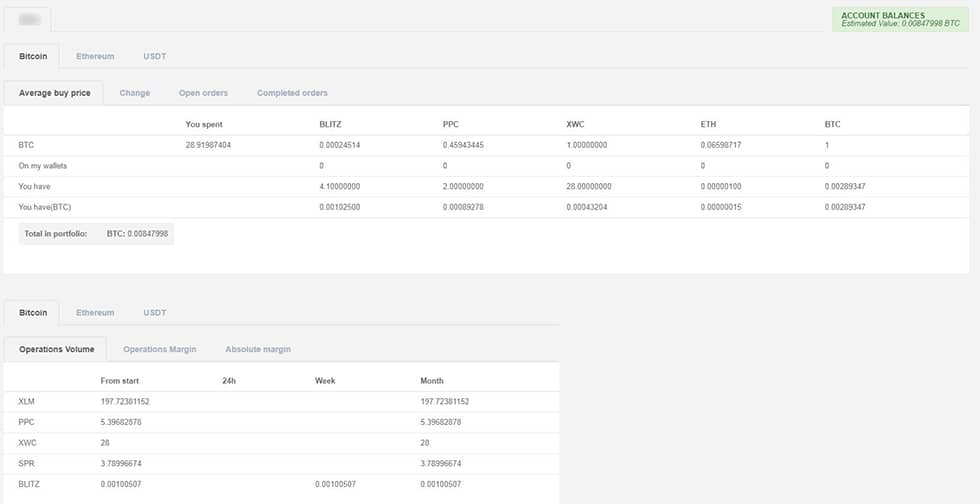 Features as They Are
Overall, the benefits of the system boil down to 3 basic tabs:
Dashboard:
Operations Margins (in %);
Operations Volume (data about total purchased and sold currency over a selected period of time);
with Average Buy Price and Change (alterations in the price of the selected currencies)
Absolute Margins (in currency).
2. Exchange Monitor (describing the current situation at the exchange market);
3. Trade Monitor (showing the dollar rate decrease in the currency pair using "Japanese candlesticks").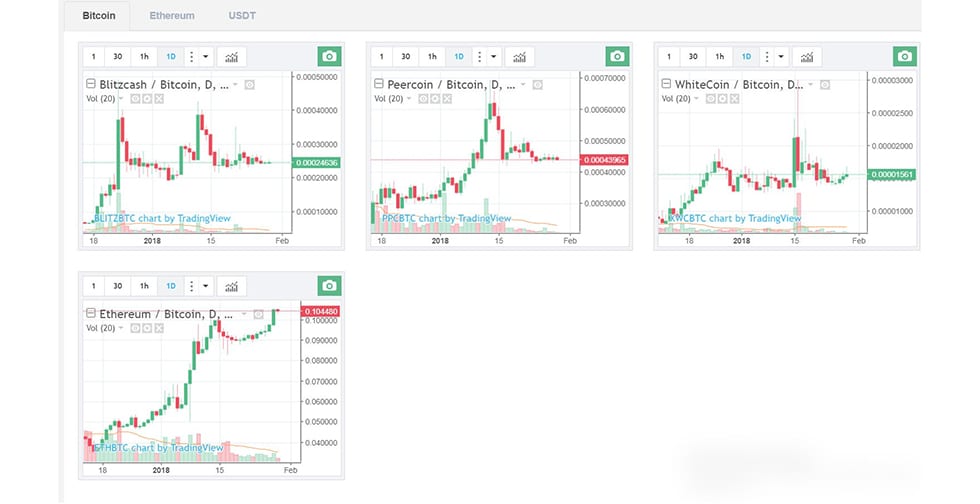 Moreover, Account Balances box at the top right corner is a great asset for the exchanger since it gives them real-time data about the current balance status in any currency they set as a default. It serves as a great time-saver; now our customer does not have to perform multiple calculations and conversions to figure out his margin and whether he is in the black!
In addition, you can create as many portfolios as you wish without having to switch between accounts and monitors or tabs.

We have also developed a bot which creates orders to buy or sell specific currency based on your instructions. You can set top and bottom limits after which a certain operation should be performed.

High-Flying Plans
The ambition plans of our customer go much beyond – to unite about 10 cryptocurrency exchange markets. We are soon setting about including Bitfinex, and other popular exchange platforms.
It is also important to make it available to all the users. So, Android and IOS apps are on the way. Besides, we are planning to put a lot of thought into UX/UI design to make the user experience unforgettable and smooth.
The platform will be blockchain-based to ensure its decentralized stability. Its extremely secure nature will facilitate arbitration from the unified center following the aggregation principle. We will arrange uberization of the trade. The project will turn into an analytical and rating center of cryptocurrency trade.
Final Accords
To sum up, we are fully enjoying our current project and are glad to be in the thick of things. Current trends never go unnoticed in our company. We like embracing challenges and applying cutting-edge technologies.
So, if you are ambitious in your business and looking for a company to give you a competitive edge in the world of cryptocurrency exchange, we are here for you!