In recent months, Clubhouse has been all the rage. Since its release in March 2020, despite invite-only membership, the app has garnered 10 million+ users globally. Its rise is being spurred by endorsements from celebrities like Elon Musk. This phenomenon highlights the appeal of live audio chat for the modern audience. However, the concept of Clubhouse is nothing unique. Here is a closer look at such solutions and their development.
The pandemic has led to a surge in social media use, and the statistics are spectacular. According to We Are Social's Digital 2020 October Snapshot, over 4 billion people use networking apps each month. In the global context, this translates into a 53% penetration rate. A measly 11% of all internet users avoid social media. Every day, these networks register around 2 million new members.
Willing to develop a social app like Clubhouse?
Drop us a line and let's discuss your idea.
This is a convincing background for networking product development. Facebook and dating apps are now commonplace, and their content moderation policies are controversial. Users of spontaneous voice apps share ideas, exercising their freedom of speech.
On the other hand, these apps play on the fear of missing out. Audio chat discussions are not recordable — users need to be online to listen and participate.
This popularity is not limited to the US: Clubhouse is now the most downloaded app in Germany, Japan, Turkey, and Slovakia. So, how to develop a social networking app to leverage this trend?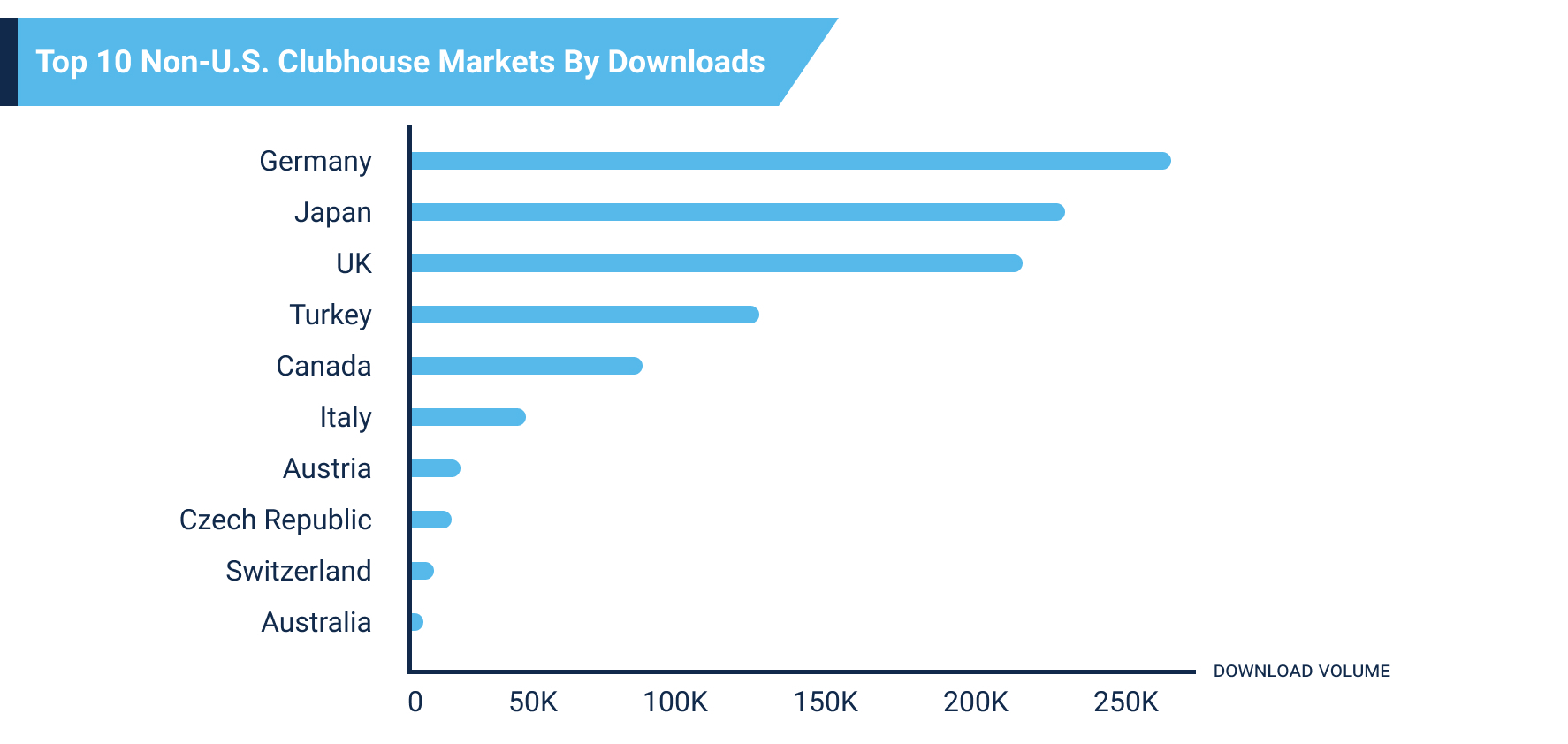 What Is a Clubhouse?
Clubhouse is a minimalist app. It is built around voice chatting: You may host and join discussions via your phone. There are no videos or pictures aside from profile photos, and text is very limited. Audio is at the core — in a sense, using Clubhouse is like joining a live podcast. Let's now get down to the nitty-gritty.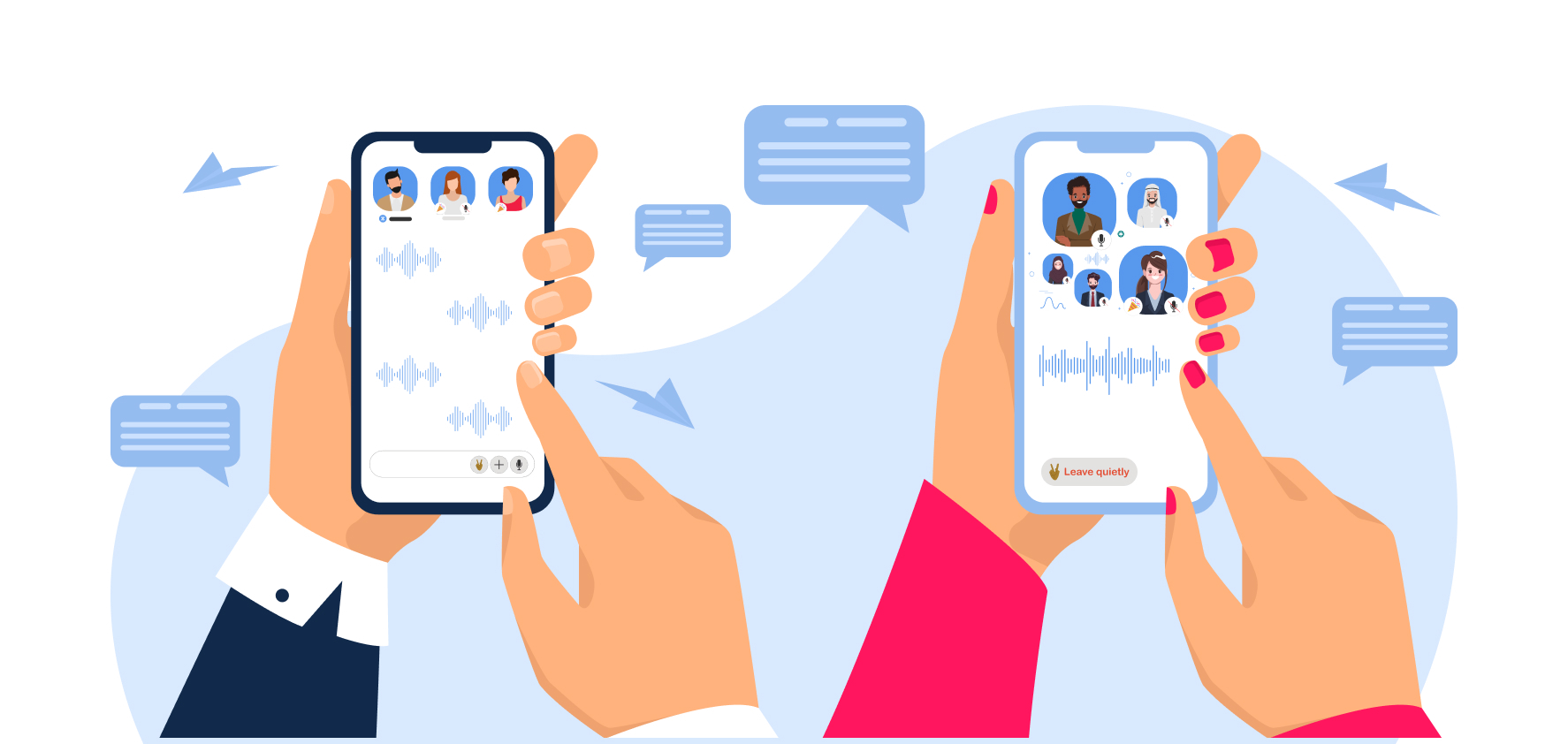 Once you open the app, you see a list of "rooms" — i.e., discussion groups. You may create your own or join an existing one. Each room is dedicated to a particular topic, and its key speaker is usually a pioneer or expert in this domain. Importantly, there is no way to save conversations.
The app started gaining traction after celebrities as Oprah and Drake registered on it. The audience has since expanded to social media personalities and podcast hosts who communicate with their peers and followers. Over time, the app has seen spectacular growth: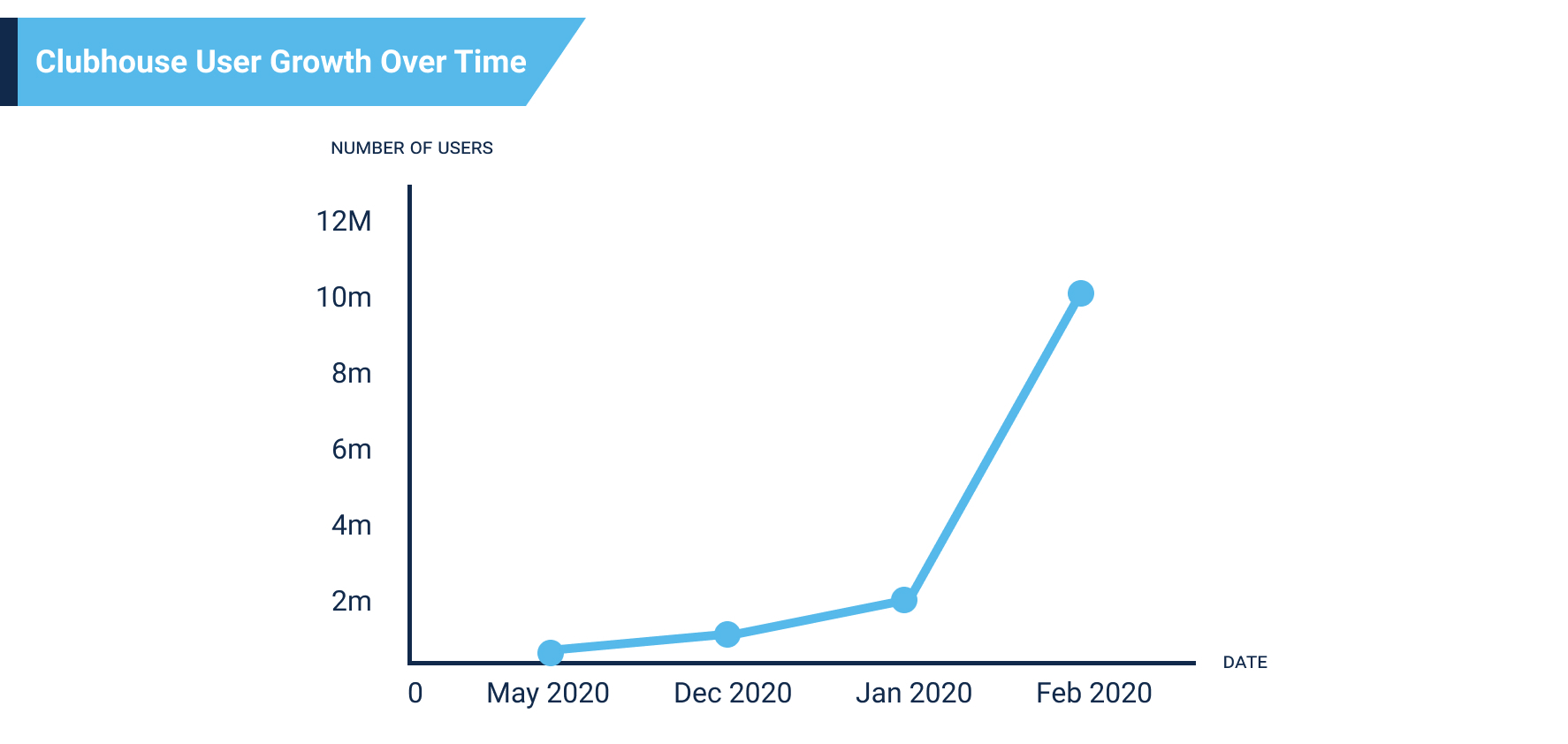 The exclusivity of access and the ephemeral nature of discussions are major selling points. On the one hand, high-profile members feel more secure. On the other hand, they need not worry that something they say will become headline news. The fact that a Clubhouse conversation cannot be recorded is a major advantage over Instagram Live.
Essential Clubhouse Features
To understand how to create a social networking app, consider the key functionality of Clubhouse. Although voice chat is minimalistic, the range of features is broad. To make the app convenient, its creators have included the following.
1

Onboarding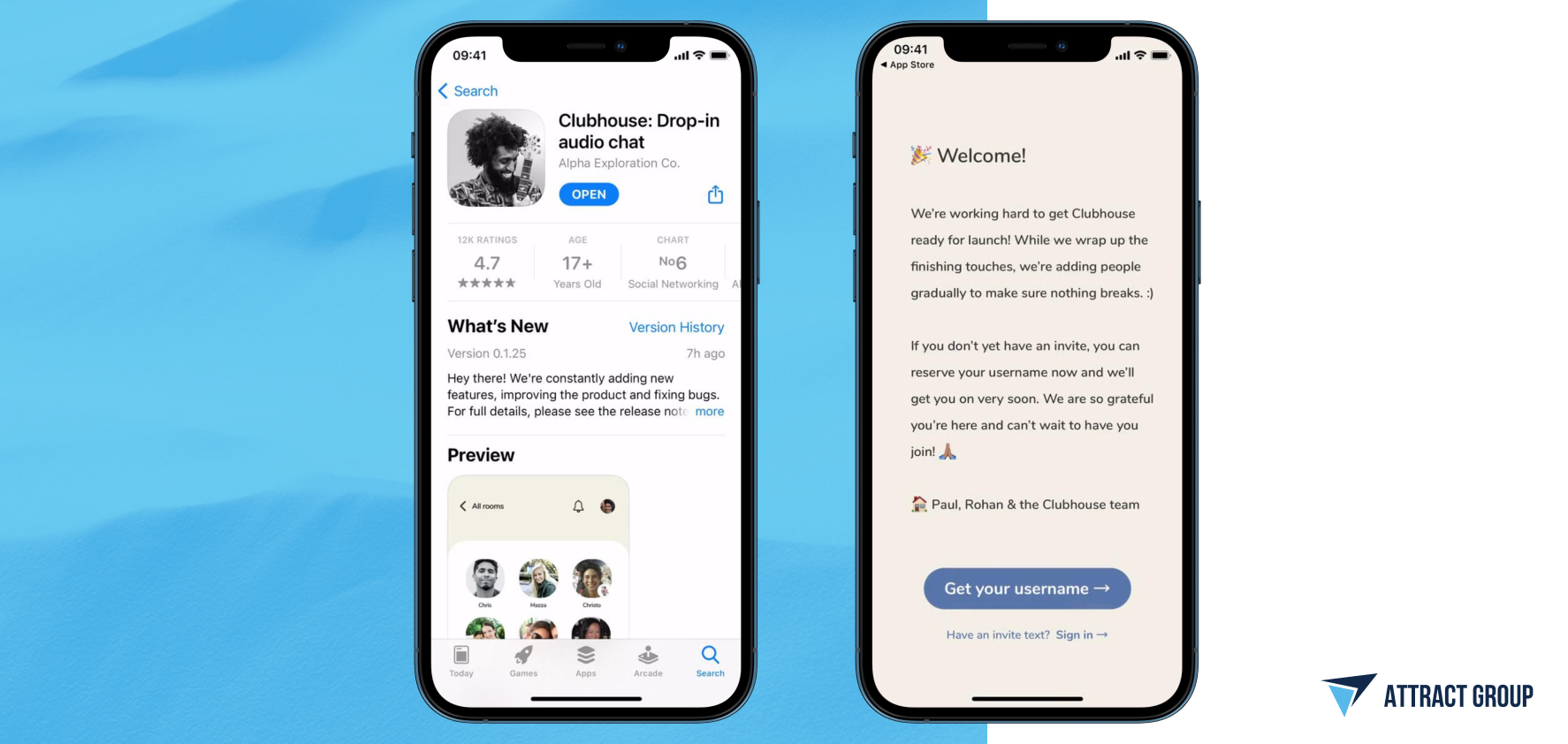 You can only become a member via an invitation from someone who is already on the app. After a click on the invite link, you will see a welcome message from the Clubhouse creators. To register, you need to enter your real name and submit a profile photo. Once your request is verified, you can pick a discussion room. For convenience, all new users are muted, but they can switch on their microphones at any time.
2

Personal Feed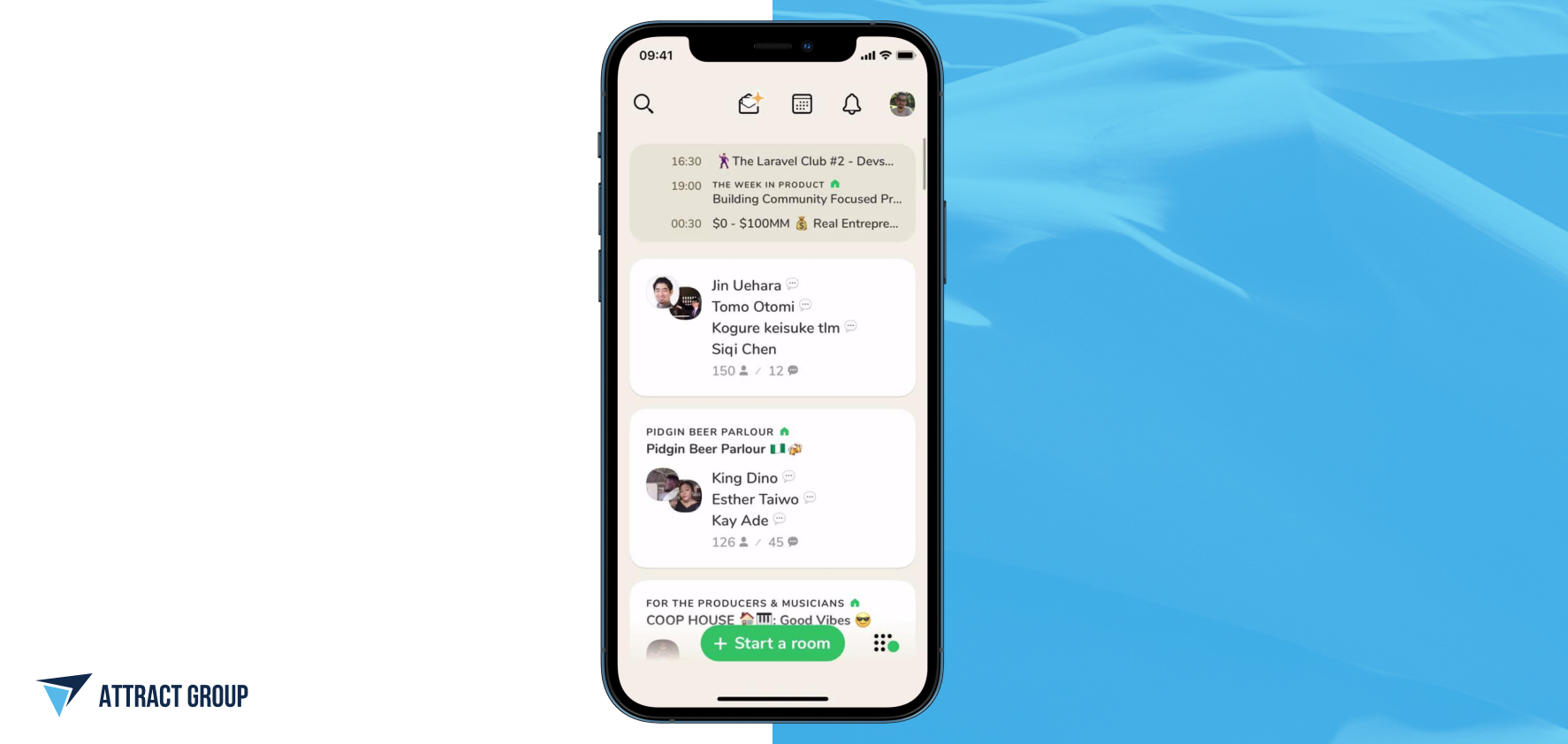 As the app is built around discussions, this is exactly what fills the feed. A user is presented with a list of groups (rooms). For each discussion, the title and its members are visible. At the moment, the most popular topics are politics, business, and networking. After all, the app was originally devised as a platform for the chosen few.
3

Rooms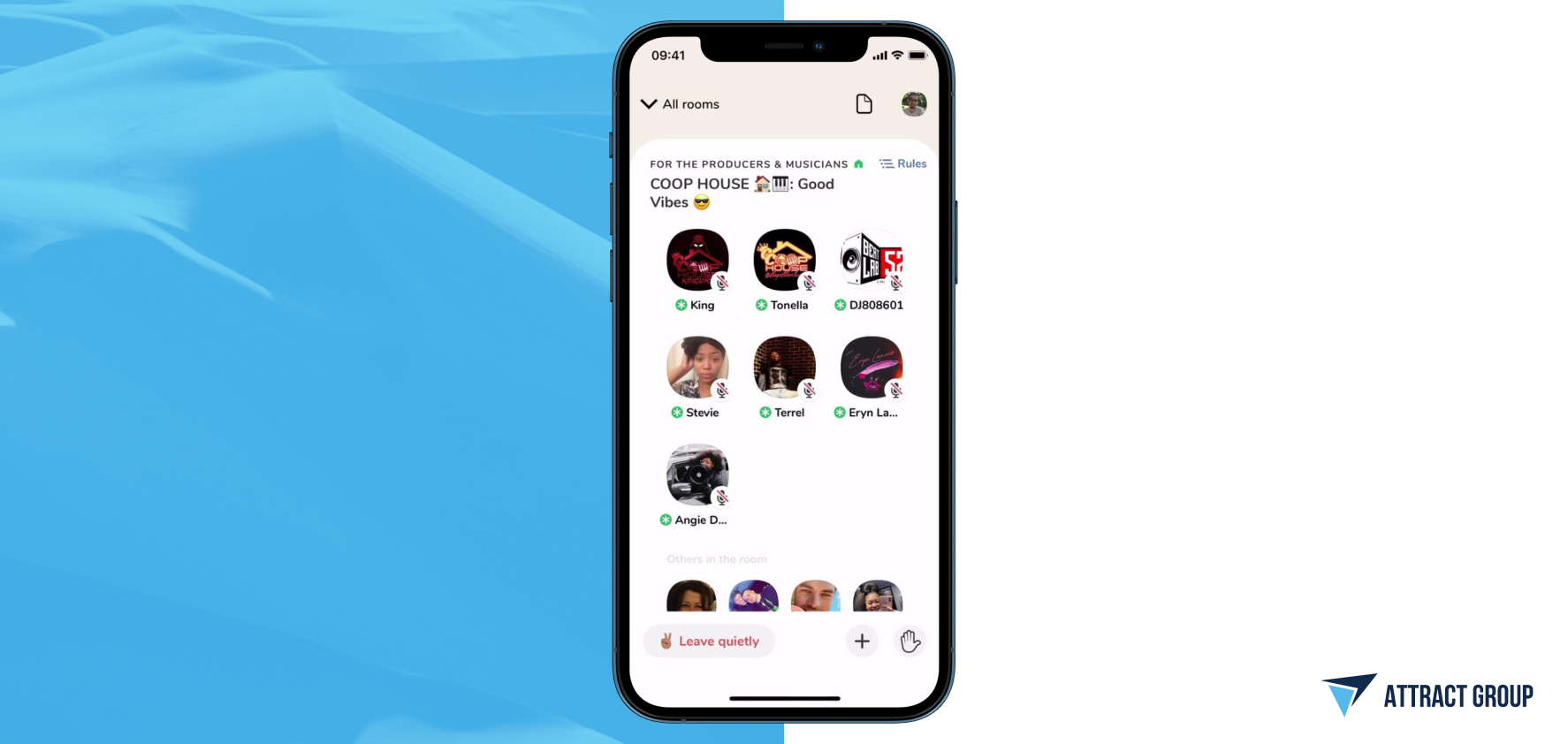 This is where discussions take place. Each room provides digital space for up to 5,000 users simultaneously. They may view existing rooms, join them, or create their own using the "Start" button at the bottom.
All groups are divided into three categories. First, there are "open" rooms, which are accessible by anyone. Secondly, there are "social" rooms for friends only. Finally, some discussions are closed, so your request must be approved by existing members.
Another crucial question for developing a social networking app like Clubhouse is: How do you prevent communication from turning into cacophony? Clubhouse has special rules for discussion management. When a user wants to speak, they "raise their hand." Discussions may be left with or without announcement — there is a handy "Leave quietly" function.
4

Profiles of Users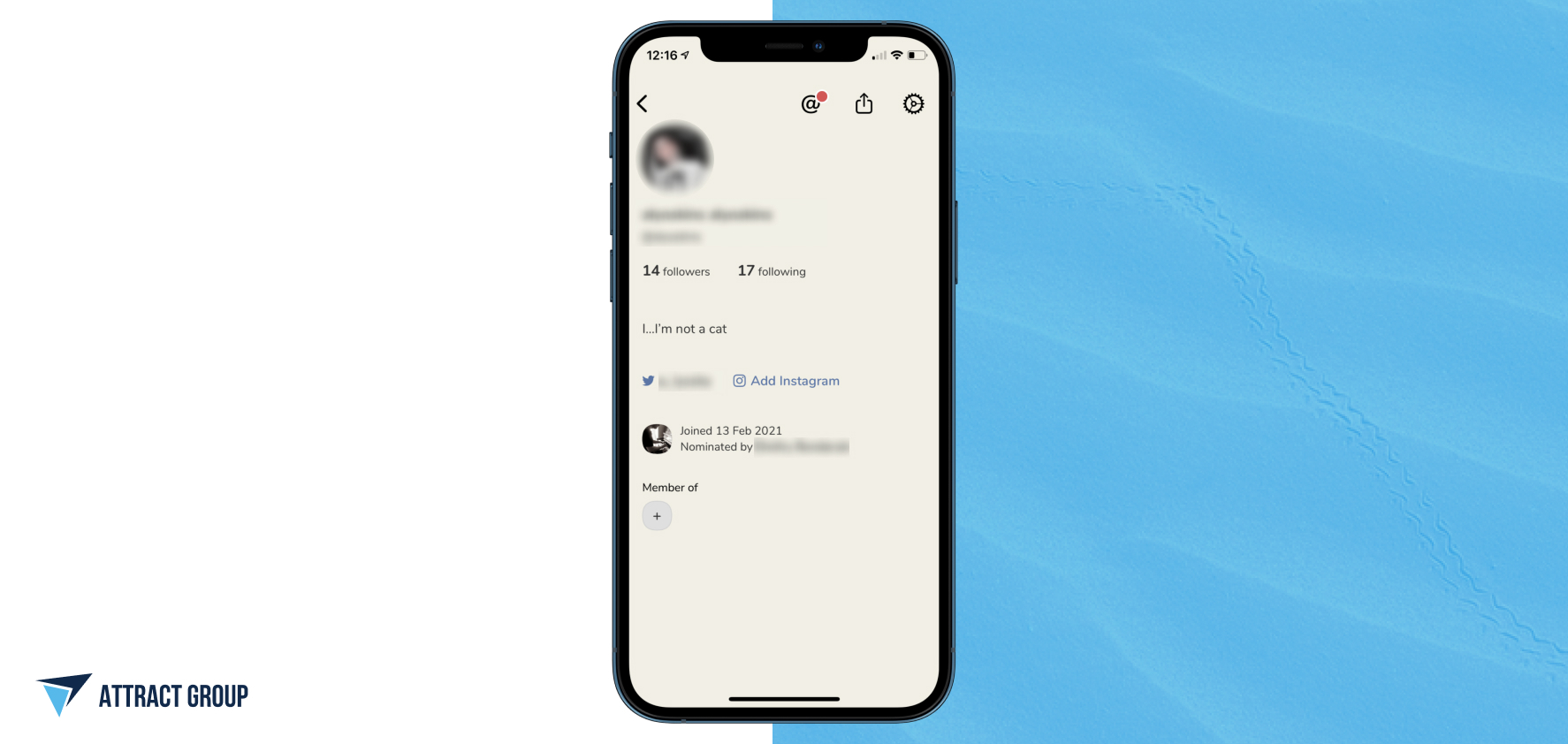 A profile is also basic: There is an image, name, and brief description. Links to other social media platforms (e.g., Twitter and Instagram) are allowed. Inside a room, you may open any fellow member's profile to see what rooms they belong to, their invitations, and the time they were received. In a sense, this is similar to the followers/following duality on Instagram.
Users pick clubs according to their interests and connect to like-minded people, which is reminiscent of Facebook communities. Members can view the list of participants, add new ones, and suggest topics for discussion.
Club creation is a privilege: Newbies are not able to do it until they organize three conversations in their rooms. This requires moderation, and currently, each member can launch a single club only. There are three possible user statuses:
Founders (admins) may add and remove members, amend the rules and description, and schedule private and public rooms. They can invite new users directly via their secret invite link.
Members may open private rooms, view existing ones, and suggest new members.
All followers can do is view public rooms created by the admin.
5

Notifications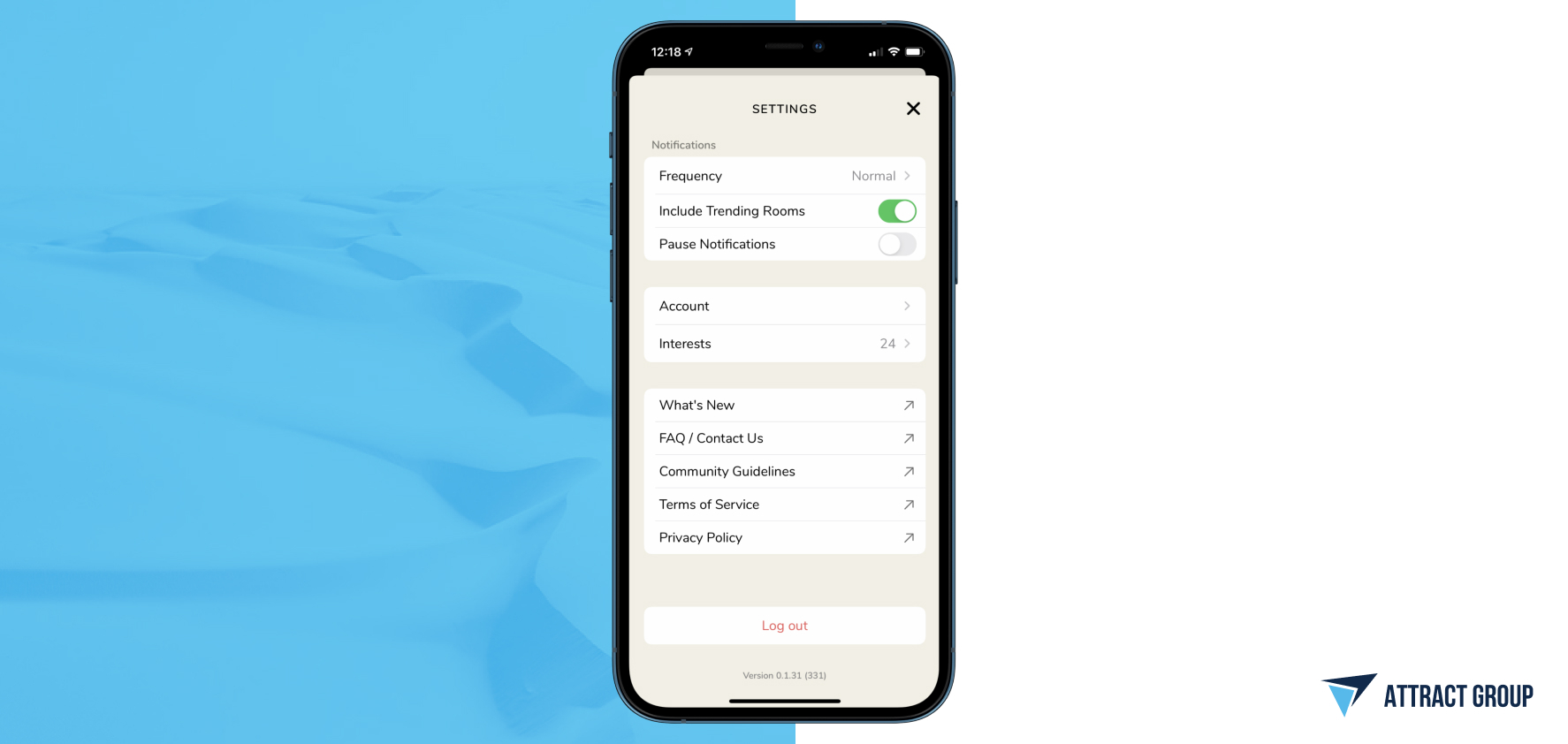 Like any other social app, Clubhouse sends announcements and updates via push notifications. For instance, when someone you follow creates a new room, the app will invite you to view it. If you launch a stream, a notification is automatically sent to all of your subscribers. Next, their own subscribers will learn about your room, and the number of participants will rise exponentially./
6

Activity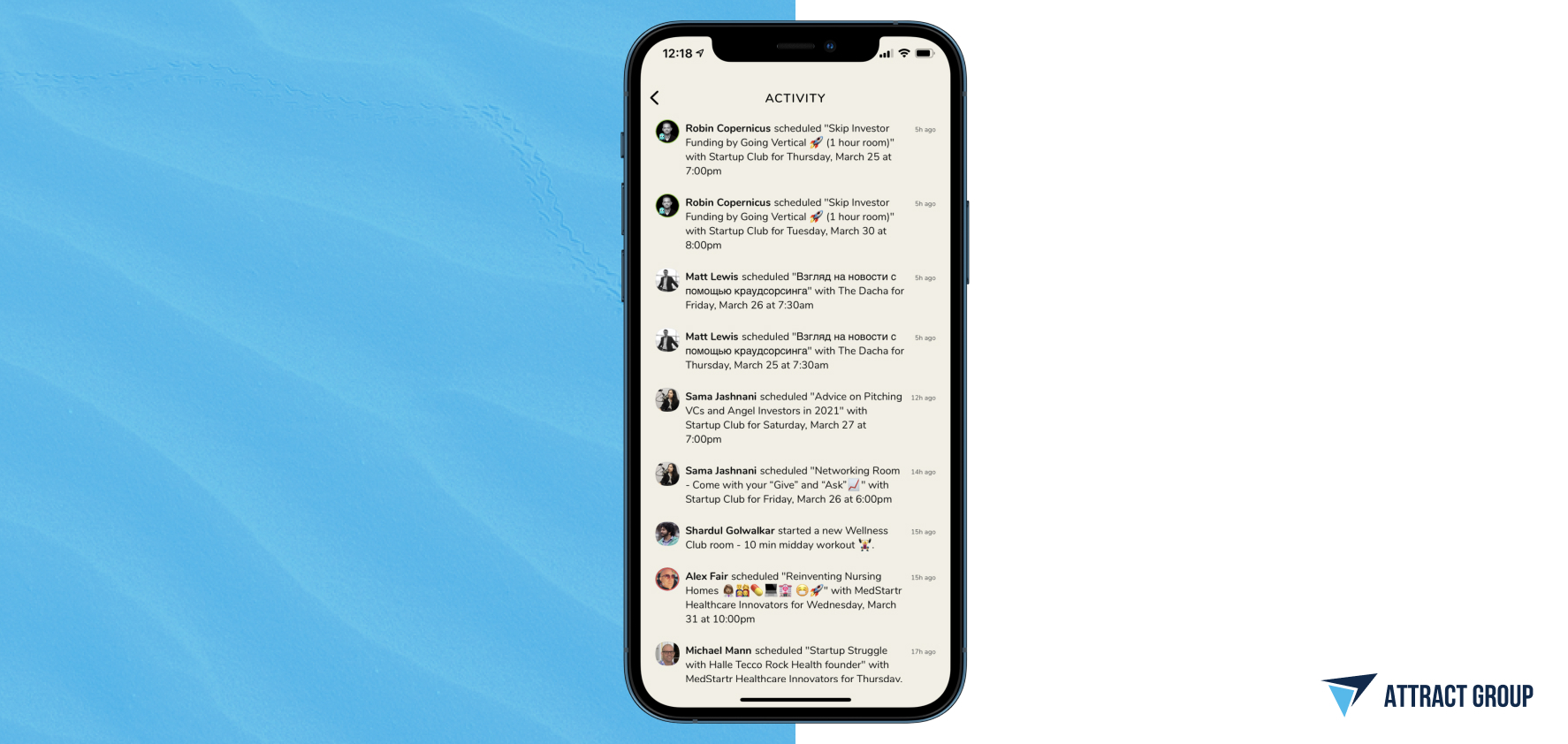 This section lists interactions with a user's account, including their new followers. Users may also see members, the clubs someone has joined, and planned events.
Willing to develop a social app like Clubhouse?
Drop us a line and let's discuss your idea.
76

Search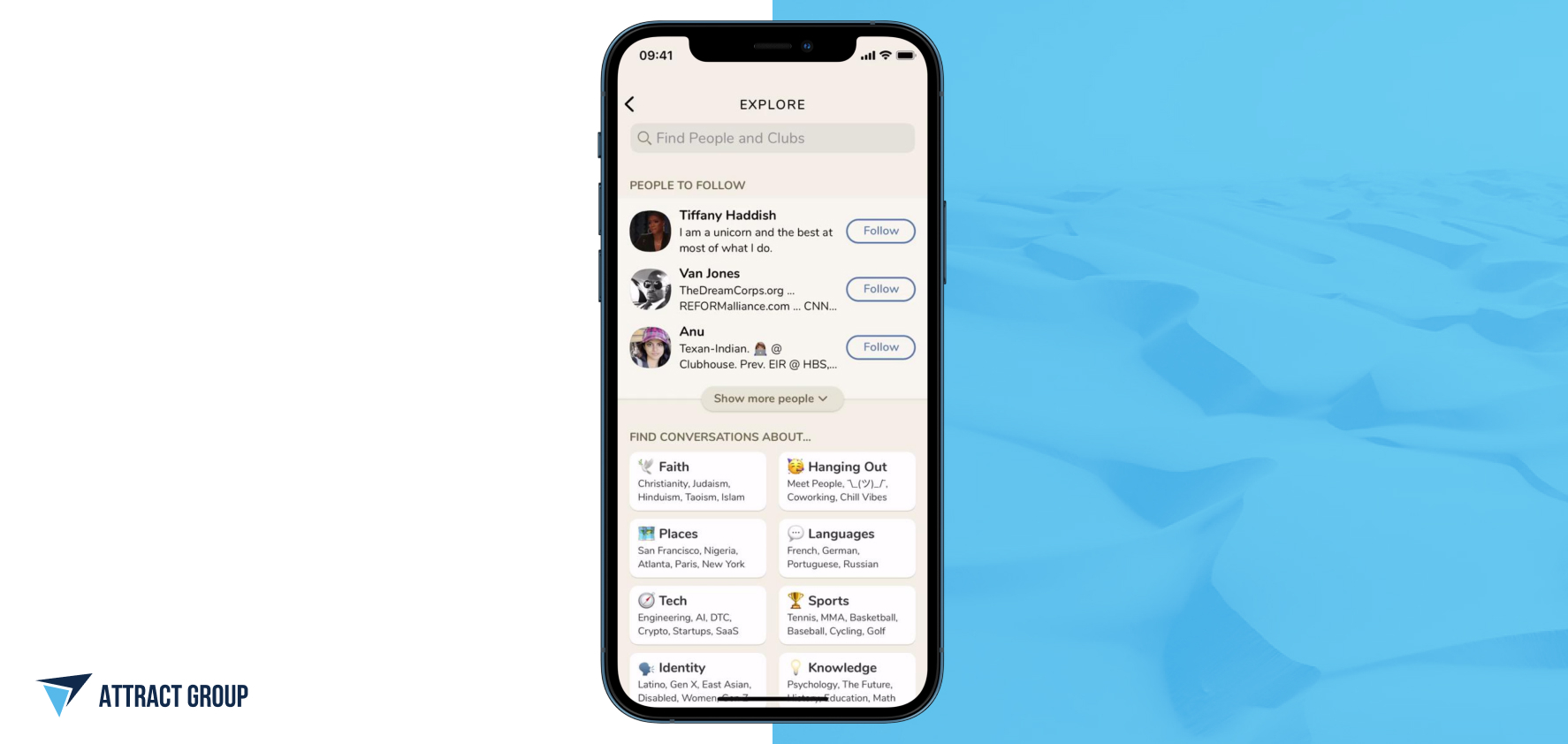 Of course, you cannot omit this function when making a social networking app. Clubhouse members may find groups by topic, or particular users by name.
Upcoming for You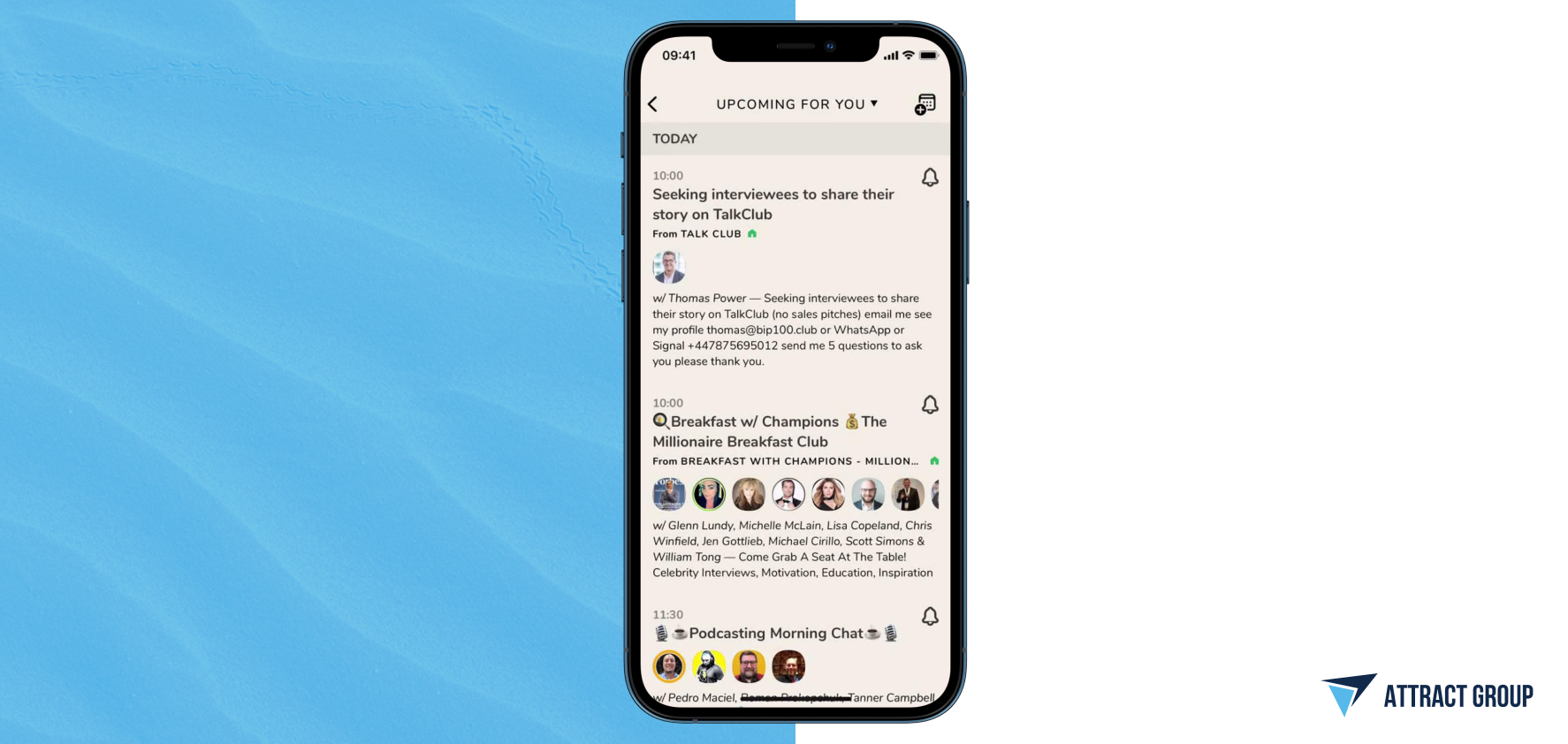 This section shows scheduled discussions. For each event, it mentions the title of the conversation, its planned starting time, the speakers involved, and a brief outline of the topics. Users may plan and add events to their Calendar. Importantly, while some events may be concurrent, you may only choose one for a particular time slot.
How to Develop a Social Networking App Like Clubhouse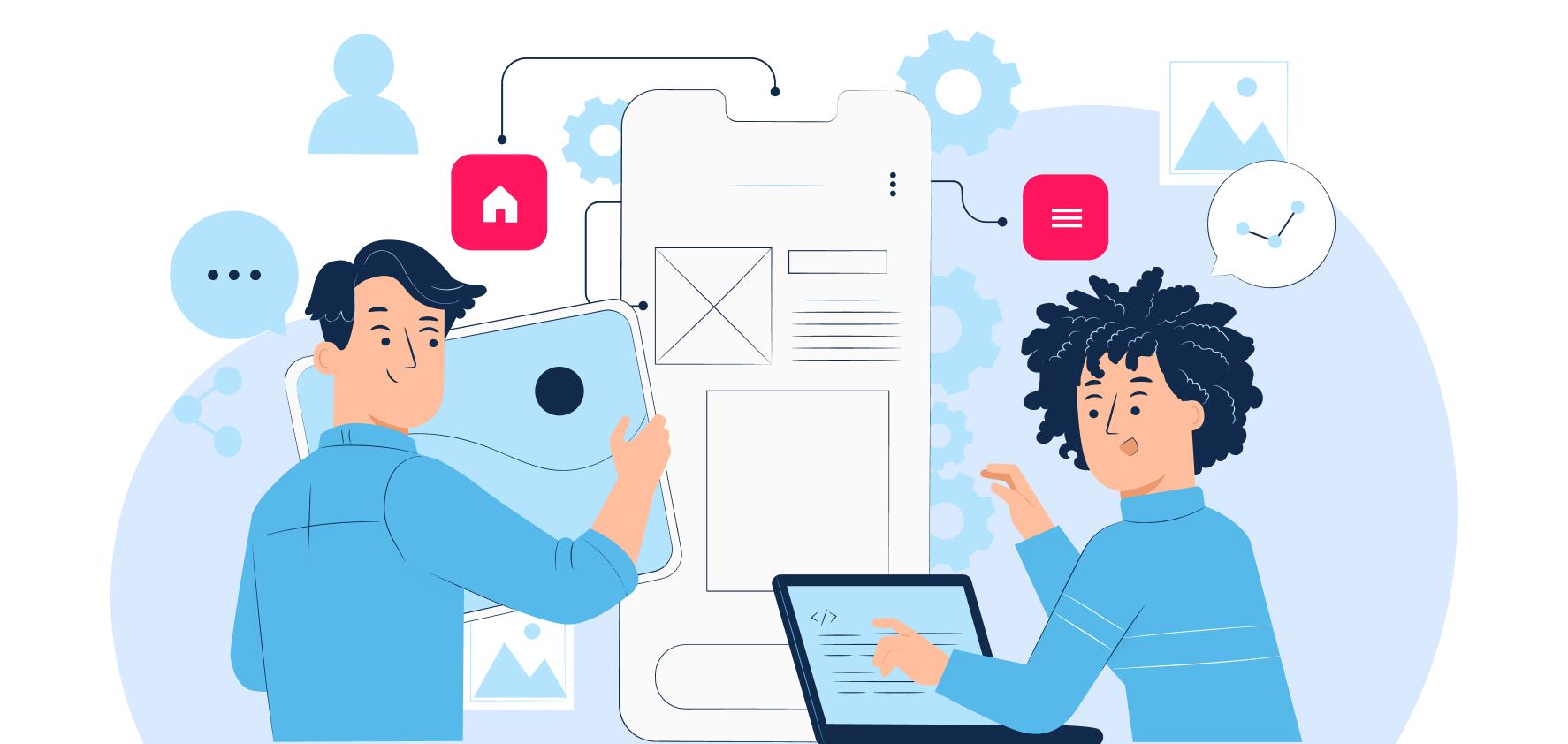 So, how can an app of this type (live audio chat) be developed? The process begins with the choice of the development team. Professionals can build an impressive voice app from scratch based on your requirements, and even submit it to the market, and do further support.
1

The Discovery Phase

The team collects and analyzes data concerning the goals and scope of work, timing, and task implementation plan. This ensures the final product meets the client's requirements and the users' expectations. Following market analysis, the team comes up with a project description and assesses the lead time. Discovery allows developers to establish the necessary solutions, functions, features, platforms, and budgetary constraints.
2

Development and Design

With a clear vision of the core functionality, developers may get down to business. A voice chat app may be designed for iOS, Android, or both. Bear in mind that the tech stacks of each system are fundamentally different.

Wireframing — creating a skeleton of the app — allows the team to lay out the content and functionality. This rough structure is turned into a prototype — a working model. This is the last step separating you from the final design and product. Once the app is ready and released, it is time to invite users and promote it.
Consider an MVP
Building a perfect, fully-featured product from the start is a rare achievement. It is both costly and time-consuming. Instead, the team may build a minimum viable product (MVP) in order to enter the market immediately.
The pilot version of the app will have only the core features (low effort/high impact) so the first users may try it and give feedback. Subsequently, the developers will enhance the product, adding features to a better user experience and appeal. This approach will allow you to develop an audio social media app like Clubhouse and have it get noticed more quickly.
Develop a Social Networking App: How Long Will It Take?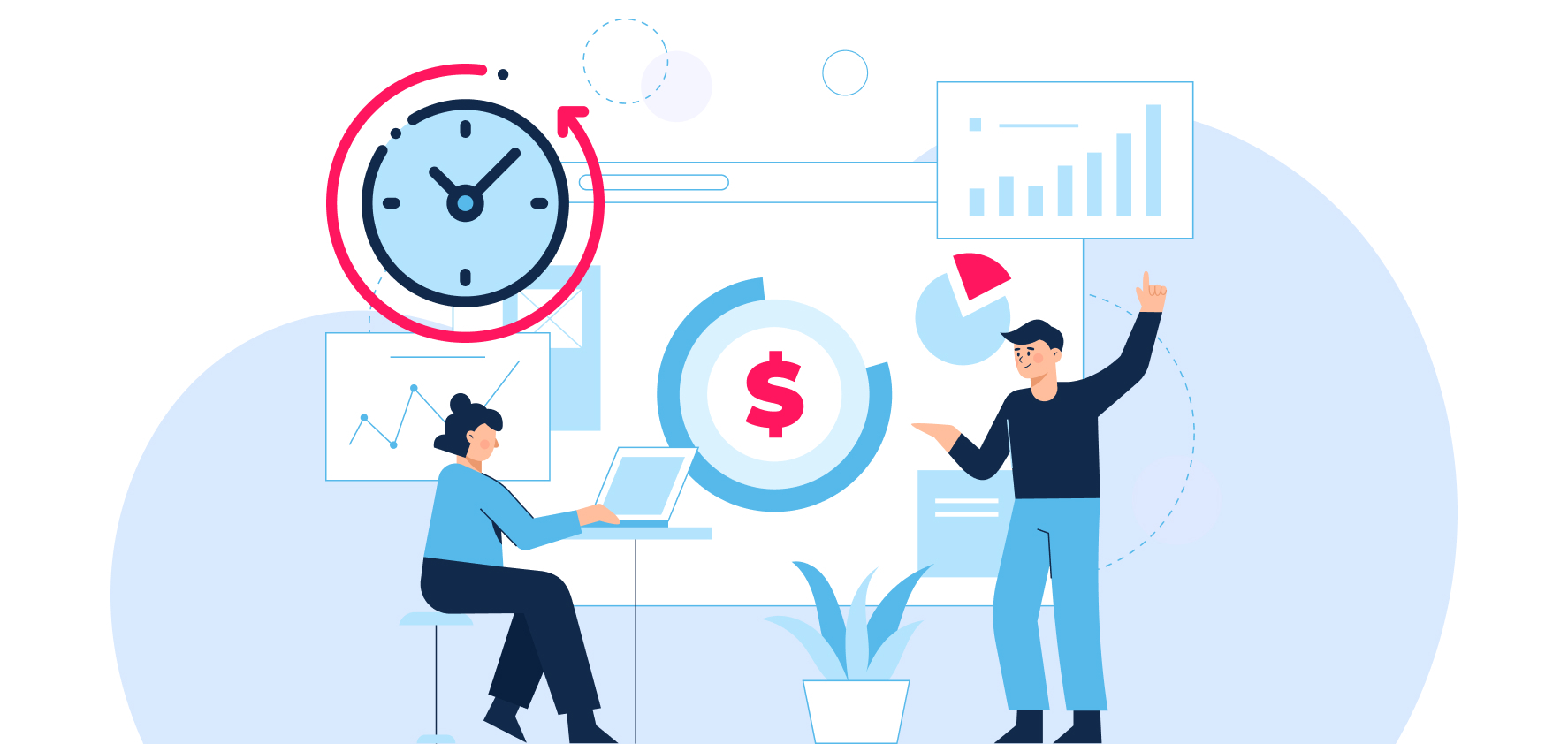 So, if you were to develop a social networking app, how long would it take? On average, a social media application takes up to 2,000 hours to develop. This includes work on UX and UI, testing, deployment, and project management.
How Much Will It Cost to Develop a Social Networking App Like Clubhouse?
To develop an MVP of an audio social media app like Clubhouse, developers will require about 1,500 hours and a budget of $60,000 could suffice. You should note that the calculations are based on the rates of Estern European developers (Ukrainians) – $40/h.
However, the total depends on the scope. If you want something more advanced and versatile, the price tag will increase – it may even reach over $200,000. The final result is the sum of efforts by the following professionals (each has their own hourly rate):
Business Analyst
Project Manager (Scrum Master)
DevOps Engineer
UI/UX Designer
iOS/Android or Flutter Developer(s)
Back-End Developer(s)
Quality Assurance Engineer(s)
Willing to develop a social app like Clubhouse?
Drop us a line and let's discuss your idea.
Final Thoughts
Today, mobile technologies are more pervasive than ever. The rise of Clubhouse reflects humanity's hunger for spontaneous voice communication. Such innovative solutions are powerful. They allow users to share experiences freely. The demand is strong, and the popularity of such systems is only expected to grow.
Investing in online audio chats is a feasible and viable business idea. Attract Group has been creating advanced IT solutions since 2011. We help businesses in different industries leverage new opportunities through websites and apps. Contact us for a free quote, and build a social networking app like Clubhouse easily!
Willing to develop a social app like Clubhouse?
Drop us a line and let's discuss your idea.