Our Values
We provide the full spectrum of IT services and consulting for various industries.
Our customers get full-featured solutions and business opportunities instead of just projects.
How We Work
Modern businesses require full control and adaptability to the fast altering market requirements.
This can be achieved by clear policy and flexible methodologies.
You get sprint reports every 2 weeks with an update about the project development stage.
Be sure your idea does not go to your competitors as we sign a non-disclosure agreement.
You will have a 30% decrease in costs, time, efforts, and wastes while developing.
This flexible approach implies constant interaction, quick adaptability to changes, and workable software (MVP) at every stage.
You know what is going on. Every sprint starts with a product backlog leading to sprint planning, implementation, and then followed by a review. Then the process starts again.
Our Founders
While at the University, Vladimir and Ivan became passionate about the world of software development and decided to create the company that will make a difference.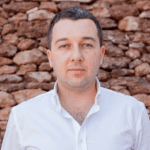 We strive to help startups and existing businesses solve their business needs and become long-term technological partners.

Our main goal is to translate business goals into technical OKRs and reach them using cutting edge technologies, data, and design.
Client's Geography
We enjoy working globally!
Let's Make Your New Project Real
Our solutions encourage more sales and provide additional sources of income
Submitted Successfully!
Thank you, we will get back to you as soon as possible.
Make sure to check your spam folder
Let's Stay Connected,
Follow us: