Retail & E-commerce Web and App Development Services
Empowering Your Retail Business with Cutting-Edge Web and App Solutions for Seamless E-commerce Experiences
Industries We Have Developed For
Finance
Hospitality
Telecoms
Retail
Marketing
Education
Food & Beverage
Healthcare & Medical
Offline business
We help you build digital products that foster your business.
Pain points:
Business process transformation;
Designing technology architecture;
Determining ideal technological solutions;
Employee on-boarding;
System integration.
To create the right digitalization concept, we analyze your business and define your goals to make a smooth and flawless transition.
Tech e-commerce startups
We offer a full range of custom design and development services to turn your ideas into digital solutions.
Pain points:
Lack of tech expertise;
Unclear business objectives;
The need for follow-up support;
Modest budget.
We help our customers create solutions that change the market, gain recognition, and stand out among the competitors.
Roadmap to Create Your E-Commerce/Retail Business
Business Evaluation

Have your business goals assessed and pain points identified to help find the bottlenecks to resolve.

Digital Growth Identification

Be advised on the most relevant digital solutions for your business to grow.

Project Development

Get your project designed and developed as well as properly tested to ensure the best outcome.

Continuous Growth

Improve the site/app to match the market requirements.

Follow-up Support

Have your project up and updated with our support and maintenance services.
Business Evaluation
Have your business goals assessed and pain points identified to help find the bottlenecks to resolve.
Digital Growth Identification
Be advised on the most relevant digital solutions for your business to grow.
Project Development
Get your project designed and developed as well as properly tested to ensure the best outcome.
Continuous Growth
Improve the site/app to match the market requirements.
Follow-up Support
Have your project up and updated with our support and maintenance services.
Case Study
J&H Tackle: E-Commerce Store for Fishing Gears
E-commerce/Retail
An online web and mobile selling platform for fishing gears with the administrative panel that automates and facilitates commercial processes.
Customer
The owner of a US-based off/online store J&H Tackle that sells fishing gears.
Business Tasks We Have Solved
---
More than 500% of the web business increase since the 1st year in retail and worldwide availability.
---
Increased customer engagement and loyalty in mobile apps compared to the mobile version of the website.
---
Efficient customer service due to the unified admin panel and automated workflow.
---
The items are available 24/7 worldwide in contrast to the offline location with limited working hours.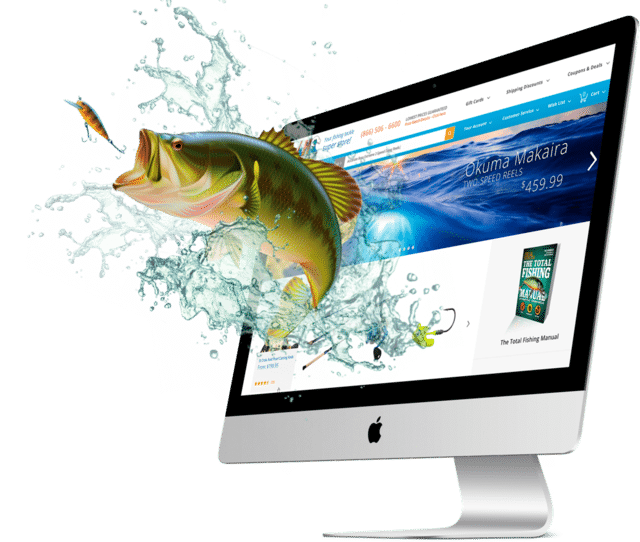 Web Solution
We created a future-proof and scalable fishery e-commerce website with the elaborated design and algorithm, which automates the most essential actions like returns, reimbursements, and reporting while remaining very easy to use in order to meet Joshua's needs.
Mobile Solution
We developed a mobile platform, which will engage customers more than the mobile version of the website. So, our customer has received 2 apps: Android (54% US, 85% Worldwide) and iOS (44% US, 14% Worldwide) along with an API.
Results
The store turned out to be a successful fishery online store and a top e-commerce site for fishing tackle. Excellent interface, fast loading, automation in combination with Joshua's business approach could not help taking off. Online presence has brought him good revenues and customer loyalty far beyond his native city.
Showcase: Digital Loyalty Program for Retail grocery store chain Modern-Trade
E-commerce/Retail
A digital loyalty program for retail with a personal account for the grocery chain customers. The web- and mobile-based loyalty program for brand KopiikaTM was built. It ensures seamless access to the customer's information (purchase history, bonuses, promotions) and improves the shopping experience.
Customer
Modern-Trade Ltd - Kopiika - a leading chain of retail supermarkets in Ukraine.
Business Tasks We Have Solved
---
We are analyzing the competitors and are still suggesting/implementing the features that will allow the customer to stand out.
---
The loyalty rate has significantly improved and customers keep downloading the apps without deleting them, which builds up trust.
---
Synchronization with the customer's CRM system reduces the efforts of the managers and administrators in running the online business.
---
Transition to the Net has enabled Kopiika to read the market easier, catch up, and overrun the competitors by implementing the new features like personalized special offers, etc.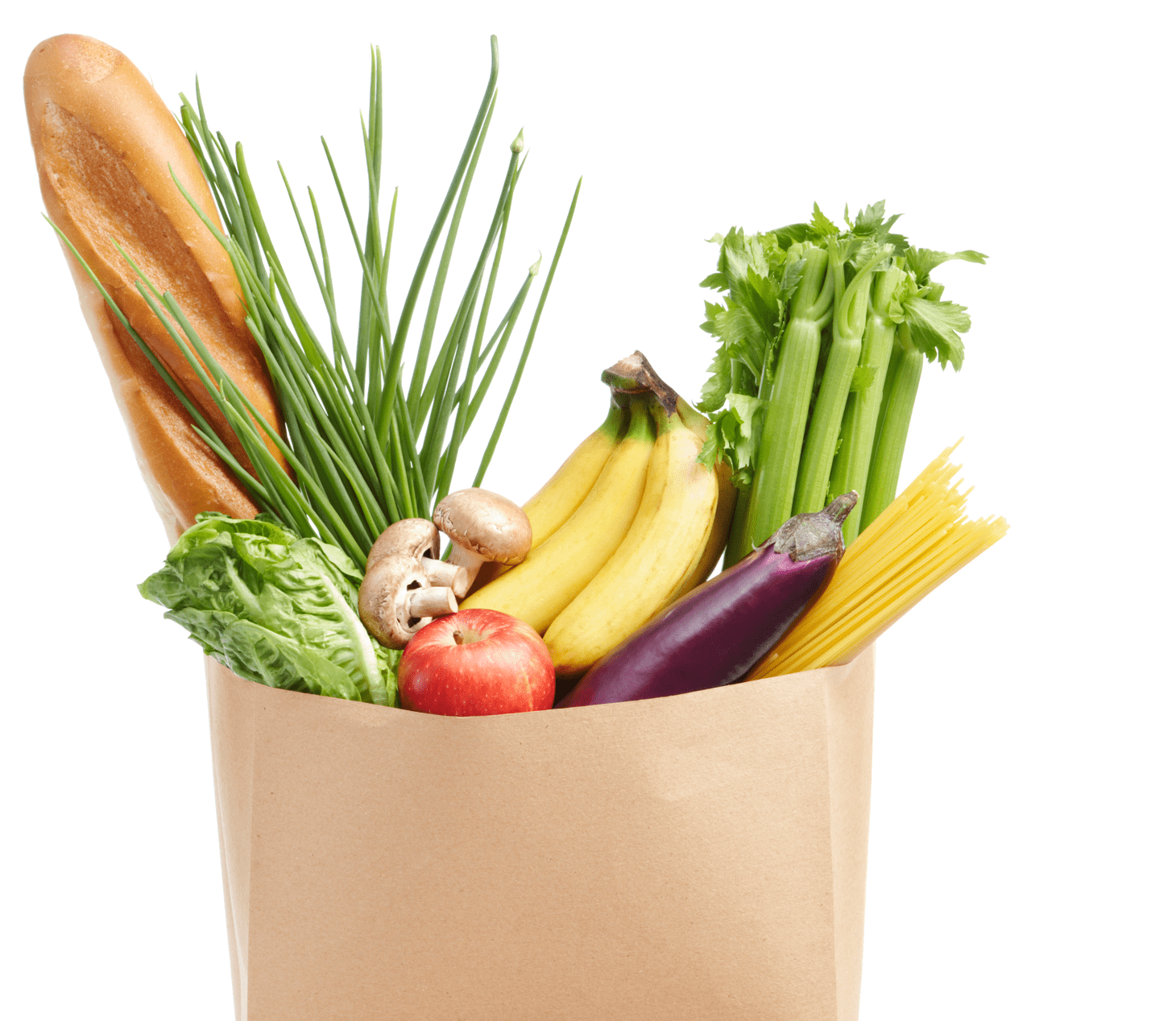 Web Solution
The platform we created integrates with the customer's CRM system and features an admin panel that facilitates the work of administrators by allowing them to manage promotions easily.
Mobile Solution
The mobile apps feature convenient authorization via social networks. Users can view detailed reports about their bonuses, see their special offers and send their feedback with photos and videos. A great bonus is a barcode of the personal loyalty card that can be used in the stores.
Results
The project has been successful. The apps have been downloaded about 1,000 times from the stores in just 1,5 months. The customer is planning to order a similar project for their more elite chain of stores soon.
Touchstone Essentials: E-commerce for Supplements
E-commerce/Retail
An online store for selling non-modified food and nutrient-rich natural supplements that allows subscribing to the autoship feature.
Customer
David Isserman - a COO. A businessman highly experienced in launching and scaling innovative consumer products, e-stores, etc. David is a Chief Operating Officer at Touchstone Essentials, an international oil brand.
Business Tasks We Have Solved
---
Integration of their VBO system with the e-commerce platform allowed customers themselves to place orders online instead of waiting for the consultants to do it for them.
---
The autoship feature helps attract more users to the service and helps the business stand out. Ability to create subdomain online stores makes the company different from many competitors too.
---
Free shipping options and a convenient shopping cart make users want to get back and increase their checks.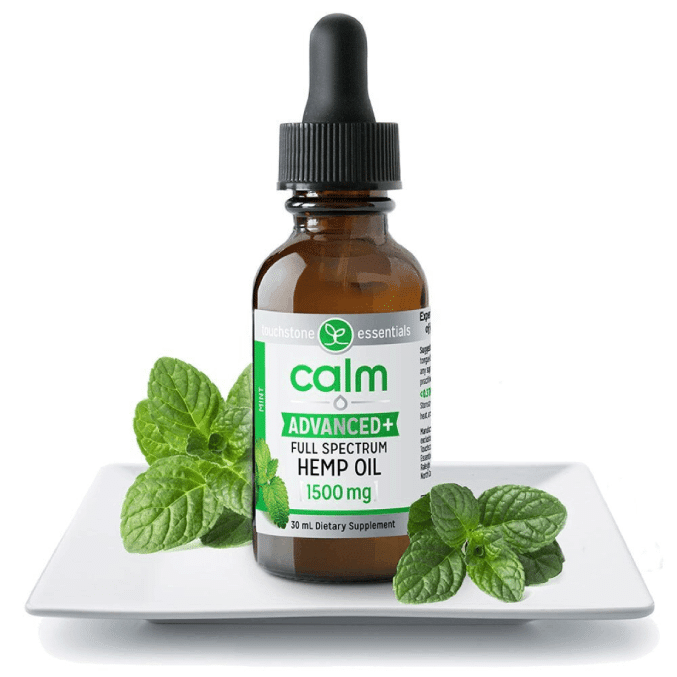 Results
The website has proven to be successful and has already attracted a lot of new customers and helped retain the existing ones.
Fivel: Online Store for Electronic Components
E-commerce/Retail
An online service for search and procurement of radio electronic components and electronic equipment from the warehouses of the distributors and manufacturers for the Russian radio market. It offers a convenient system of order placing and monitoring and incentives for loyal customers.
Customer
Denis Kostenko - CEO of the Fifth Element (Fivel).
Business Tasks We Have Solved
---
The availability of multiple suppliers and a simple but comprehensive BOM search system among them makes it stand out.
---
Integrations of parsers and editors in the admin panel limited the number of manual edits and improved the efficiency.
---
The transition from offline to online business form has allowed this company to expand and develop a strong reputation on the market.
---
The site's usability makes it attractive for customers, which results in bigger orders and larger revenues.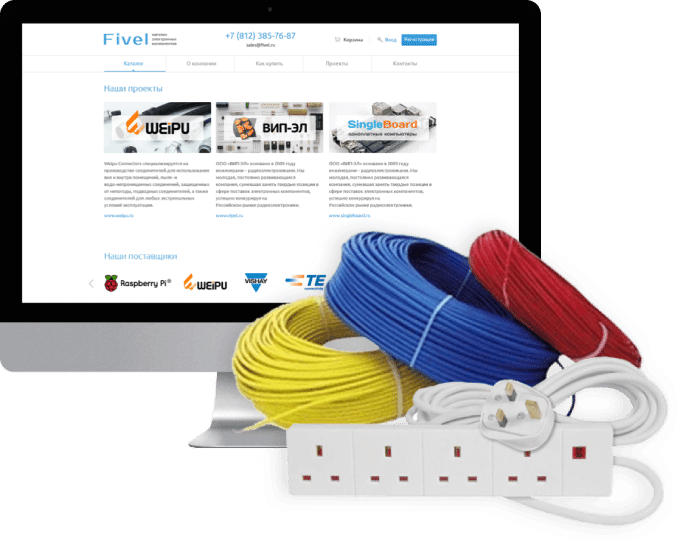 Results
The customer has received a flexible system and profitable source of income. It has attracted over 7,500 users who have placed about 8,000 orders online so far.
GreenDeal24: Market Place for Flower Farms
E-commerce/Retail
A marketplace that connects flower farms and buyers around the world. It provides easy access to the verified farms where customers can find, preorder, and buy the needed items online.
Customer
A Dutch startupper who purchases and sells flowers and facilitates others in this business.
Business Tasks We Have Solved
---
This successful startup idea was only realized after the development of the platform.
---
Delivery charges and transaction fees are providing constant additional income.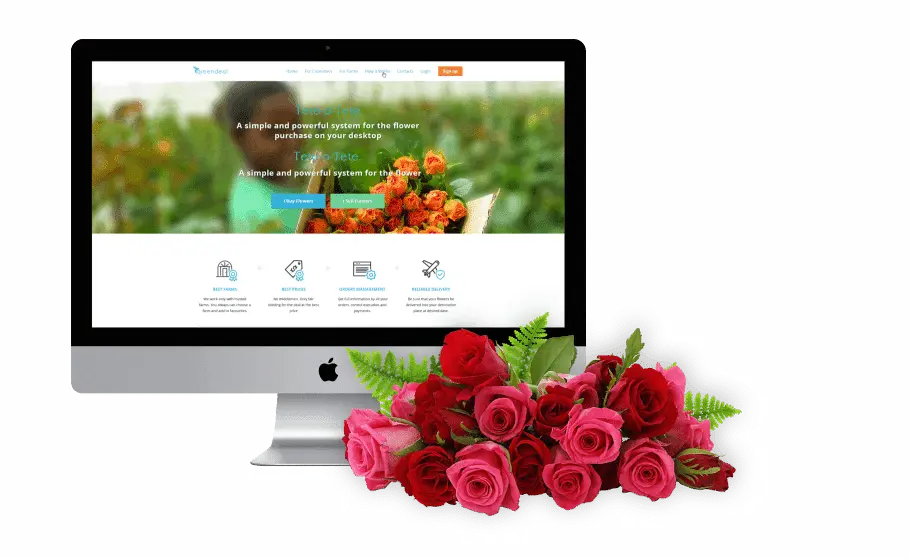 Results
The project has been successfully released and is being maintained. In 4 months of being live it has attracted about 40 customers and over 60 trusted farms. Currently, the platform has sold over 27,000 flowers and the number keeps growing.
Frequently Asked Questions
Does Attract Group Offer Online Service Marketplace Solutions?
The service marketplace software comprises two cross-platform applications designed to meet the needs of both customers and service providers. Overall, the first application is geared toward customers, while the second is tailored to service providers. Both applications are designed to work seamlessly on various platforms, making them highly accessible to users.
In addition to the two applications, the software also has an admin management panel. This panel allows for the easy oversight and management of the entire system by authorized personnel. It provides a comprehensive view of the software's operations, including customer and service provider data, user interactions, and system performance, among other things.
On the other hand, service providers have access to a web and mobile-based backend admin panel that allows them to manage their schedules, receive orders, and communicate with customers. A backend admin panel is a powerful tool that provides service providers with the necessary resources to handle customer orders, track their progress, and deliver quality service.
Finally, a landing page serves as the public-facing introduction to the service marketplace software. It is designed to attract potential users and provide a comprehensive overview of the software's features and benefits. It's an important marketing tool that helps to generate interest in the software and drive user engagement.
How Does Attract Group Work for eCommerce Websites?
Success in the modern business world demands a high level of control and adaptability to changing marketplace demands. Clear policy and flexible methodologies are essential for achieving this goal. Attract Group is dedicated to assisting startups and established retail businesses to overcome challenges and establish long-lasting technological partnerships.
With a focus on eCommerce and mobile technologies, the company aims to convert retail business objectives into achievable technical goals and key results (OKRs) using state-of-the-art technologies, data analysis, and innovative design.
Its team of experts works closely with clients to understand their needs. It also provides customized solutions.
Attract Group prides itself on being a reliable and forward-thinking marketplace, constantly striving to stay ahead of the curve and provide cutting-edge solutions to its clients.
The company is committed to excellence and dedicated to helping businesses succeed, setting them apart in the competitive digital landscape. Its mobile app for eCommerce and mobile eCommerce websites provides companies with the tools they need to stay ahead of the curve and reach their goals.
What Services Does Attract Group Offer for eCommerce Apps and Websites?
Attract Group offers the following services:
Web Development: It helps businesses achieve greater profitability, availability, and efficiency by implementing relevant web development solutions. With a focus on scalability and utilizing the latest technologies and industry trends, this retail company provides customized solutions to each organization's unique needs
Mobile Development Services: Attract Group is a leading provider of native mobile app development for both Android and iOS eCommerce platforms. Its team of experts specializes in creating mobile applications of varying complexity, empowering businesses to reach their full potential and fostering customer loyalty in the marketplace. As one of the top mobile application development companies, Attract Group is dedicated to delivering top-quality solutions that meet each organization's unique needs.
Flutter App Development Services: It is a premier provider of Flutter app development services, focusing on creating powerful, eCommerce platform native-like mobile applications for iOS and Android eCommerce platforms. The company delivers cost-efficient and time-saving solutions to help businesses grow and succeed. Its team of experts leverages the latest technologies and industry trends to create high-quality, user-friendly mobile apps that provide a seamless experience for users.
UI/UX Design Services: To keep a business's image looking fresh, it's essential to have graphics that accurately represent the company's core identity. With a custom UI/UX design, user engagement and loyalty can be increased, as it draws people in and keeps them interested.
DevOps and Cloud: Scaling a business can be made easier and more cost-effective through cloud services. Using the DevOps methodology, project robustness can be improved, project feature delivery can be accelerated, and app health can be monitored. This leads to greater transparency in project logging, resulting in more efficient and bug-free development.
How Can I Calculate the Price of a Project with Attract Group?
This method of project execution is suitable for short-term retail projects with a particular objective, such as the development of a minimum viable product (MVP) or when there are precise specifications and wireframes in place. It is best suited for projects that require a total of 500-700 hours of work, allowing for efficient and cost-effective completion.
The total cost of such projects is calculated based on the complexity of each module involved in the development process, including UI/UX design, front-end and back-end development, mobile development, testing, and project management.
This calculation is done before the start of the project to provide an accurate estimate of the cost involved. The final price is a fixed amount that covers all the elements involved in the development process.
By adopting this method for short-term retail projects, businesses can benefit from the combination of a well-defined objective, a clear project timeline, and a fixed cost structure, resulting in a streamlined and efficient project execution process.
What Industries Does Attract Group Work for?
Attract Group works for the following industries:
Retail and eCommerce
To grow your online shop, you must partner with a reliable and long-term solution provider. The company offers comprehensive support for online businesses, including developing a website, a mobile application, and a seamless offline online business transition. In essence, the aim is to help companies succeed by providing everything they need online.
Healthcare Institutions
The web development team at the company is equipped to provide support for all of a client's web and desktop application development needs. Overall, the team's proficiency encompasses a variety of programming languages, including PHP (Laravel), Python (Django), and Nuxt. Using the most advanced technologies and the best practices in cloud computing, the team employs Amazon Web Services (AWS) to launch and scale clients' projects.
E-Learning
The company specializes in providing digital solutions for online schools and courses to reach its target audience and efficiently manage the learning process. It supports the development of electronic education tools that enhance students' overall learning experience. The team of LMS developers possesses extensive expertise in EdTech, with the ability to handle projects of varying complexity. Its goal is to help clients leverage technology to provide effective and engaging educational experiences for their students.
What Services Does Attract Group Offer in Web and App Development for the Retail and e-Commerce Industry?
At Attract Group, we specialize in delivering top-tier eCommerce website development services tailored for both B2B and B2C sectors. Let us be your guiding hand in navigating the digital landscape and amplifying your brand's online presence.
Custome eCommerce Development
Stand out in the digital marketplace. Our tailored eCommerce solutions are designed to set your business apart, catering to even the most discerning online shoppers.
Web Development for eCommerce
Embark on your digital transformation journey with us. As a leading eCommerce web design company, we craft sophisticated and user-friendly web platforms that captivate and convert.
Mobile eCommerce Applications
Stay ahead in the mobile-first world. With a surge in mobile shopping, our eCommerce mobile app solutions ensure you're always within your customer's reach, offering a seamless shopping experience.
Product Information Management systems
Centralize and streamline your product data. Our Product Information Management (PIM) systems ensure efficient, error-free management of all your crucial product details.
Seamless Online Store Migration
Transition with ease between eCommerce platforms. We ensure a smooth migration, preserving all essential data, custom features, and integrations with third-party services.
Custom Loyalty Program Development
Foster customer loyalty and drive repeat business. Our custom loyalty program solutions are designed to reward your customers, enhancing their shopping experience and fostering brand loyalty.
Start Your Retail/E-Commerce Business with Us
We are ready to walk you through every decision-making stage
Submitted Successfully!
Thank you, we will get back to you as soon as possible.
Make sure to check your spam folder
Let's Stay Connected,
Follow us: