Online Service Marketplace Solution
Unlock the power of a customizable web and mobile online service marketplace solution, tailored to your business needs.
Service Marketplace Solution for
Service Provider Marketplace Solution Overview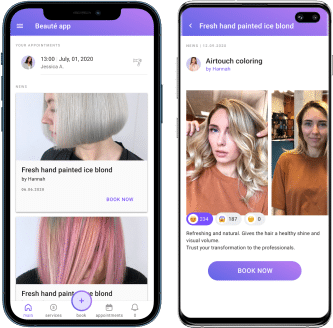 2 apps: customer and service provider. Both are crossplatform;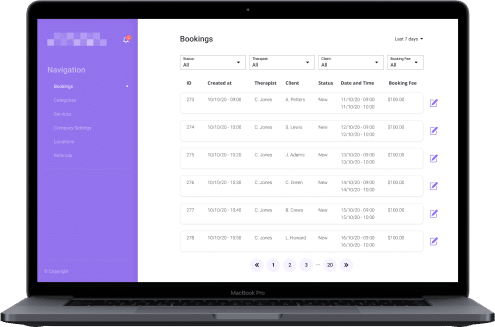 Service provider web and mobile-based backend admin management panel (to manage schedule, receive orders, communicate with customers)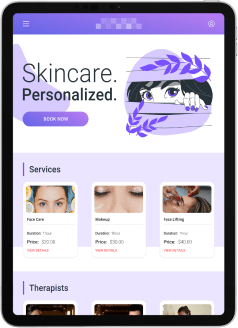 A landing page for the service marketplace software.
Service Provider Marketplace Solution Cost
Flat rate is

$14,900

including basic customization of the local services marketplace software (splash screen change, logo change, and contact details change)
If you do not find all the required functionality in the online service marketplace solution, custom changes and extra feature requests can be realized based on individual estimates.
Submit a request
A list of completed well-done modules to start an online service marketplace:
Social and email registration and login
Users profile
List of service providers with a filter
Order processing
Booking of on-demand services
Checkout
Order cancelation
Refunds
Registration of service providers
Validation of services providers
Service provider profile
Orders history
Chat functionality
Payment processing
User and provider reviews
Deliverables and Core Tech Stack of the On-demand Service Marketplace:
Backend, API
Laravel is the main framework here. It's a free, open-source PHP web framework, created by Taylor Otwell and intended for the development of web applications following the model–view–controller architectural pattern and based on Symfony.
Administration panel
React is a main Javascript framework for a backend administration management panel.
Customer and Driver mobile applications:
Crossplatform Android & iOS apps: Flutter;
REST API
Interested in launching a marketplace for service?
Steps to Start an Online Service Marketplace:
We'll come up with a base cost. It depends on the list of modules that you want to have.
Every project should have an individual design - the custom branding and colors for your app. The simple re-design will cost you additionally $1-2k* (including color and font change plus other small design tweaks). * If you have your UI/UX specialists and/or developers team, they can handle this product "as it is" and work on additional functionality (if any). Just send them all the deliverables.
You're welcome to use all the functionality as it is. However, every business has its own business processes. So, the solution should be adjusted accordingly. We can find the parts to be changed and adjust the project according to your expectations and vision. Thanks to flexible technologies in the product development, there are no (really - NO!) restrictions to the list of any possible new modules*. You're welcome to ask us to build ANY module and we'll be happy to help. This stage usually costs from $0 to 15k.
All other hassles: Marketing, ROI calculations, processes adjustment, etc. would be on your end but we believe if you are reading this, you have a solid vision and plans for all of this.
Request a Quote
FAQ
What Types of Marketplace Apps Can I Get
In a general sense, you can get a particular type of marketplace mobile app depending on your needs. When you request our service, our marketplace app development team will work with you to come up with the right solution for your business goals.
There are three different types of marketplace apps you can get, including:
Horizontal Marketplace
Horizontal marketplace platforms are among the most common ones out there. In a sense, this marketplace application will have many different products and services from different industries, and your customer will be able to shop freely.
You can think of this online marketplace as a "one-stop-shop." Overall, horizontal marketplaces are among the most popular ones worldwide, as they make things easier for clients across multiple platforms.
Vertical Marketplace
A vertical marketplace offers a platform where customers can find goods/services from different companies within the same niche.
If you build a marketplace app for car wash stations, for example, your customers will have an easier time picking the right local provider for them, which ensures a more "personalized" experience for them.
A vertical marketplace platform is recommended if you want to focus on a specific business industry instead of many at the same time.
Target Audience-based Marketplace
Here, you can build a marketplace based on your target audience. In essence, you can choose from:
B2B Marketplaces - Wholesale suppliers sell to retailers at particular (wholesale) rates. B2C Marketplaces - Sellers sell goods/services to customers. C2C Marketplaces - Customers sell goods/services to other customers.
Which Type of Marketplace Application Should You Choose?
Developing marketplace apps can take some time, so you must rest assured you set your goals straight with our team.
Even if you're not sure which mobile apps would benefit you, our experts have experience evaluating your needs and then coming up with the best digital solution based on that.
Our marketplace app solutions cover the following industries/services:
Car Wash Stations Pet Care Child and Family Care Laundry Beauty Healthcare House Cleaning Fitness Services or Gyms
How Does a Marketplace App Work?
A complete marketplace app will feature a space where companies and/or people can sell their goods and services in a more convenient way.
Keep in mind that an online marketplace app isn't the same as an online store. Marketplace apps advertise themselves differently, and they often feature a wider range of products and services.
The marketplace business model can represent an excellent business opportunity for you and your team, and if you create a high-quality app for it, then you will certainly see a great Return on Investment (ROI).
Our custom app development service will ensure that your marketplace platform is tailored to your specific goals. All you have to do to start is take a look at what we offer and make a marketplace project request.
What Are Some Common Marketplace App Features You Should Get?
Your app's features will depend on what you want. Keep in mind you can get features for users/customers, features for sellers, and features for admins.
If you want to have a better idea of what you need, then you should talk to our team. Generally speaking, this is what most marketplace apps feature:
Social media integrations Voice search "Add to Cart" buttons Multiple payment options Advanced search and filtering options Rating/reviewing systems Push notifications And more!
Is It Worth It to Get My Own Marketplace App?
Yes! Creating your app with us will certainly give you the results you want. You will get two apps: one for the customer, and one for the service provider. Both apps are cross-platform.
Your team will also get web and mobile-based backend admin management panels, which will allow them to manage the marketplace more efficiently.
Finally, your marketplace will get a stylish and intuitive landing page that your customers can use to browse much faster.
Overall, hiring our team at AttractGroup will allow you to streamline your work, offer a user-friendly platform to your clients, and more. Having a customizable and responsive marketplace solution today is essential, as COVID-19 restrictions and other worldwide events have made it necessary for people to have access to digital/remote platforms to get what they need.
How Much Does It Cost to Develop a Marketplace App?
The total marketplace app development cost will depend on your needs and the extra features you request. Overall, if you want to create a service marketplace app with us, the base cost will be $14,900, and it includes basic customization for your logo, contact details, and splash screens.
If you want custom changes, though, you can submit a request, and we'll get back to you as soon as possible.
Does It Take Too Long to Create a Marketplace App with a Marketplace App Development Company?
It depends on your needs and how ambitious your platform is. Once you contact us, the development process (in a nutshell) will look like this: You receive an estimate. Our team designs the app. You work with our team to customize the app to fit your needs. You release the app!
The clearer the main objective/idea is, the faster we'll be able to get that app delivered to you.
Surrounding the base tech stack and deliverables, keep in mind we work with Laravel as our main framework and React as our Javascript framework for your backend admin management panel. Our team offers cross-platform compatibility with Android and iOS devices, as well as Flutter compatibility for the development process.
Besides a marketplace, there is also an opportunity to create a system to run one specific type of service business. So, if you are an owner of a single service that might require online presence to be found and thrive, contact us.
See Our Works
An app for food trucks to expand their clientele and building owners to provide their offices with food.
Check Case Study
An auction marketplace where customers can buy flowers from the farms at the lowest price.
Check Case Study
An on-demand delivery app to order the transfer of small purchases home.
Check Case Study
Start Your New On-Demand Business Now
Contact us
Submitted Successfully!
Thank you, we will get back to you as soon as possible.
Make sure to check your spam folder
Let's Stay Connected,
Follow us: