5
Seven Crucial Steps to a Professional Request for Proposal
Are you looking for third-party vendors to help with your planned projects? If the answer is yes, consider writing a request for proposal – RFP. It is an official document where you ask vendors to offer proposals. If you want to find one that will perfectly fit your needs, you should write a top-notch RFP. Take a look at the crucial elements that you should include in this document and start creating it today!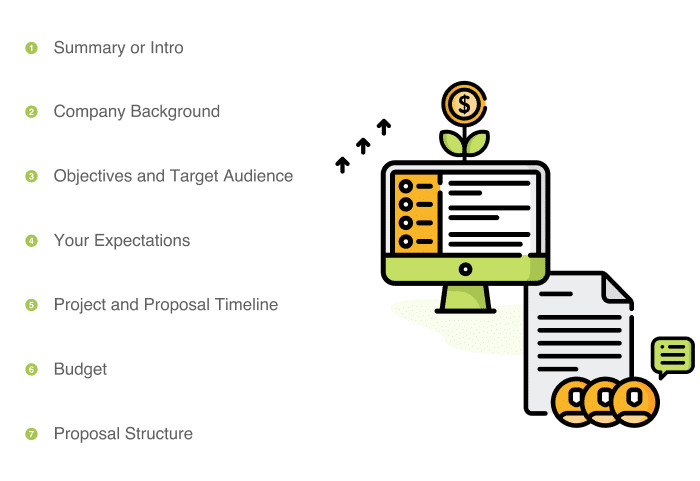 1

Summary or Intro

Think of this section as the abstracts you used to include when writing student assignments. It gives brief information about the company, project, and requirements. The goal is to interest potential vendors and at the same time drive away those that cannot meet your expectations.
2

Company Background

A request for a proposal should start with an overview of your company. Each applicant wants to know more about the company needing their products and services. You can include a brief history but focus on your services and what makes you stand out in the market. Why is your business unique? Most vendors carefully read RFPs, and they send offers to companies that have similar values to theirs. It is why it is important to be honest and speak about what you value in doing business. That will increase the chances of finding someone that meets your expectations, which will make the working process more enjoyable.
3

Objectives and Target Audience

Potential applicants consider this crucial information in a request for proposal. It is understandable why as it tells them more about the solution they are expected to offer. Start by describing a particular problem that you need help solving. If the solution you have at the moment isn't working, explain why and be specific. You do not have to describe the solution you need because it might not be the best way to resolve the problem. Instead, focus on the issue itself and offer as many details as possible. Additionally, you can describe what you want to accomplish with the solution – is it increased traffic, attracting more clients, or improving productivity. Finally, mention the target audience of the project. That will assist the vendors to offer a solution that is more fitting to yours and your audience's needs.
4

Your Expectations

The section where you describe the scope of work should be extensive and accurately describe what you expect from the project and the vendor. You may need to invest a bit more time inLet's take a look at some of the things you can include: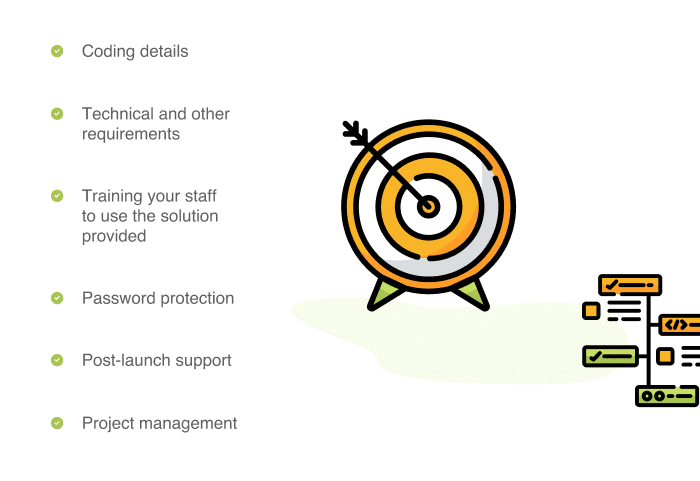 The section where you describe the scope of work should be extensive and accurately describe what you expect from the project and the vendor. You may need to invest a bit more time in.
Let's take a look at some of the things you can include:
Coding details
From specific language to other individual-based needs.
Technical and other requirements
If your industry requires you to meet particular regulations, make sure to mention them.
Training your staff to use the solution provided
Your team needs to know how to publish a blog post on your new website. If you received custom/new software, the provider should teach you how to use it.
Password protection
This option allows creating individual memberships with accounts protected with passwords.
Post-launch support
Once the project is finished, you should specify if you need the applicant to continue providing the support.
Project management
How much do you want to be involved in managing the project itself?
Keep in mind that you might not be an expert in what the development process looks like. Don't worry about that and focus on what are your delivery expectations. That not only guarantees offers tailored to your needs but can also help the vendors to evaluate the costs accurately.
5

Project and Proposal Timeline

These are the two timeframes you have to include in your RFP. When specifying the project timeline, keep in mind why you want to have everything completed by that particular date. Do you have a new product you are launching and want the project to be available on time?A word of advice – reliable vendors will do their best to honor your timeframe. However, things can always go wrong, which is why you should give an extra couple of days or weeks when planning the timeline. You do not have to tell the applicant that extra time can be granted if needed – think of it as a safety net.Once you have the project timeline in mind, go ahead and decide on a timeframe for the proposal. Depending on the size of the project, you can give the potential applicants a couple of days or weeks.
6

Budget

Think about how much you are willing to invest in a project. You can use one of two approaches – either offering a fixed price (price range) or hourly collaboration. It may be tricky, but you should make an accurate estimate of how much your project could cost. It is vital to be realistic, and offering a more generous budget might attract top-quality providers.
7

Proposal Structure

The final important element you should include in your RFP is the proposal structure. It depicts the form and structure of proposals the applicants should deliver. Do you prefer reading proposals in PDF format or you are used to adding comments to a Word document? Is there a need for the vendor to deliver you a printed proposal?As for the structure, it is vital to find an optimal one as it will make comparing the proposals more manageable. You should ask them to provide information on their company, as well as some previous projects they handled. Feel free to ask for samples of similar projects or even references from former clients.Next, ask the applicants to thoroughly describe the process of development, budget, and timeline. Consider asking clarification on how and where the project budget will be invested. If you think it is necessary, you can ask for details about those who will work on the project. That can help you see if you are dealing with an experienced talent or newbies.
Conclusion
When outsourcing a project, it is vital to partner a skilled and reliable provider that can meet and exceed your expectations. A properly written request for proposal (RFP) is the best way to find one. Adding all relevant details about your company and the project will set you on the path to identifying a suitable provider.
Creating a detailed and concise RFP can be quite daunting. However, it saves a lot of development time, which reduces the overall project cost. Attract Group is experienced in consulting and can help you manage to cope with this preparation step before getting down to developing the project.
If you are looking for a trusted IT vendor, Attract Group is just what you need.
Ready to Get Started?
Contact us to discuss your project and receive a tailored proposal that meets your needs.