Thinking of developing a hotel booking website? Well, the first determinant of the costs is what you want to build.
Startups without any properties of their own can create online travel agencies (OTAs) or metasearch engines.
In fact, when searching for "Hotel booking sites" on Google, the results are populated by sites such as Trivago.com, Kayak.com, Booking.com, Agoda.com, Expedia.com, and Hotels.com.
The most common similarity across the top sites is that they help clients search, compare, and book their next stays.
Building an OTA (that partners with properties directly) may be more challenging than creating a metasearch engine (which aggregates offers from OTA websites). However, there are ways to save on costs such as building on top of an existing OTA such as the Expedia EPS Rapid API.
Property owners can build dedicated systems that add online reservation capabilities and property management solutions to their websites. Here, the costs vary depending on the required features.
In the end, something has to be built. And the cost to develop an online hotel booking website will ultimately boil down to how much time is spent during development.
There are a lot of variables that will influence this time, including the number of features, design specifications, time spent on competitor analysis & user research, etc.
This article explains how to build a hotel booking website and breaks down the development cost. It highlights must-have features for dedicated systems and OTAs. We'll further discuss the hotel booking market, revenue models, and booking app types.
Let's get started:
Hotel booking Market
Description
The hotel booking market represents the activity of potential travelers visiting a website or using a mobile application to search for hotel deals online—rather than the traditional approach of consulting with travel agencies.
Many OTAs deliver more value to customers by also featuring car rental offers, discounted vacation packages, and cheap flight deals.
Industry size
IBISWorld estimated that the online hotel booking industry in the US was worth approximately $28.6 billion based on 2021 revenue figures and would grow by 34% in 2022.
Statistica valued the global online travel market at $433.2 billion in their report published in May 2022. It indicated that online sales accounted for 66% of sales in the travel and tourism industry.
Key players
The following list represents market leaders based on 2021 revenue figures:
Bookings.com – $10.95 billion
Expedia – $8.59 billion
Airbnb – $5.99 billion
Trip.com – $2.7 billion
Trivago – $42 million
eDreams – $33 million
MakeMyTrip – $27 million
Despegar – $25 million
Lastminute – $17 million
Online hotel booking statistics
In 2018, the number of online travel bookings was 148 million, with 82% occurring without any human interaction;
By 2023, it's expected that 700 million people will make their hotel bookings online;
Most of the online bookings take place through a desktop with a 2.7% conversion rate compared to mobile devices at 0.7%.
While some online travel agencies have a booking feature, about 2 in 3 bookings still take place through the hotel's official website.
Covid-19 impact & recovery
The hotel industry was among the hardest hit during the covid-19 crisis owing to restrictions on travel and shutdowns witnessed in 2020.
McKinsey projects that it may take up to 2023 for the industry to fully recover. An assessment by Hotel Asset Value Enhancement projected that the recovery will take about five years, basing their predictions on past SARS outbreaks and the 2008 financial crisis.
The recovery has been underway since 2021, picking up speed in the summer of 2022. For instance, Britain has experienced massive airport delays caused by the huge numbers of summer travelers and inadequate staffing by airlines.
Ready to Get Started?
Contact us now to discuss your hotel booking website project and receive a tailored quote!
Benefits of developing a hotel booking system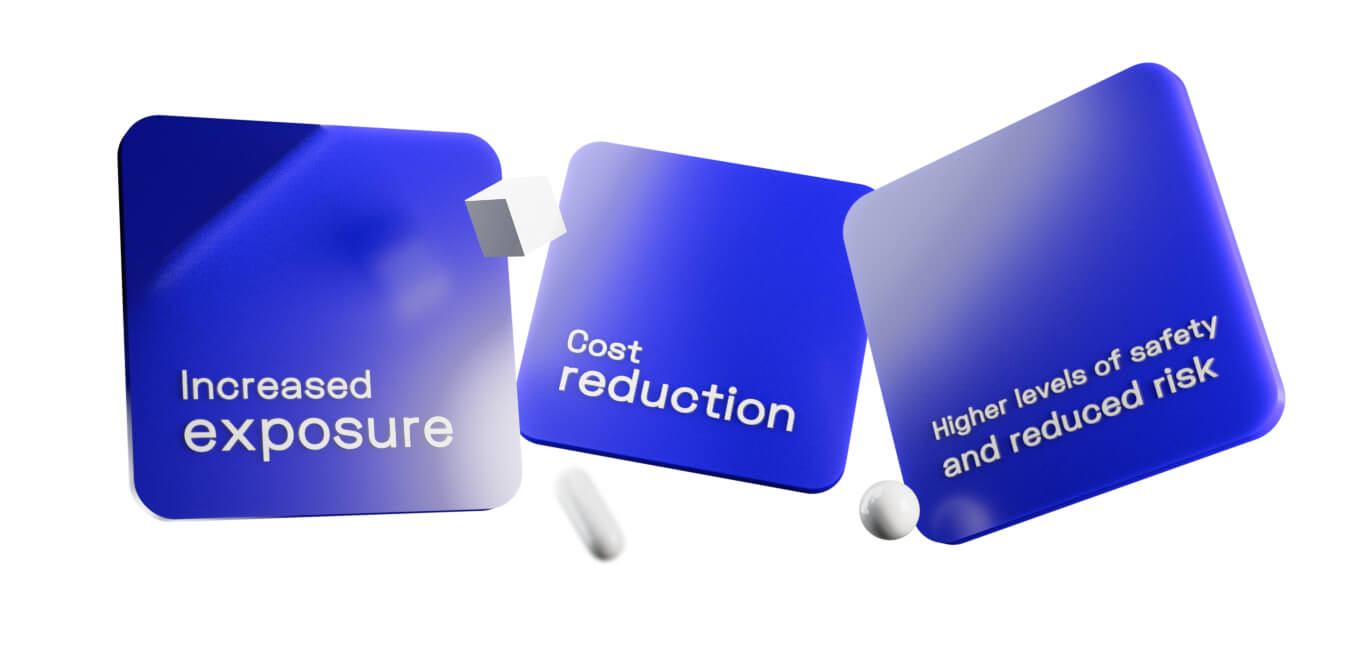 For dedicated booking systems:
Hotel booking website development focusing on a single property generally provides convenience for the hotel owner and customers. That's because the booking system can automate and speed up many functions.
For instance, a hotel can eliminate manual booking by showcasing their rooms online, providing automated billing options, and automating inventory management. Customers enjoy the convenience of seeing all available rooms in one place, along with detailed profiles including photos, checking options, reviews, and more.
A fully automated online platform can help cut costs and boost revenues. By reducing manual processes, there is less demand for human capital. It's easy to scale the system to more locations and process a high number of reservations.
For OTAs and Metasearch engines:
Building a website that aggregates offers in one place provides the following benefits to customers and property owners:
Increased exposure
Property owners choose to get listed on OTAs and metasearch engines to increase their exposure. The platforms primarily focus on attracting users to their marketplaces, by maintaining a multi-channel online presence and spending considerable resources on marketing efforts.

As a testament to how much OTAs invest in marketing, Booking.com spent $3.8 billion on marketing and advertising in 2021 alone. Most of their marketing expenses went towards Google ads. For instance, they reportedly spent $1 billion in 2018 with the search engine. That is why searches for hotels in many markets will likely feature an ad from their company.

Cost reduction
The benefit is mostly directed towards customers, who can always find the best deal on a property. At times, OTAs even have lower prices compared to the actual provider's website. That's because they take advantage of their bulk pricing, and vary their commissions depending on how much they want to get paid or how fast they wish to sell their inventory. Most OTAs don't have monthly subscriptions or listing fees for hotels.
Higher levels of safety and reduced risk
Customers may feel uncertain when making bookings in unknown destinations. However, an established brand can ease their fear and increase confidence. They can access reviews left by past users, who comment on the cleanliness, safety, and user experience.
Types of online hotel booking solutions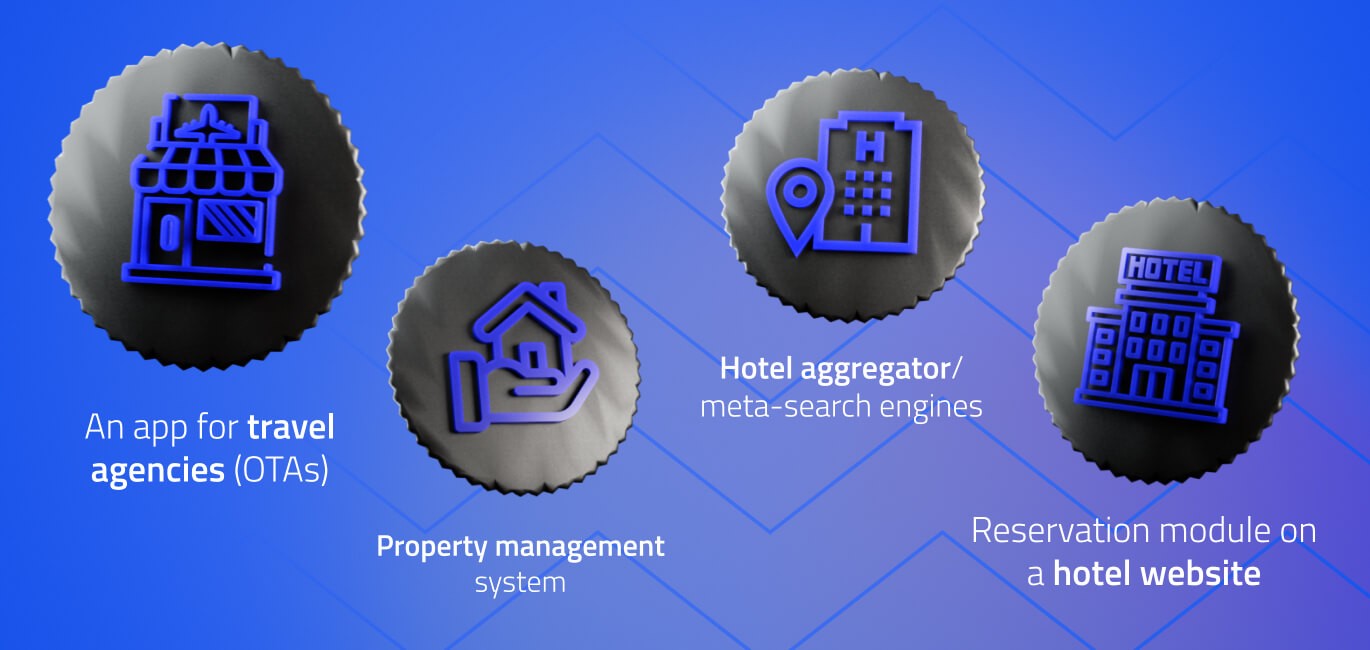 The first step of figuring out how to make an online hotel booking website is to recognize the type of system to build. Popular options include:
1. An app for travel agencies (OTAs)
An online travel agency serves as a marketplace, where travelers can explore and compare multiple properties and find other travel products including car rentals, flights, activities, cruises, etc.
Many platforms offer property owners unique tools to showcase their offering, including photos, videos, and even 3D walkthroughs. They can also collect and respond to reviews.
Note that a booking site or online travel agency maintains direct partnerships with property owners. It may adopt various revenue models, for instance:
Commission-based – Customer pays the hotel, and the hotel pays a commission to the OTA;
Merchant model – Customers pay the OTA, and the OTA pays the hotel.
Still, property owners list their locations at no cost. The platform collects its revenue share after successful bookings and checkouts.
On some marketplaces, property owners may boost their prominence on search results with paid advertising.
Hotels prefer to get featured on OTAs because of the following tangible benefits:
Better reach as OTAs spend considerably on marketing efforts, from print ads to digital marketing;
Increased traffic on the primary website as most customers begin their search on an OTA, before looking up the hotel's website (this is referred to as the billboard effect);
Prominent access to high-value clients, as OTAs have data repositories of guests who exhibit certain characteristics such as those who tend to stay longer, and can make targeted recommendations to help the property attain a specific hospitality business goal;
Availability of quality data and insights, such as market data, competitor comparisons, and periodic performance (number of guests, revenue, etc).
Examples: Bookings.com, Expedia, & Agoda.
2. Hotel aggregator/meta-search engines
Metasearch engines work in conjunction with booking sites/OTAs. They basically aggregate hotel prices across different networks, making it easier for customers to find the cheapest deal.
When users click on a deal on the metasearch engine, it redirects them to the booking website that may be responsible for the reservation and payment processing. That's why the primary business model is cost-per-click.
So, the property, e.g., a vacation rental forms the basic layer, followed by an OTA, and the outermost layer is composed of the metasearch engine.
Hotel aggregators may also contain listings by independent properties or hotel chains.
Examples: Trivago, Kayak, and Google Hotel Ads.
3. Property management system
A property management solution handles many different tasks, including administrative activities (scheduling housekeeping), reservation management (front desk or online booking), and payment processing. Modern PMS solutions integrate with OTA channels to synchronize and keep bookings up to date.
PMS solutions are now offered as SaaS solutions by companies such as Sirvoy and Hostway. The enterprise-level solutions may focus on specific niches, for instance, Hostway is specially built for vacation rental owners.
Individual property owners can build their PMS if they can't find the features in existing solutions. Entrepreneurs can also identify an underserved niche and introduce a program or app targeted at hotel managers.
So, if you're figuring out how to build a hotel booking app for property management, some top features to focus on include:
Payment processing
Administrative tasks
CRM & lead management
Hotel reservation system
Marketing tools (coupon manager, website builder, etc.)
Channel management (integrations with OTAs).
4. Reservation module on a hotel website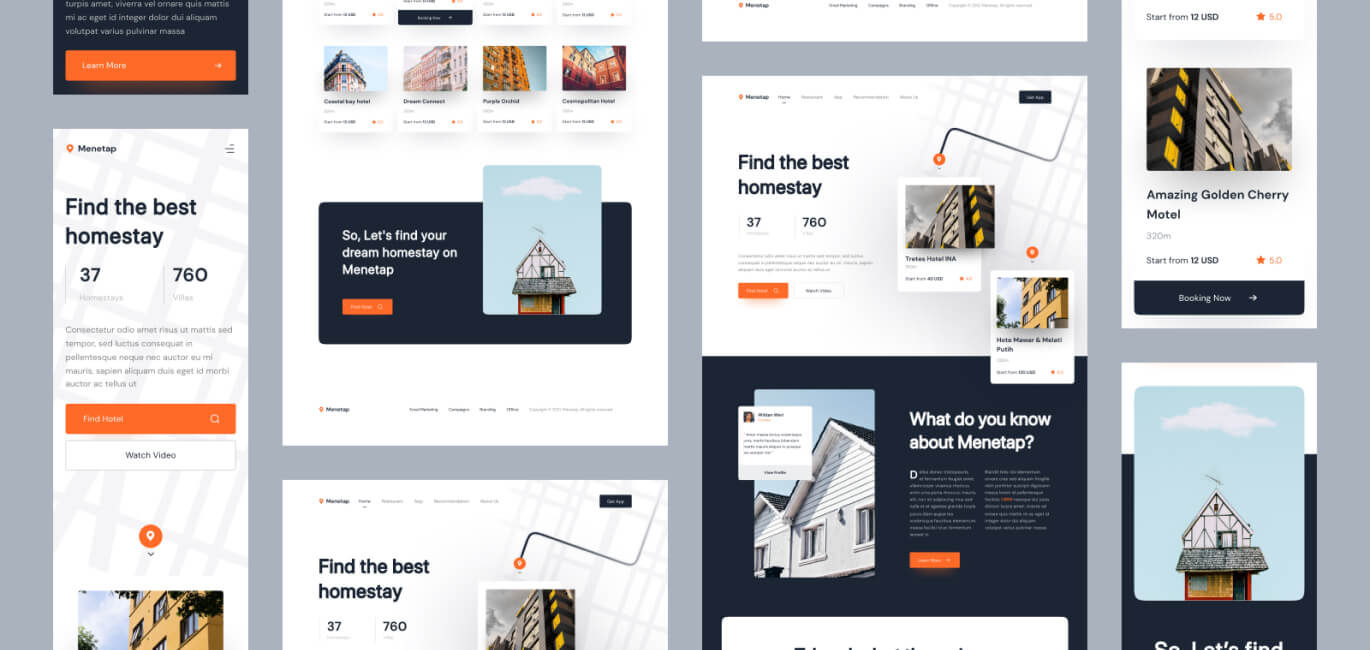 Source: Dribbble
The reservation module is a website booking engine offered as part of a Property Management System (PMS) or separately developed and integrated with a legacy PMS.
The module provides functions such as:
Hotel rooms inventory management and allocation
Synchronizing all data available on room availability from different channels and preventing double booking
Sending of emails to confirm the reservation
Reservation of other activities
Hotel channel manager for two-way API connections to leading OTA.
Ready to Get Started?
Contact us now to discuss your hotel booking website project and receive a tailored quote!
Start a hotel booking website: business model
The second step in figuring out how to create a hotel booking website is to decide on the revenue model the business will leverage to generate income.
Here are some potential monetization options for an online travel agency, metasearch engine, or dedicated platform:
1. Commissions-based model
It mimics the traditional agency model, where the OTA serves as an intermediary (agent) between property owners and customers trying to secure a reservation.
Under this model, guests make reservations on the hotel's website, and the agreement is between the customer and the property. Hotels then pay a commission for all reservations generated by the agent.
The commissions may be paid at the end of the month. You can prepare an invoice that details the commission amount based on all complete reservations. Partners may also pay commissions on income from cancellation fees.
On average, the commission ranges from 10 to 30% and should be listed on the contract. Booking.com famously uses this model.
2. Merchant model
Customers make payments directly to the OTA or agent. Afterward, the OTA distributes a portion of the payment to the property owner. For the model to work, the hotel provides a net room rate (price without markup) to the OTA, as part of the distribution agreement.
The OTA applies its markup and sells the rooms. The Expedia Group, Airbnb, and Priceline (where users place bids on accommodations) utilize this model for their partners.
3. Advertising & paid subscriptions
OTAs and metasearch engines can allow property owners to list their properties for free. Additionally, they can provide paid promotional packages that can give businesses prominence in their search results. For instance, TripAdvisor has sponsored placements, an advertising solution that delivers targeted ads to a highly qualified audience.
Individual hotel sites may also supplement income from direct sales with advertising revenue.
4. Cost-per-click model
The revenue model is mostly used by metasearch engines, where OTAs and property owners pay for every click generated through the platform. There are two types of cost-per-click models:
Pay-per-click (PPC): The OTA pays for every click, irrespective of whether the guest makes a successful booking.
Pay-per-stay: The OTA or property only pays for a click that leads to a successful reservation.
5. Direct sales model
Under this model, bed & breakfasts, vacation properties, or inns develop booking applications for use by their target audience. So, they generate income from direct sales to customers. The development can be justified if the app increases the number of online bookings.
Steps to make a successful hotel booking website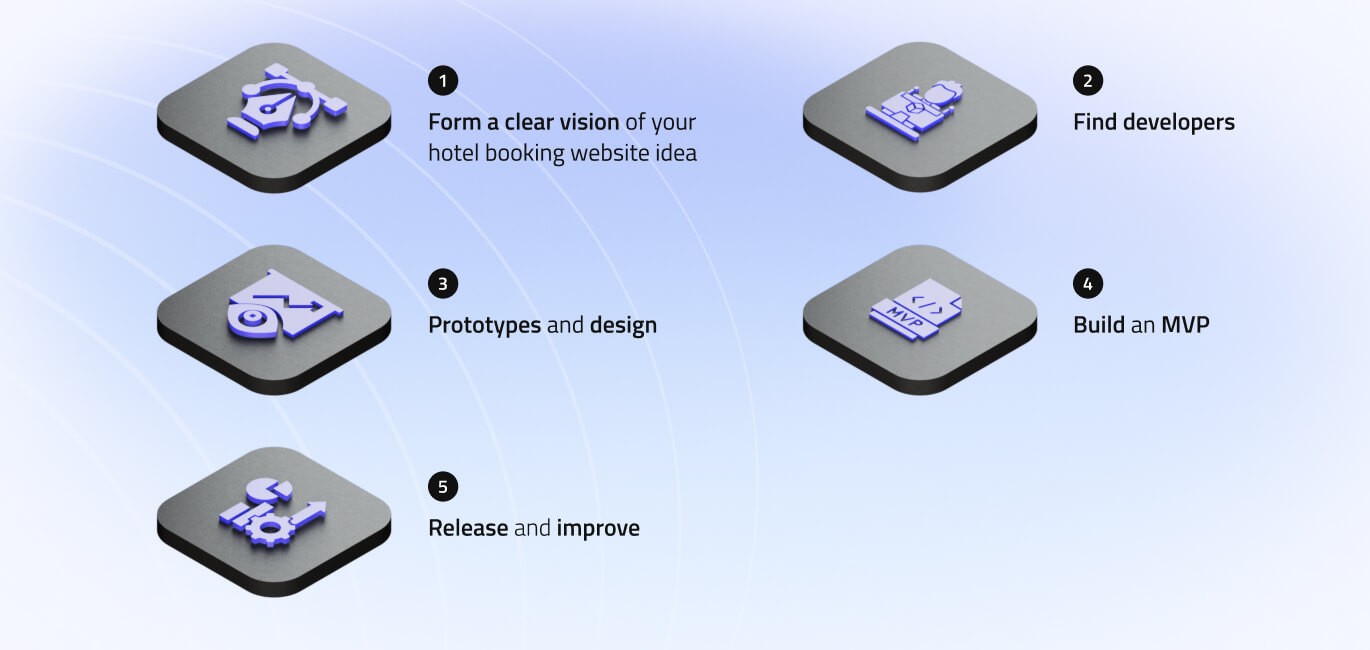 Wondering how to make a booking website? Here are some recommended steps that will help with the creation of a professional site:
1. Form a clear vision of your hotel booking website idea
A successful booking website solves a unique problem in a more efficient way compared to its competitors. Ideas should be properly validated, and this entails gathering evidence to make factual and less-risky decisions.
Take the following steps to validate the idea:
Define the goal
Come up with a hypothesis of the market
Perform user and market research from primary and secondary data sources
Test the hypothesis and assumptions based on evidence
Revise the idea to conform to user needs and preferences
For market and competitor research:
Identify profitable market segments and undercapitalized niches
Pinpoint the main competitors
Analyze their online presence, unique selling points, and market share
Perform a critical analysis of their products, checking what users like and don't like from past reviews
Tweak the product and business strategy to capitalize on competitor weaknesses or to offer innovative features.
After analyzing the market, coming up with a unique UVP, and formulating the main idea, perform the final validation and decide whether to pursue the development.
2. Find developers
The next big stage is finding developers to deliver on the mission. There are different approaches to use — for instance, hiring freelancers, building a dedicated team, or contracting an outsourcing agency.
Each has its advantages and drawbacks, for instance, building an in-house team takes longer and may cost more. However, it offers better control. Outsourcing may be cheaper, and it reduces time to market (Learn how to outsource website development). Still, it may be prone to communication challenges and limited control.
Now, there are different places to check for developers. Top sites include:
Freelancing sites
Agency review sites
Design showcase

Clutch
Goodfirms
The Manifest

Behance
Dribble
DesignRush
When finding potential developers or agencies, check to see if they have relevant development experience. Ask if they've ever built a property booking solution. Examine their user reviews, interview the team, and ask for a trial period.
3. Prototypes and design
The development process starts with building the prototype before the final production. Designers should first write user stories, before coming up with rough sketches and building a low-fidelity prototype with limited functionality.
After verifying the design, they should build the high-fidelity prototype and perform developer hand-off, allowing the features to be implemented by code.
4. Build an MVP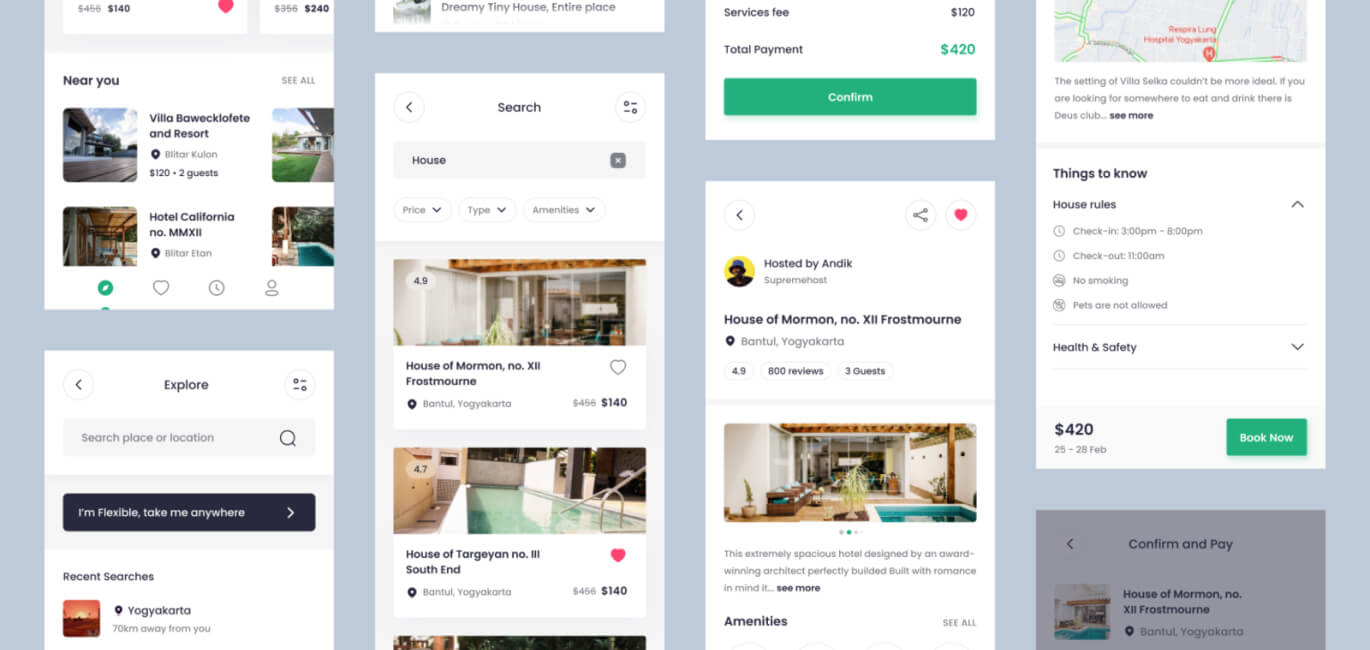 Source: Dribbble
The MVP is a minimal viable product that contains core features to validate the idea. It should be built fast and with minimal resources. However, the MVP should be fully functional and appealing to end users to build traction and a raving fan base. The MVP may even go viral.
Now, the selection of core features should be based on market analysis to identify what users care about.
For instance, here are key features for a custom hotel booking website:
Features for website owners
Features for customers

Room or property listings – with images, pricing, and amenities
Dynamic booking calendar to set availability
Unified view of current, upcoming, and past bookings
Guest communication
Review management
Basic analytics and reporting
Discounts/coupon management
Payment processing and invoicing
OTA channel integration

User account & profile – with past orders, saved billing info, upcoming bookings
Search function with advanced filters – location, price range, visitor count
Access to property listing pages
Booking calendar
Multilingual support
Reservation cancellation
Billing management
Communication request
Ratings and feedback
Notification system
Startups should carefully consider the core features and prioritize releasing the MVP as soon as possible to test assumptions with real-world data.
5. Release and improve
Releasing the MVP version is only the beginning. The development team collects data, statistics, and feedback from the first users such as user engagement metrics and other key KPIs. Based on the insights, they make changes to existing features or refine the idea.
Hotel booking website MVP cost estimation
So, how much does it cost to make a hotel booking website? Well, there are many factors that affect the cost, including:
1. Design complexity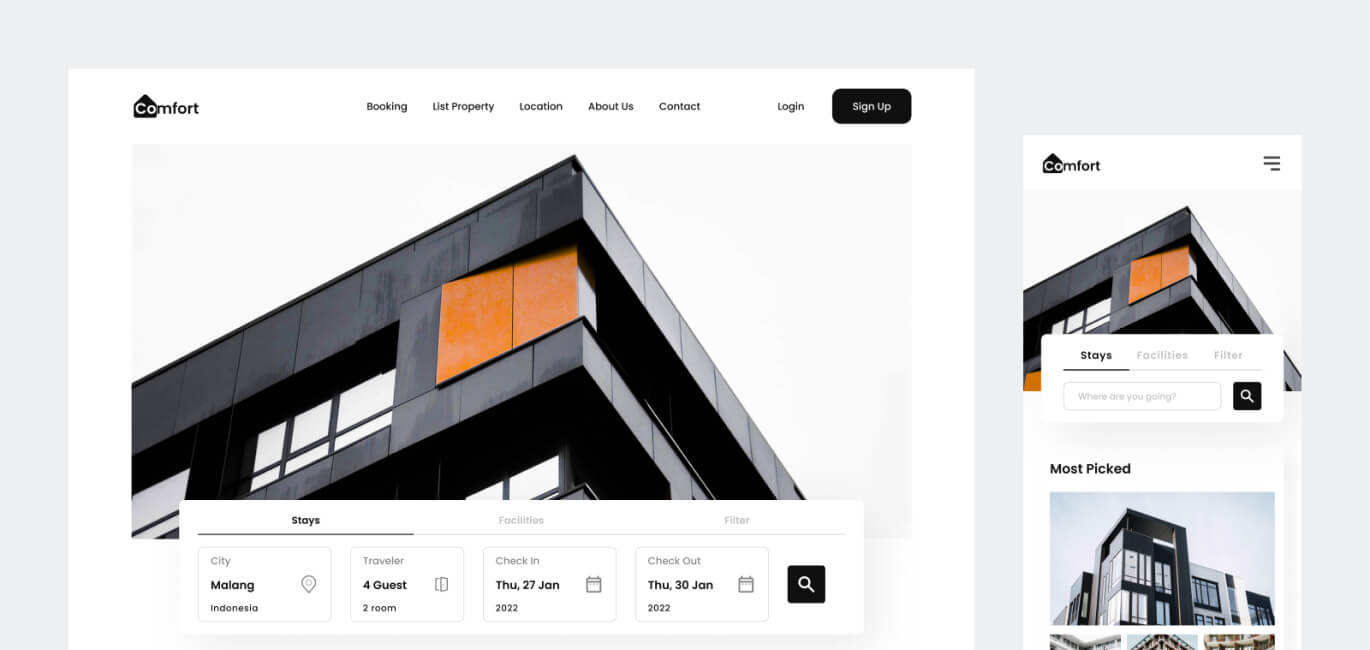 Source: Dribbble
The cost to design an app may be determined by several factors, including the number of screens required in the application. Many views increase the time spent on the design.
Implementing custom elements takes more time, compared to using pre-built components.
The time spent during various stages of the design process may weigh into the final costs. For instance, the costs may increase if a lot of time is wasted creating high-fidelity prototypes instead of first testing out the design theory with a low-fidelity design.
The following table highlights, approximate design costs depending on the app's design complexity:
| Design complexity | Required hours | Estimated cost |
| --- | --- | --- |
| Simple interface app | 100-180 | $4,000- 7,200 |
| Medium complexity | 200-300 | $8,000- 12,000 |
| Highly sophisticated design | 300+ | From $12,000 |
2. Number and complexity of features
Programmers will need time to implement the features in code, for instance, building the booking engine or customer profile.
Complex applications with many features will require more time and cost more since the development cost is basically determined by multiplying the total time spent by the hourly rate.
Now, the following table showcases the approximate time spent on certain features:
| Feature | Approximate development time |
| --- | --- |
| User sign-in and authorization | 120 – 130 hrs |
| User dashboard/profile | 80 – 120 hrs |
| Search function | 110 – 120 hrs |
| Property/room pages | 90 – 100 hrs |
| Booking form & logic | 50 – 60 hrs |
| Messaging/communication | 120 – 160 hrs |
| Ratings and review engine | 120 – 130 hrs |
*The following figures are base estimates. For accurate quotes, we recommend getting in touch with our team and discussing your specifications because we recognize that every app is unique.
For instance, an MVP for a metasearch engine may not necessarily need a user profile or authorization features.
3. Team location and hourly rates
It's cheaper to hire developers and agencies in some countries than in others. That's because they have lower living costs, and this translates to a lower hourly rate. In fact, hiring a development agency in Ukraine may be cheaper than hiring one intermediate-level freelancer based in the US.
4. Target platforms
It's more expensive to develop native apps for each separate platform, for instance, web, Android, and iOS. Cross-platform development can reduce the cost, as the team can develop a shared code base that can be used across several platforms with minor changes.
4. Tech-stack and integrated services
The cost for development may also differ based on the required tech stack and the number of integrated services. For instance, it takes more time to integrate multiple two-way communication APIs for a custom web booking engine.
Some integrations may require paid services such as hosting, storage, or CDN. When coming up with the MVP, it is advisable to first integrate one service and add more capabilities later.
5. Required team
The software development team composition may influence the cost to develop an online hotel booking website.
For instance, if the website owner has already conducted market research and created a professional business plan, the team may not require the intervention of a business analyst.
If they are willing to assume the responsibilities of a project manager, the team composition may also cost less. Overall the calculation of the cost is determined based on the time each team member spends working on the project.
*When outsourcing, the web development company may offer an option to have a team that fully dedicates its time to the project. It may cost more compared to having a shared team.
So, What is the cost to create a hotel booking website?
From our experience, the minimum cost of developing an MVP is $32k. It also takes about 3 to 4 months to complete the development and release the MVP. But the timelines will all depend on the required functionality.
Conclusion
If you want to undertake hotel reservation website development at convenient rates and with a professional team, you can trust Attract Group for a streamlined process.
Ready to Get Started?
Contact us now to discuss your hotel booking website project and receive a tailored quote!