Are you developing an e-marketplace in crowdfunding, B2B, B2C, or P2P? The success of your mobile app development or website development hinges on having a reliable payment system to process online transactions.
The right solution should support multiple payment methods. Customers can pay with credit cards, bank transfers, or mobile— ensuring that you don't miss out on any opportunity to generate revenue.
A good platform makes collecting fees by the platform owner a convenient and rewarding experience.
Managing payouts to vendors, suppliers, and sellers should be similarly intuitive with automated transfers and balance tracking.
Several solutions help marketplaces with payment processing. You probably heard of Stripe, PayPal, and Braintree. Naturally, you may ask: Which is the best solution?
Get the answer in our guide on how to choose the right payment gateway for a marketplace. We'll review the leading payments solutions, focusing on their features, pros, and cons.
Let's get started!
Things to consider when choosing a marketplace payment system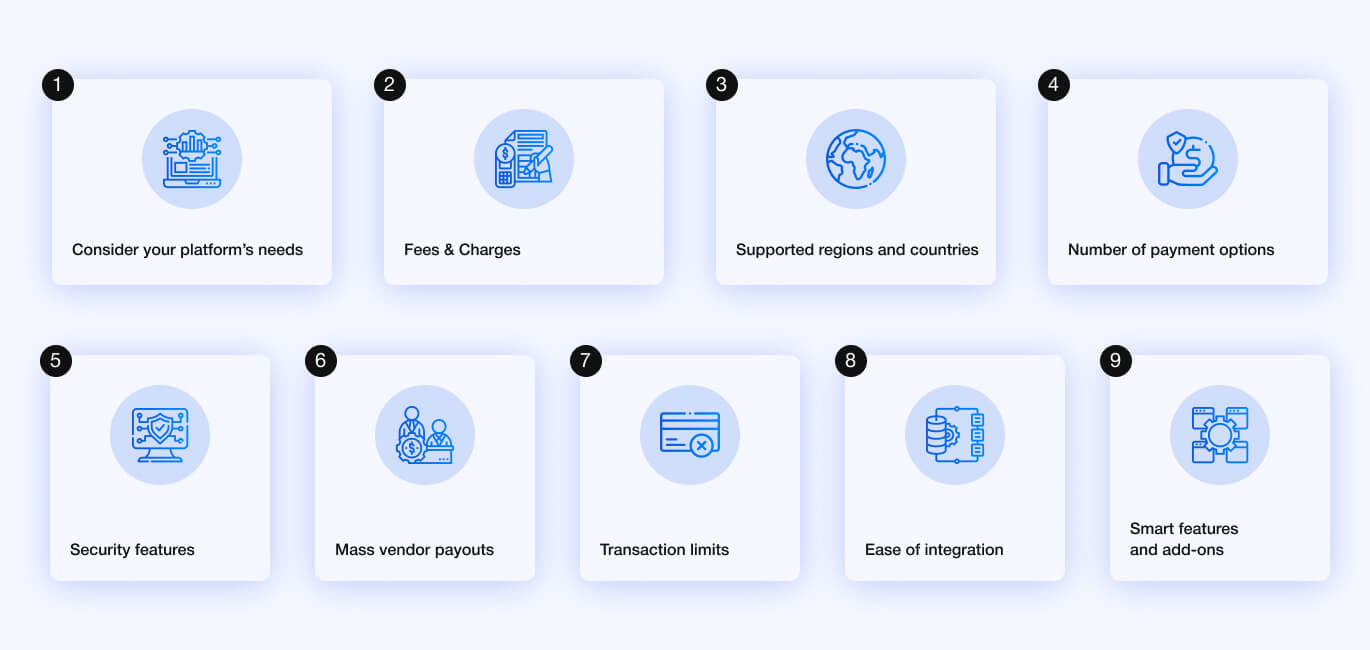 What is a payment service provider (also known as a payment gateway or processor)?
It's simply a service that provides the technology, tools, and compliance required for your marketplace to receive direct payments and charge credit cards.
You can do without a marketplace payment system. But you will be delegated to doing things in an archaic way: sending invoices manually and asking customers to pay with bank transfers.
Use the following tips to find the best payment solutions:
1. Consider your platform's needs
Don't make the mistake of choosing an online payment solution that doesn't offer the most critical features for your business. Consider if:
Your marketplace hosts buyers and sellers (multi-vendor marketplace) or if it's a single-vendor store.
You need a mass payout system for fast payouts to creators, freelances, merchants, etc.
Your platform collects a percentage of fees from every transaction.
Your marketplace requires a point of sales integration for in-person sales.
You require a way to handle recurring subscriptions.
2. Fees & Charges
Fees charged by the platform can significantly impact user satisfaction and revenues. It's essential to know all the fees to expect and plan well ahead of time to avoid surprises.
Most solutions adopt pay-as-you-pricing; for instance, Stripe charges 2.9% + 30 cents for every successful card charge.
So, before selecting a processor, it's essential to check for:
Transaction charges (which may vary based on business location)
Monthly packages
Discount pricing on volumes
Additional charges for international cards, and currency conversions (e.g., + 1%)
Cheaper pricing models
Charges for alternative payment methods —you can recommend cheaper options to clients and boost satisfaction.
3. Supported regions and countries
Geo-restrictions limit businesses from certain locations from signing up as clients. Still, the businesses can accept payments from anywhere, as long as customers use internationally support payment methods such as Mastercard and Visa.
A workaround may allow you to use payment systems not available to businesses in your domicile country. For instance, businesses in unsupported jurisdictions may incorporate a U.S company and set up a U.S bank account.
So to recap:
Check the geo-restrictions and supported list countries as you evaluate the solutions;
You can incorporate a company overseas to access a payment gateway.
4. Number of payment options
Customers may fail to complete a transaction if a third-party website doesn't accept their preferred payment method. It's always better to have more methods than fewer options.
Over 200 payment methods are used online. While a platform can't offer all methods, it's essential to have support for popular methods such as:
Paypal, PayPal Credit
Venmo
Google Pay
Apple Pay
Samsung Pay
Alipay
Amex Express
Visa
ACH
E-wallets
Direct banking
Popular cards to support include:
Visa
Mastercard
American Express
Discover
JCB
Union Pay
Maestro
Carte Bancaire
Diners club
Check for support for region-specific solutions such as iDEAL used by 60% of shoppers in the Netherlands or OXXO which has over 13,000 stores in Mexico.
*As the popularity of cryptocurrencies grows, you may expand revenue opportunities by using a payment gateway with cryptocurrency support.
Few of the major payment processors facilitate crypto payments. For instance, Stripe ended its Bitcoin support in 2018.
In Q1, 2021, PayPal rolled out its Pay with Crypto feature to U.S customers. Upon checkout, users can pay with cryptocurrencies that are automatically covered to fiat currency.
5. Security features
Businesses that process, store, or transmit credit card data must adhere to PCI DSS compliance (Payment Card Industry Data Security Standard). It's a rigorous process.
Fortunately, payment processors simplify compliance by providing pre-built integrations for checkout pages. Your website doesn't collect and store sensitive card data. Instead, the data goes straight to their servers. So, check for the integrations and how reliably they work.
Another security feature to look out for is 3D-secure. It may ask users to authenticate their cards by entering a special code.
Platforms that implement Know Your Customer (KYC) further help your marketplace combat money laundering and fraud.
6. Mass vendor payouts
A marketplace working with multiple vendors requires a way to distribute payments from customers. Think of platforms such as Uber – which needs to pay drivers or StyleSeat – which remits payments to its beauty professionals.
It's ideal to choose a platform with programmatic payouts. You can pay service providers and reconcile balances automatically, saving time and reducing errors.
7. Transaction limits
While the maximum transaction limit matters, don't forget to review the minimum limits. Ask for further clarification from support if the platform doesn't mention its transaction limits.
8. Ease of integration
Gateways must take the initiative to simply onboard integrations. They should offer no-code integrations and ready-to-use plugins that integrate with existing eCommerce solutions.
If you need to build a custom integration, the platform should provide extensive documentation and development support. Working with a popular platform is always advisable as it unlocks access to a large network of experts, consultants, and agencies.
9. Smart features and add-ons
Look for smart productivity features as you choose a payment gateway for the marketplace. For instance, automated tax collection and automatically generated 1099 tax forms simplify tax compliance for the platform's vendors.
Chargebacks and refunds may end up taking significant time to resolve. The ability to automate chargebacks and chargeback protection may help improve efficiency.
The platform should easily integrate with other payment solutions, accounting software, web plugins, and other services.
8 best marketplace payment solutions
Let's review the top payment solutions for a marketplace website. See how they compare in the comparison table at the end of this section.
What to choose: Top payment systems compared
We've gone over how to choose a payment gateway for an online marketplace with tips such as evaluating the security features, geo-restrictions, etc. Let's narrow down to the top four options for building complex marketplaces and see how they compare.
*Note. The platforms listed here include mobile support and are PCI DSS compliant.
Stripe
PayPal
Braintree
Dwolla
Transaction fee for cards
2.9% + 30¢
3.49% + fixed fee
2.59% + $.49
–
UK Sellers & card fees
1.4% + 20p
2.9% + £0.30
1.9% + £0.20
–
Available countries
47
200+
48
25+
Local payment methods
Sofort,
SEPA, Giro Pay, iDEAL, Bancontact, WeChat Pay, AliPay, OXXO, China UnionPay, EPS
Sofort, iDEAL, Giropay, Bancontact, OXXO, MyBank, Multibanco, Klarna, Trustly
SoFort, iDEAL, Giropay, MyBank, Trustly, EPS, P24, Blink
Local via wire transfers
Accepted Cards
VISA, Mastercard, Maestro, American Express, Discover, Diners Club, JCB
Visa, MasterCard, Discover, American Express, Discover, JCB, Diner's Club, and EnRoute.
Visa, Mastercard, American Express, Discover, JCB, Diner's Club, UnionPay
ACH only
Apple Pay, Google Pay
Provided
Provided
Provided
No
Venmo
No
Yes
Yes
No
Supported payment currencies without conversions
135+ currencies
25 currencies for payments & balances
136 currencies
38 currencies
ACH
Yes, 0.80%, capped at $5
*Users must use Braintree Direct
Yes, at 0.75%
Yes, at 0.5% per transaction
Payouts
Yes
Yes
Yes
Yes
Advanced fraud protection & 3D secure
Supported
Supported
Supported
Partial support
Automated tax collection & reporting
Included
Not provided
Partial support
No
When to use multiple payment systems
Using multiple payment gateways for your online marketplace may be the right choice in several scenarios:
Ensuring international coverage during business expansions
Scaling after using MVP development service
Building redundancy by having a backup system
Providing more payment methods to enhance convenience
Catering to security-conscious customers with a payment gateway marketplace they can easily recognize
Ensuring local integration – where customers don't prefer to pay with credit cards
Summary: Payment solution for marketplace
Are you building a marketplace and stuck with payment integration? At Attactgroup, we have worked with all the major payment processing systems and helped integrate them into apps.
We take time to understand your project requirements and provide development support that adheres to rigorous compliance standards for the financial sector.
If you've not started on the development, you can also:
So, contact us for expert advice on the best payment solutions for online marketplaces or get a free quote.