Searching for a job is a challenging experience because of not knowing where to look, lacking a network, or not having adequate time.
Whether candidates are seeking a career change or the first job out of college, recruitment websites can provide an ideal match. A 2015 Pew Research survey revealed that over half of Americans preferred searching for work on the internet, with as many as 45% applying for jobs online.
There has been steady growth in the number of online job seekers, with the Gallup State of the American Workplace Report 2017 revealing that 58% of applicants chose boards like Monster as their primary source of vacancies.
The world is currently in the period known as the Great Resignation, where many people are leaving their current roles for better opportunities. As it accelerates, recruitment sites are seeing an influx of job seekers and vacancies. The Covid-19 pandemic has also accelerated the shift to digital space.
All in all, there's a lot of potential in this space. Some of the leading job portals in the world are worth billions of dollars: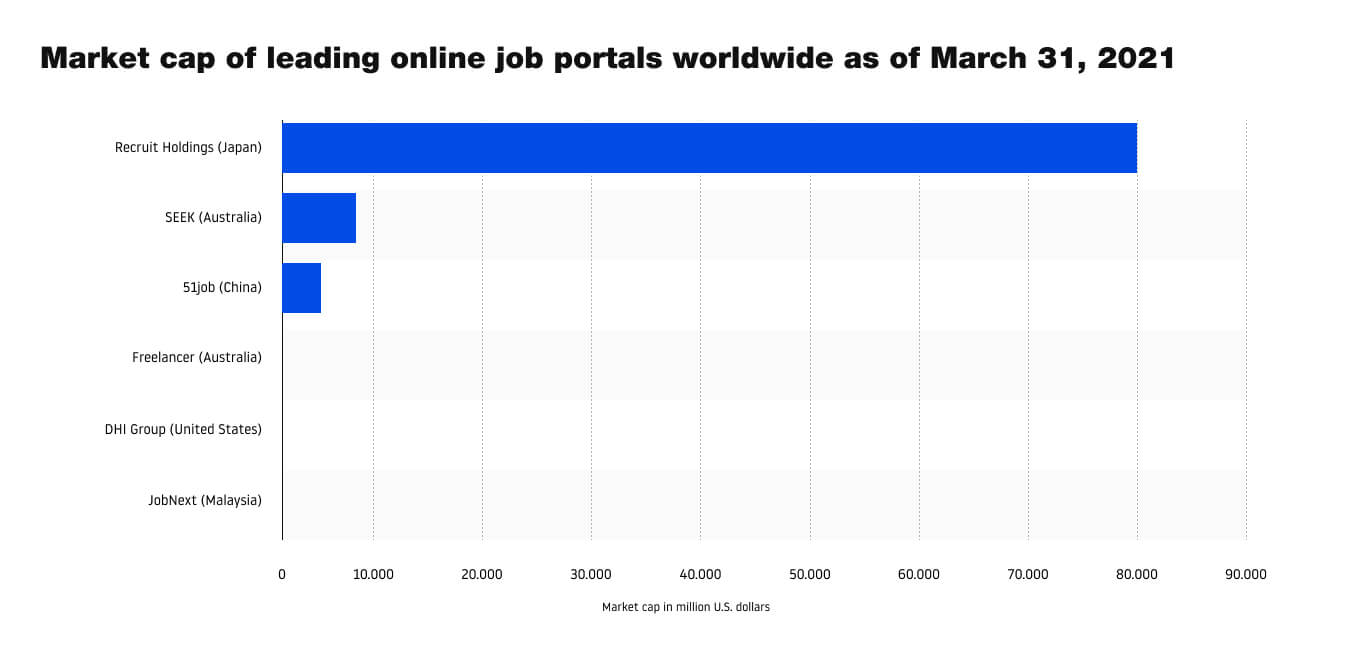 So, starting a job board website may be a promising business venture, and in our guide, you'll learn how to start a job board website. From types to costs, here are the key aspects of job platforms in 2022.
Ready to launch your job board website?
Contact us today to get started on creating a powerful recruitment platform!
Types of Job Websites
A job board website may take different forms. For instance, your website may accept postings from registered members or consolidate data from other sites. Contemporary platforms are classified as:
1. Job Aggregator Websites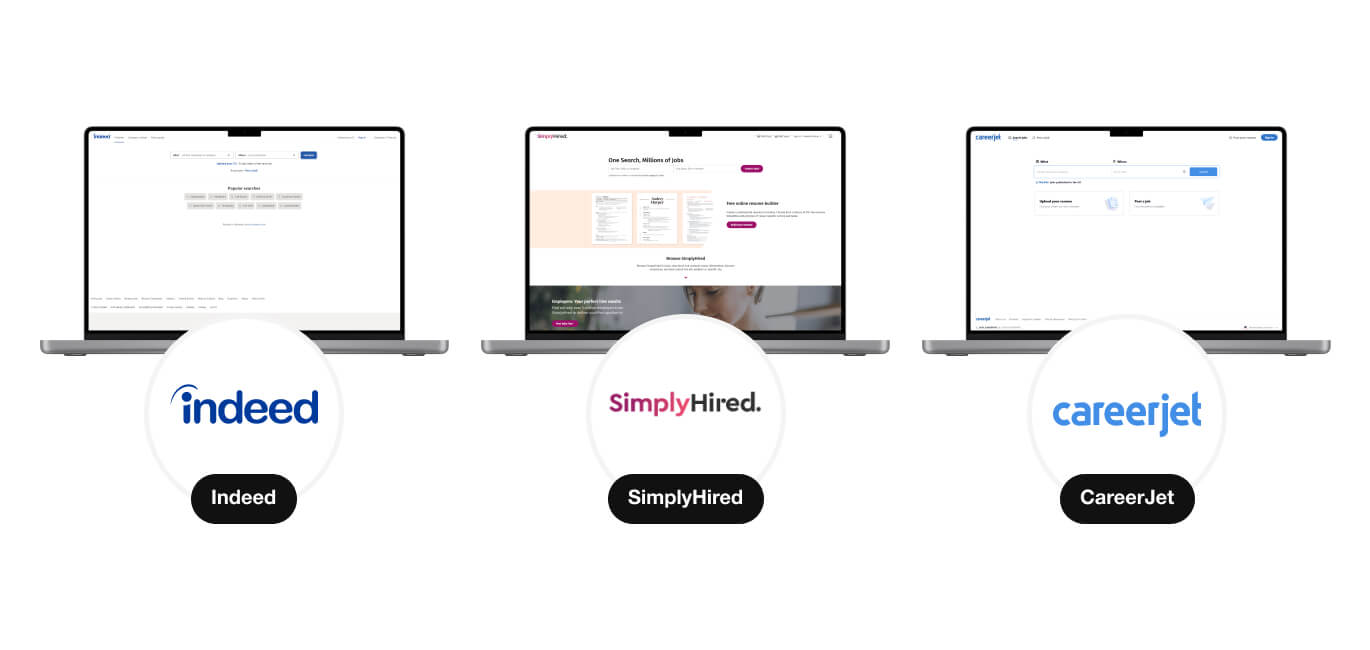 They function like Google for vacancies by compiling data from hundreds, sometimes thousands of sources. Their sources include other job boards (see below), corporate websites, professional association sites, etc. Top features of job aggregator websites include:
Aggregators crawl other sites to identify open vacancies.
Their algorithms show query results in a predetermined order.
All information is accessible to users via a single searchable interface.
The interface includes filtering tools like keywords, salary, location, part-time or full-time, etc.
Users can keep track of their application history.
Some aggregators also work like job boards, as some of their postings come from registered users. For example, Indeed now accepts vacancies published by Glassdoor users, following their partnership. Some of the biggest aggregators in 2022 include:
Indeed
Launched in 2004, Indeed is now the largest job site in the world, working with over 25,000 partnered websites. It is available in 28 languages and 60 countries. Over 250 million users visit it monthly, and the database includes 16+ million vacancies. Together with Glassdoor, Indeed is part of Recruit Co's 'HR Technology'. Annual revenues in 2020 were just under $4 billion. Over the second and third quarters of 2021, the HR Technology segment brought the company approximately $3.6 billion.
SimplyHired
This website resembles Indeed in terms of design and functionality, but it has more add-ons. Users can connect their profiles to social media to share and research jobs faster. SimplyHired operates in 24 countries and 12 languages. The estimated annual revenue is $40 million.
CareerJet
Founded in 2001 and headquartered in London, CareerJet states that it has smart agents that scan over 58,000 sites daily, including small recruitment agency postings. The website also bears a resemblance to Indeed. It works in 28 languages and provides about 90 localized sites. CareerJet gets 3+million unique users per day, and its estimated annual revenue is $10 million.
2. Social Networks for Job Seekers
Now, the second category of job board websites is social networks for job seekers. A prominent example in this category is LinkedIn, a professional networking site with special service packages for recruiters. It connects over 756 million members, including 37% of adults in the US and 19.2% of millennials. It generated around $8 billion in revenue over FY2020.
LinkedIn streamlines recruitment by speeding it up and making it targeted.
Posting a job is free, but promoting it to reach a broader audience requires a daily pay-per-click boards (PPC) budget.
In-built analytics help recruiters report on ROI.
As LinkedIn connects coworkers, employers, and candidates, it adds a social dimension to the search. Conventional recruiting is combined with social and referral recruiting.
Companies can establish a brand and boost employee advocacy.
3. Recruitment Platform (Classic Job Board)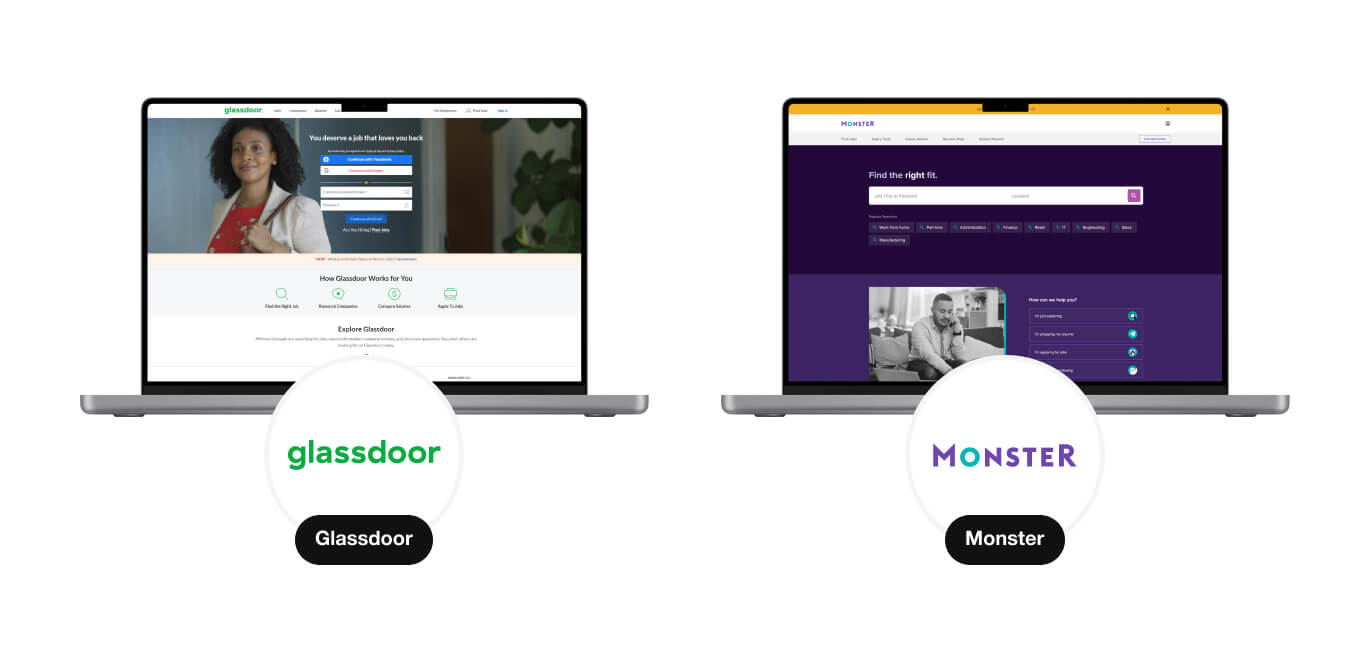 Unlike aggregators, boards only show postings from companies that register on them.
Typically, these sites do not run millions of posts as they have a narrower focus.
Some websites are dedicated to specific industries like healthcare or government, rather than a range of sectors.
Companies pay for job listings and additional services. For example, a website may filter resumes at the initial stage, so only relevant ones are forwarded to HR managers.
Companies typically have to pay for top spots.
You can create a job board website similar to:
Glassdoor
This job portal website is unique as users can leave anonymous reviews on employers. Employees can also self-report about their salaries, allowing job applicants to compare salaries. Recruiters who want their job posts to appear on the platform will first post their openings via the company's sister website Indeed. The range of featured industries is wide — from accounting to video games. According to Owler, Glassdoor generates around $210 million in annual revenue.
Monster
Established in 1994, Monster was one of the first virtual job boards. They cover lower and mid-level employment in 14 countries. Some of their dominant industries are staffing and recruiting, IT, and computer software. The site also offers career advice and resume help to job seekers. Their estimated annual revenue is $348 million.
4. Niche Job Board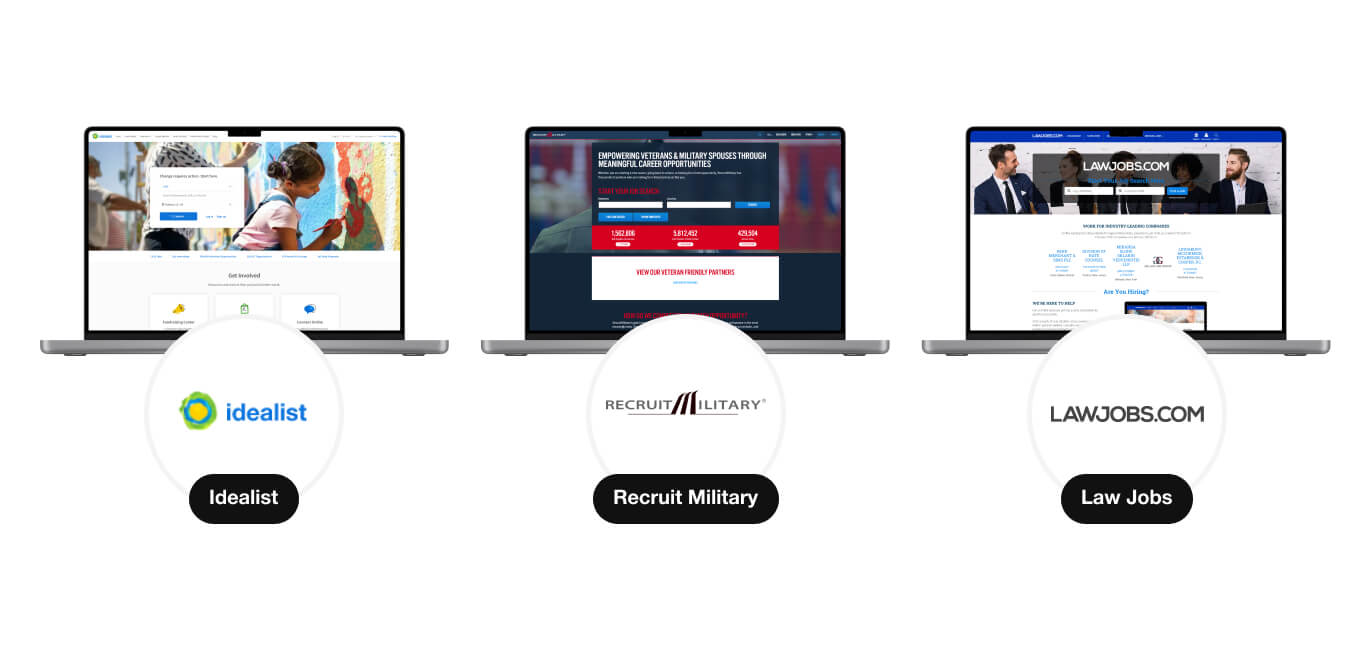 With a niche job board, you can create a board tailored to a particular sector, such as sales, tech, or marketing. Shortly, our guide will show you how to create a niche job board website, too! Now, here are examples of niche job boards:
Idealist
This job board offers postings from over 120,000 non-profit organizations in the USA. Users can also find internships, volunteer opportunities, and mutual aid groups. The estimated annual revenue is $10 million.
Recruit Military
This online job board website is used by over 1.5 million candidates. It is focused on "empowering veterans and military spouses through meaningful career opportunities". Aside from posting jobs, companies can participate in career fairs, get curated advice, and more. The estimated annual revenue is $17.4 million.
Law Jobs
Focused on the legal industry, Law Jobs has a strong market share. It is regarded as the premier resource for managing partners, leading attorneys, and in-house counsel. The estimated annual revenue is around $13.4 million.
So, let's look at how to create a job posting website with the potential to generate millions?
Ready to launch your job board website?
Contact us today to get started on creating a powerful recruitment platform!
Steps to Start a Job Search Website
Every successful site started with an awesome idea. And here are 5 tips to complete before your developers get down to work:
1. Form a Clear Vision of Your Job Website Idea
The first prerequisite for success is a unique value proposition. Whether you're building an aggregator, classic, or niche portal, the initial steps are the same. Form and thoroughly evaluate your business idea before development begins.
Competing with "everything for everyone" giants like Monster from the get-go is daunting. It is easier to stand out from the crowd in a certain niche. For instance, you could focus on creative professionals (designers, writers, etc.) or vehicle drivers.
Research market demand to find a way to bring unique value to the community. Your analysis could reveal a completely untapped segment!
Identify websites that are most popular with the target audience in your niche. Make a list of the strongest competitors (if there are any).
Dissect their strengths and weaknesses. What features or services could you offer to attract the same audience. Remember that you must build a job search website catering to employers and candidates alike.
To streamline hiring in a unique way, you need flawless design and UX. After defining your UVP, move on to the type of job board website development, functionality, and monetization (learn more below).
Choose an option for Job Board Website Development
Your company may build it from scratch, use WordPress themes or off-the-shelf platforms. The direction to take depends on your roadmap:
1. Ready-made packages
SaaS companies like SmartJobBoard offer full packages for website building and maintenance. You do not have to deal with coding or quality assurance. Almost everything is done for you.
Yet, despite the convenience and low cost, builders only satisfy initial needs. Scaling up will inevitably require more features and sophistication. Remodeling a builder-based site is challenging. This option is best when:
You do not need sophisticated features
You don't want to deal with maintenance
2. Custom software development
A custom job board platform will be scalable, secure, and tailored to your brand. On the downside, the initial costs are higher. This option is preferable if:
You are targeting a competitive niche
You are focused on long-term success and growth
3. WordPress
This CMS is the most popular open-source solution. It is known for its flexible and user-friendly nature. One of the biggest advantages is high customization via plugins and themes. Other popular options are Drupal and Joomla. WordPress is suitable if:
You already have a website built on this CMS
Your budget is tight
You want to launch your website as soon as possible
Consider the pros and cons of each option to decide how to build a job search website:
Option
Full custom development
Ready-made solution (SaaS)
WordPress themes
Pros

Unique design and UX tailored to your needs and target audience
Flexible and scalable website (start with an MVP to validate your idea and scale it up)
Enhanced data security (you decide what measures to implement)
Professional support at all stages

Simple (no tech knowledge required)
The software provider manages everything and provides tech support
Cheaper than custom development
SaaS analytical solutions help you track key performance metrics

Easy and fast website building
Relatively cheap
Flexibility (almost everything in appearance and functionality is customizable)
Some ready-made themes are free

Cons

The most expensive approach
Requires more time than the other options
Your participation (keeping in touch with the team) is required at all stages

Limited or no customization (no unique designs or functionality)
Limited control (the software does not belong to you)
Security issues (a major problem for cloud and hosted services)
You cannot avoid upgrades you don't like

Customization is limited to available plugins and themes
Some programming knowledge or a developer's help is required (in case of crashes or bugs)
You have to choose a domain and suitable hosting
Incompatibility if your website is built on another CMS
Data security concerns
2. Features for Job Seekers
To make a job posting website, you need two sets of features for seekers and employers. Essentially, the concept is similar to P2P marketplace development. Candidates and recruiters connect like buyers and sellers trading goods and services.
To help job hunters reach their goals, your MVP development should include basic search and resume features. Below, you will find the core functions of boards like Indeed:
Sign-up/Sign-in
Both registration and login must be as quick as possible. You can add sign-in through social media for enhanced convenience, allowing visitors to use their Google, Facebook, or LinkedIn accounts.
Personal Profiles
On LinkedIn, profiles double as resumes. On job boards, these are separate features. A profile may contain only basic contact information (email address, location, password) and a button for resume upload. It must be easy to complete and edit, so busy applicants save time.Let users switch between private and public visibility. This way, they can hide their profile after finding a new job instead of deleting it.
Resume Manager (Builder)
A virtual assistant is useful for both beginners and skilled specialists. Not everyone is good at describing their good sides in writing. Builders form resumes automatically based on answers to a questionnaire. Resumes created with Indeed's free builder can be downloaded to a PC or used for applications on the site.

You could also specify the average time for filling out this form. According to CareerBuilder, 20% of job seekers refuse to complete an application if this takes longer than 20 minutes. An overwhelming majority (76%) want to know the approximate time required.

Document and file upload
Many users save their resumes as text or PDF files, so uploading is a must-have feature. Seekers save time and effort as they do not enter the same information again. Allow them to share proof of professional achievements, such as certificates from courses or photos from conferences.
Job search
This primary function must be intuitive and easy to access. Include filters like:

industry
position
desired salary level
type of work (remote/in-office, part-time/full-time/project-based)
location
relocating (checkbox)
level (entry, junior, middle, senior)
company size, etc

Consider integrating search suggestions for enhanced speed and convenience. Once a user enters the first letters of a position or company, the search field will show possible matches.

Profiles of Companies
Candidates want at least some information about potential employers. Companies' profiles should include basic details and active postings. Job seekers will also appreciate it if you show their brief versions in search results. Allow employees and applicants to review companies, too.
Apply to jobs/contact the company
After finding a vacancy, a candidate must be able to contact the employer or send their resume and cover letter. This must happen directly through your site. Integrate a basic contact form or combine it with the apply feature including resume upload.
Additional Features
Bookmarking
Bookmarking a posting is more convenient than saving a link in Evernote or leaving the browser tab open. Hesitant job seekers can save interesting vacancies directly on your platform and think about them later.
Hiding
Give candidates an opportunity to hide postings they find uninteresting. This feature is available on Glassdoor.
Salary calculator
This feature shows the salary range for a specific job and personal market value. For example, the calculator on Glassdoor analyzes the user's details (education, skills, experience, and salary/wages). The algorithm compares this data against the current market situation to show a realistic salary value.
4. Features for Employers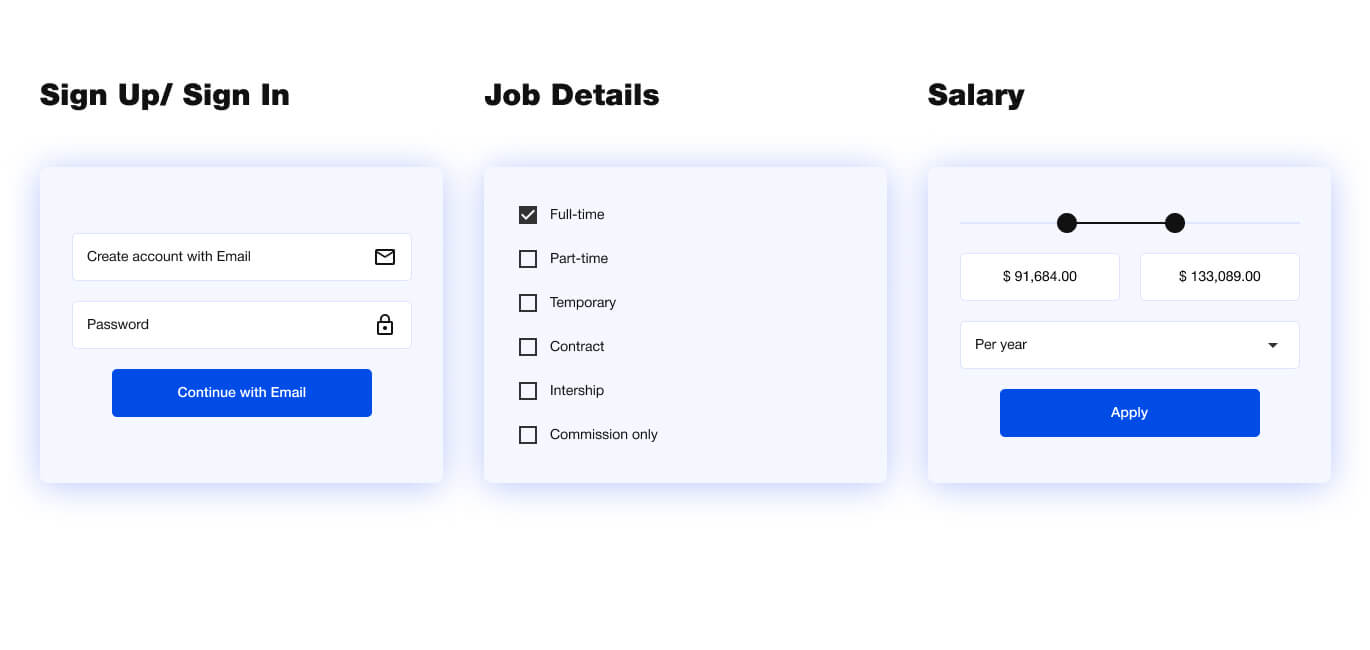 The second set of features must enable and facilitate headhunting. Consider including these in your MVP:
Sign-up/Sign-in
Some websites let recruiters link their profiles to accounts on LinkedIn and/or Facebook. However, the majority of job boards require a corporate email address.
Profile
This section usually includes a company overview and brief history. You could also let employers introduce their teams.
Job posting
Publishing a vacancy must be intuitive and fast. Make sure your forms are easy to understand and well-structured. Here is how they look on Indeed:
Search for applicants
Like candidates, employers also need filters to narrow down their search. Let them quickly find applicants with specific:

Experience
Education
Languages
Certifications

Other filters are similar to those for candidates:

Industry
Position
Level
Type of employment
Location
Relocating
Additional Features
Applicant rating
Monster lots recruiters rate candidates they have interacted with. You can integrate this feature as a premium add-on or a search filter.
Bookmarking
Allow recruiters to save resumes on the site, so they can view them later.
How Do Job Boards Make Money?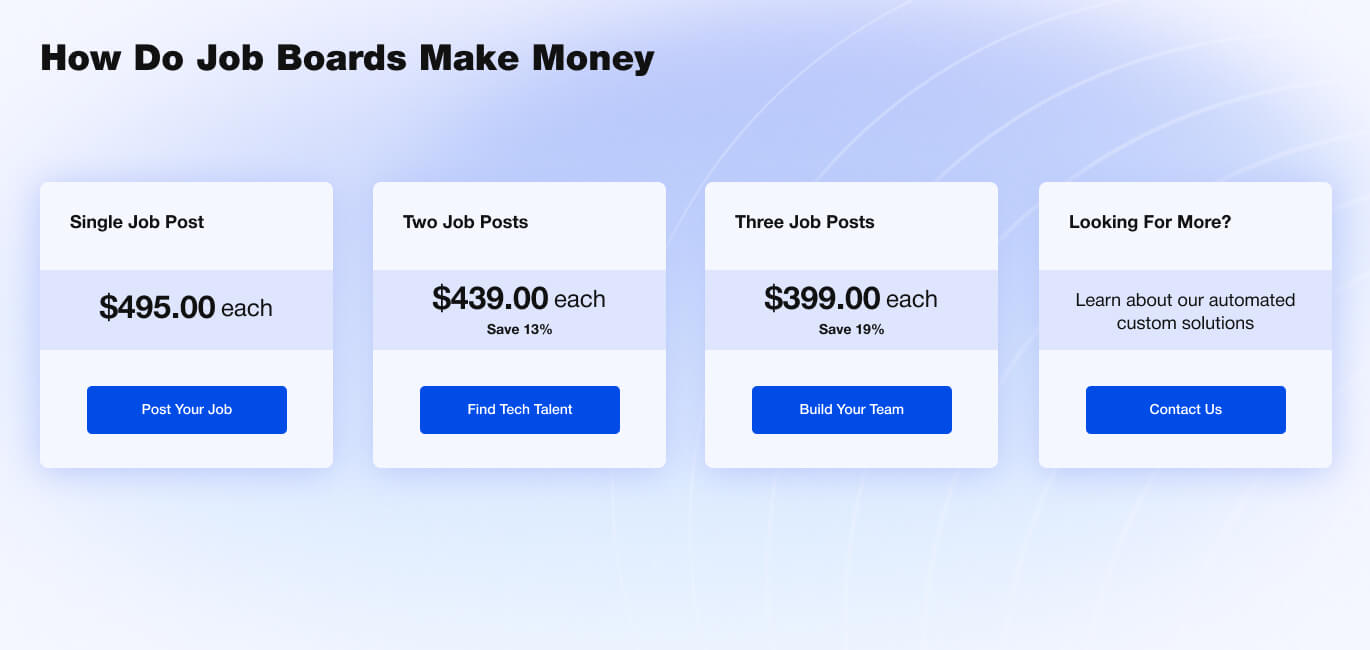 Too many ads are a turn-off for job seekers and employers, and they also hurt brand credibility. Posting fees are preferable as a key revenue stream. Most websites are free for seekers but charge employers. Common sources for a job board business model include:
1. Paid listings (single-use packages)
These are found on most websites. Two plans are used — one for employers and one for candidates. Companies are typically charged per listing or based on duration.
In 2019-2020, 53% of operators got most of their profit from duration-based postings. For example, companies may pay to have their post displayed for 30 days. The reasonable price range depends on the niche (e.g., aviation is more expensive than conservation).
You could offer reduced rates for a longer duration or more posts. For example, Monster charges employers $375 for one 30-day post or $399 for 60 days. On Dice, employees save 13% and 19% by posting 2 and 3 jobs, respectively.
2. Pay per click (sponsored job posts)
Indeed charges employers between $0.10 and $5 per click. Only some of these clicks result in new applications. A similar model is part of the "Pay-for-Performance" package on Monster. On Linkedin, the cost of a post depends on the daily pay-per-click boards (PPC) budget.
3. Subscription
A subscription for employers unlocks the opportunity to post a particular number of offers. For applicants, it may open access to profiles and let them contact companies. This model ensures more stable profitability, and it is found on most large sites.
ZipRecruiter does not charge job seekers but offers three plans for companies. Each of them includes distribution to 100+ other sites:
Standard (only posting)
Premium for hard-to-fill positions (more candidates + access to resumes)
Pro (maximized reach and visibility)
On Monster, job hunting is also free. The Starter, Standard, and Premium plans for recruiters have different numbers of posts and CV views. AvSearch (an aviation recruitment website) charges candidates for search and resume hosting. They have monthly, quarterly and annual subscriptions (from $14.99 to $89.99).
4. Premium services
Only a portion of functionality for companies and/or job seekers is free. For instance, you could restrict the number of uploaded photos or documents. Some websites show premium profiles at the top of search results or feature them in email newsletters.
On Ladders Recruiter, the free functionality for recruiters is reduced. They can publish 10 vacancies, access 10 resumes, and send 10 emails.
5. Resume Access
Well-established websites can charge employers for access to their databases. This requires sufficient value (several thousand resumes available). Such features are often added to mixed packages with posting privileges.
6. Job Post Distribution
Some sites charge a fee for distributing postings to aggregators and social networks. On Dice, this option is part of all paid plans by default. Promotion on Monster's partner network is part of the "Pay-for-Performance" plan.
7. Job Backfill
To gain traction faster, consider becoming an affiliate (registered publisher) of an aggregator. For example, you could populate your website with postings from Job2Careers. Every time your visitor clicks on a listing or applies, you get a commission.
8. Ads
After registering on Google AdSense, you get a code that allows your site to host ads. Revenue largely depends on the volume of traffic and the number of users who click on the ads. Note that overloading the site with ads will damage your brand and aesthetics.
9. Banners
This type of ad could feature products and services related to your niche or hiring in general. Additionally, consider accepting banners from companies that want additional visibility.
How Much Does It Cost to Make a Job Board Website?
The cost largely depends on the complexity of design, functionality, and location of the software development team. Generally, in-house development is the most expensive and time-consuming option. Hunting for the best talent in the local pool is not the only problem. You will also have to buy hardware, pay for software licenses, provide perks, etc.
The cost of outsourcing varies geographically. US-based teams have the highest rates, while India has the lowest. Eastern Europe is the golden mean due to high-quality tech education, a massive talent pool, and modest wages.
Your software development team should include at least 5 specialists (one per position). By default, every web development project requires:
project manager
UI/UX designer
frontend developer
backend developer
quality assurance specialist
The cost to make a website like a Glassdoor depends on hours of work per feature. So, the number and complexity of features influence the costs. On average, an MVP costs upwards of $28,000. In our experience, a fully-fledged website requires 3-4 months to build. Adding more website developers and/or designers will speed up the work.
Conclusion
Every successful project starts with a concept. You could envision a unique job aggregator, classic board, niche site, or even social network! After finding your competitive focus, reach out to a seasoned development company. With an MVP, you can start small and ensure traction. If you want to create a job website, the Attract Group team will bring your ideas to life.
Ready to launch your job board website?
Contact us today to get started on creating a powerful recruitment platform!