Are you wondering how to make a mental health app? With a great idea and proper execution, you can crack a hugely promising app segment. The Global Wellness Institute estimates the mental wellness economy to be worth $121 billion dollars.
The league of mental self-improvement apps consists of highly successful applications. Calm — an app offering meditative and stress-reducing tools — has over 2 million paying subscribers with a $2 billion valuation.
This article provides a step-by-step overview of mental health app development. Get a good head start by learning about:
Categories of mental health therapy apps
How mental health apps make money
5-step development process
Best design practices
This content will guide your development process and promote higher chances of success.
Without further ado, we suggest getting started.
Why Mental Health Apps?
A great starting point to determine if it's a good idea to build a mental illness app is if you're developing for a related business or non-profit. For instance, American Addiction Centers developed an app for its alumni to continue supporting them through their recovery journey.
Creating a mental health app may be an entirely new business venture. More people are becoming aware of the importance of taking care of their mental health and are actively pursuing tools that can help. An NCCIH study noted the increase in the percentage of US adults taking up meditation from 4.1% in 2012 to 14.2% in 2017.
The demand is so much that people are willing to pay for the right tools. Calm, which charges about $70 annually for premium access, generated more than $23 million in the first quarter of 2021, according to a Statista report. That same report notes that the adoption of mental wellness apps accelerated following the COVID-19 pandemic.
A hidden advantage is that the niche is not saturated, and some categories may have less competition. While meditation and self-help apps are highly competitive, categories such as teletherapy, sleep, and specific mental disorders may be ripe for opportunity.
The decision to develop an app for mental health should be justified after comprehensive market analysis.
Ready to Create a Mental Health App?
Contact us now and let's make a positive impact together.
Types of Mental Health Apps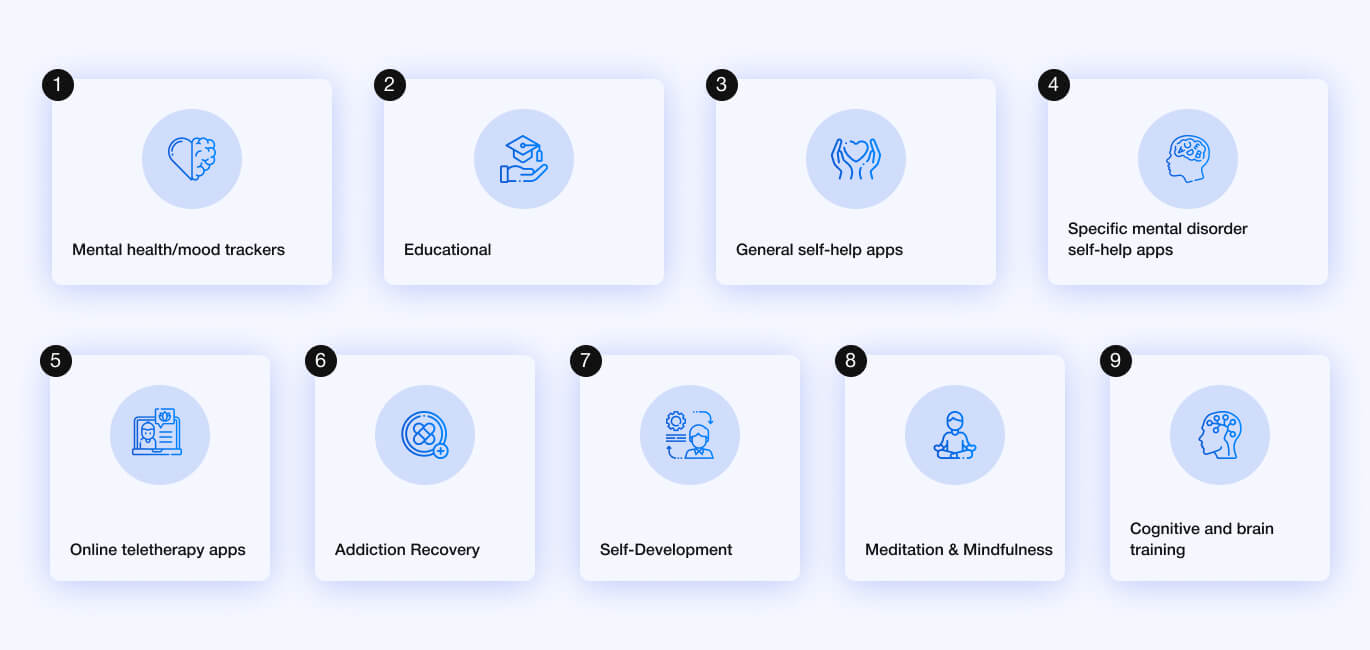 Creating a mental health app opens up the possibility to help people in many different capacities. It can be tempting to offer a vast selection of tools. But the best app succeeds in doing one thing in the best way. It's centered around one solid idea.
Categories to venture into include:
1. Mental health/mood trackers
Users primarily track day-to-day changes in their mood, thoughts, feelings, emotions, and behavior. One popular feature is a mood journal, where they can regularly check-in. They can also set daily mental health goals.
Moodfit is a noteworthy mention in this category. It offers a broad selection of mental health tools, daily goals, personalized insights, and helpful content.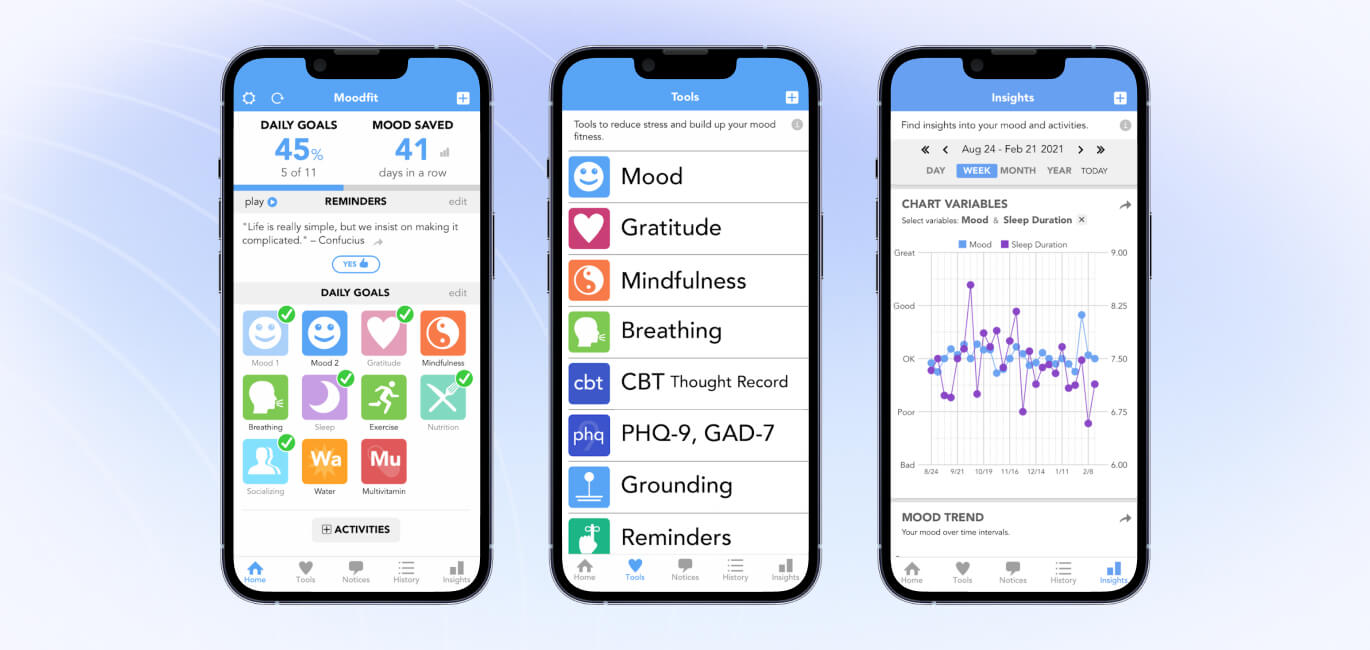 2. Educational
Educational mental health apps may teach users about mental disorders or impact coping skills. They can leverage various content formats and aids such as quizzes or activities.
Moodmission gives users five evidence-based methodologies to minimize mood disturbances and prevent mental issues from developing.
Better Stop Suicide is another app that promotes suicide awareness through an educational based-approach.
3. General self-help apps
Self-help apps motivate users to achieve things on their own — focusing on problem resolution and empowerment. This ties into the core mission of promoting better mental health.
The iBreathe iOS app promotes breathing exercises to reduce stress and anxiety.
Sleep Time app provides an alarm clock and sleep-cycle tracker.
Goal-setting and healthy eating apps are additional examples of general self-care apps.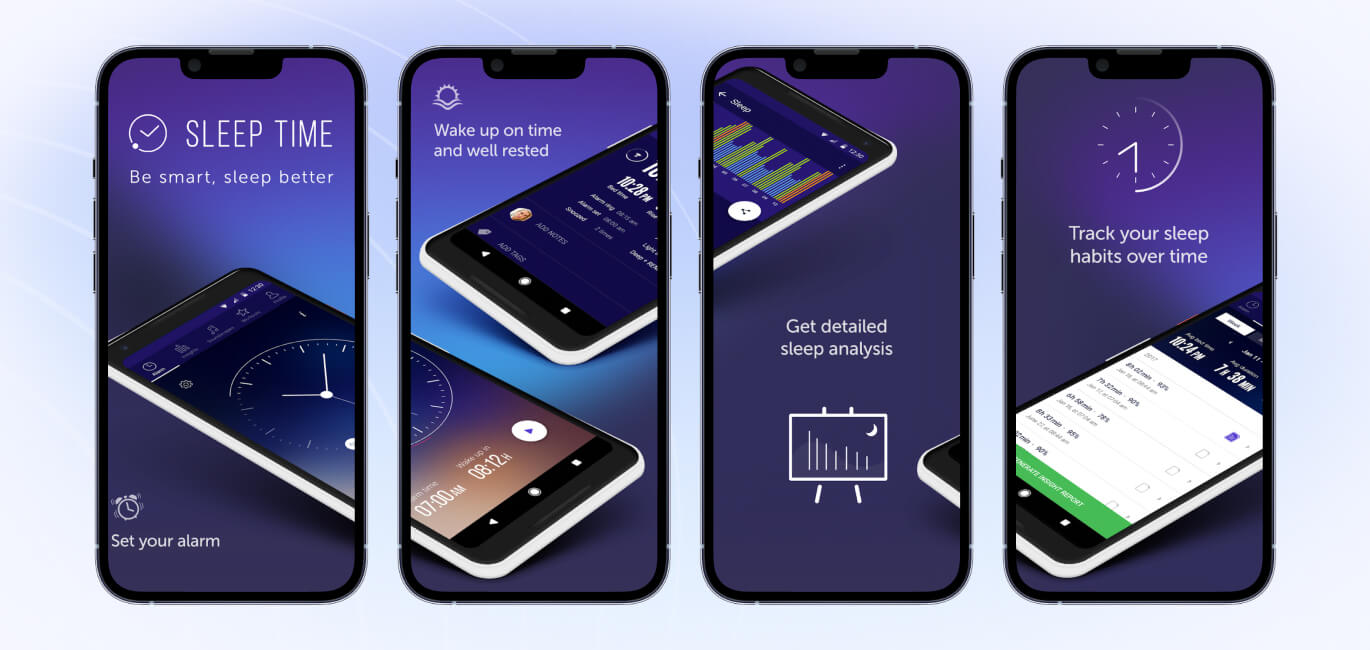 4. Specific mental disorder self-help apps
A broad range of mental conditions impact behavior, feelings, and thinking. Prevalent types include clinical depression, anxiety disorder, PTSD, OCD, and attention deficit. People diagnosed with the conditions may need targeted assistance, driving the demand for apps helping with specific mental disorders.
The NOCD app caters to persons suffering from OCD. It grants access to a supportive community, guided treatment tools, and therapy sessions with OCD therapists.
Recovery Record provides a path to recovery for a wide range of eating disorders. It instructs on evidence-based coping methods, recovery journeys, and progress tracking.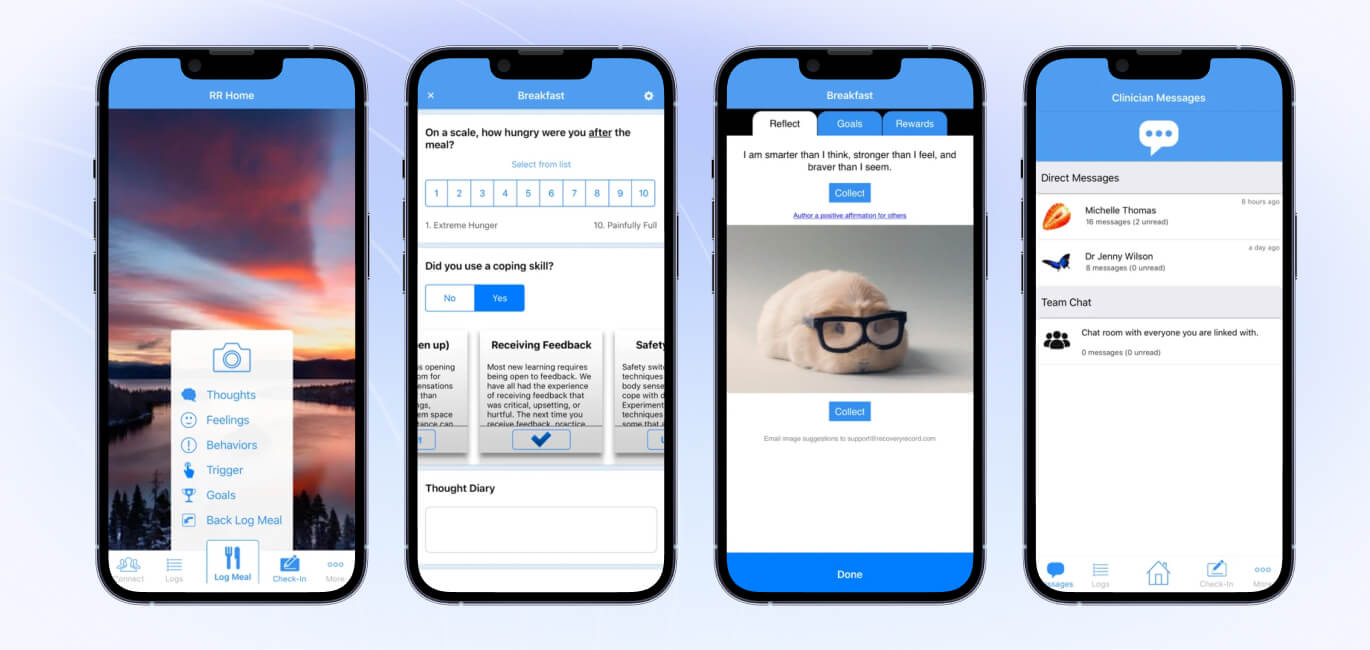 5. Online teletherapy apps
Teletherapy apps facilitate mental health counseling via the internet rather than in-person. According to a McKinsey analysis, the use of telehealth increased up to 38 times compared to pre-Covid baselines. McKinsey projects massive growth for telehealth due to strong uptake, favorable customer sentiment, and increased investments.
Talkspace is one of the leading teletherapy platforms with a user base of over 1 million. Their mobile apps facilitate video communications and matches to licensed therapists.
Note: As you make a mental health mobile app, online teletherapy may be the standout feature or complement other tools.
6. Addiction Recovery
An addiction recovery app improves a person's physical, psychological, and social well-being by providing coping techniques to deal with cravings and prevent relapse.
I Am Sober is one of the better-known recovery apps with over 1 million downloads on the Google Play store. Users can create pledges, track their sobriety, learn from others, and access community support.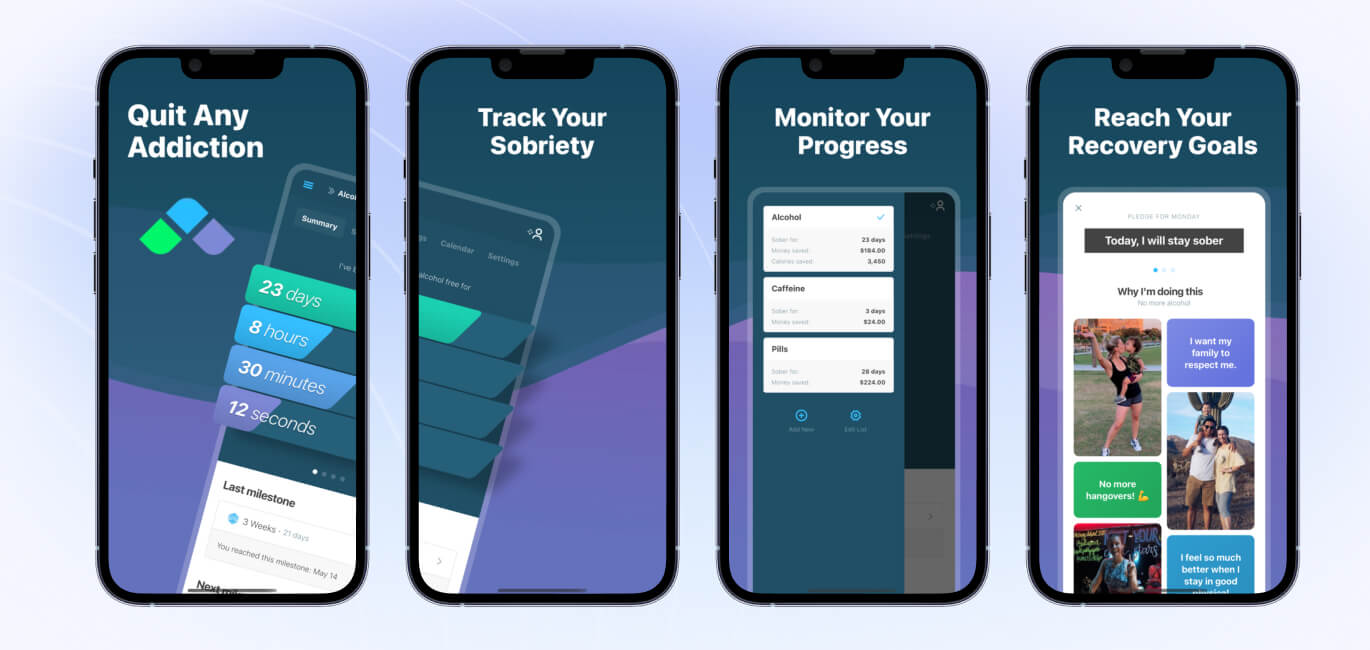 7. Self-Development
Self-development applications augment the users' abilities, skills, personalities, and characters. Positive change enhances their quality of life by promoting happiness, emotional resilience, and mental strength.
The apps can delve into a wide range of skills and abilities. BetterMe provides holistic health coaching and tracking, focusing on the user's life goals, diet, workout, and fitness. Lifesum can also serve as a great reference point for a self-development app.
8. Meditation & Mindfulness
A meditation health app generally offers digital meditation tools such as timers, soundtracks, and activities: breathing exercises, chants, affirmations & mantras.
The surging popularity of meditation and mindfulness is reflected in the massive downloads the apps receive. Top apps in this category include Smiling Mind, Calm, Headspace, Buddhify, and Insight Timer.
9. Cognitive and brain training
Cognitive and brain training applications exercise the mind. They are packaged as fun games to train on memory, problem-solving, and creativity.
Luminosity is an archetypical brain training game with over 14 years of experience and a fan base of over 100 million. Its iOS app has a 4.7 rating.
Experts initially downplayed the role of brain training games due to the lack of fact-based evidence to back their benefits. But preliminary results from various studies point to the effectiveness of cognitive training across a broad range of mental illnesses.
How Do Mental Health Apps Make Money?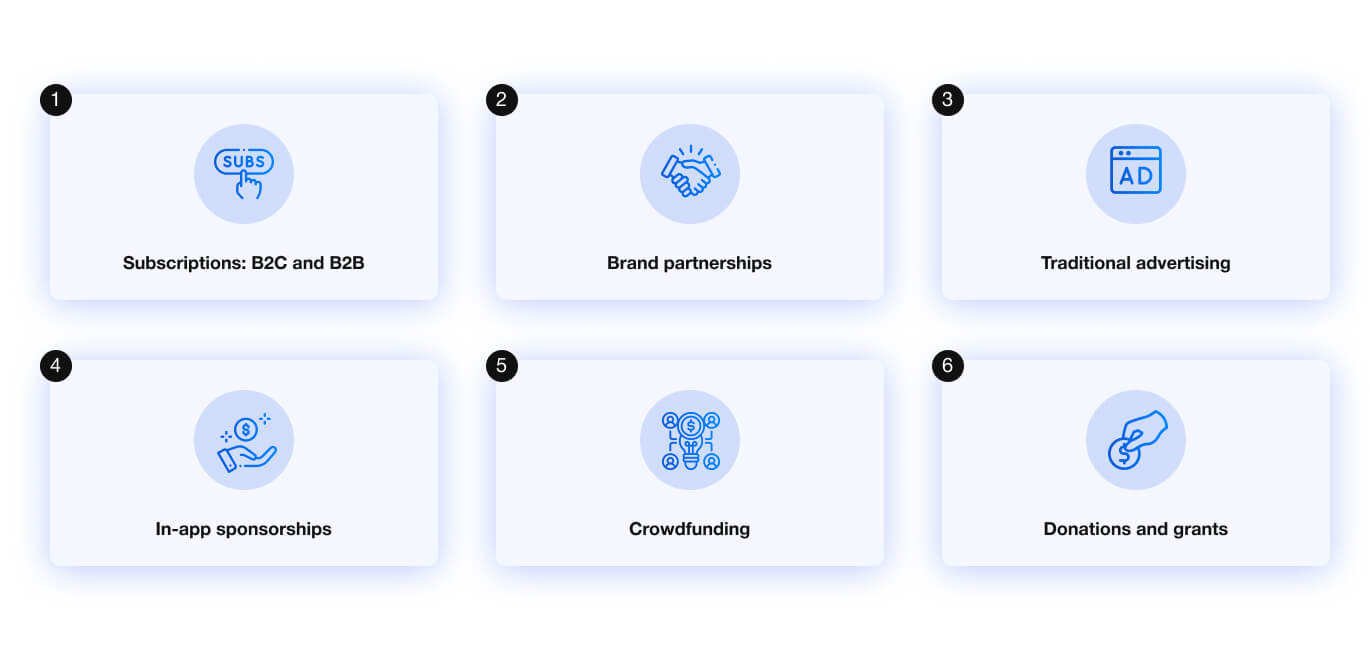 Putting together a monetization strategy is a crucial step in the planning process. And it's vital if the end goal is generating revenue. Exploring funding options is also crucial for the development process and ongoing maintenance. So, how do mental health apps make money?
1. Subscriptions: B2C and B2B
A typical subscription model adopted by several mental health apps such as Calm is to offer a free trial for about seven days, with all the features unlocked. Customers need to subscribe to the paid plan to continue enjoying premium access or may lose access privileges.
They can pay a monthly or yearly rate. You can similarly offer a life plan at a discounted flat rate.
Don't just limit yourself to consumer subscriptions. It's vital to offer business packages for companies looking for group plans for their employees.
2. Brand partnerships
As the popularity of mental health apps grows, the business can seek brand partnerships. Contracts may entail content licensing, physical product promotion, and direct advertising through marketing campaigns.
3. Traditional advertising
The revenue model relies on selling advertising real estate to advertisers. Free apps leveraging this model should run ads aligned with the niche. For instance, it may be annoying for users enjoying a calming meditation to encounter disruptive mobile game ads.
You'll only need to join a mobile advertising network to start featuring ads, but remember to evaluate their ad formats, revenue models, reputation, and user-friendliness.
4. In-app sponsorships
The sponsorship model works for a free app with traction and an endearing user base. Sponsors are entities that commit their money to your app in exchange for promotional benefits.
They don't have to clutter your application with ads. Think of creative ways to push their promotions, for instance, sponsored posts, giveaways, or free consultations.
5. Donations and grants
Not-for-profit apps in mental health can rely on donations from well-wishers who believe in their cause. Donors can continue supporting the app's development through continuous grants and donations.
Smiling Mind is an example of a non-profit app that works with well-wishers to further its core goal of reaching young minds in Australia. Some of their philanthropic partners have contributed more than $1 million, including Buildcorp and the Australian Government Department of Health.
You can also get funding for an app idea to meet development costs.
Ready to Create a Mental Health App?
Contact us now and let's make a positive impact together.
How to Make a Mental Health App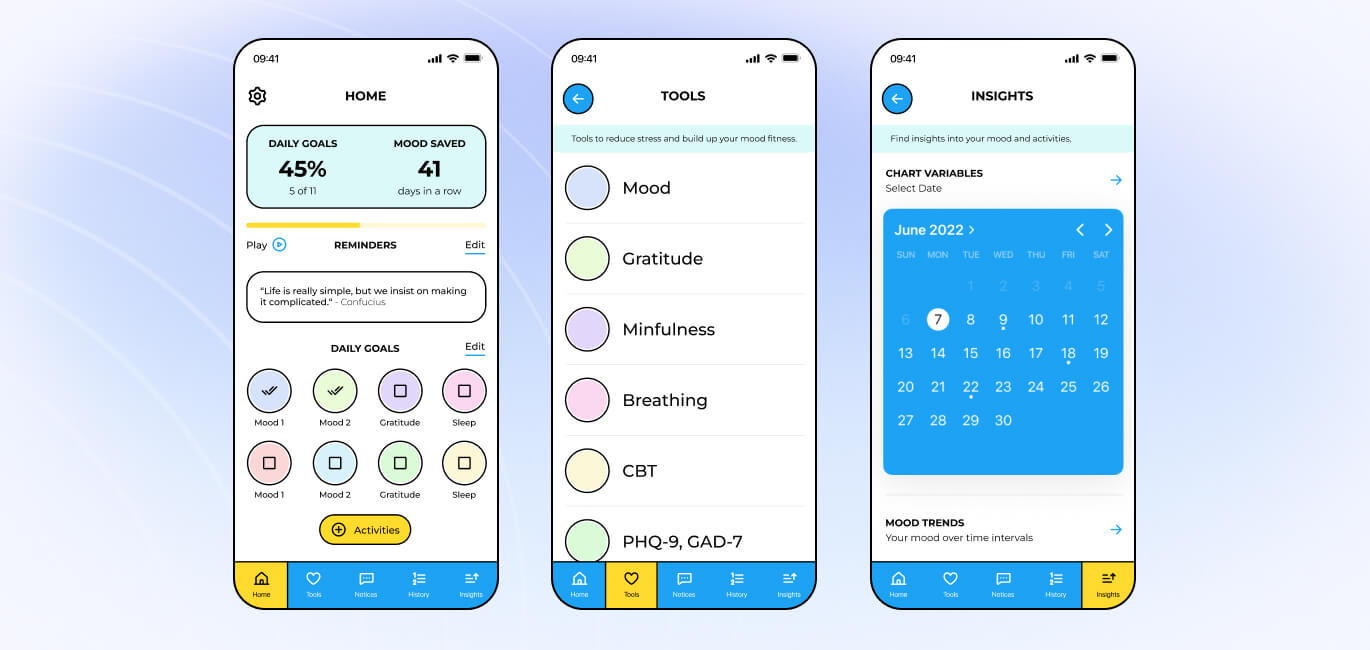 Let's consider the step-by-step process that explains how to make an app for mental health:
1. Market and competitors research
Market research entails gathering and analyzing data on the market conditions, consumers, and competing applications. It can reveal favorable and unfavorable market conditions that will determine the app's potential to get downloads. Proper market research offers insight into features people want, who might subscribe, and what price they are willing to pay.
After careful competitor and market research, you formulate the main idea and the app's marketing strategy.
2. Find developers
Place a lot of emphasis on finding the right design and development partner. The wrong choice can doom the project even before it starts.
Now, there are various places to find programmers, design experts, and software development teams:
Clutch: The online resource hosts a comprehensive directory of companies, mainly in development, design, marketing, and IT services. It provides dynamic search options using specific criteria. One of its biggest benefits is real and verified reviews. Clutch can supply custom shortlists to clients based on their project details, budget, and timelines for a fee.
Dribble: The best design professionals worldwide showcase their design projects on Dribble. You can browse through the design portfolios in each category and chat with the designers. Clients can post their job publicly to accept submissions.
Behance: Creatives from all over the world showcase their work on Behance. It offers an intuitive way to discover projects using images, prototypes, people, and mood boards.
Freelance developer platforms: Online freelance platforms can help with the search for talented software developers. But the process can often be a hit or miss. Top freelance platforms to find developers include Upwork, Toptal, Freelance.com, YouTeam, and Fiverr.
As an alternative to Clutch, clients can use GoodFirms.
Some handy tips to use during the developer evaluation process include:
Looking for developers with relevant experience in wellness & mental health niches;
Evaluating their development process and methodology;
Assessing the quality and complexity of past projects;
Analyzing their reputation and customer reviews.
3. Prototypes and design
Product design is the second stage in the mobile development process. The end goal is to produce an attractive and easy-to-use user interface. There are several stages completed during the design stage in the lead up to the final design:
User stories: The stories describe how users will accomplish their goals by using the app — for instance, how someone will use a stress-management app to track their daily moods. It's an important stage in pre-design.
User-flow: The user flow shows the steps or path taken by the user to accomplish in-app tasks. A user flow diagram best showcases it.
Sketching: It offers a means for the designer to explore, refine, and communicate the main idea.
Wireframing: The design becomes more concrete when the designer produces overviews of the app, showing its structure, elements, and flow.
Component design: Components include tables, lists, forms, headers, and other little pieces that make up the app.
Creating prototypes: Building the prototype allows the design team to validate their design ideas and test assumptions. That's because it shows how the interface will work in real life.
There are several things to pay attention to during the UI design process. Never lose focus on the audience and their goals. Set clear expectations about the process and the deliverables to avoid hiccups. Start with a low-fidelity prototype with a lower level of interactivity, content, and visual design to avoid expensive changes down the line.
4. Build an MVP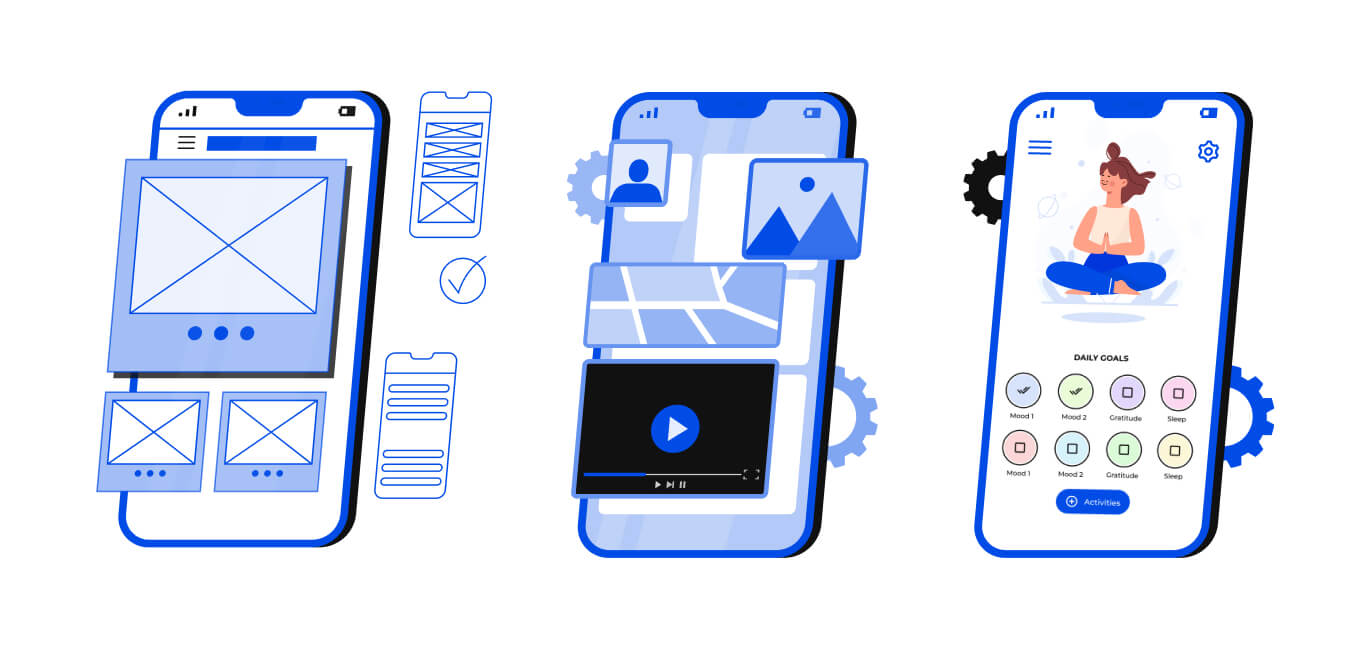 Worried about how to make a mental health tracker app? Don't focus on availing of many features in the first release. Build a minimal viable product with sufficient features to onboard early adopters.
MVPs can reveal market demand and provide insights into future performance. It's more cost-effective and provides clarity on the idea.
Must-have features in the MVP will differ based on the category:
Mental healthcare tracker (Mood entry, gratitude journal, and insights)
Meditation apps (Timer, meditation sounds, or guided meditation audios)
Specific mental illness apps (Therapeutic tools, tracker, peer community, or ERP therapy)
Addiction recovery (Challenges, sobriety progress tracker, inspiration quotes, or professional advice)
Teletherapy (Therapist selection & matching, voice, text, or video messaging)
Educational mental health apps (Educational sections, mental health tests, and quizzes)
Apps tracking user progress may require a corresponding way to create profiles, backup, and secure data. Not all apps require a way to sign in.
Ultimately, the MVP's features should be aligned with the main goal and informed by competitor research. If there are multiple features to consider, just rank them in order of importance.
5. Release and improving
Prior to the app's release, it will be necessary to conduct alpha or beta testing.
The app should be benchmarked for performance, checked for errors, and examined for resource issues.
The release of the MVP is only the beginning. Initial marketing campaigns should follow to spread the word about the app. Once new users start streaming in, collecting mental health app statistics and asking for feedback is paramount. The app will be updated later by adding new features or making course corrections.
Best Practices for Designing a Mental Health App
There are certain peculiarities in the design of mental health apps that make them distinct from other mental health monitoring app categories. They notably have a soothing and calming effect — for instance, the Calm's meditation app choice of a blue color scheme. In fact, scientists say that dark blue is the most relaxing color.
Creating trust is an important aspect of designing a mental health app. That's why many apps in the niche claim to follow an evidence-based approach. They may work with experts to foster trust. For instance, NOCD claims to only work with OCD specialists.
There is a need to create a supportive and motivating environment. The core feature should keep users coming back and motivate them to improve their mental health.
All these elements will play into a final design that's bold, appealing, and as simple as possible.
Because design will be a big challenge, conducting deep research can help lead to factually based decisions such as:
Reducing contrasting colors
Preventing sudden pop-ups
Avoiding loud sounds
Enforcing GDPR compliance
Reducing long loading times
Choosing calm color schemes
Providing smooth animations.
Things to Pay Attention to When Developing a Mental Health App
Mental health apps dealing with sensitive health information may need to be HIPAA compliant to guarantee the best protection for the patient's medical data. For instance, compliance is crucial for teletherapy apps that record, manage, and share the patient's medical conditions and personal identifiable information such as the date of birth with therapists.
GDPR compliance is necessary for any mobile app that collects personal data from EU citizens, regardless of whether the app is based in the EU. Strategies used to enforce GDPR and HIPAA compliance include asking for permissions, using two-factor authentication, and encrypting data to ensure the confidentiality of users.
It's also essential to enforce the strictest standards for privacy and data security. You should be clear about how data is collected, handled, processed, and transmitted.
Cost to Make a Mental Health Mobile App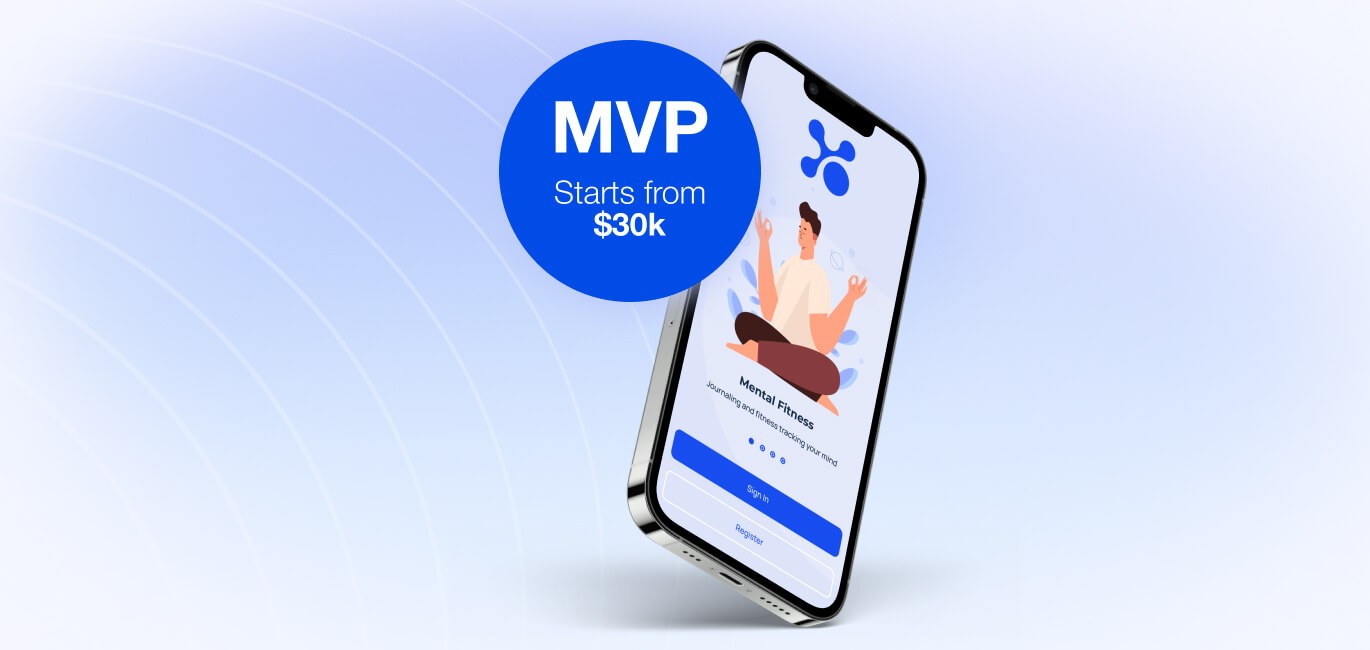 The cost to make an app for mental health will be dependent on several variable factors:
The number of platforms: Developing separate native applications for iOS and Android costs more. But cross-platform development using technology such as Flutter can reduce costs by promoting code reusability. Learn how to hire flutter app developers.
Design complexity: The cost to design a mobile app is hugely dependent on its complexity, which increases with more features, screens, and third-party integrations. Some components may be admittedly more expensive to design.
Required skills: Cost will vary depending on the expertise required by the core software development team. Building the project from scratch may require the intervention of the PM, UI/UX Designer, iOS developer, Android (or Flutter developers), QA, and DevOps.
Hiring location: Offshore outsourcing to IT development markets like Ukraine can mean paying less for the same level of expertise and quality back home. Discover why you should ​​work with IT outsourcing companies from Ukraine.
Company setup: Hiring a freelancer may be cheaper than working with an entire app development company. But there's a risk of missing out on key competencies, accountability, and support.
Time duration: Development costs may increase if the project completion takes place over a longer timeline.
When asking for an estimate of the cost to develop a mental health app, it's helpful to provide a rough sketch of the app and a shortlist of the most critical MVP features.
According to our experience developing the Blue Moon app (which automates matching senior patients and therapists), the minimum cost of developing such an app is from $20-50k for a cross-platform (Flutter) version.
We also built SleepTrack to help users monitor the quality of their sleep.
How long will it take to develop a mental health app? It will generally take about 3 to 4 months, but the duration may vary depending on the complexity and design.
Mental Health App Development: Conclusion
The mental health space offers huge potential for fledgling startups. But a good idea will only be as good as the execution. That's why you should trust a company with previous experience developing similar apps. In Attract Group, you have a trusted partner with many years of development experience and a track record of delivering quality work.
Ready to Create a Mental Health App?
Contact us now and let's make a positive impact together.