Mobile apps have become an indispensable part of many industries, providing companies with new ways to improve productivity, increase efficiency, and stay competitive. The manufacturing industry is no exception – with the rise of Industry 4.0 (Fourth Industrial Revolution) and the push towards greater automation and digitalization, manufacturers are leveraging the power of mobile to transform their business operations. In this article, we'll explore how investing in custom mobile app development can deliver tremendous value for manufacturing enterprises looking to streamline processes, empower employees, and drive growth.
Why Manufacturing Companies Need Mobile Apps
For an industry that forms the backbone of many economies and accounts for over 500 million jobs worldwide, adopting modern technologies like mobile applications has become critical for manufacturing enterprises to stay ahead. Here are some key reasons why manufacturers should consider developing mobile apps:
Improving productivity and efficiency – Mobile apps allow manufacturing employees to collect critical manufacturing data and input it easily from any desktop or mobile device. This reduces reliance on manual, paper-based systems and makes the manufacturing process and workflow much smoother. Apps can significantly cut down on repetitive and time-consuming data entry, transcription errors, and production delays.
Enabling real-time data access – Mobile connectivity and cloud technology gives manufacturers real-time visibility into operations. Workers can view production metrics, inventory levels, equipment maintenance needs and more through the mobile app instantaneously. This allows for quicker data-driven decisions.
Facilitating communication & collaboration – Apps can connect disparate teams, from shopfloor workers to warehouse managers to salespeople, enabling quick messaging, file-sharing and free flow of information. Unified communication improves coordination between shifts, departments and locations.
Empowering a mobile workforce – As more manufacturing employees use connected mobile devices, companies can develop apps that provide them with the tools and information they need, when and where they need them. This boosts productivity and engagement.
Improving quality control – Mobile apps enable faster sharing of quality data, allowing issues to be identified and resolved quicker. Apps can also facilitate remote equipment monitoring and predictive maintenance to avoid downtime.
Enhancing customer experience – Mobile apps allow quicker communication between manufacturing companies and customers/partners, improving customer satisfaction. Customers can track orders, access documentation and self-serve via mobile apps.
Increasing safety – Apps can provide digital checklists, SOPs, AR/VR simulations and video training to improve workplace safety. Wearables also enable monitoring worker health vitals and sending alerts.
Optimizing energy usage – Mobile analytics combined with IoT data from sensors allow manufacturers to closely monitor energy consumption patterns on the production floor and optimize usage.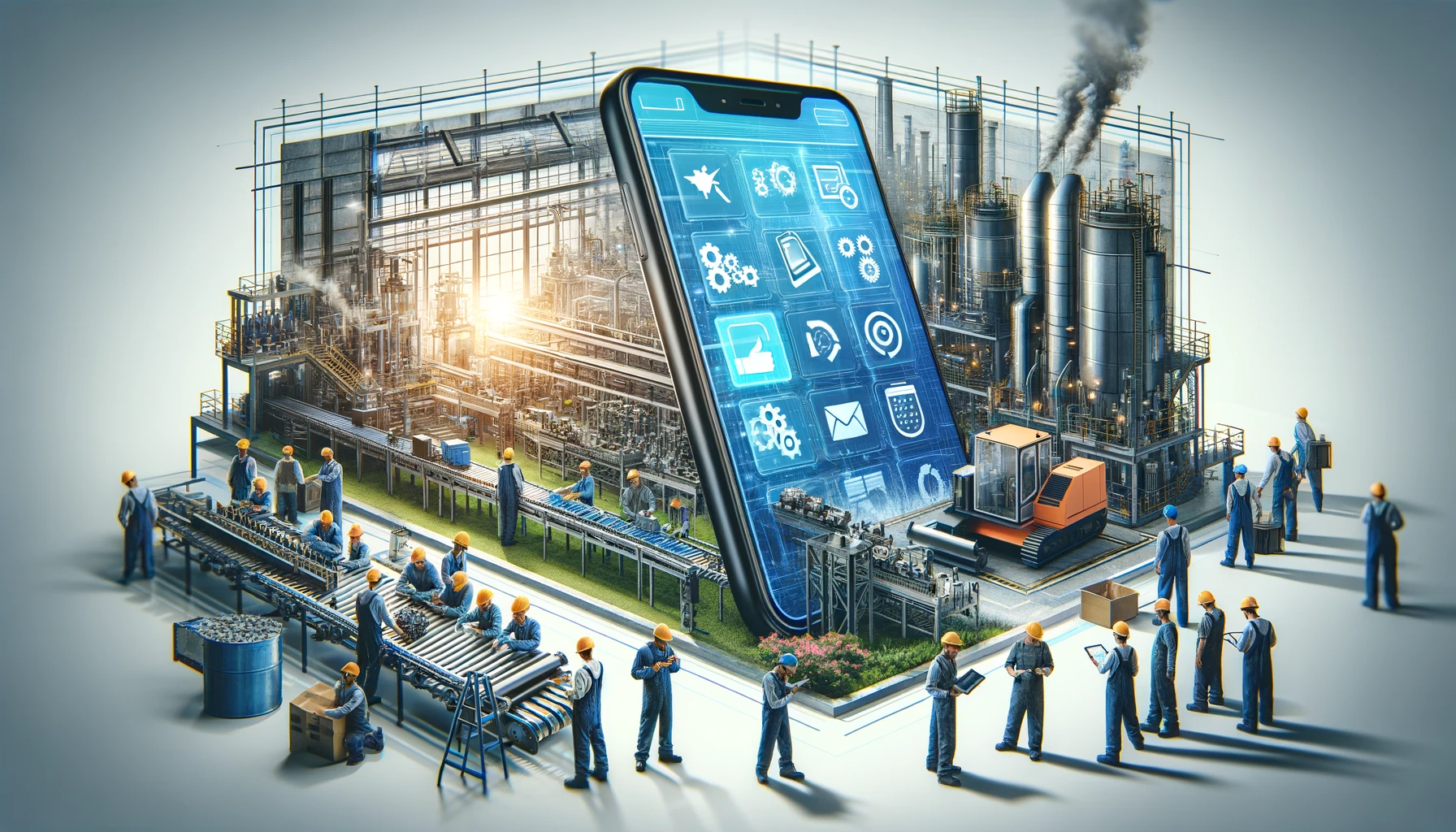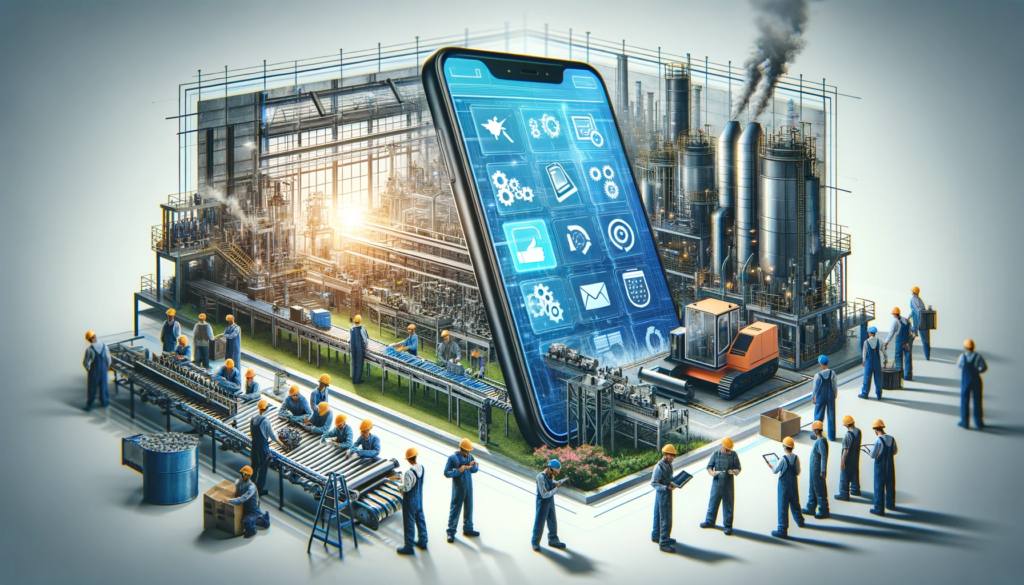 Clearly, mobile apps carry huge potential to address critical pain points for manufacturing enterprises today. Let's look at some of the specific ways custom-designed apps can optimize manufacturing business processes.
How Can Mobile Apps Transform Manufacturing Operations?
From shopfloor execution to inventory management, field workforce enablement to product quality control – mobile apps can have a positive impact across the board for manufacturers.
Unlock the full revenue potential of IAPs
Our team can help implement the right strategy for your app!
Here are some of the top ways mobile application development can boost operational efficiency:
1. Does mobile technology offer real value to legacy manufacturing systems?
Absolutely – mobile apps don't need to completely replace legacy manufacturing systems. Rather, they can bridge gaps, enhance visibility, and extend the capabilities of those systems in impactful ways. Apps allow easy access to data locked in legacy systems, send real-time alerts and schedules, facilitate data capture remotely, and enable an omnichannel experience.
Some examples of how mobile apps augment legacy systems:
Viewing production schedules, work orders, item lists dynamically from an ERP on the shopfloor
Recording quality or maintenance issues and automatically logging them in legacy issue tracking systems
Scanning barcodes of finished goods and updating inventory in the WMS in real-time
Technicians accessing parts catalogs, repair steps and asset histories from a CMMS app while on-site
Sales reps pulling the latest customer data from a CRM before account meetings
So mobile apps don't displace legacy systems – they actually maximize the value manufacturers can derive from past IT investments.
2. How can manufacturers leverage IoT, big data, analytics via mobile apps?
The Industrial Internet of Things (IIoT), sensors, big data and analytics open up game-changing possibilities for manufacturers when combined with the power of mobile apps:
Remote equipment monitoring – Apps can pull IoT data from connected machines to track real-time performance, utilization and health. Issues like overheating motors can be identified early.
Predictive maintenance – By applying AI/ML to IoT sensor data, manufacturers can predict maintenance needs of equipment well in advance and avoid downtime. Mobile apps deliver these predictive insights to technicians.
Quality optimization – IoT data from test equipment and in-process inspections combined with analytics fuel apps that remedy quality issues through early detection and closed-loop corrective actions.
Energy management – Capturing energy consumption data from smart meters via apps helps analyze usage patterns on production lines. Manufacturers can then optimize energy loads.
Inventory optimization – Apps pulling ERP and sensor data can predict inventory demand and recommend optimal stock levels and placement in warehouses. Supply chain costs reduce.
So in summary, mobile apps make IoT data accessible on the go, and provide the visualization, analytics and AI capabilities to turn the data into actionable operational intelligence rather than just creating big data lakes.
3. What shopfloor execution tasks can mobile apps optimize?
Apps can drastically improve shopfloor workflows, productivity and agility. Workers can view schedules, digitize processes like checklists/SOPs, record product & asset data, flag quality issues, manage materials, share files and collaborate with management – all through the mobile device. Apps also enable augmented reality and video/image capture to assist manufacturing execution.
Some specific ways apps transform shopfloor operations:
Production scheduling – Apps provide real-time visibility into order status, work priorities, staffing needs and line assignments optimized by algorithms.
Work instructions – Step-by-step instructions, 3D/AR simulations and product demos can be accessed through the app anytime.
Task & safety checklists – Workers can view digital checklists and standard operating procedures on the mobile device and sign them off.
Quality management – Operators can instantly log defects, share quality data and problematic sample media, and even trigger containment procedures via the app.
Scalable training – Apps facilitate on-demand training multimedia, simulations, quizzes and microlearning to cross-skill and upskill floor workers.
Equipment monitoring – Technicians can view asset health status, utilization, predictive maintenance alerts and remotely diagnose issues through apps.
Materials management – Apps optimize material kit preparation, movement, labeling, cycle counts and inventory accuracy on the production floor.
So in summary, mobile apps comprehensively digitize and optimize the entire shopfloor execution process – driving efficiency, quality and output.
4. How can mobile apps elevate warehouse and inventory management?
Warehouse operations have much to gain from custom mobile apps – from inventory counts to pick/pack/ship instructions to barcode scanning. Apps allow updating inventory records in real-time, improving accuracy. Managers get a single digital view of cross-facility inventory via the app.
Some key capabilities of warehouse management apps:
Inventory tracking – Apps allow instant counting of stock at each location via scanning and digital forms, rather than manual, paper-based records.
Stock optimization – Warehouse maps, item popularity and replenishment data guide pickers via the app to optimize routes and placement.
Packaging – Apps assist pickers with optimal package construction, print shipping labels on the go, and validate address data.
Asset management – From racks to forklifts, apps track equipment status, conditions, warranties, maintenance needs through digital checklists.
Order orchestration – Apps provide pickers a prioritized view of orders and ability to rearrange sequences based on product availability and priority.
Driver management – Apps allow tracking inbound/outbound shipments, managing 3PLs and drivers, providing turn-by-turn navigation assistance.
So in summary, warehouse apps create total visibility into inventory and orders while guiding efficient execution – raising throughput and accuracy.
5. Can field technicians and service teams benefit from mobile apps?
Absolutely! Service teams need access to all relevant data on-site to diagnose issues, order parts, guide repairs and report job completion. Mobile apps empower them with complete customer/asset history, digitized forms like checklists and inspection protocols, task schedules, parts catalogs, AR for repairs and more – wherever they are. Data captured also flows back digitally to update central systems.
Some examples of field service app capabilities:
Lookup repair steps, 3D diagrams and user manuals for equipment models
Digitize paperwork like inspection forms, quotes and invoices that technicians can share instantly
Scan product barcodes or QR codes to pull up asset data and warranties
Auto-capture job site photos, videos and notes to document conditions
Access inventory status to confirm part availability before ordering
Use AR overlays on equipment to guide technicians through repairs
Track travel time, on-site work time, expenses for accurate billing and payroll
Provide digital proof-of-service signatures to validate job completion
So mobile field service apps are truly empowering – they make technicians more productive, improve first-time fix rates, and deliver a better customer experience.
6. How do mobile applications improve manufacturing product quality?
Mobile apps enable a range of capabilities that can significantly improve product quality across the manufacturing value chain:
Operators can instantly flag and document quality defects on the production line and trigger containment.
Digitized forms make it easy for workers to follow, record and share detailed processes like safety checklists which improve quality.
Companies can embed product and process quality standards into apps for easy on-floor access to drive consistency.
In-line inspection data, measurements, media and testing data can be captured directly through apps instead of manual logs.
By analyzing gathered quality data via apps, manufacturers can continuously improve processes, equipment effectiveness, product designs, employee skills and more.
Apps also facilitate root cause analysis and corrective/preventive actions by disseminating quality issues, best practices and solutions organization-wide.
Post-sales, apps help service technicians accurately diagnose and resolve product quality problems faced by customers.
So by facilitating instant collaboration around quality data across production, testing, engineering and service – mobile apps enable rapid issue-resolution and continuous improvement.
7. Can mobile apps assist with manufacturing training and onboarding?
Absolutely – apps provide engaging, interactive mediums for employee training as well as onboarding new hires. Apps can deliver multimedia training content, step-by-step instructions, AR-assisted simulations, animations, quizzes and more. Gamification keeps operators motivated.
Some examples include:
Interactive 3D models and AR simulations of products or equipment for virtual hands-on learning
Bite-sized training videos covering SOPs, safety, quality, maintenance, new products etc.
Contextual instructions during tasks via apps improves learning-on-the job for new hires
Quizzes and games for skills assessment and friendly competition makes mastery fun
Digitized certification programs, badges and skills matrices to track multi-skill development
Social collaboration features allow sharing best practices between experienced and new workers
Managers can track app training progress across the workforce to quantify ROI
So, in summary, mobile apps enable continuous learning in manufacturing – making skill development engaging, aligned to jobs, and accessible when needed to build a future-ready workforce.
8. How can manufacturers leverage mobile apps for customer support?
With growing consumer expectations around service, mobile apps enable faster, omnichannel customer support via self-service features, live chat, alerts, demos and documentation access. Customers can track orders or report issues. Apps also facilitate remote technician dispatch and video calls for assisted repairs.
Key app capabilities for customer support include:
Customers can track delivery status for orders or reach out to support agents via in-app chat or video call
Digital catalogs, documentation and self-help videos reduce support tickets
Apps can push customized notifications to customers like order status alerts, recall notices, maintenance tips etc.
By accessing customer context from integrated CRM systems, agents can resolve issues faster
Apps empower agents with knowledge bases to quickly find answers while assisting customers
Customers can even share media of defective products through the app to expedite solutions
AR-based self-repairs reduce customer downtime – technicians can virtually guide them via apps
So in summary, mobile apps drive greater self-service, enable contextual and visual engagement, and ultimately deliver more satisfactory customer experiences.
9. Do mobile apps enable manufacturing sales teams to be more productive?
Yes! Sales reps need product, inventory, pricing and order data on the go to have productive client meetings and close deals faster. Mobile apps empower them with complete catalogs, stock visibility, order processing capabilities and access to customer data like purchase history while in the field or client site.
Sales apps also provide capabilities like:
Accessing latest marketing collateral, brochures and presentation decks in the app repository
Pulling client reports and key metrics from integrated CRM systems before meetings
Checking inventory availability and order fulfillment timelines on the spot during deals
Using in-app notifications for upcoming appointments, renewals, customer events etc.
Quickly generating compelling, customized quotes with pricing right from the mobile device
Processing orders, updating Opportunity status in the CRM and notifying operations teams
Logging meeting notes, tasks and follow-ups which sync automatically to CRM records
Therefore, sales apps arm reps with all information they need to engage customers proactively, answer questions confidently, and close deals faster – improving customer acquisition and share of wallet.
10. Can mobile application development help manufacturing companies go digital?
Absolutely – mobile apps provide the missing link for manufacturers on their Industry 4.0 journey. Mobility makes people, processes, machines and data connected across the value chain – enabling the foundation for digital transformation:
Connected systems – Apps bridge siloed manufacturing IT systems like ERP, MES, SCM through APIs to break down data silos.
Connected processes – Mobile workflows, checklists and SOPs digitize paper-based processes and unify cross-functional procedures.
Connected workforce – Apps break down communication gaps between production, warehouses, offices, field teams and management.
Connected insights – By gathering data from apps, sensors and systems, manufacturers get integrated analytics to optimize operations.
New business models – With product usage data from connected offerings, manufacturers can offer outcome-based services.
More automation – Apps combined with robotics, cobotics, AI and machine learning enable intelligent and autonomous processes.
So in summary, mobile is a key enabler for transforming legacy manufacturers into smart, connected Industry 4.0 enterprises.
As we have seen, the potential value manufacturing companies can derive from thoughtfully designed, customized mobile apps is immense. But how can manufacturers steer their mobile app strategy, build feature-rich apps and ensure adoption across their organization? Let's look at some steps:
How Manufacturers Can Develop & Launch High-Impact Mobile Apps
Choose the Right App Development Platform
Developing bespoke mobile apps for each use case and keeping them updated can get complex and expensive for manufacturers. This is where low-code development platforms come in handy – enabling manufacturers to build omni-channel apps via drag-and-drop interfaces and leverage cloud backends. Alpha Software's Alpha TransForm platform, for example, allows manufacturing IT teams to roll out mobile apps 5-10x faster across web, iOS and Android.
Prioritize App Features Based on Business Needs
Manufacturing mobile apps must zero in on solving specific pain points. Conduct internal workshops and user research to identify challenges that apps can address – whether it's production monitoring, work instructions, inventory management, maintenance scheduling or anything else. Focus on key features that will deliver maximum business value.
Integrate Apps with Existing Manufacturing Data Systems
While mobile apps can digitize offline processes, it's crucial to tightly integrate them with core manufacturing IT systems like ERPs, MES and PLM. This ensures a "single source of truth" and seamless bi-directional data flow between apps and backend databases. With Alpha TransForm, connecting apps to SQL, SAP, Oracle, IoT clouds and 100+ other systems is simple.
Facilitate User Adoption with Intuitive Design
The success of manufacturing apps hinges on practical, user-centric design and seamless UX. Ensure apps are intuitive and easy to use for plant workers and others, with consistent navigation, minimal data entry, useful notifications and rich features like image/video capture, digital forms, barcode scanning and more.
Plan a Phased Rollout and Continuous Improvement
Big bang deployments often fail. Start with a Minimal Viable Product (MVP) app with limited features developed in-house or with an app development services partner. Run pilot tests at select manufacturing facilities, gather user feedback, fix issues, then scale the MVP across sites in phases.
Post-launch, continuously refine and add capabilities to the app. Analytics and user input will reveal new opportunities for improvement. Work closely with internal app developers or leverage an experienced manufacturing app development company for this incremental, agile development process.
Prioritize enhancements that deliver the most business value based on data and user needs. For example, automating repetitive tasks, integrating workflows with other manufacturing software solutions like ERP web apps, adding image recognition to simplify data capture, and using push notifications to digitize paper-based communication and collaboration.
Leverage no-code platforms like Alpha Software to make this iterative enhancement process 10X faster through configuration vs. complex coding. With no-code tools, even business users can build new manufacturing mobile app features in a simple drag-and-drop interface. This democratizes software development and creates tighter alignment between apps and evolving needs.
So in summary, a phased rollout, user-centric design thinking, continuous improvement cycles, no-code agility, and close partnership between manufacturers' IT teams and external app developers together can maximize the business value and user adoption of mobile app initiatives across the manufacturing sector.
Key Focus Areas to Drive Mobile App Success in Manufacturing
Top-down leadership commitment – Managing mobile-led change requires executive-level sponsorship across departments. Leadership must communicate the strategic importance of mobility and create alignment at all levels.
Employee training and engagement – Workers may resist new technologies disrupting existing manufacturing workflows. Companies must train employees extensively on using mobile apps and highlight the benefits. Gamification and incentives help drive app adoption.
IT/OT collaboration – Industrial IT teams may lack app development expertise, while OT engineers aren't tech-savvy. Close collaboration between IT and OT is vital for app rollouts. Companies must invest in digital upskilling.
Cybersecurity – Mobility expands the manufacturing enterprise's digital attack surface. IT leaders must implement robust mobile security frameworks encompassing apps, network, devices, data and users.
Data integration – The biggest mobility challenge is integrating apps with on-premise manufacturing data systems like ERP and MES. IT teams should use cloud-based integration platforms for quick, resilient system connectivity.
Ongoing support – Manufacturers must plan technical support, bug fixes, maintenance releases and version upgrades of mobile apps post-launch. DevOps-style agile processes allow continuous app improvements.
Leveraging external expertise – Many manufacturers may lack internal mobile app development talent. Strategic IT partners can provide development, integration and support expertise to build, launch and sustain mobile apps.
Strong change management – Business process changes due to mobile apps impact people and culture. Manufacturers must plan the organizational change impact and provide job rotation, reskilling and motivational support.
Continuous innovation – Manufacturing must keep expanding its mobile apps and digital capabilities. Companies should keep exploring emerging technologies like wearables, digital twins, blockchain, AI/ML and integrating them.
Want to take your operations to the next level with mobile apps?
Get in touch to kickstart your custom mobile app development project.
Key Takeaways – Driving Manufacturing Success with Mobile Apps
Mobility opens up immense potential for manufacturing enterprises to optimize processes, boost productivity, improve quality, reduce costs and stay competitive. Key points to remember:
Invest in mobile app development with a platform like Alpha TransForm to digitize processes, without overhauling legacy systems.
Involve all stakeholders and identify high-impact areas where mobile apps can add business value.
Design intuitive, user-friendly apps for each persona – plant operators, warehouse staff, technicians etc.
Integrate mobile data with backend manufacturing systems for a "single source of truth".
Facilitate employee adoption via training and leadership communication.
Plan phased rollouts of apps across facilities and continuously enhance them post-launch. An good app development company will help to achieve this.
Implement strong cybersecurity, support and governance frameworks for sustainable success.
Leverage external expertise to complement internal app development capabilities.
Drive organizational change management to accommodate mobile-led process transformation.
With a robust mobile app strategy, manufacturers can truly transform plant floor and warehouse operations, service teams, product quality and more – enabling the smart, connected, efficient and agile processes necessary to thrive in the Industry 4.0 era.