Establishing a business online is necessary for its sustainable growth, and it is an optimal way of attracting new customers while maintaining an interactive relationship with your current clients. In addition to digital marketing and social media services, strategies for building an online presence involve designing a website or application. Which one is better to develop for retailers?
A retail business that looks for insights on building a website and mobile app might come across similar development aspects for both solutions. But each one is unique. Understanding the difference between a mobile website and an app will help you decide which one to build to maximize your business growth, customer reach, and ROI. Go on reading to see how to select between a website and a mobile app based on their features!
Mobile App vs. Website: What an Offline Business Needs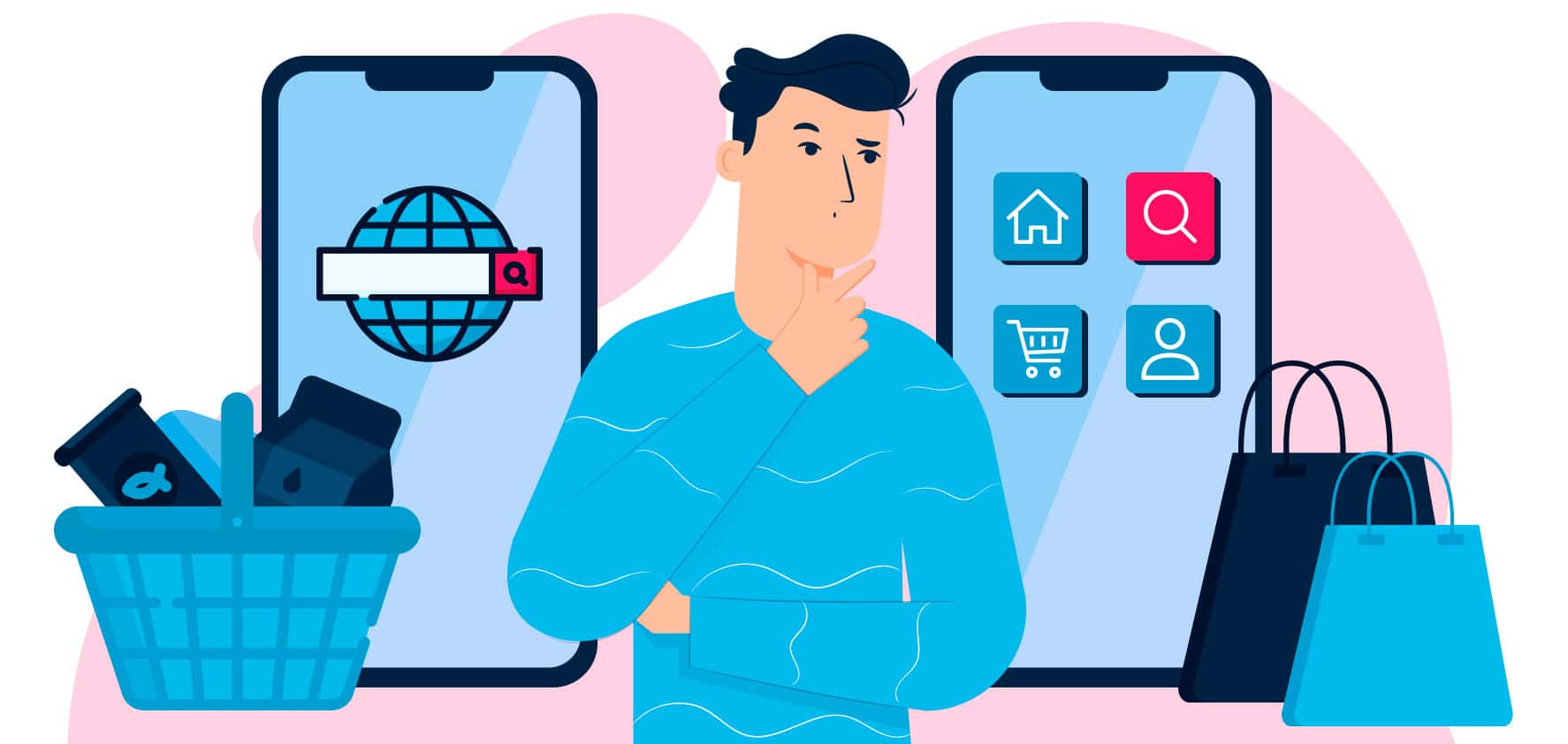 The past five years have seen a massive surge in the number of mobile devices used by people globally. It is estimated that there will be 14.2 billion mobile phones in 2020, as claimed by Statista. What is more, it's expected to make up 16.8 billion phones by 2023. To make more profit, retailers have to respond fast.
Apart from being convenient, mobile technology is becoming even cheaper to make and easier to use. Because more companies are producing mobile devices, the prices are lower than before. And because the price of a phone or tablet is less than that of a computer, more people are buying mobile devices. These factors are responsible for the increase in the number of people preferring mobile devices. Users spend more time on the Internet via mobile devices. More than 50% of traffic is generated from phones and tablets combined.
Feel like continue discussing the topic?
Drop us a line and share your experience.
Acquiring either an app or a website solution will prove to be invaluable. Which of these is more superior on the market — a mobile app vs. a mobile website? Both platforms have their own set of benefits and drawbacks; let's compare them in detail!
The Advantages of a Mobile Website Over an App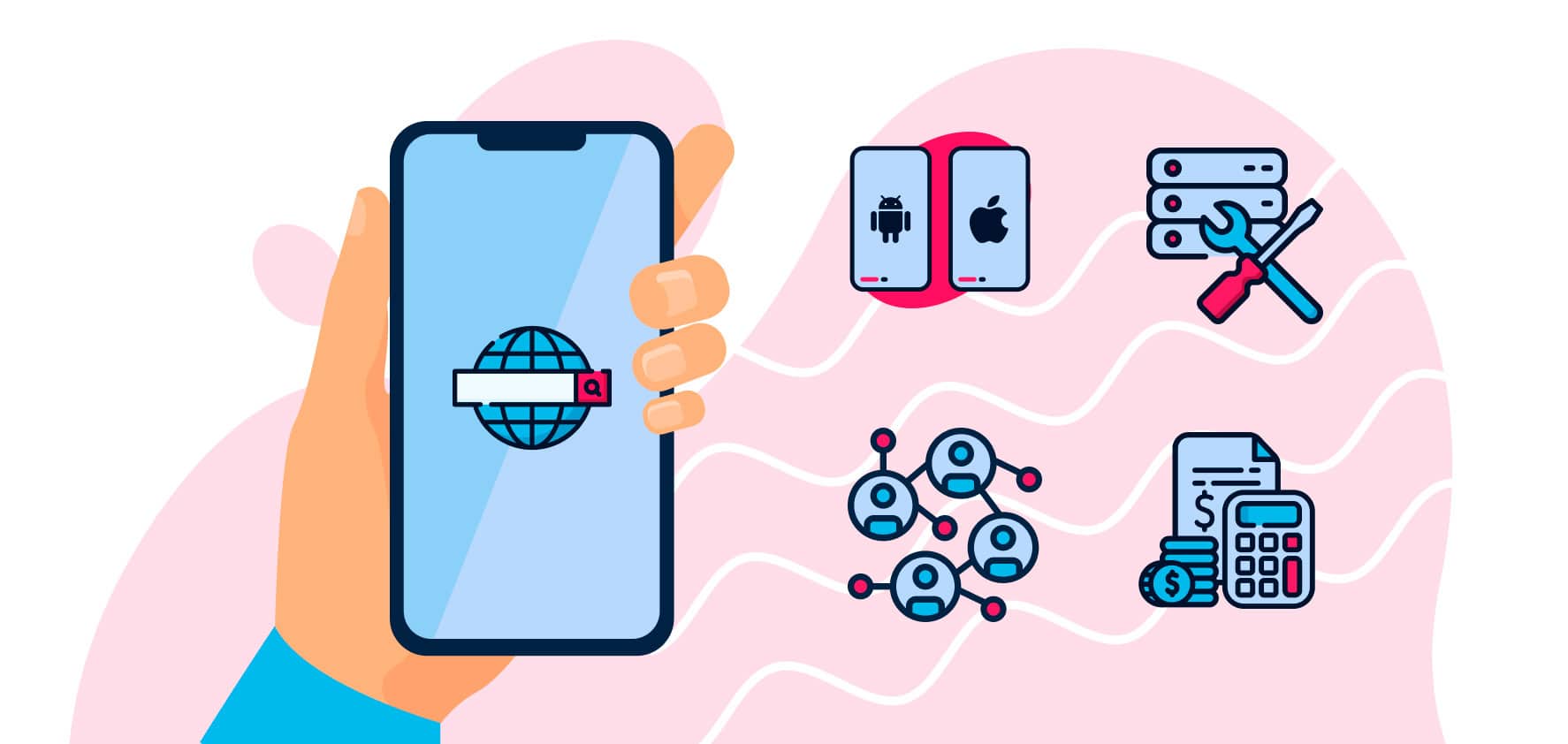 A website is perfect for attracting new customers. When creating websites, one can either create a desktop or mobile alternative. For a website to achieve prime efficiency, it should be mobile-friendly. A responsive website is one that customers can navigate smoothly on a smartphone or tablet and from a desktop. The benefits of a mobile site over an app for businesses include:
1

Compatibility

A website can be reached from all mobile devices. So whether a customer has a gadget with an iOS or Android operating system, they will get the same user experience and benefits across all devices. Making such an interaction with your business possible enhances customer experience.

What's important, customers do not need to install anything, as opposed to the app — they only need a browser. Moreover, with the website, it doesn't require developing separate versions for different types of devices.
2

Broader reach

Getting as many customers as possible increases your profit and allows you to build a strong brand. As responsive websites can be easily used on a device of any type, the URLs can also be quickly shared among potential customers and optimized for search engines, bringing a better and broader reach.
Moreover, websites offer a more natural way for users to find your business on the Internet and buy online. It is an additional way to promote your retail store and get a profit.
3

Maintenance

How does a website vs. a mobile app compare when it comes to maintenance? Technology is all about updating and keeping up with the latest innovations. The same applies to a site or an app.

Without updates, your business can risk running into maintaining outdated technology, old libraries, and other issues. These all could also lead to security vulnerabilities and breaches, compromising the clients' data. As your project evolves with time and becomes better, it is essential to get up-to-date functionality, introducing new features.

Updates make up a significant part of the total expenses of creating a website or application. A site requires regular updates like content updates, feature fixes, framework updates, etc. The most significant advantage is that users can see all the updates immediately on all devices.

With apps, you have to release every single update that has to be downloaded to a gadget. Otherwise, some features of the application may not be available. Regular updates only mean additional expenses.
4

Cost-effectiveness

One of the main factors to consider when analyzing an app vs. a mobile website is the cost. Building a website is way cheaper than creating an application. Consider making a website for your online shop if you want to create an online presence on different platforms on a lower budget.

Carefully analyzing your needs, budget, and development costs can help you decide between an app versus a mobile website.
5

Business Type

Your industry matters a lot when deciding between a mobile app and a mobile website. As a retailer, your businesses can profit immensely by investing in a website first. After you develop a robust web platform, it makes sense to invest in a mobile app for a more sustainable connection with existing customers. This strategy worked successfully for the J&H Tackle fish gear store. Check out our case study on this project to discover the details.
6

Easily distributed

Another factor to consider when comparing mobile apps vs. mobile websites is how each can be shared. A link is enough to share with potential clients through an SMS, email, or post on social media platforms. You can redirect customers to another web page from a blog or any other platform. Mobile apps can not be shared with such ease.
It is much more effective for customers to find a website from search engines and directories. In contrast, apps are only available in specific stores.

Feel like continue discussing the topic?
Drop us a line and share your experience.

Regular users can be directed to the mobile version whenever they use a smartphone or tablet. With the relevant content, SEO optimized content, and marketing strategies, it is one of the best ways for your customers to find your retail business on the Internet. While with the apps, it's impossible to do so. A marketing website is a clear and widely known area of promoting your business, especially in comparison to mobile apps, where it is costly and not well defined.
7

It can't be removed

Websites can't be deleted from any mobile device. Users can always come back to your site via search engine whenever the need arises. In contrast, if an app doesn't stand out or offer users something unique, it has a very short shelf life. Users remember the bad experience they had with the app and aren't likely to install it again. Apps that become redundant can be easily deleted from the user's devices, but websites are always available.
Advantages of a Mobile Application Over a Website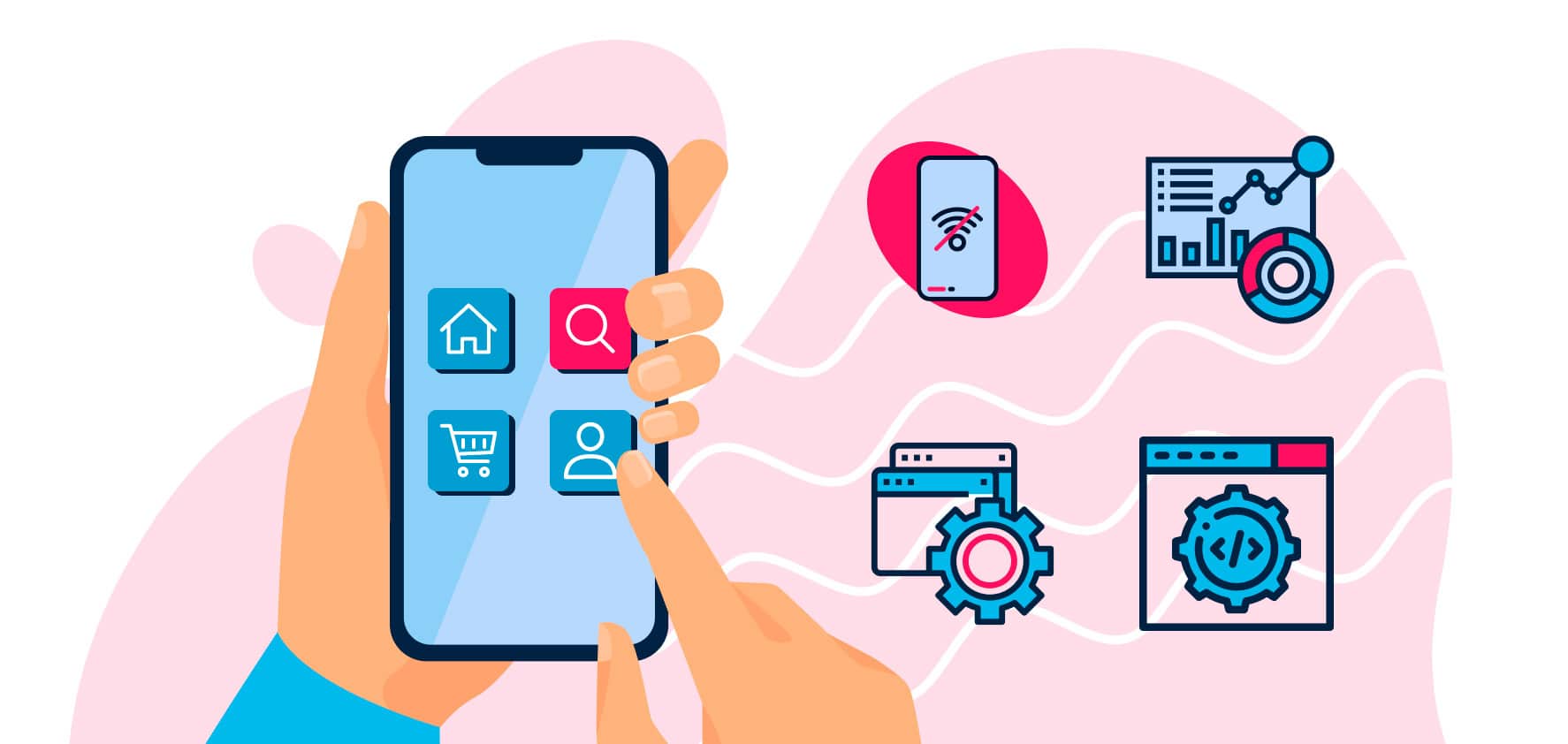 An application is designed for a platform such as Android or iOS, tends to be faster, and offers a better response than websites. Apps facilitate the buying process, leading to improved customer experience and increased sales while task automation enhances customer interaction. Usually, apps have such modes — online, offline, or a combination of both. It boils down to the intended purpose of an app.
The list of the benefits of mobile apps is pretty long. One of these is the possibility of keeping in touch with your regular customers. You can also check out an on demand app script to save on the development and check out how the fishry e-commerce benefited from having one.
Let's consider the most important advantages.
1

Convenience

The most significant convenience of using an app for your customers is that it's always on the user's screen, and they do not need to remember the name, find a link, type it, or google it. It is accessible within one click, keeps the user's profile authorized, providing tailored and up-to-date information. Apps can utilize the device's features, making it easier to create a fun and exciting experience. A user's chances to open an app a couple of times per day are higher because it is on their phone or tablet screen and easily accessible.
2

Personalization

An app is a right pick for engaging existing clients. The key to keeping users engaged is providing features that can be tailored to meet their needs. Mobile apps can be personalized, giving users a sense of control. This way, you can also provide more personalized services. Moreover, you should remember that apps can remember users' preferences for monetizing, using them to better personalize and promote the goods and services that are likely to get to the users' cart.

You can apply personalization strategies that can help bridge the online and in-store experiences. For example, you can implement AR features to let customers try out your goods, like clothes, furniture, makeup, etc. This will also help to create better connections with shoppers/users at a time when they are seeking trusted retailers.
3

Working offline

One of the advantages to a mobile application is offline work. If you need to provide content or services to users who may not have a wireless connection, choose an application. Offline access means a user will always interact with you everywhere and at all times. All you have to do is to store data on an app. Mobile applications can download data automatically to the user's device once there's an Internet connection.
4

Native features

While responsive websites are getting better at accessing certain phone features such as SMS and click-to-call, there are still several constraints. Apps can access the camera, flashlight, GPS, and other features of any device.
Clients won't have to put in as much effort in completing a task. Instead of taking a picture before uploading it on a website, an app can capture images directly using a device's camera. In terms of retail, it's vital. More and more users prefer searching by image to find a perfect match to their search query. The visual search feature is available on eCommerce players such as Amazon, ASOS, and AliExpress. When users spend less time on a task, it shortens the path from search to conversion.
5

Push notifications

Another thing that stands out about mobile apps is push-notifications. If a customer is interested in a particular product, you can automatically send updates about similar products, prices, and special offers. Push notifications allow you to contact customers, reminding them of your products at any time.
The Comparison of an App and a Website
Now that we have discussed the main advantages of a mobile website and app let's summarize the main pros and cons. This comparison should make it easier for you to decide which one you may use for your retail business.
Pros of Having a Mobile Website/App
Below are the benefits of a website:
Compatibility across all devices;
Broader user reach;
Cost-effectiveness;
Quicker update;
Quick to find your business on the Internet.
The benefits of a mobile app over a website include:
Offline work;
Personalized experience;
Access to native features;
Sending updates and push notifications.
Cons of Making a Mobile Website/App
Disadvantages of websites:
Offer less personalization;
Don't exploit all the native features of a device;
Require the Internet at all times.
Disadvantages of apps:
Expensive development;
Available only for smartphone or tablet users;
Apps can be deleted.
Cost
According to the survey, an app's cost with simple, functional features can range from $10,000 to $50,000. It's all due to the cost of the tools, services, and salaries of professional developers. An app with better functionality may cost up to $100,000, if not more.
However, a responsive site can cost half the price. A website is a cost-effective way of interacting with more customers.
Industry
The retail industry should be considered when comparing a mobile app vs. a website. For highly interactive services, such as banking services, opt for an app. For an eCommerce business that usually produces a lot of content, it is more sensible to build a website. With a website, you can make your brand discovery easier thanks to search engines, such as Google.
Customer Experience
Apps and websites have different levels of interaction. The effectiveness of improving customer experience varies. An app is convenient because there is room for customization. You can send a notification whenever you have new products or exclusive offers.
To sum up all the notable features and differences of a website and an app, look at the table below:
Is It Better to Use an App or a Website for Retail?
As a retailer, it is always advisable to invest in a mobile website before developing an application. Creating a mobile website is cheaper and faster as compared to an app.Besides, a website is optimal for any e-commerce store trying to offer mobile-friendly content. It ensures an efficient way of gaining new customers and interacting with old ones.An app is the preferred option for highly interactive user experience. Apps offer customers a more personalized experience. Through notifications, you can always ensure that customers are aware of your new products. With advanced technology, mobile apps provide a better online shopping experience and are always at hand, even offline. However, mobile application development can be costly.
Large retail businesses can invest in both a mobile website and an app. Customer conversion rates increase significantly when both platforms are used.
Our Experience
Attract Group offers innovative technological solutions to startups and medium-sized businesses. Our company is dedicated to providing solutions to the issues businesses face on a day-to-day basis. We offer the very best web and mobile application development services.
Our team consists of developers, engineers, web designers, and business strategists. Each member's dedication and experience allow us to provide high-quality and cost-effective results for all clients.
Check out the case study on how Attract Group created an online presence for a fishing gear store. We started with a website as a scalable solution. Later, we enhanced the online shopping experience and brand loyalty to engage customers more with iOS and Android mobile apps. We've been cooperating for eight years, boosting the offline store's success and attracting more clients to the online platform.
click the image to see more ↓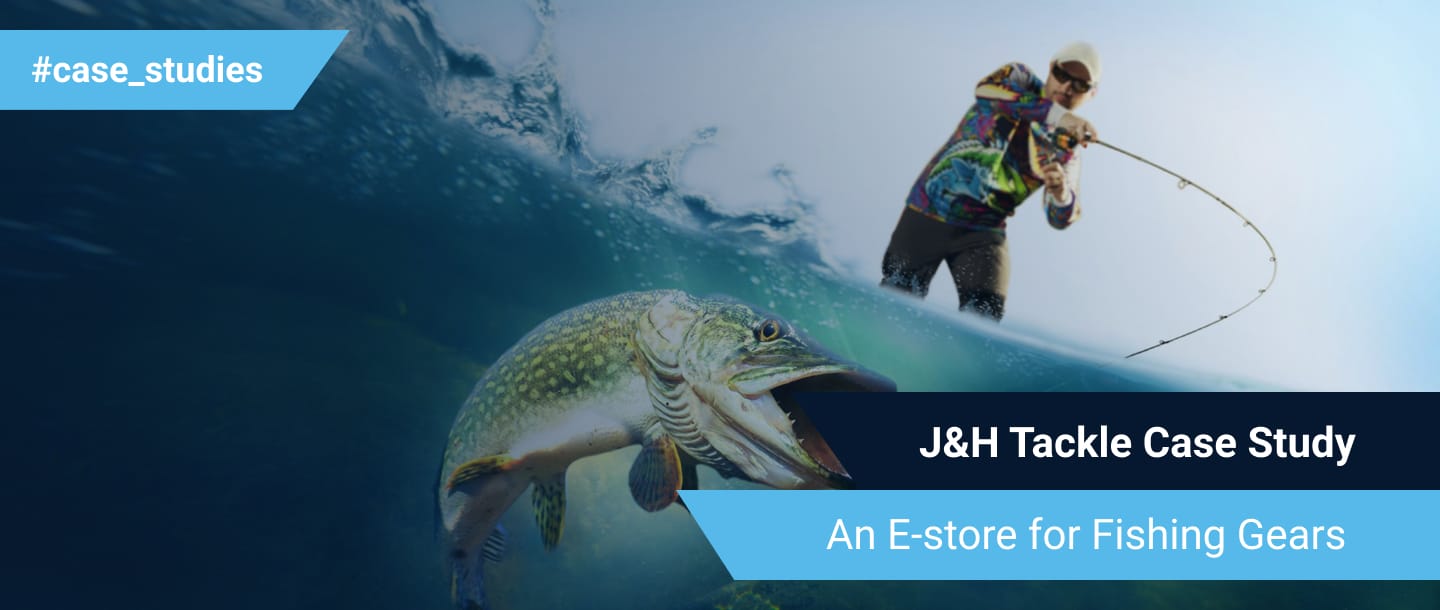 Final Thoughts
As more and more people are choosing phones and tablets when shopping online, retailers need to make a hard choice. What solution should you prioritize: an app or mobile site? What's the most essential, and what should you be spending most of your time and money?
If you have enough initial funding to build a website and create an app, it would be the best option for e-commerce business. Apps are a nice and, ideally, a robust, responsive solution that's easy to use and is just as good as a website. For e-commerce businesses, it is better to consider both options to increase customer numbers and revenue.
When deciding which is better, you can rely on your goals, investment, and business type. However, anyone aiming to reach many customers at once, get a higher ranking, and deliver optimized content should pay attention to website development. Websites offer an easier way for you to share a large amount of content with many people. Mobile websites make it easier for users to find you on the Internet. If you are looking to cut down on expenses, consider building a website as it is a more profitable solution.
Feel like continue discussing the topic?
Drop us a line and share your experience.