In recent years the demand for educational mobile app development has enhanced significantly. One of the most considerable factors that affected it is the pandemic. The coronavirus made adjustments to daily life and people were forced to proceed working and studying online.
Nowadays educational app development is at the peak of its popularity. The percentage of app downloads is still increasing. This stems from the fact that students find educational apps attractive, as well as entertaining. The majority of these customers are teenagers or kids. According to statistics, this target audience considers games better than learning via simple books.
Source: Sensortower
Monthly installations exceeded 400 million worldwide. In 2020 APAC possessed the first place in the app installations (about 50% of all the downloads). That's twice the amount of EMEA (26%).
What's more, the demand for school communication apps and educational apps for kids in the U.S. has risen remarkably in the last years.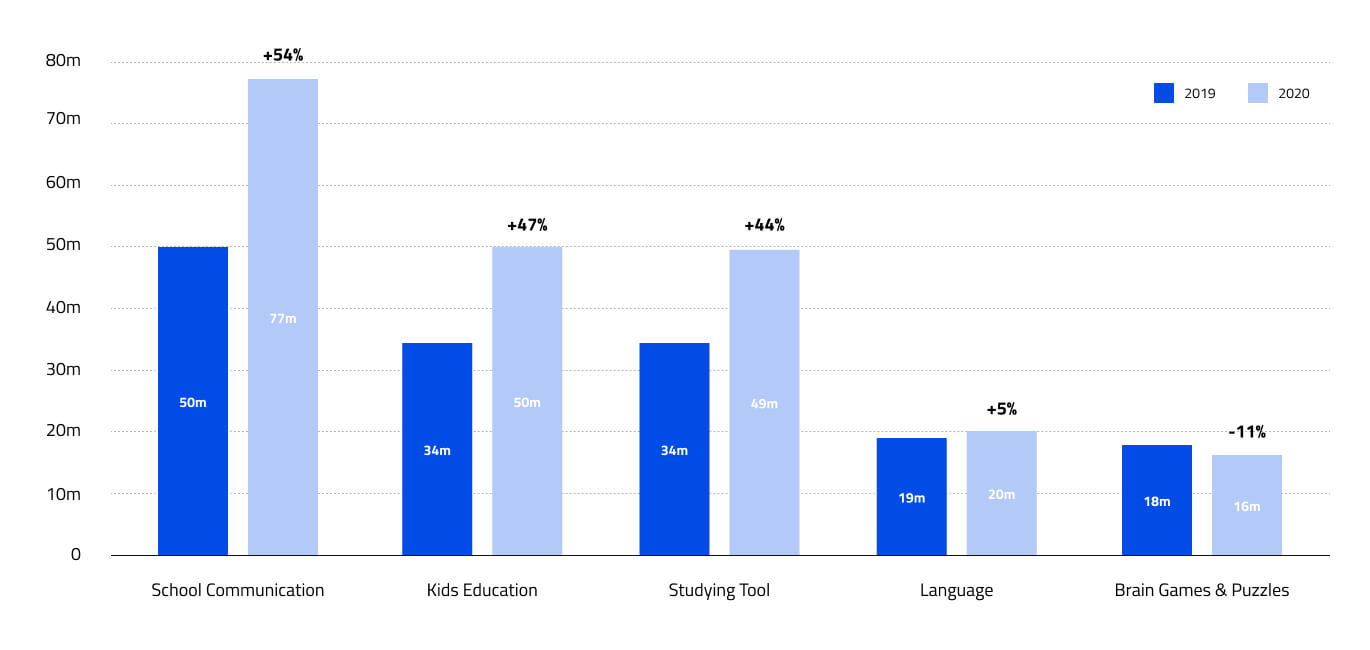 India, China and the USA are the top educational apps markets. In comparison with 2019, the number of learning app downloads grew from 362 to 608 millions in 2020 in India.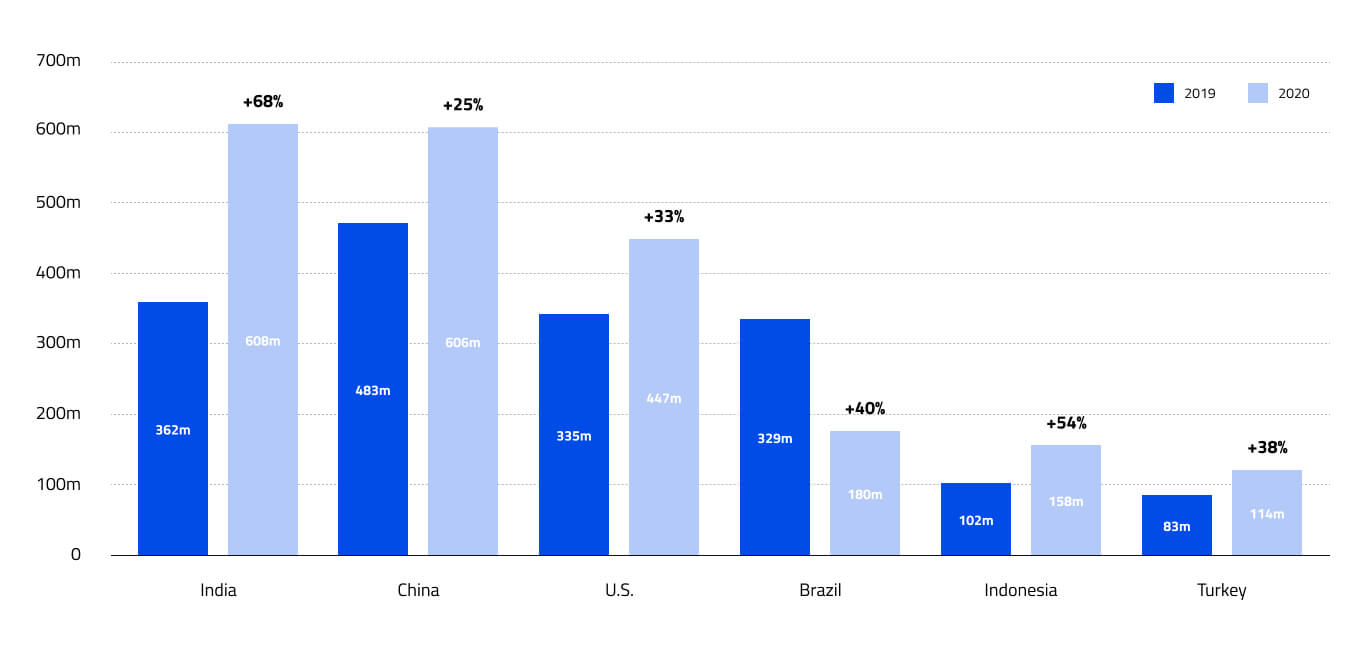 Types of Educational Apps
1. Educational games
This kind of app allows users to gain knowledge based upon their educational level. Such games simplify the learning process and provide all the opportunities to estimate students' achievements. Likewise, the learners can choose games in accordance with their:
preferences
age category
abilities
| App | Description |
| --- | --- |
| World Rescue | is a game that tells children how to treat the environment |
| Endless Alphabet | is a perfect app for learning the alphabet and building a basic vocabulary |
| Democracy 3 | is a stunning option for those kids, who are interested in politics |
| Endless Ocean | will attract the keen-lovers of marine biology |
| Wordscapes | is a puzzle-based game |
2. eBook apps
These apps refer to the best methods of studying online. The core benefit of these apps is that you do not need to acquire books or carry them with you. Instead, you can use a particular platform where you'll be able to:
read
listen
do various exercises
check yourself
| App | Description |
| --- | --- |
| Amazon Kindle | is a user-friendly app that allows customers to read books which were bought on Amazon |
| Wattpad | gives the opportunity to get acquainted with diverse novelists and even share your own story |
| Scribd | is a digital library with a huge amount of genres |
| Libby by OverDrive | contains audiobooks |
3. Exam preparation apps
Such apps are considered to be an efficient education app development.
While preparing for exams students should stay focused on the most vital stuff, such as:
regular training
regime compliance
utilization of flow charts/ diagrams, etc.
Exam preparation apps are being done to provide pupils with all the essential things they need in order to pass their exams at the highest marks. With the assistance of similar learning app development users will have a chance to study gaily and successfully as well.
Examples of exam preparation apps:
| App | Description |
| --- | --- |
| Quizlet | is a flashcard learning system |
| Exam Countdown | tracks the dates of the exams |
| My study life | monitors daily achievements, homework assignments, notifies about forthcoming events |
| StudyBlue | gives the opportunity to create and share materials with friends |
All of the listed applications are cost-free and can be downloaded for both iOS and Android.
4. Brain training apps
They are targeted to boost people's cognitive functioning. Most brain training apps consist of specific exercises that:
keep your mind active
strengthen memory
These apps will not impact the client's emotional state, however they will teach how to control it.
| App | Description |
| --- | --- |
| Lumosity | is a set of three games that is concentrated on the consumer's needs |
| Happify | helps to deal with negative mood |
| Eidetic | is based on a certain methodology that improves memory |
| Brain Fitness Pro | enhances focus, assists in gaining problem-solving skills |
| Positive Activity Jackpot | is an augmented reality app, that aids in times of stress, anxiety or depression |
5. Classroom apps
There are loads of advantages in developing similar educational apps. For instance:
limitless access to any information
a structured communicational system among teachers, students and parents
a rapid imparting of the data
eBooks, innovative web-based education
| App | Description |
| --- | --- |
| Schoology | is an online learning management system that allows teachers to design tasks, guides along with other activities for students |
| Kahoot! | is a well-known app development that helps educators to check students' progress |
| Google Classroom | incorporates such a perk as online content organization that alleviates communication |
| School app for Parents | is an efficacious information sharing application |
| Teacher Class 123 | is an indispensable assistant for the teaching staff |
6. Online courses
Online courses are mobile-friendly apps that offer interactive learning coupled with the following:
an unlimited number of materials
round-the-clock availability
easy teaching solutions
full engagement
This kind of courses provides users with an enormous quantity of pros, including:
time-saving
working in groups
personalized learning
| App | Description |
| --- | --- |
| Coursera | is a popular website that comprises dozens of courses for kids and adults |
| FutureLearn | offers short-term learning courses |
| Khan Academy | encompasses a toll-free education maintained by video tutorials |
| OpenLearn | a choice of more than 1000 courses depending on the level of a learner |
| Udemy | consists of video learning |
Must-have Features for Educational Apps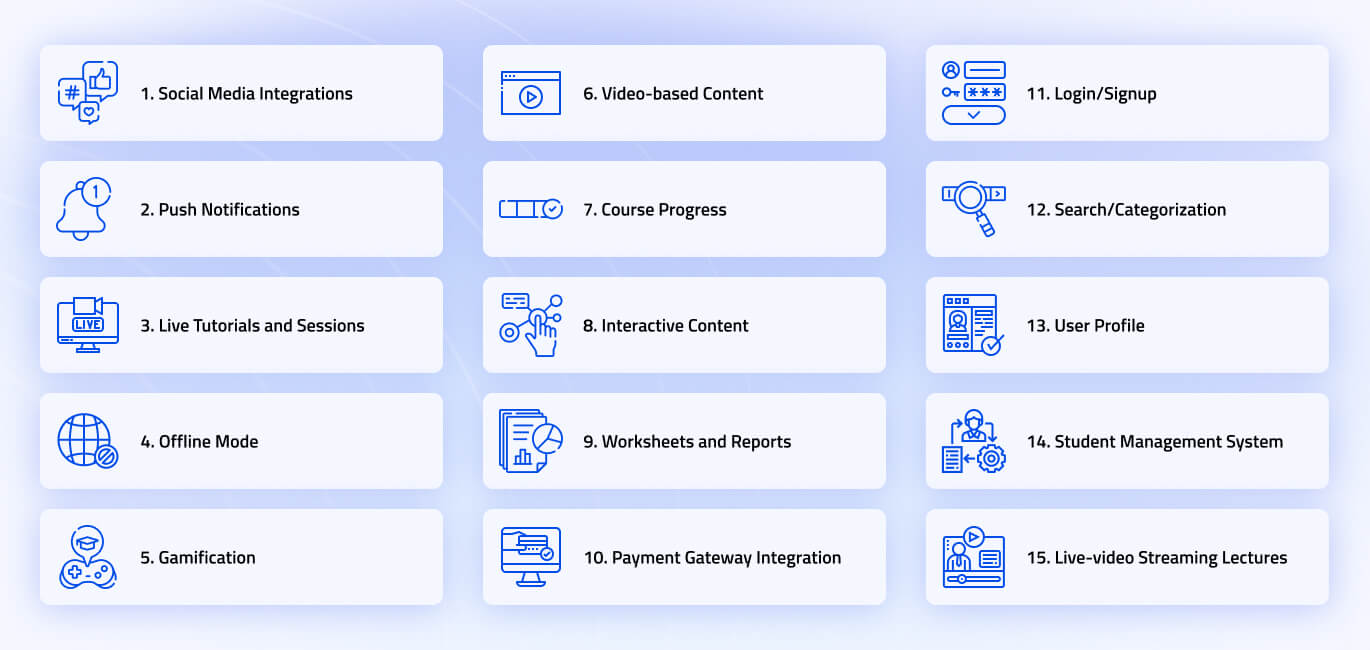 In case you'd like to develop an educational app there are several obligatory features you should know about.
Social Media Integrations
When students prosper in their education they want the closest people to know about their achievements. In this case social media integration is the best way to exchange information. Likewise, through progress sharing, an individual can observe that his/her colleagues have coped better with the task. It may trigger more motivation to move towards higher results.
Push Notifications
This is a pretty cool function for teachers as they can communicate with students and send all the necessary info about upcoming events. It is also an awesome reminder for those children, who have loads of classes and are not able to control everything by their own forces.
Live Tutorials and Sessions
The app must have online sessions in order to hone students' skills. After the topic is completed, the teacher needs to be in a position to clarify all the questions, give instructions, etc.
Offline Mode
There are times when learners may not have a stable internet connection. Offline mode was designed exclusively for this purpose. Furthermore, you can figure out how helpful and effective your application is among users by the number of module downloads.
Gamification
Gamification will help you to attract as many clients as possible. Learning process becomes easy and vastly exciting with it. In accordance with recent research, the percentage of material assimilation through games is much larger than learning via books.
Video-based Content
Videos are a progressive way to obtain precious experience. They are not time-consuming and can be used in all educational processes. What's more, the students are allowed to rewatch the materials of the lesson whenever they want.
Course Progress
It is one of the things that tracks a child's progress as well as grades. Due to this feature parents will be able to monitor their kids' activity in class. At the same time, adults who study at universities will have the chance to check their scores.
Interactive Content
Interactive content is a must-have technique that is gathering momentum in marketing. The strong suit of such type of content is the entire involvement of a learner. It was produced to give the consumers a possibility to accumulate knowledge via exciting quizzes, animated infographics, etc.
Worksheets and Reports
Control over tasks is a compulsory factor in the learning process. The worksheets jointly with reports help in understanding the complicated concept, identifying gaps, tracking the promotion in studies and so on.
 Payment Gateway Integration
Online transactions are considered to be the most demanded payment method. They facilitate the lives of all the consumers/providers, who are engaged in the educational process. The main advantages of payment gateway integration are:

 

a payment security
a low fraud risk
a time-saving

As you might have already noticed, developing an educational app is not a plain task. It covers a lot of aspects that are vital for building a worthwhile, profitable educational app.

 Login/Signup
These functions will help you to keep all achievements in your own profile. You will be able to track your success, forthcoming tasks, etc.
 Search/Categorization
The app should have a convenient navigation, where the user can find an appropriate course or lesson. It is a significant feature that will facilitate the studying process by categorizing content, dividing materials in accordance with the level of the learner. In addition, the program will automatically recommend courses based on completed lessons or preferences.
 User Profile
User profiling provides customers with the data they are interested in. In case a client is an admirer of learning languages, he will be offered a set of courses focused on the languages learning.
 Student Management System
It helps students to easily manage their studying process. This system will improve not solely the productivity of the learner, however the lecturer's one eke.
 Live-video Streaming Lectures (If Needed)
Learning via video guides is quite easier than obtaining information via textbooks. Visualization is an integral part of accumulating knowledge. At the same time, students will be able to ask the questions directly during the streaming.
How Educational Apps Make Money: Monetization Models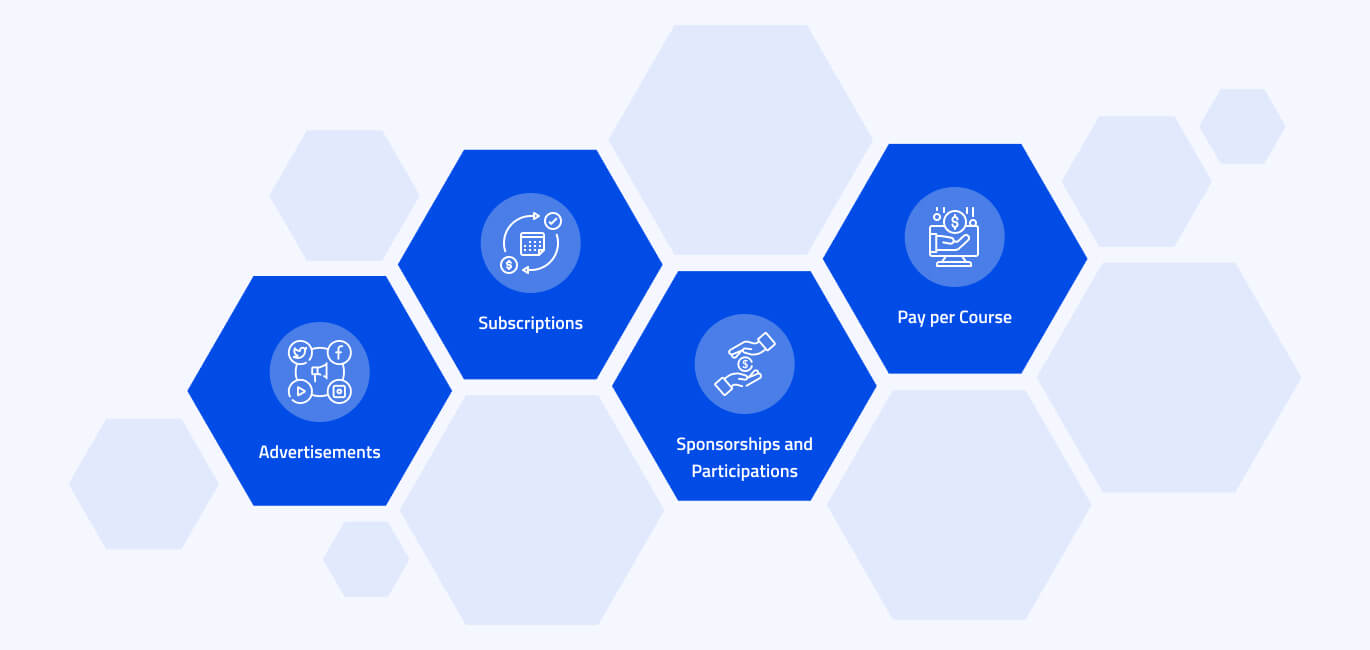 Currently, educational apps are the leading trend that will continue being marketable in conditions of full globalization. Therefore every flourishing app development company works with educational apps in order to capitalize on this gold mine.
The most widespread ways of learning app monetization:
Advertisement
Advertisement is the sought-after method to make profit. The more people see your company's name, the more customers you have. This is the fundamental principle for prosperous business. Affiliate marketing is what you can rely on. The mechanism is arranged so that ads automatically pop up on the app's screen. For the most appropriate advertising content, place ads in line with the product that might draw the attention of more visitors.
Pay Per Course
This technique is rather beneficial for course apps. Not all the users have the opportunity to pay for the course in advance. There are also those who hesitate or are not sure that they'll like the course. In this case you can do a special offer and create a fee for every course.
Subscriptions
It is one more superb way to earn money on the application. In fact, the client is charged a subscriber fee (once a month/year) for exploiting the app. Subscription advantages incorporate a cost-free access to the materials. Moreover, a consumer can select the most suitable subscription plan that conforms to his/her preferences.
Sponsorships and Participations
Sponsorships and Participations may provide you with a great income flow. Generally it works like this when the user base is large enough to lure sponsors. This model is favorable for both sides (the sponsor's one and the learner's one). For instance, the person can receive a sponsorship from a company that gives the opportunity to a customer to study this company's courses without charge.
Developing an educational app is a perfect chance to generate a unique platform and oversee its results.
If you are interested in how much it costs to develop an educational app, read the headline below.
How Much Does It Cost to Make an Educational App
There isn't any accurate cost to make an educational app. The price hinges on varied components, such as:
the complexity of design
the number of features
a required staff (PM, UI/UX designers, Mobile developers, Backend developers, QA, DevOps)
the type of the app (a native app or cross-platform one)
the type of platform for the app (iOS, Android)
an hourly rate
The exact development cost will be announced after the company receives all the requirements. The price can depend on the chosen company.
The minimal price for developing MVP varies from $35,000 for a cross-platform version. A presumptive development time is 3-5 months (depending on the functional complexity/design). To learn about other educational app development costs, get in touch. We are always open to conversation and will be glad to help you.
Plan your actions before embarking on the creation of an educational app.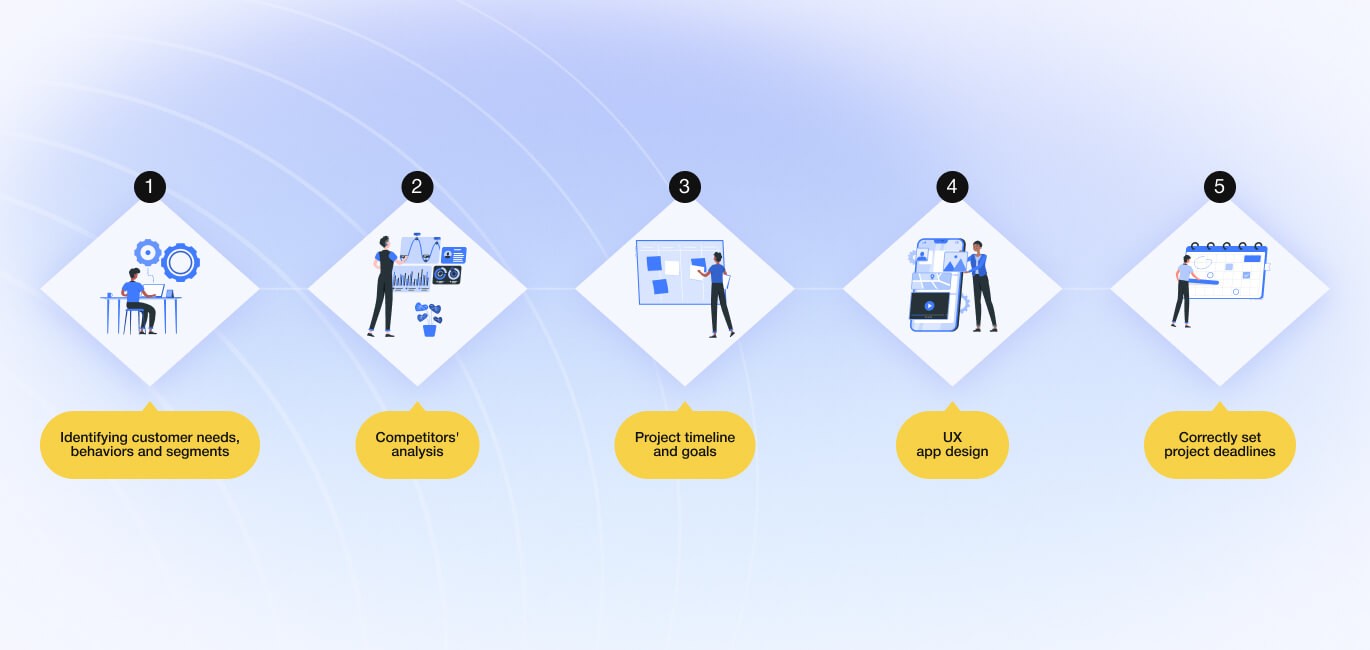 Be borne in mind all the necessary business development phases, in particular:
market research
competitor research
determine your unique value proposition (UVP)
choose a monetization model
reflect on prototyping UX design
When hiring educational app developers, assure in their professionalism, ask for examples of their works, discuss the course of subsequent events, etc.
Educational App Development Tips
As it turns out, possessing a brand-new app is not enough to be productive. If you want the audience to draw attention to your elaboration, you should be ready to give high-quality content. Here we gathered several tips on how to create a top-tier educational app.
Design for a certain age
It is essential to divide content according to the student's age. Besides, all the pieces of the app should be thought out up to the finest detail. Content has to be separated into groups depending upon the level of complexity of the learners.
Gamification
As it has already been mentioned earlier, gamification is an inalienable attribute of the top-class app. This function contributes to fast, rich, animated studying that leaves merely vivid impressions in the children's memory.
A reliable partner
Be sure that you'll need a credible partner who will help you in solving diverse questions. Having such a person in business is a real gem. The core advantage of the partnership is that you can share viewpoints and grow together.
A highlight
Create your one of a kind feature that will cause public interest. It can be an innovative methodology, a software solution, rewards program, etc. Do not doubt and stand out.
Freemium plans
They allow consumers to utilize common options for free and more advanced ones for a fee. Thereby your app will be famous among people with miscellaneous financial situations.
Conclusion
Would you like to become a proud owner of the best as well as an innovative app?
Attract Group is a prospering software development company that copes with all types of educational app development. The company comprises a high-skilled team of experts, developers, designers, etc. All the staff are certificated professionals with an extensive background.
In case you hesitate how to develop an educational app correctly or how to make a first-rate learning app, contact us! We would appreciate cooperating with you!