Today, food delivery and mobile technologies are inseparable. Customers and restaurants connect instantly. Food arrives at the user's doorstep — scheduled or on demand. Customers browse menus on the go, while smart filtering and personal recommendations accelerate the search. The popularity of these apps is undeniable, and development is now a profitable investment.
The rising number of couriers and efficient route optimization make delivery faster and more convenient than ever. Lately, many apps have transitioned from mere aggregation to logistics. According to estimates from McKinsey and Morgan Stanley, market revenue in the US has doubled in the past five years. Between 2015 and 2020, the number of users grew from 66 million to 111 million. The figures are striking.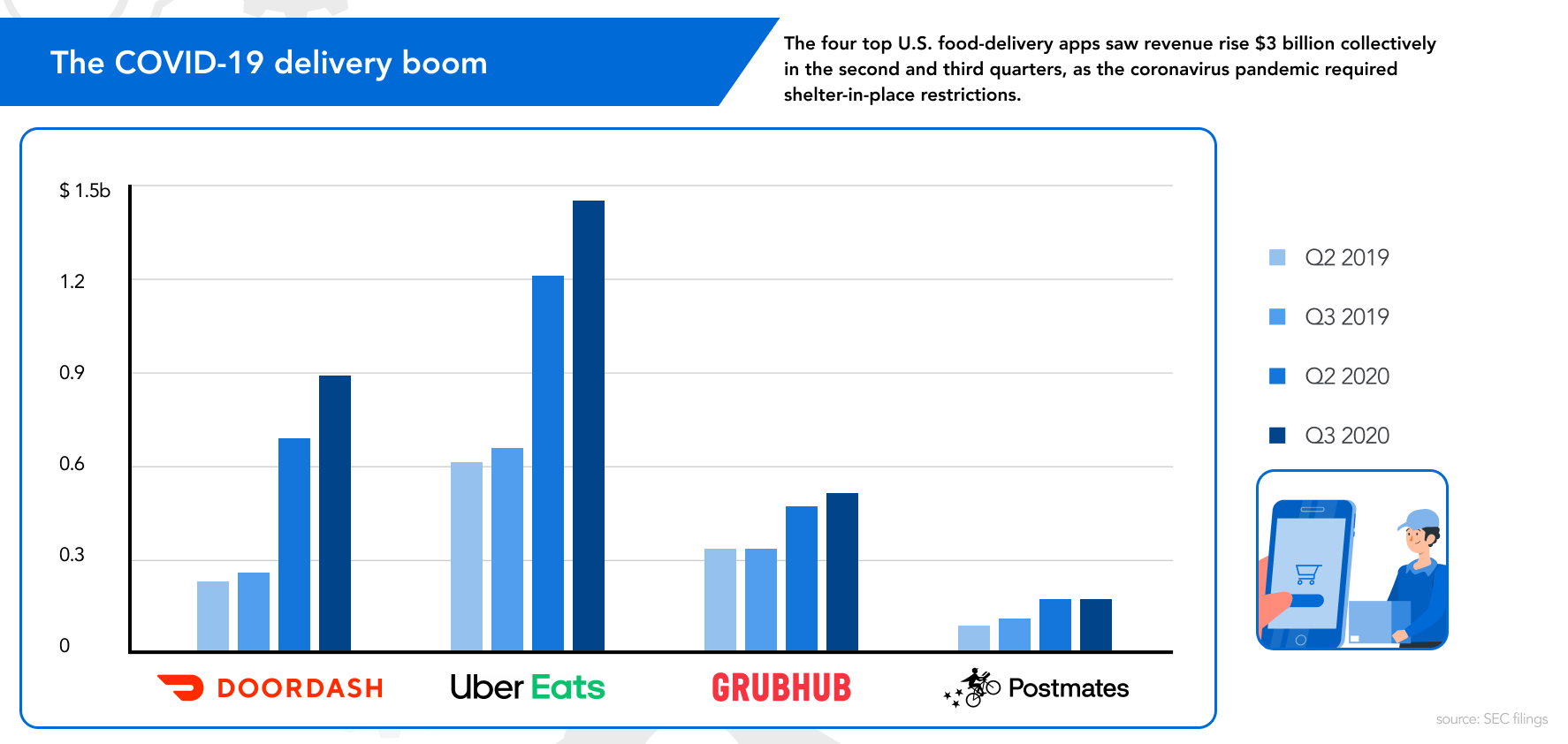 The expansion of this segment has been spurred by the pandemic. As millions of consumers were confined to their homes, ordering skyrocketed. By the fourth week of lockdown, grocery app Instacart had already reached its 2022 targets.
Similar acceleration was reported by food delivery giants like DoorDash and Uber Eats. Their success highlights the potential of similar apps. If you are thinking of launching your own, discover the cost of developing a food delivery app below.
Which Type of Food Delivery App Suits Your Business?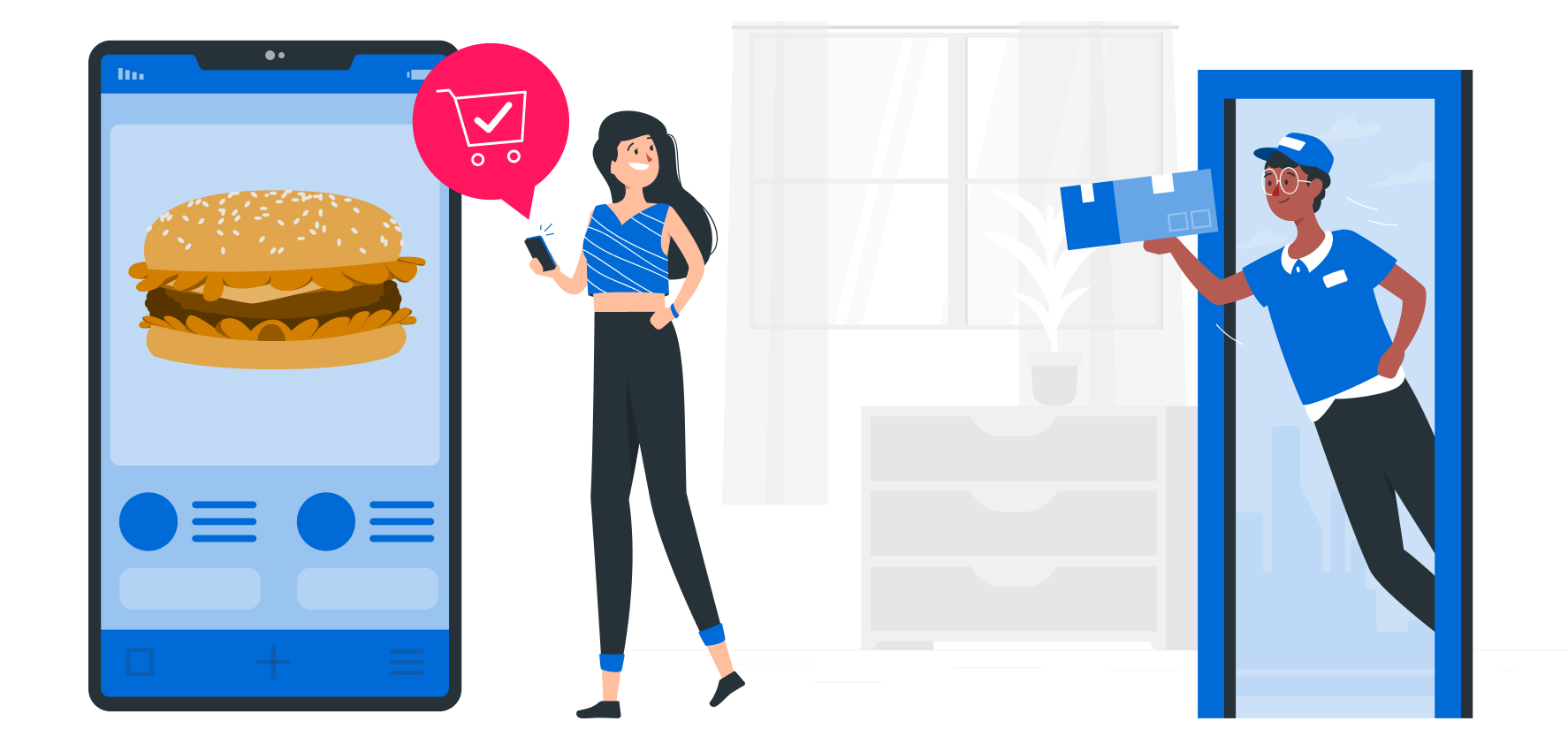 How much does it cost to make a food delivery app? Your budget should accommodate multiple factors, but the model you choose is the primary criteria. What will users and restaurants accomplish through your system? Are you going to have your own delivery workforce, or will you merely connect customers and eateries? There are three options.
1

Aggregator

This model is built on establishing connections between users and restaurants. Such apps may show different categories of food (e.g., cuisine) and establishments that provide it. Users place orders, while restaurants view and complete them using the same platform.

The company that developed the app does not have to provide support, and delivery is fully handled by the restaurants. Additional options include live tracking and updates via push notifications. Delivery may also be scheduled.
2

Platform with Logistic Suppor

As the term suggests, such platforms not only connect customers to restaurants but also provide courier services for the eateries. Listed restaurants prepare the food and hand it over to the delivery personnel. The platform handles everything else, including payment processing. Users may select dishes from restaurant menus, place orders, and track their progress.

DoorDash is a notable example. Originally built around the facilitation of delivering logistics, it is now a famous brand in the market for on-demand food delivery. The features of the app, such as live tracking, rating, and delivery scheduling, are being copied by countless similar products.
3

Full Stack Delivery Apps

This type is relatively new. The same business controls the whole process from customer interaction to cooking to logistics. This approach is generally not suitable for small restaurants — the company needs to have enough staff to handle eCommerce and delivery.

For customers, the experience is similar to other apps, but the information is usually more detailed. Not only can they browse through photos of dishes — the ingredients and even the name of the chef may be listed as well. In the US, this model is used by brands like Munchery.
How Food Delivery Apps Work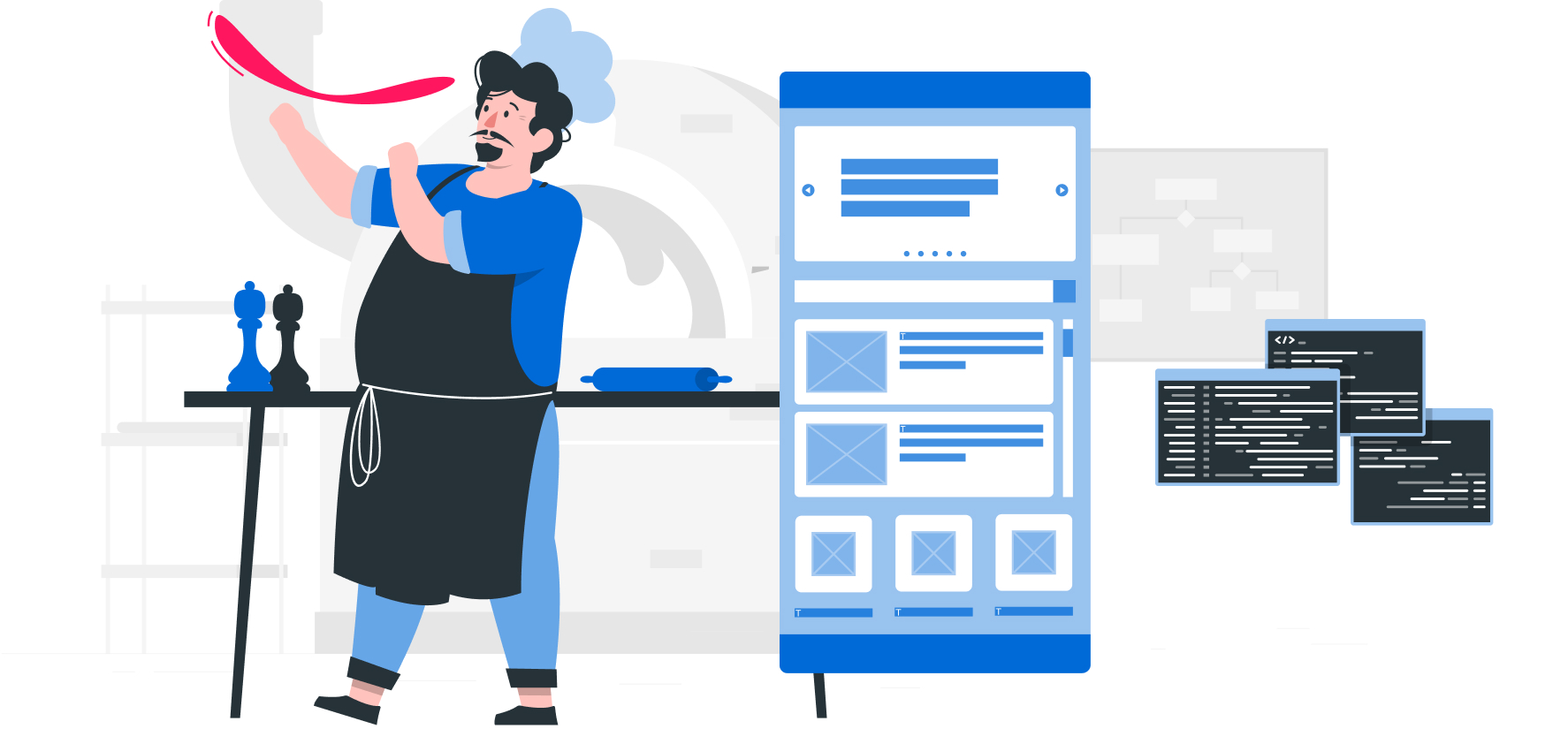 The top platforms for delivery allow smooth registration, search, ordering, and payment processing. The user must be able to find the right dishes and pay for them easily. The following elements determine how much it will cost to create a food delivery app.
1

User Registration and Login

These are the initial stages of interaction with the user, so making a good first impression is crucial. Normally, a customer is asked for their name, email, and phone number. They should be able to create a password and login easily. Registration is also a way for the restaurants to keep track of customers and personalize services to make them more attractive.
2

Search Menu

The offerings of any restaurant should be properly categorized to ensure that customers can search efficiently. This requires as much attention as the printed menu. Images, prices, and details must all be correct and relevant.
3

Real-time Order Placement

Customers may have food ordered to a specific address as soon as possible. They may choose from a range of menus provided by restaurants in different locations. With Uber Eats, this works just like the company's core app: the only difference is that your food — not a human passenger — is taken from point A (the restaurant) to point B (your location).
4

Custom Order Placement for Customer

Delivery may also be scheduled in a simple way. A user decides what to order, when to receive it, and where. Customization provides more freedom to satisfy individual needs.
5

Payment Systems

The top systems offer an array of secure payment methods. They work with major credit/debit cards, PayPal, and cash on delivery.
6

Delivery Force

For Uber Eats, couriers are not hired specifically for food delivery. Uber drivers who sign up as drivers on the service also deliver food. Order allocation is based on the current location of each car, and the locations of the customer and restaurant. Other services may delegate delivery to third parties.
7

Restaurant Partners

Today, big restaurants commonly partner up with a number of apps to handle the delivery. When demand is high, a single courier service may fall short of expectations. After all, nobody likes it when their order arrives cold.
Best Examples of Food Delivery Apps
New companies are entering and leaving the market all the time — not every app is destined to stay afloat. Grubhub, Uber Eats and Zomato have stood the test of time. Here is a closer look at what these leaders offer in 2021.
1

Grubhub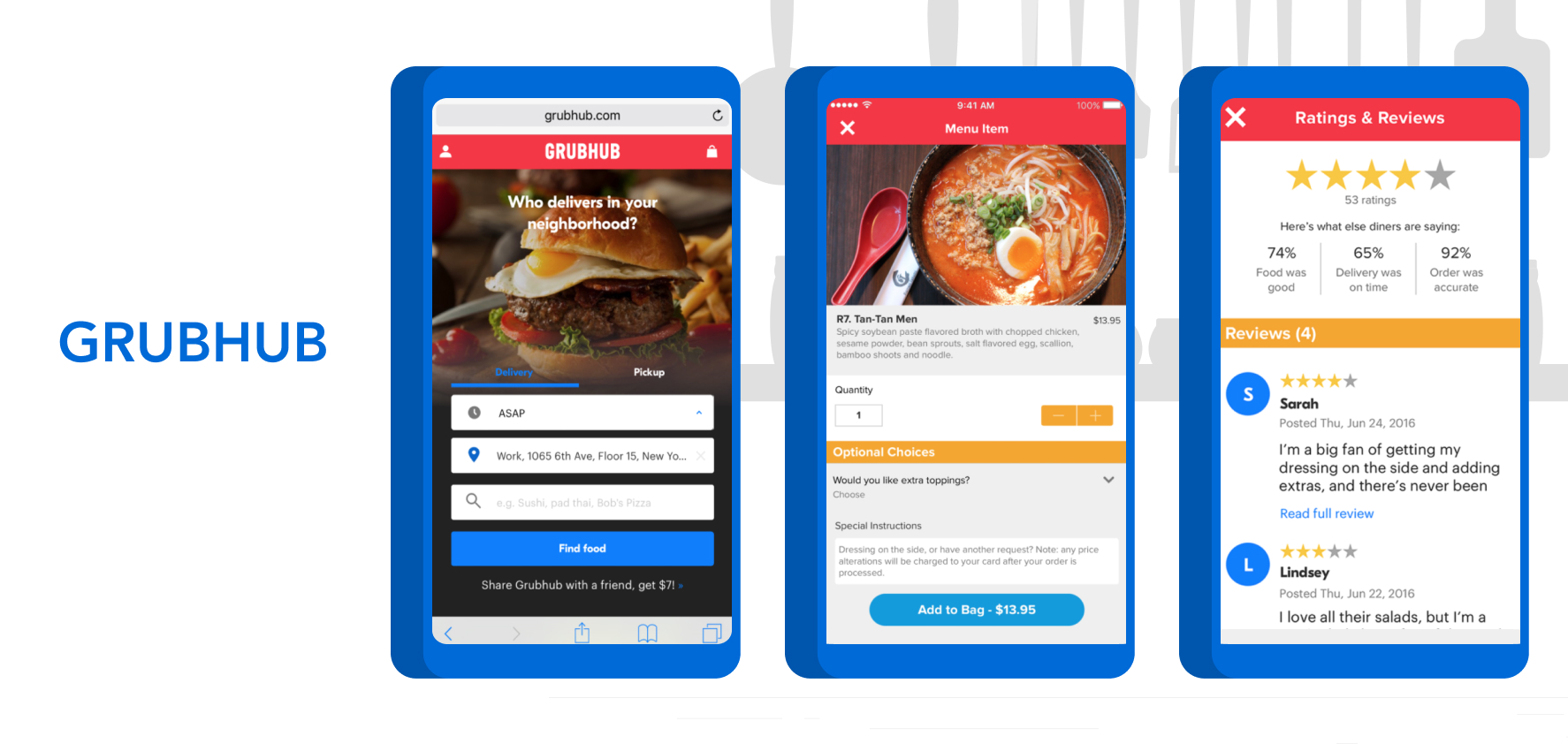 This brand is one of the pioneers: It has been in the market since 2004. Initially an aggregator list, it has transformed into an on-demand platform where restaurants promote themselves to expand reach. Aside from delivery, users may also pick up their orders.
The company generates revenue through commissions per order. Also, restaurants use the system as an advertising platform. Today, the founding principles of the app are:
restaurant search (including deals and discounts from specific eateries);
restaurant rating (customer reviews);
pricing transparency (a breakdown for every restaurant);
restaurant locations with Google Maps integration;
the delivery fee (calculated based on the distance, time, and order size).
2

Uber Eats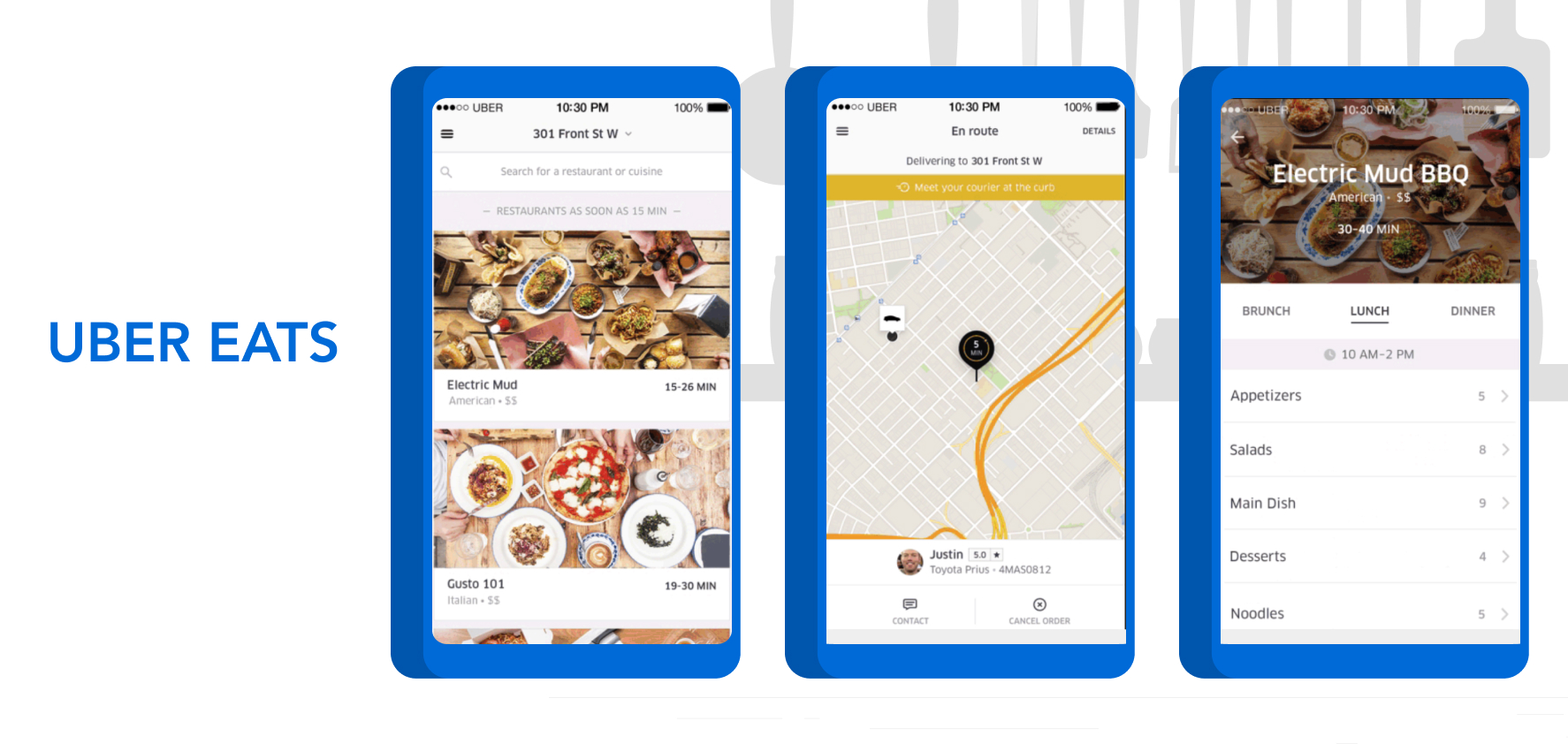 Since 2014, Uber has been delivering food in addition to its core service. The number of users has since grown exponentially, and the app is now used in 20 countries. It is both an aggregator and a delivery agent. Restaurants may list their offerings via the app, and the company deals with the logistics.
The app has plenty of features that make the experience more personalized. As a customer, you receive tailored recommendations, and delivery details are customizable. Smart search and easy tracking add to the convenience. However, it is the revenue model that truly makes the app stand out.
Most rival systems are built on commissions from eateries and fees from users. Uber Eats has an additional source of profit: promotion of restaurants as top searches. Companies that want to boost their visibility in the app may do so for a fee.
3

Zomato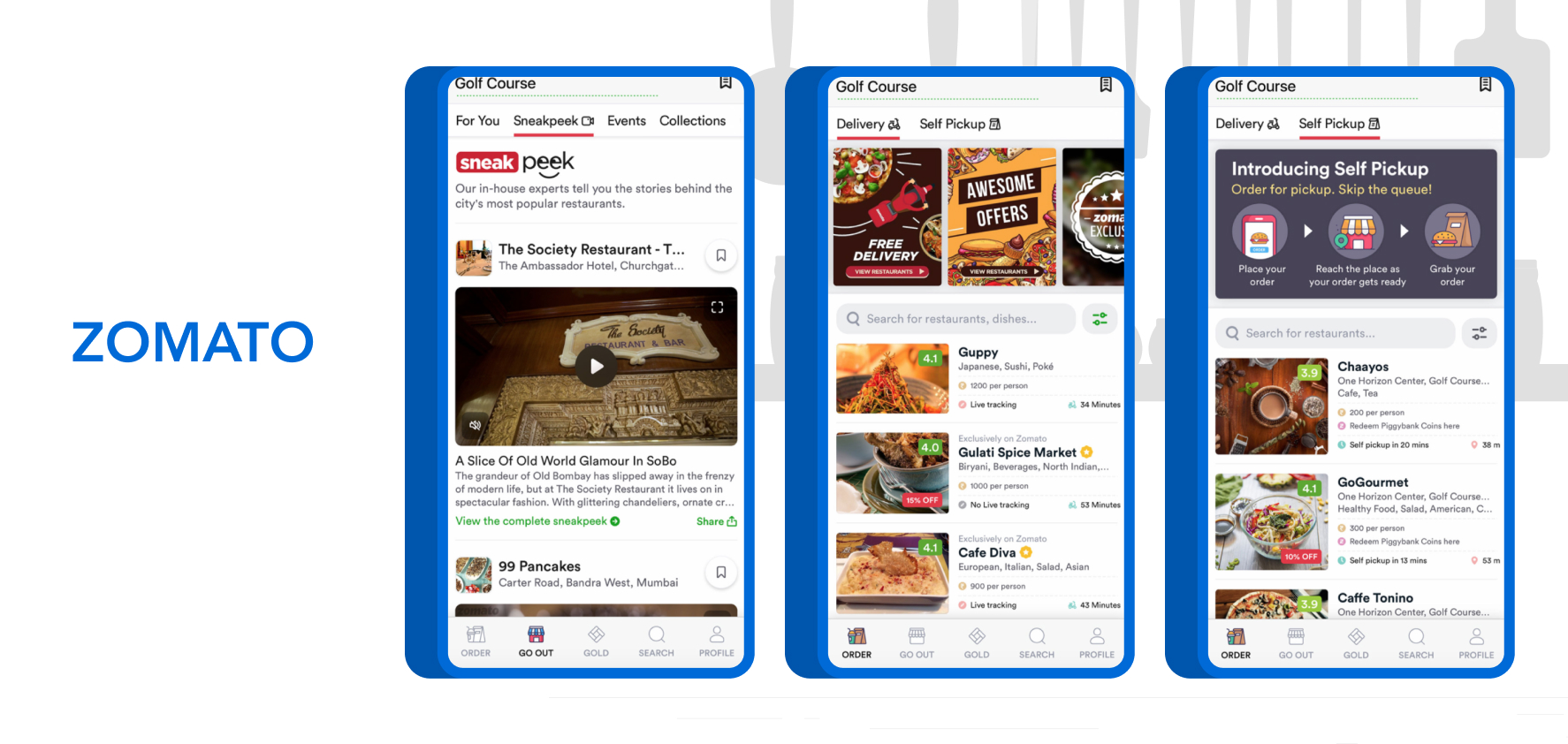 Once, Zomato was merely a directory that restaurants paid to join. Next, users were able to order delivery and book tables. Today, restaurants wishing to appear at the top of the feed are charged a commission. Restaurants can promote their events for higher visibility and even develop their own apps using the brand's white label solutions.
Zomato charges customers a delivery fee. Meanwhile, restaurants pay a commission, which is higher if the restaurant needs logistics support. This is split between the provider and its delivery partners. However, this is not the company's main source of revenue, as there is a lot of competition and deep discounts are necessary.
The company offers premium subscription packages for customers and restaurant owners. This model ensures a steady cash flow. For users, the loyalty program (Zomato Gold) unlocks unique offers. Meanwhile, restaurants pay for their presence on the app, as well as for extras like live tracking and branded packaging.
In cooperation with local entrepreneurs, the brand has created a wide network (180+) of affiliate kitchens across India. These infrastructure services provide decent ROI to investors. Finally, before the pandemic, the company arranged branded events. Visitors paid for access to Zomaland, where they enjoyed food, live music, and other entertainment.
4

Full-Stack App: Zhar-Pizza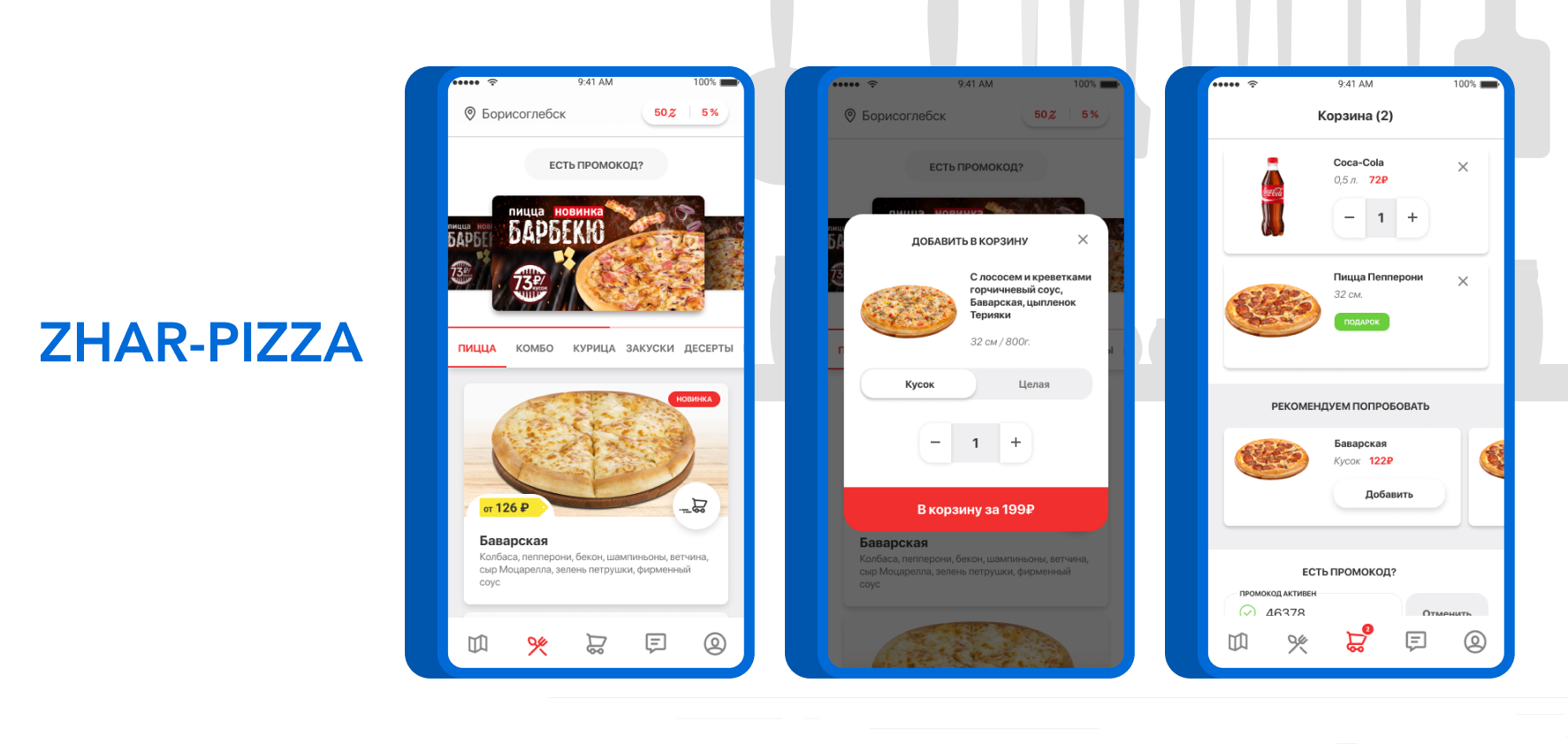 One of the largest and oldest pizza chains in Russia reinvented itself with a cutting-edge app. Developed by Attract Group, it allows efficient delivery to the customer's doorstep. The systems for iOS and Android are packed with useful features:
efficient menu search;
discounts, coupons, and deals;
quick order placement;
convenient drag-and-drop functionality;
custom meal selection;
effortless payments within the app;
smooth returns and refunds;
login by QR code scanning;
order status tracking;
customer feedback;
personal order history.
The design of the app has allowed the company to boost customer retention. Users are informed of special offers and deals. Notifications and delivery options boost engagement, sales, and revenue.
How Much Does It Cost to Develop a Food Delivery App?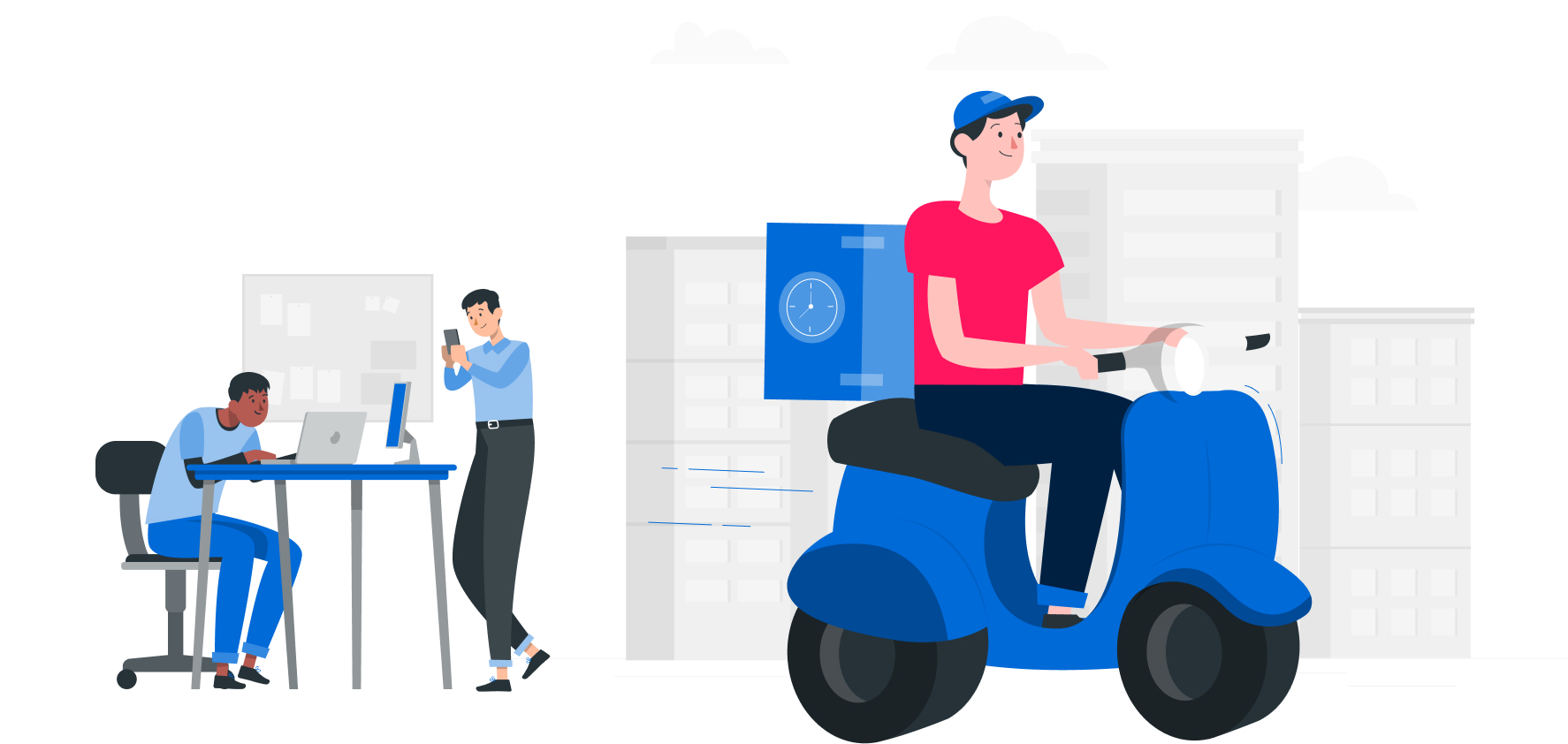 So, how expensive is it to create a food delivery app? The estimate depends on a set of variables. Do you want a native or hybrid app? How wide is its functionality? The price grows proportionally to the number of features. The more resources are required, the higher the costs. The key elements are:
design of the app (UI and UX)
adaptation for iOS and/or Android
backend complexity
testing
launch
Willing to develop an on-demand food delivery app?
Drop us a line and let's discuss your idea.
So, how much does it cost to develop a food delivery app? On average, the creation of an app like the ones described above falls within the $9,000-$40,000 bracket for MVP version. Naturally, members of the team you hire will have their own hourly rates. For instance, developers may charge you from $20 (in India), $40 (in Ukraine) and up to $300 per hour (in the USA). Here is how the costs of creating a food delivery app break down:
designing requires roughly 50 hours of work;
front-end and back-end development takes up to 300 more hours;
testing and fixing bugs may span 100 hours.
On average, an app can be created in 450+ hours. Reliable companies stick to the initial budget. They keep clients informed about the status of their project at every stage until the app is successfully running in the market.
Attract Group Expertise
We have successfully developed an on-demand delivery app solution called Uber Clone Script and it costs only $5.900 as is. It consists of the following parts:
Backend admin management panel: Dispatcher Panel, Billing Administrator Panel
Driver iOS App
Driver Android App
Customer iOS App
Customer Android App
Landing Page
Here is a list of well-done modules to review:
Registration of drivers and customers
Validation of drivers
Profiles for drivers and customers
Creation of a new order
New order acceptance by a driver
Order processing
Chat functionality
Order history
In-app payment processing
Saving credit cards and deposit accounts for a driver
Reviews
Willing to get an on-demand delivery app script?
Get it as is under $6,000
You can check the demos here:
Demo for Customer iOS App
Demo for Driver iOS App
Final Thoughts on the Cost of a Food Delivery App
Mobile technologies have revolutionized the food industry worldwide. Today, the vast majority of successful restaurants, bakeries, and other eateries accept orders through apps. This helps them expand visibility, get more conversions, and boost their bottom line. For customers, this translates into convenience and flexibility.
Pricing to create a food delivery app largely depends on the team and the required functionality. Live tracking, ratings, and reviews help businesses enhance brand awareness and foster loyalty. All these factors make investing in food delivery apps worthwhile. As a well-established provider, Attract Group develops mobile solutions that bring value for years to come. Contact us today for a free quote.
Willing to develop an on-demand food delivery app?
Drop us a line and let's discuss your idea.