Today, food delivery is no longer a luxury. It caters to the average consumer, who is often pushed for time. Meal delivery subscriptions are appealing due to tight schedules and busy lives. However, it was the global pandemic that gave the industry the strongest impetus so far. Discover key prerequisites for starting a food delivery business in 2022.
When millions of people were confined to their homes, delivery sales surged. Over the second half of 2020, the four biggest food delivery companies in the US (DoorDash, Uber Eats, Grubhub, and Postmates) saw their collective revenue grow by a whopping $3 billion. Buying food, drinks, and groceries online became a necessity.
Following months of lockdown, these new habits may be expected to stick. People who have grown accustomed to delivery are unlikely to abandon it. This is true in many countries: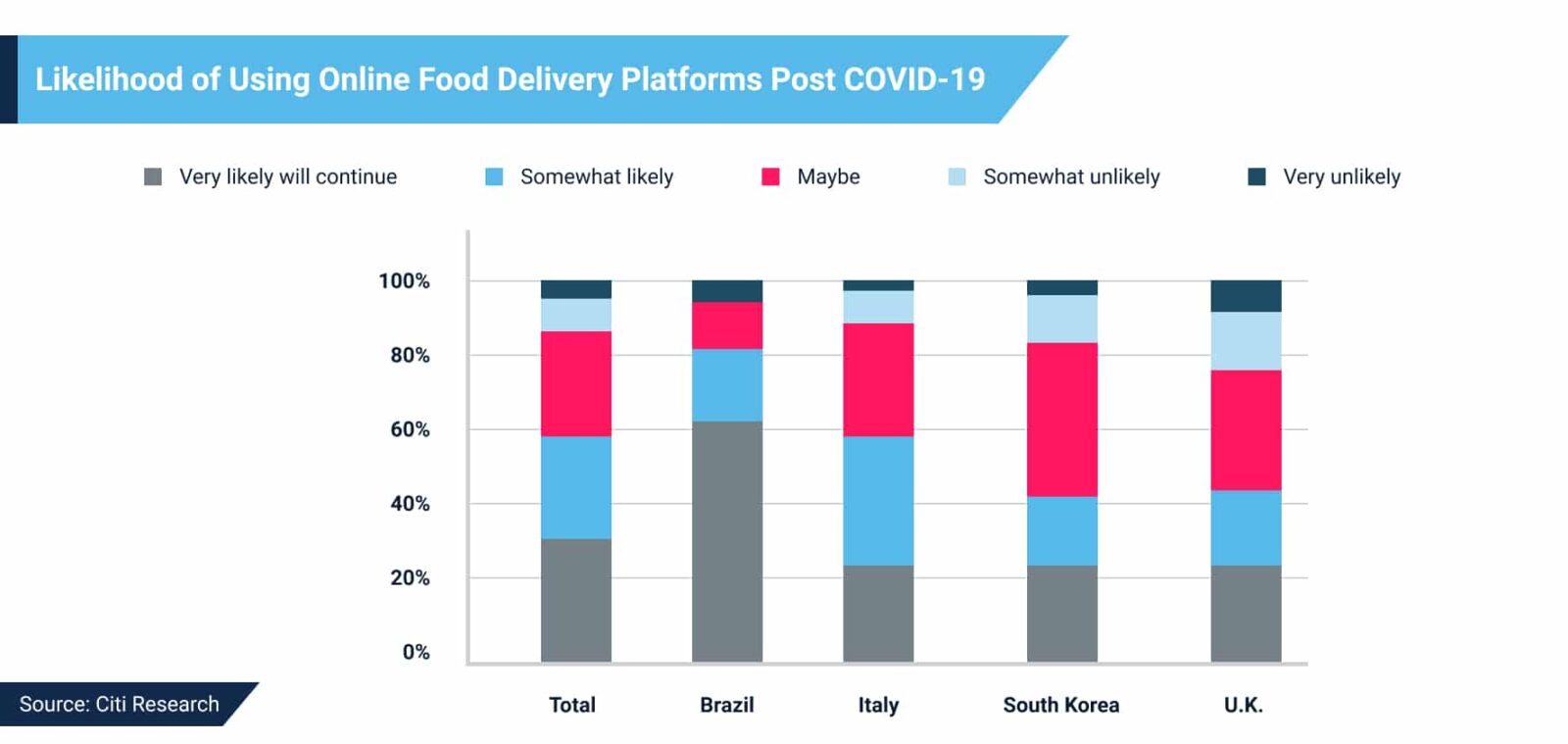 Starting a catering or food delivery business is a great idea. According to Techvario, the online food delivery segment may grow by $104.45 billion from 2019-2023. The market is still fragmented, and the growing demand for convenient ordering will offer immense opportunities for growth.
Whether it is a startup with home-cooked meals or a digital extension to an offline eatery, the potential is undeniable. However, establishing a retail business is not a breeze. This article will help you identify the main costs involved. Read on to discover how to start a food delivery business wisely.
The Best Thing About the Online Food Business
Food businesses can generate big sales. After all, they provide one of the basic necessities of humans. Selling and delivery are quicker than ever thanks to rapidly evolving technologies. Business owners can even make food at home and accept orders through websites. Food trucks are also cost-effective, and online sales can boost the revenue of any offline eatery.
If you are wondering how to start a home delivery food business, here is some good news: Local entry may be very affordable. However, tapping into e-commerce is not a small undertaking. Not all ideas have commercial viability, so choosing the right direction is key. Offering a novelty is not mandatory. Consider existing categories like:
gourmet dinners;
artisanal cooking;
meals for people with dietary restrictions (e.g., allergies or gluten intolerance);
certified organic food;
fair trade food;
vegan or vegetarian;
kosher or halal production.
In any food-related niche, safety is a major concern. Companies comply with stringent rules to ensure the quality of goods. In addition, you need meticulous inventory planning to avoid spoilage and waste. If you sell frozen foods, this requires special handling and delivery.
Willing to develop a food delivery project?
Drop us a line and let's discuss your idea.
So, how to start an online food ordering business from scratch? As a beginner, you may start with little investment, minimal equipment, and few delivery challenges. If food is your passion and there is an interested audience, this is a feasible undertaking.
With this guide, you will be able to make sense of the dense forest of information surrounding your niche. Here is how to start a small food ordering business at home or establish something bigger. Whatever the scale, thorough planning is key.
Pros and Cons of Online Food Business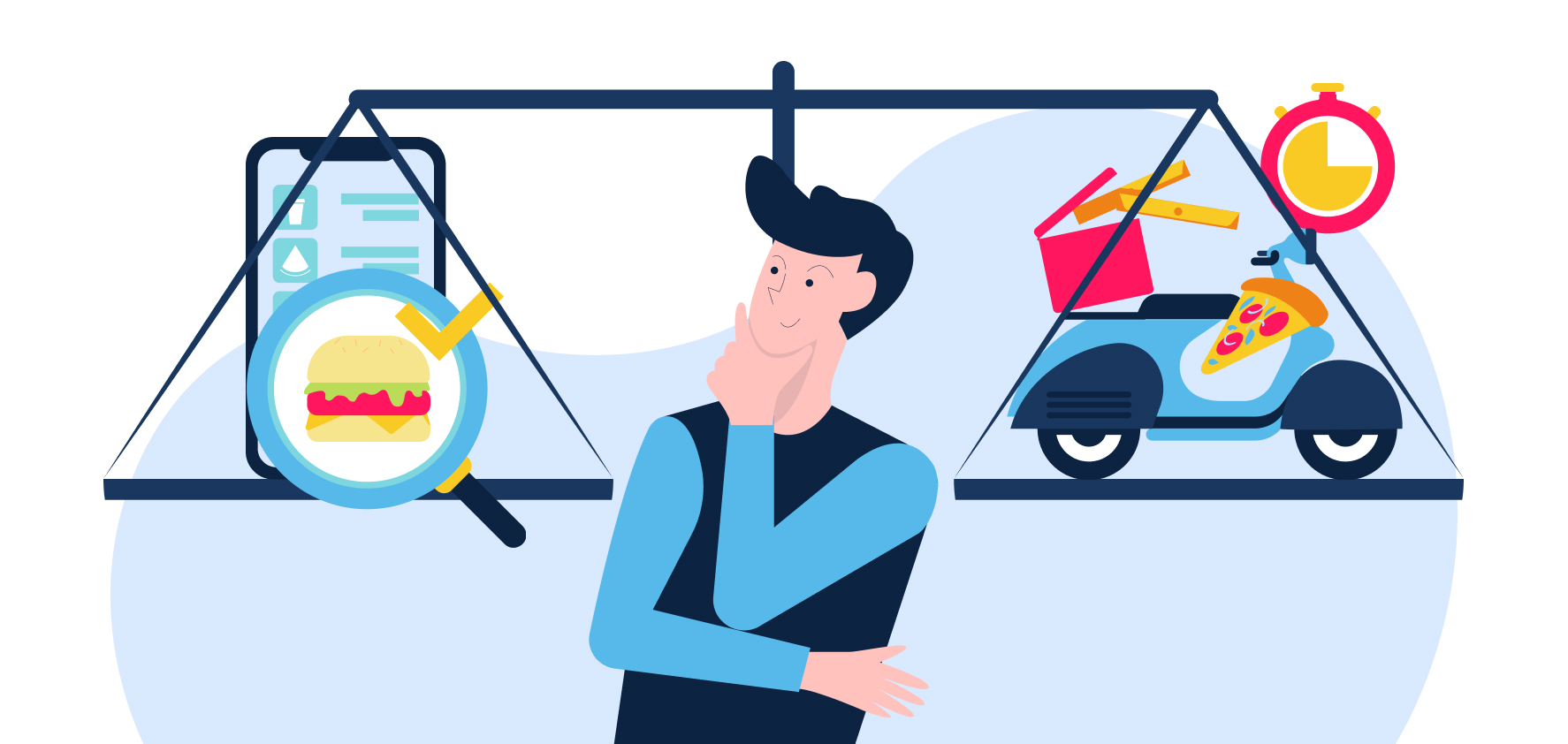 To be viable, a food business needs to coordinate multiple functions at once. Menu search, order placement, payment, and delivery should all be streamlined to ensure customer retention. Here are the key advantages and obstacles you will encounter.
1st

Benefit: Efficiency

Online delivery systems are more efficient by default. You do not need a call center to take orders. The staff may devote all of their attention to the recipes, preparation, and delivery. As a result, the quality of the food is improved, while the services are sped up.
2nd

Benefit: Accurate Delivery

When orders are taken through online systems, the probability of error is much lower. If users receive exactly what they requested, they may become repeat customers. No more mishaps due to human misunderstandings.
3rd

Benefit: Quick and Convenient

The modern customer does not want to stand in line or be put on hold. They want to open a website or app, browse the menu, place an order, and receive it. The fewer click or taps this requires, the better. Convenience is king. It translates into happier customers, bigger volumes, and higher revenues.

Willing to develop a food delivery project?
Drop us a line and let's discuss your idea.
Common Drawbacks of Delivery Business
The food delivery business is not effortless. Financial factors often hamper the progress of budding companies. The most expensive components of the model are:
1

Implementation Costs

If the business is still being established, the digital ordering system will be one of the key expenditures. You need to have built an environment where orders will be accepted and processed. Development can be pricey, but the total always depends on the features you need. In the beginning, you could invest in an MVP development (minimum viable product) and enhance it while growing your audience.

2

The Need for Delivery Force

Finally, think about your distributor. With a decent workforce management system, you can easily track the movements of couriers. You need to monitor the performance and location of every delivery guy.

Negligence is inexcusable: Late and failed deliveries are detrimental to brand image and customer loyalty. Time is money. Invest in efficient and well-organized field staff.

Finally, we can answer the central question: What do I need to start a food ordering business? Discover key tips from experts below.
How to Start a Food Delivery Business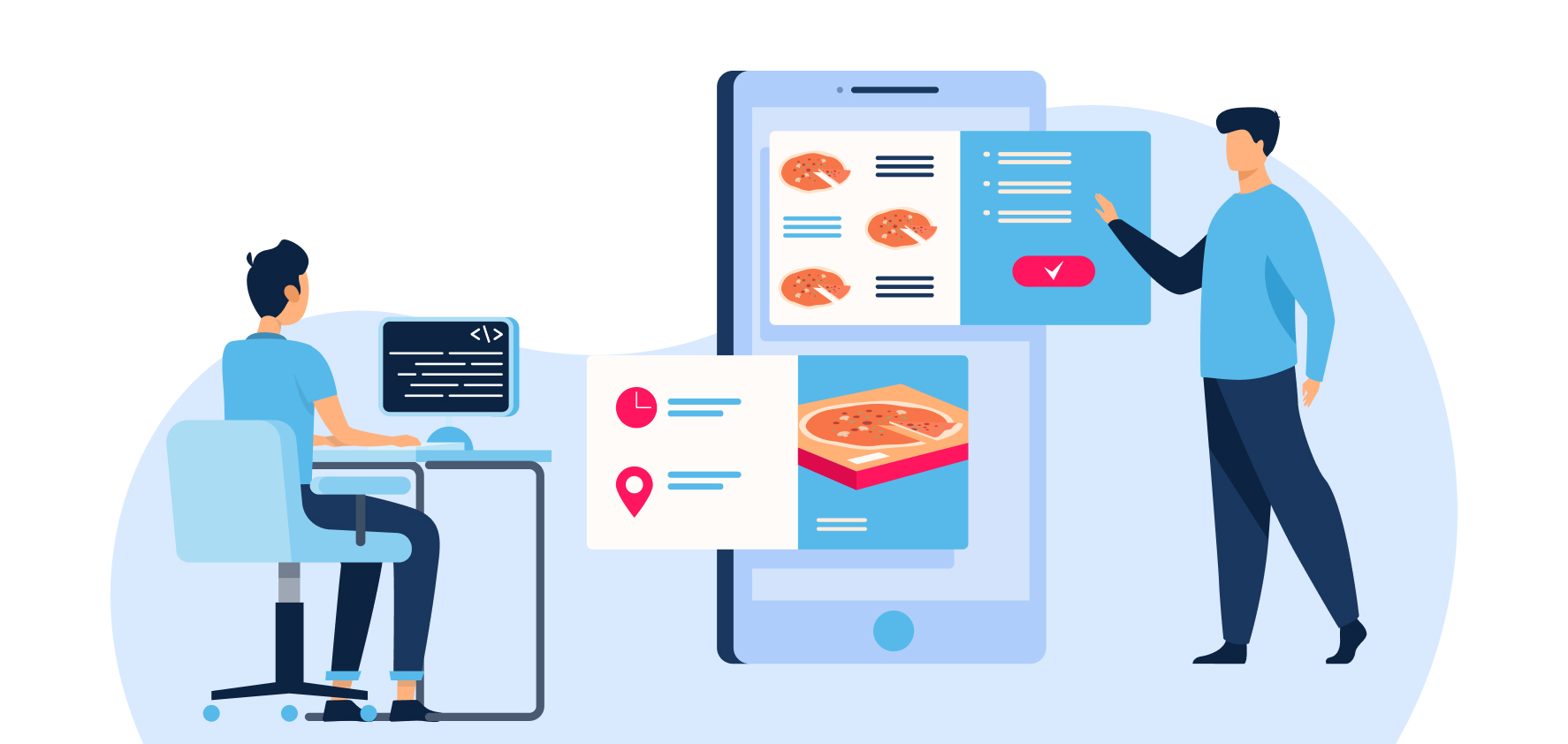 You cannot launch a company without a detailed roadmap. There is no excuse for a sloppy attitude. Here is how to start up a food delivery business that will be profitable for years. These criteria can make or break a budding company. Here is your guide to start a food ordering business.
1

Zooming in on Customers

Researching the target audience is the first stage in starting a meal delivery business. Understand who your potential customers are. What do they expect from a food delivery app, and how can you satisfy their needs?

The geographic factor is crucial. For example, if you are targeting residents of a nearby university campus, you should focus on snacks. Young people will appreciate it if you offer a range of light and heavy options.

Suppose you plan to render services to staff in an office building nearby. This group of consumers would be interested in snacks and healthy lunches. Finally, if you want to focus on residential areas, put an emphasis on specific needs — for example, find out if there are families with kids, so children's options will be relevant.

The next step is creating a catchy name that is memorable and appealing to your audience. Tailor your meal selection to the needs of your target group. Make sure your services bring value they will appreciate at a reasonable price. This will ensure a steady flow of orders.
2

Preparing Tools and Supplies

One of the benefits of this business model is that you may start small with a Lean Approch. There is no need for lavish startup capital. After all, kitchen utensils and appliances can be found in any home. At the very least, you will need the following:
meal containers (cardboard or plastic);
utensils for delivery;
large pots and pans;
large containers for storing dishes.
3

Developing a Marketing Strategy

Without a sound marketing strategy, any company is doomed. You need to understand the most efficient ways to reach your target customers. Incorporate multiple channels of promotion.

Old-school methods are still relevant, but their reach is limited. For example, you may encourage word-of-mouth advertising through friends and neighbors. Flyers work when you mail or place them strategically (for example, in nearby offices or residential areas).

However, no business in 2022 can stay afloat, let alone thrive, without digital channels. The internet is where most consumers learn about fresh products and services. Thus, invest in the following:
digital marketing through social media;
an attractive website, optimized for all screens;
an app for effortless ordering on the go;
effective SEO to get to the top of Google search results.
Willing to develop a food delivery project?
Drop us a line and let's discuss your idea.
Another essential aspect is your logo. You do not have to order an elaborate design costing a fortune — craft it yourself using templates and special software. The logo should be easy on the eye and memorable, and reflect the nature of your business (i.e., food delivery).
4

Planning Meals and Operations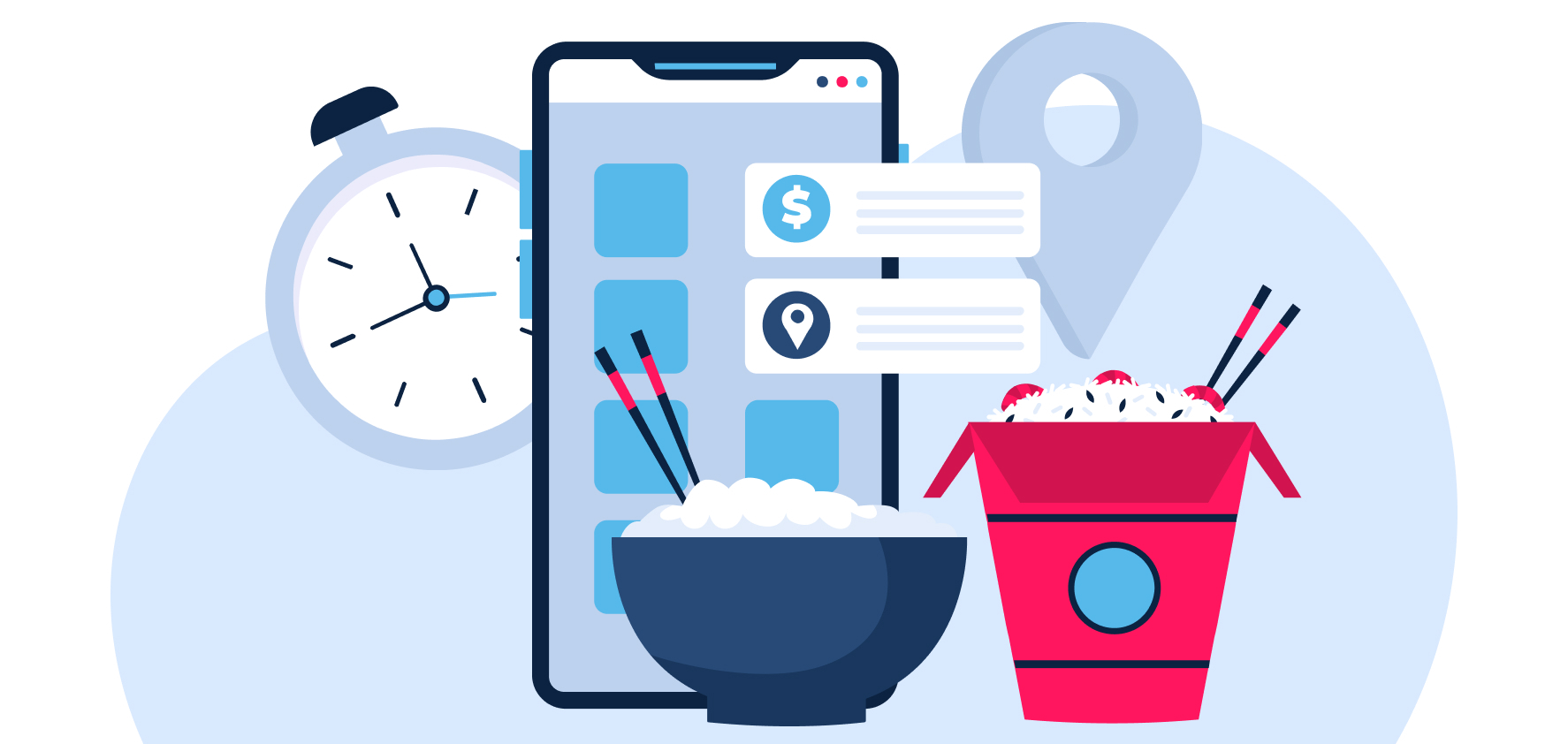 Starting a food ordering business, even a tiny one, requires a plan. It will show you if the company can achieve the expected ROI or simply break even. Armed with a business plan and a meal prep strategy, you may compare the financial outcome daily. You will spot new opportunities for growth and notice when you start going negative. Consider the following:
how much a package of food costs to sell, per meal and per location;
what ingredients you need and how much each item on the list costs;
labor costs (staff and part-time assistants, if needed);
rates of the packaging manufacturer;
overhead like electricity and gas.
5

Permit and License Issues

While you may run a company from home, this does not mean that licensing is irrelevant. Without it, your business is neither legitimate nor trustworthy. Make sure you have all the necessary documentation to avoid legal setbacks. This includes:
business permits;
tax payments;
sanitary permits;
food handling seminars and permits;
6

Logistics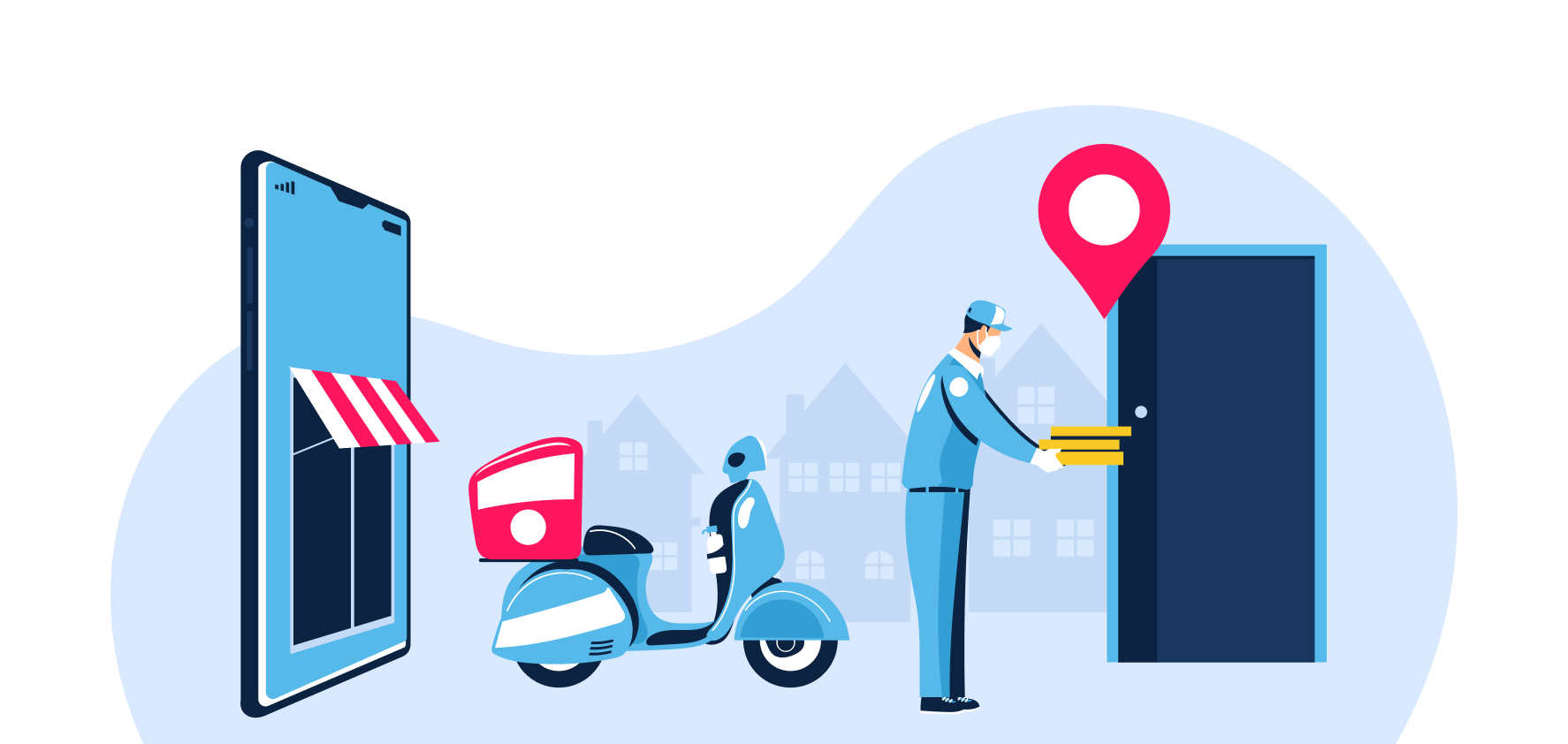 High delivery charges are a strong deterrent for customers. These fees should not push the prices up too much. If customers do not think your delivery fees are worth the money, you are doomed. On the upside, delivering multiple orders at once can decrease logistical costs.
Do you want in-house delivery, or would you rather delegate? If you are wondering how to start a food delivery service business without your own couriers, check out delivery apps like Uber Eats and Grubhub. These are helpful but costly. Commissions from these services may eat into your bottom line. Hiring your own drivers requires high upfront costs, but your ROI will also be better in the long run.
7

Choosing the Right Team

Attract Group is a well-established provider of mobile and web solutions for the food industry. Since 2011, the company has launched successful projects for restaurant and grocery chains, as well as food truck owners. We help clients boost sales by developing an online presence. Contact us today for a free quote!
Final Thoughts about Food Ordering and Delivery Business
Now you know how to do an online food delivery business. This industry has its pros and cons, but the potential for growth is undeniable. The global pandemic has made these services a necessity for millions of consumers. A unique app will allow your delivery business to grow and thrive. With Attract Group, you can take advantage of this lucrative opportunity!
Willing to develop a food delivery project?
Drop us a line and let's discuss your idea.