Thinking of building a video chat app? Video conferencing has experienced tremendous growth in recent years.
It's partly due to the emergence of the digital workforce — where remote teams leverage video for more productive group calls. Ordinary users now look for high-quality video calls and voice chat capabilities in messaging apps.
Startups with unique value propositions and those targeting underserved niches may find video call and voice chat app development quite rewarding.
Zoom capitalized on offering better virtual meetings at a time when most companies were going remote. In 2020 alone, the app received over 485 million downloads, a 30X increase from 2019.t
Now, this article provides a step-by-step process of how to make your own video calling app. We'll discuss the video chat market and types of apps to develop:
Video Chat App Market
The video chat market comprises technologies that allow multiple participants to hold real-time visual communication sessions. This market was worth $6.28 billion as of 2021 (according to Fortune Business Insights) and was projected to grow to $14.5 billion by 2029, nearly tripling in value.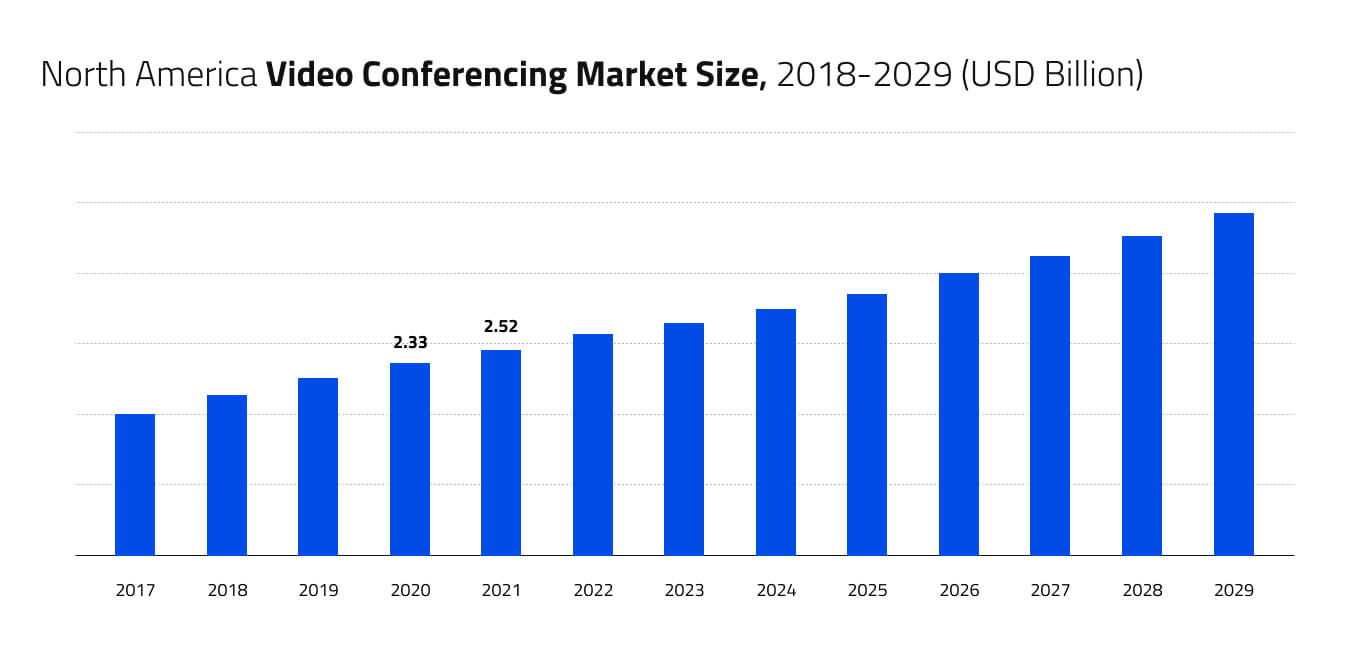 COVID-19 Impact
The covid-19 pandemic had a tremendous impact on the video conferencing market. Lockdown and social distancing rules forced companies, non-profits, schools, and even entire government institutions to go remote. The result was increased demand for video conferencing solutions, driving up the adoption of video chat apps.
Many existing apps experienced tremendous growth. For instance, Zoom recorded 385 million downloads compared to 16 million downloads in 2019. Based on monthly Skype downloads in France from 2019 to 2021, the highest download rate was in April 2020 when there were 409,000 downloads for the app on Google Play Store.
Many key market players used the boom to introduce new video conferencing devices and apps. For instance, Facebook launched Messenger Rooms in April 2020. It allowed users to host video calls and invite up to 50 people without any time limit. Cisco Systems Inc launched Webex Classrooms in September 2020.
The future
Post-pandemic experts still predict continuous growth. Drivers of growth in the video chat market will include:
Adoption of distance learning by schools, universities, and k-12 institutions;
Advancements in the fields of Internet of Things (IoT), Artificial Intelligence (AI), and cloud technologies.
Demand for video conferencing tools by organizations looking to reduce travel costs;
Increased Work-From-Home (WFH) roles in small businesses and big organizations (25% of all professional roles in North America will entail remote work by 2022);
Availability of technologies that will allow developers to add real-time communication capabilities to their apps easily;
Increase the quality of video conferencing thanks to faster network speeds, following the implementation of technology such as 5G.
Ready to Create Your Own Cideo Chat App?
Contact us today and let's discuss your project requirements!
Types of Video Chat Apps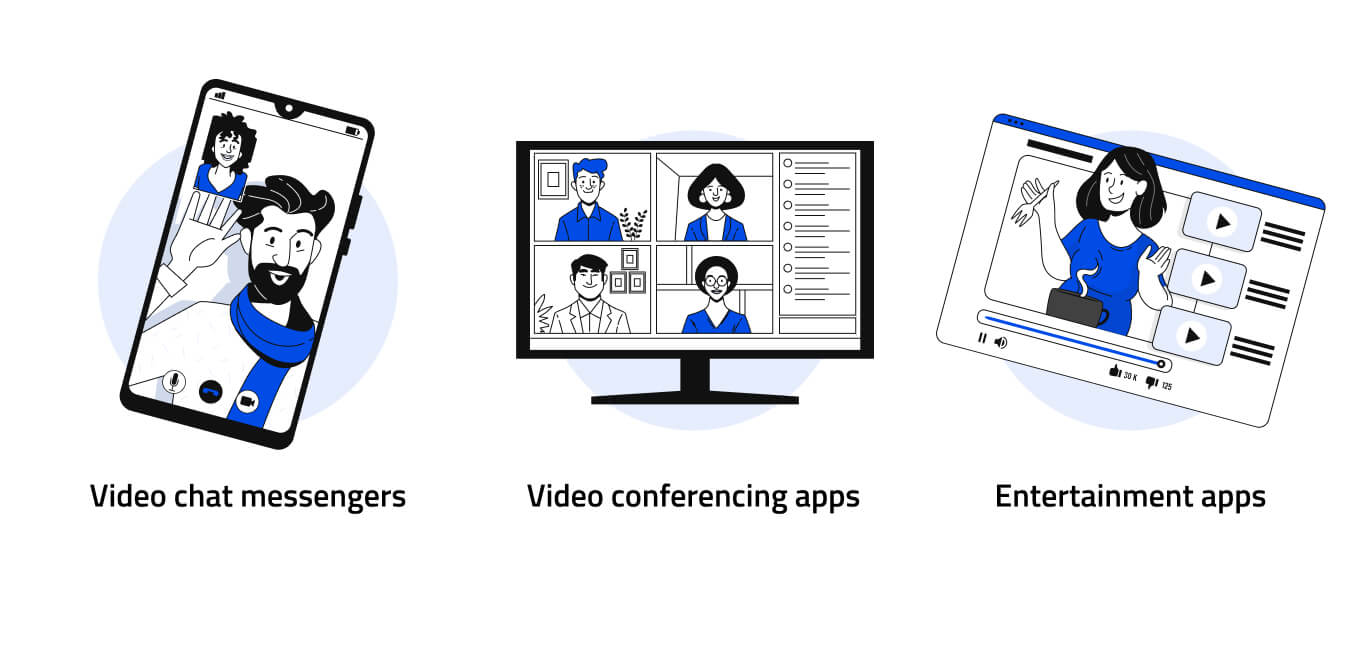 Before figuring out how to create a video conferencing application, it's quite important to find out the types of video chat apps. Here is a breakdown of each category with app examples:
1. Video chat messengers
Apps in this category allow users to make video and audio calls. They work over Wi-Fi or cellular data connections — meaning that calls are mostly free.
Examples include:
Facetime – Developed for Apple devices.
WhatsApp – Owned by Facebook and supports text chat.
Facebook Messenger – Helps Facebook friends stay connected.
Google Duo – Simple video calling app developed by Google.
JusTalk – Offers texting features and tries to make video and voice calls more fun.
How are calls initiated? With apps such as FaceTime or WhatsApp, you may require the person's phone number saved in your contacts list. Or, you can use the person's email address, as it's the case with Google Duo.
Facebook Messenger and JusTalk allow users to have their own unique ID, and users can search for accounts.
Which features are typically found in audio and video call apps?
Common features to think of as you build a video chat app include:
Share screens: The feature allows callers to share their screens to show photos or videos. Google duo and FaceTime support sharing of screens.
Group video calls: The feature allows multiple participants to join the call. Group calls are supported on WhatsApp (32 participants), Facebook Messenger Rooms (50 participants), FaceTime (32 participants), JusTalk (50 participants), etc.
Share a link: Users can create a link to their call and send it to others.
Text messaging: Voice chat apps may support text messaging to individuals or as part of a group chat. Users can also send pictures, videos, emojis, stickers, locations, links, and more.
*Tip: If you're figuring out how to build a voice chat app, you can plan for new and exclusive features that will entice users to download your app.
JusTalk covers the basics by allowing users to make HD quality voice or video calls over cellular and Wi-Fi connections. But it goes the extra mile, offering features to make the conversations more fun. For instance, callers can doodle and even play games together.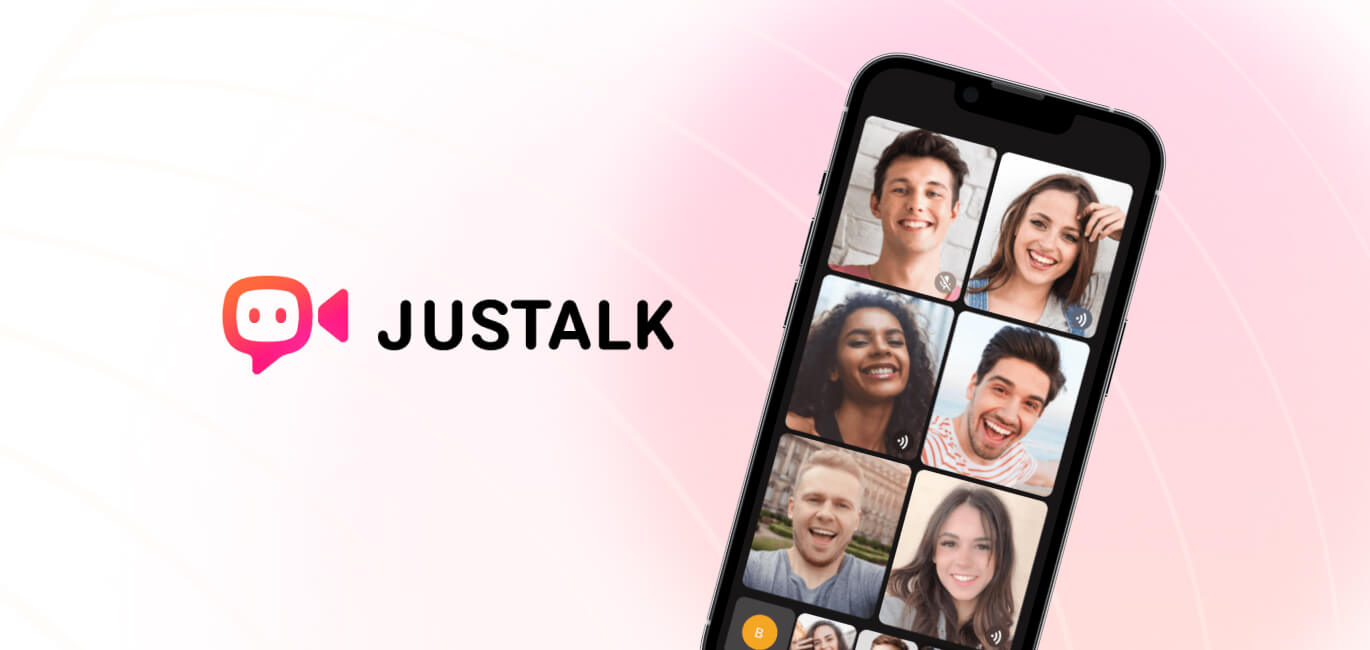 And how do video messaging apps differ from video conferencing tools?
Video chat messengers primarily focus on facilitating communications between friends or family members. They don't typically have a commercial angle, as witnessed with apps such as WhatsApp or FaceTime.
Some messaging apps are linked to the person's mobile device. For instance, users can't access WhatsApp on a desktop unless their phone is online.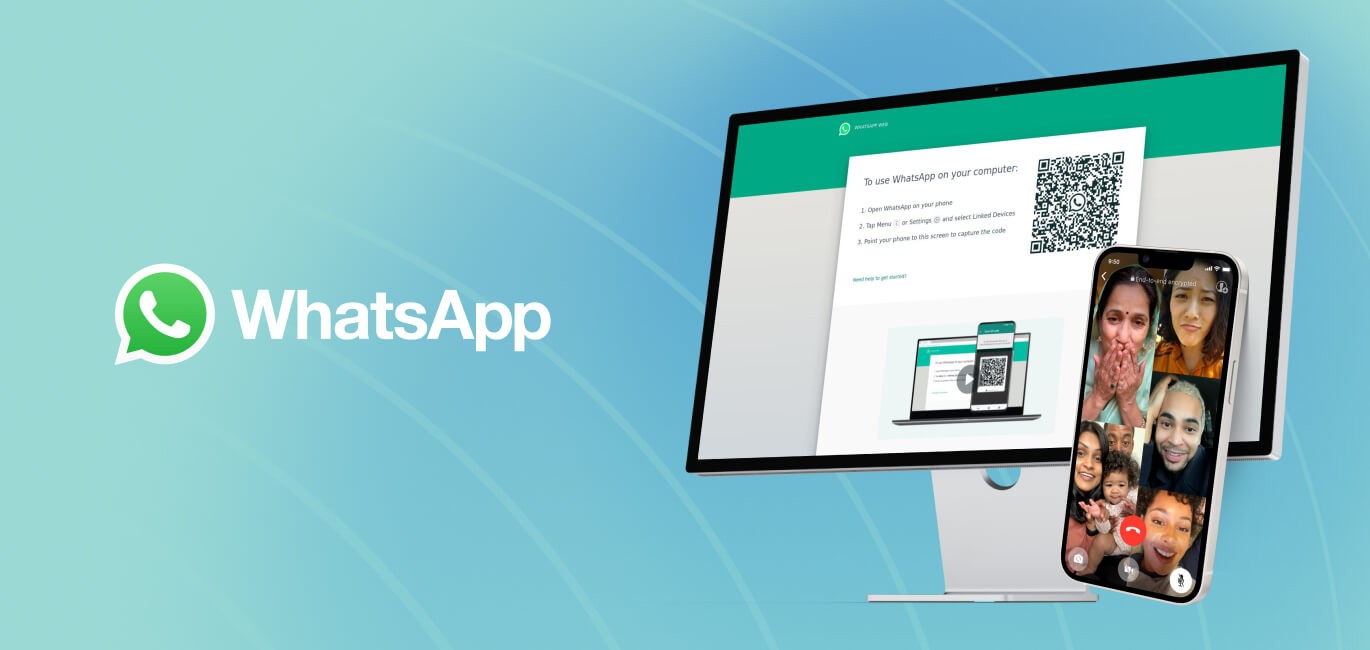 Whatsapp Web requires users to link their mobile devices
2. Video conferencing apps
The purpose of video conferencing apps is to allow users to hold online meetings, seminars, and webinars. Meetings have hosts who invite the participants.
Popular examples include:
Zoom: A popular conferencing app for meetings, webinars, and live events.
Google Meet: Developed by Google to facilitate meetings and will eventually replace Google Duo.
Skype: Video conferencing app by Microsoft with support for VoIP, landline, and mobile phone calls.
Discord: Evolved from a communication tool targeted at the gaming industry to a general-purpose communication tool with robust video conferencing abilities.
So, how are video conferencing apps different from video chat apps? The solutions are mainly built for business use. That's why meetings can accommodate more participants compared to video chat apps.
For instance, Google Meet allows businesses, schools, and other organizations to create meetings with up to 500 participants. The meeting can be live streamed to 100,000 viewers.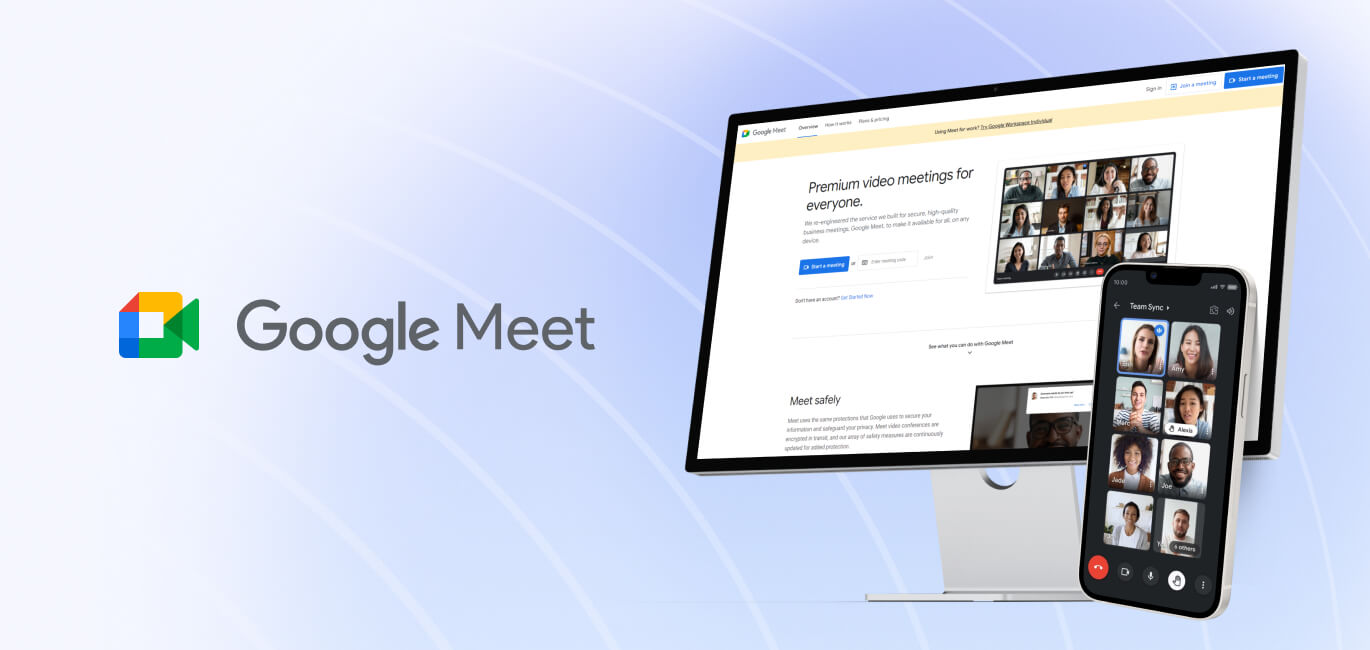 Large meetings on zoom can similarly accommodate up to 500 participants, with two-way video and access to collaboration tools. Zoom webinars can have up to 100 panelists presenting to 10,000 viewers.
What are some top features of video conferencing apps? If you want to learn how to make a video chat app, it's quite useful to learn about the features offered by video conferencing apps. Popular features include:
Breakout rooms: The feature allows hosts to break up the meeting by creating multiple rooms and assigning participants to each room. Zoom and Google Meet support breakout rooms. It's a handy tool when a meeting between many participants splits into different subjects.
Conference room support: Meetings may consist of multiple people in one room (such as 12 participants in a boardroom), all using the same device to communicate. Video conferencing apps try to make conference room meetings more immersive, personal, and engaging. In Zoom Rooms, the AI can highlight participants from a single-camera view and live-stream separate video streams with close-ups for a more engaging experience.
Advanced collaboration features: The advanced collaboration tools include a permanent virtual meeting room, screen sharing with native audio, company branding, annotation, and even live captioning — available on Google Meet.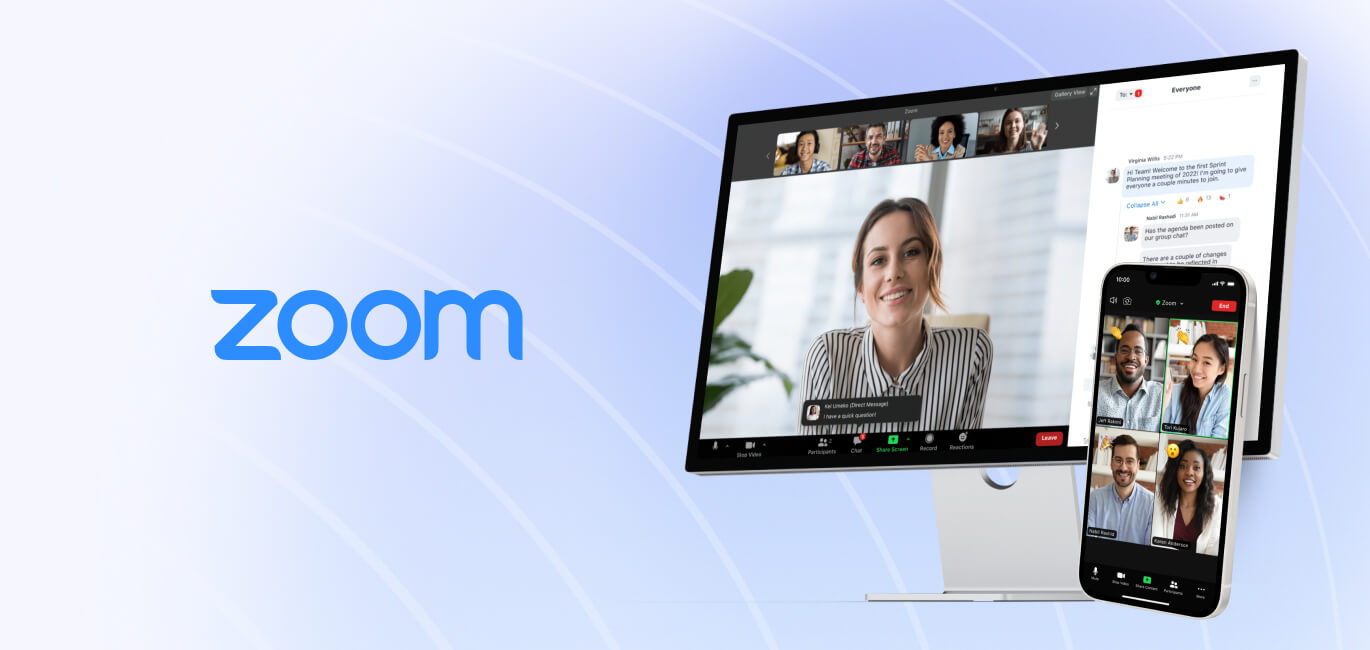 3. Entertainment apps
Video calling app development doesn't always entail developing personal or business video chat solutions. Heavy competition from big companies makes it tough to compete — but certainly not impossible.
Startups can also venture into video chat entertainment apps. The primary focus is building a video chat solution for entertainment purposes. Examples of apps in this category include:
Rave – Users can watch Netflix, YouTube, Disney+, prime video, and more content while chatting in sync. Rave connects friends together with text and voice messaging with video chatting planned for the future.
HOLLA – Strangers from all over the globe have one-on-one live video chats.
Flustr – Users can go live and compete with friends to dance, sing, stake, etc.
Bigo Live – It's a popular live streaming service with more than 100 million downloads. Users can find streams based on the region or category. They can chat or watch. Creators can earn rewards such as diamonds, beans, and coins and exchange them.
Video chat apps compared: Chat, Conferencing & Entertainment
| | Video chat | Video conferencing | Entertainment apps |
| --- | --- | --- | --- |
| Focus group | Friends & family | Co-workers, students, professionals | Friends, family, strangers |
| Revenue model | In-chat advertising, Subscriptions | Premium add-ons | Ads, subscriptions, commissions from creators |
| Video group chats | Up to 50 participants | 2 to 500 participants or more | May support co-hosting *streams can have unlimited viewers |
| Devices | Mostly mobile based | Cross-platform with dedicated devices | Mainly focused on mobile devices |
| Advanced conferencing features (Sharing screens, etc.) | Partial support | Full support | Partial support |
Tech Stack for Video Chat App Development
When figuring out how to create a video chat app, it's essential to know about technologies that can (or should) be used. Here is the typical tech stack to expect when building the video chat app:
1. Video streaming protocols
They are frameworks that are typically responsible for capturing, encoding, and transmitting the stream.
Several protocols are utilized for video streaming communications, including:
HLS (HTTP Live Streaming): The protocol was built by Apple and released in 2009. With adaptive bitrate, playback is automatically optimized for the network speeds.
RTMP (Real-Time messaging protocol): Originally developed for Adobe Flash Player, the transmission protocol is now available for public use. It's mainly preferred for stream ingestion (transmission of the video stream in chunks from the encoder to the host server).
WebRTC: The transmission protocol was released as an open source project by Google in 2011 and has quickly become the go-to standard utilized by video chat apps such as Zoom, Discord, Facebook Messenger, and Microsoft teams. It was originally built to allow browsers to support real-time video and voice communications without additional plugins.
Other web technologies used for streaming video include RTSP, SIP, and WebSocket.
Which is the best protocol to use? Generally, each protocol has its advantages and its limitations. WebRTC is ideal for two-way low-latency video chats on mobile devices and browsers. It also performs well for screen sharing and live video conferencing.
While WebRTC is an ideal protocol for browser and mobile applications, it has a scalability issue. Fortunately, streaming engines offer solutions to overcome the scalability problem.
Is it secure? Despite Zoom being cited for security issues, WebRTC is highly secured.
2. Video Streaming APIs & streaming engines (Flashphoner, Wowza, Twillo, etc.)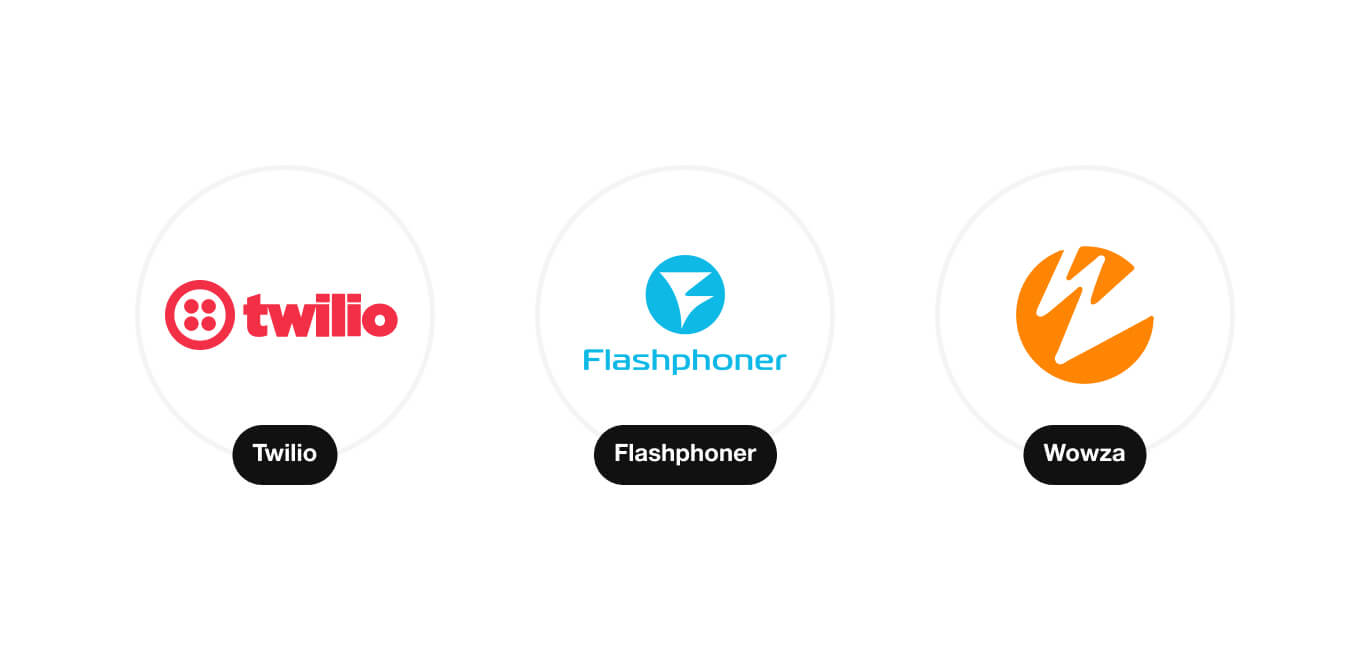 Video streaming APIs reduce the complexity of adding video streaming features to the web or mobile apps by providing a set of programmable APIs. They also provide the requisite infrastructure and bandwidth for encoding, storing, and delivering video. At times, they are marketed as media streaming servers.
Streaming engines may support multiple transmission protocols and offer pre-built workflows to help developers leverage more than one protocol for ingestion or playback.
Some popular video streaming APIs and engines include:
Twilio: It's built on WebRTC and offers a cloud-based, enterprise-grade infrastructure. Developers can use its video APIs to create custom layouts and bespoke products.
Flashphoner: The platform supports all popular streaming protocols from HLS to WebRTC.
Wowza: It integrates all streaming technologies into one core platform, built to scale seamlessly. Wowza supports over 35,000 streaming integrations worldwide, powering big companies such as NASA, Facebook, and SpaceX.
When it comes to the selection of the streaming engine, ensure that the platform is scalable. Check if they support your preferred streaming protocol. Consider the flexibility of the API and available features.
3. Other client-side APIs: video-playback, messaging, etc.
Streaming engines attempt to provide all the video APIs, including client-side SDK players. But it may be necessary to leverage other video APIs to playback the content on the client's device or browser and perform other manipulations as required.
4. CDN
A content-delivery network (CDN) consists of a network of geographically distributed proxy servers. They speed up delivery by connecting users to the closest location. Streaming engines such as Flashphoner include support for CDN for WebRTC streaming without additional integrations.
When a separate integration is required, some of the best CDNs include:
Amazon Cloudfront
Azure CDN
Akamai
5. Technologies for video chat programming
Another important consideration to make as you figure out how to create a video calling app is the technology to use for development. The most utilized technologies include:
Platform
Languages used
Comments
iOS
Apps only work on Android devices
Android
Development of iOS apps that work on iPads and iPhones
Cross-platform
Cross-platform apps for mobile, desktop, web
Web apps

JavaScript
Angular
Vue.js
React JS

Development of browser-based and progressive web apps
*Using Swift or Kotlin to develop native iOS or Android apps may prove to be more expensive and time-consuming. That's because the apps can only run on native platforms.
However, cross-platform development frameworks like Flutter allows the code 75 to 95% of the code to be shared between the two platforms. One team can build one code base and use it to deploy mobile, web, desktop, and embedded apps.
Steps to Make a Video Chat App
Now, here is a brief summary of steps that describe how to create a video chat app:
1. Market and competitors research
Start by validating that you have a good video chat app idea to avoid developing an app that will fail.
The product should be useful, but not too complicated or difficult to sell. People should find your app more meaningful and integral to their lives as they interact with it. That means your app should solve an important problem.
For market research:
Consider the market size and demand.
Try to identify profitable segments where the competition is not too stiff.
Find similar apps from the target category and analyze the app's features.
Check what people like and dislike about a platform from the reviews, and find areas for improvement.
After conducting proper market and competitor research, tweak your idea to make it more competitive and the best out there.
2. Find developers
You may need to find a video chat app development company. Here are some great places to check:
Clutch: A business directory with verified b2b reviews.
The Manifest: Compiles rankings of the best development companies in various categories.
Upwork: Find agencies and freelancers.
Goodfirms: Hosts profiles and reviews for IT companies.
Dribble & Behance: Find the top design professionals.
When making an assessment, look for companies with relevant experience by checking out their portfolio. Read the reviews on Clutch and even ask for client references.
3. Prototypes and design
Begin the development process by writing user stories. And try to write from the user's perspective, describing steps they will take to fulfill their need. For instance, the user clicks the button to start recording the live call.
Begin developing rough sketches on paper, showing different app views. This helps you think.
Move on to low fidelity prototypes using wireframes with limited function and interactivity. Once the idea becomes more concrete, develop a high-fidelity prototype with some level of interactivity.
4. Build an MVP
Develop a minimum viable product (MVP) with core features for the initial release. The functionalities to include in the MVP should be informed by idea validation and thorough market research.
The features to include will differ depending on the type of video chat app you're developing.
Video chat apps similar to WhatsApp may only require:
Text messaging
Voice calls (or video calls with only audio enabled)
Face-to-face video calls with two participants (later, the app can support group calls)
User profiles (with name and contact information)
Push notifications (to alert users of new messages)
Building an MVP reduces the development time and costs. Initial success should justify further investment.
5. Release and improving
The goal of releasing the MVP will be to test the viability of the concept behind it. So, you'll be looking at whether people are downloading and interacting with the app.
Tools that track session recordings — such as Mixpanel or Amplitude Analytics — can help analyze user behavior.
The engagement metrics will be instrumental when making changes and adding new features. It's also paramount to ask for user feedback and even feature suggestions.
How Much Does It Cost to Make a Video Chat App?
You're probably wondering how much does it cost to make a video chat app. The costs will generally differ depending on the following factors:
Target platform and technologies used: It's more costly to develop native apps for iOS and Android separately. Cross-platform development can lead to significant savings.
Complexity of the design and the number of features: Development time may increase if there are many visual elements on the screen or if a custom implementation is required, instead of using prebuilt libraries. MVPs with many features will also cost more.
Team location and hourly rates: Hiring teams from certain regions may be more expensive than outsourcing to cheaper markets in Eastern Europe.
Expertise required: The team composition may also impact the costs. Some of the expertise required include Project Manager, UI/UX Designer, iOS developer, Android (or Flutter developers), Backend, QA, and DevOps.
How is the estimate carried out? The development company may consider all these factors (design complexity, number of features, etc.) when they quote the cost to develop a video chat app.
To arrive at a concise cost, they may calculate the number of hours for each development stage and multiply it by their hourly rate. Some companies may quote a flat rate price depending on the app's complexity and prior experience.
What is the minimum cost of developing a video chat app? Costs for a cross-platform mobile version (built on Flutter) will generally start at $50k if you develop the app with Attract Group. We recommend developing only one version for the MVP.
How long will it take? According to our experience, it may take from 3 to 6 months per MVP version. But the costs may depend on the complexity, functionality, and design.
Conclusion
Don't worry about how to make a video streaming chat app! You've got AttractGroup by your side. We have been behind many successful apps in intricate niches.
Ready to Create Your Own Cideo Chat App?
Contact us today and let's discuss your project requirements!