Yes, and let's find out why:
The country faces unprecedented challenges, but the outsourcing sector is still alive. Business must continue for the livelihoods, families, and businesses at stake.
Operating amidst an active war was a slight but likely scenario. The Russian aggression began as far back as 2014. Ukraine has been fending off a major invasion ever since.
In preparation for any work disruptions, many Ukraine outsourcing companies developed business continuity plans well in advance that are now in action. In the first weeks of the invasion, many relocated developers and their families to the western parts of the country and friendly neighboring countries.
For Ukrainian IT companies that have not left, they have been keen on providing equipment, internet, and other resources required for work continuity.
As the situation evolves, the adaptiveness of Ukrainian workers prevails, albeit challenges such as poor network connection, disrupted work environment, and surviving an active war.
Everyone is putting on a brave face and remains committed to serving the world with unparalleled IT services.
Why it is possible and necessary to work with Ukrainian companies
If you were on the fence about it, outsourcing to Ukraine remains quite advantageous. Let's consider some reasons to outsource software development to Ukraine:
1. Ukraine is one of the largest IT outsourcing markets
Host to over 285,000 IT specialists according to the IT Report 2021, Ukraine is one of the largest IT outsourcing markets in Central and Eastern Europe. In the last three years, the number of specialists has grown by about 50%. The tech industry also attained 6.8 billion in export sales.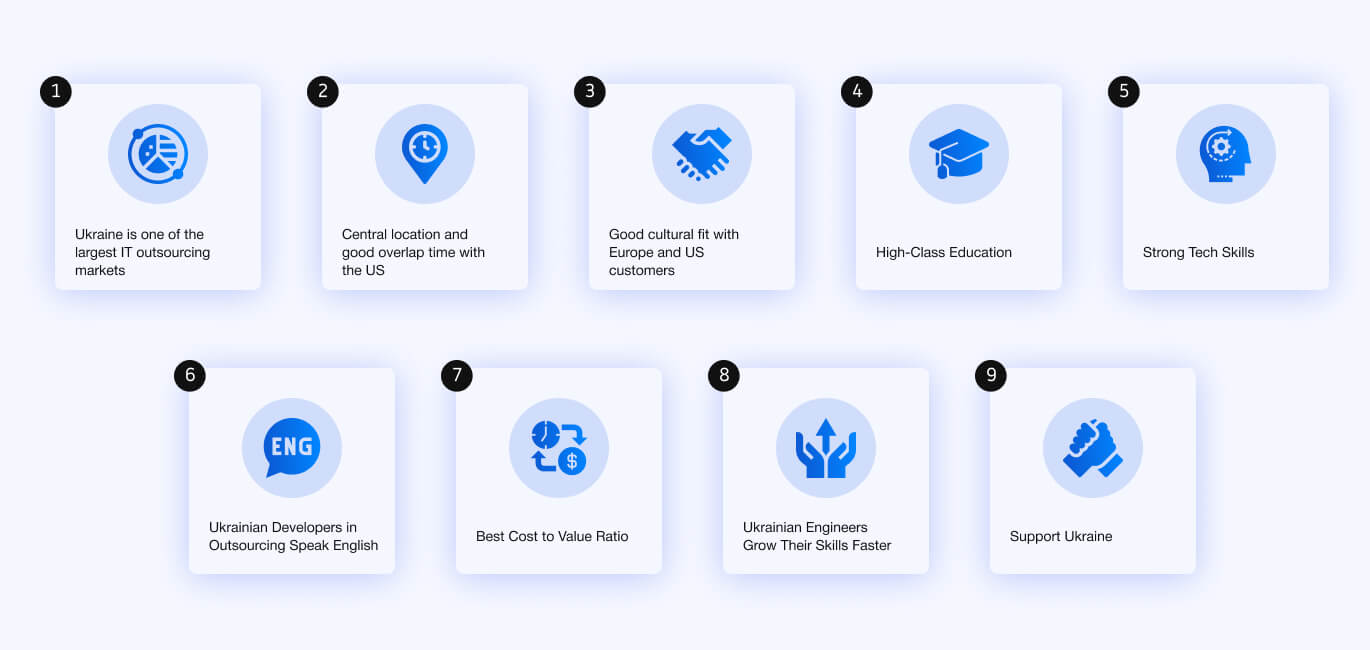 Various sources have lauded the industry. Gartner 2021 placed it in its list of the top 20 offshoring centers in the EMEA. Outsourcing Journal recognized Ukraine as the number one exporter of digital services in the CEE region.
The country hosts about 100 research & development centers belonging to the world's largest companies such as Samsung, Ubisoft, and more. LG, Skype, BBC, Reuters, and Microsoft have benefited from the best Ukrainian tech talent by IT outsourcing to Ukraine.
2. Central location and good overlap time with the US
At the heart of Europe, you find Ukraine. Travel times from major markets are quite manageable for face-to-face meetings. It only takes 3 hours from London to Kyiv, about 2 hours from Berlin, and 2 hours 45 minutes from Amsterdam.
*Flights are currently restricted due to closed airspace over Ukraine
While the United States may be thousands of miles away, some parts of the US have a good overlap time.
Most outsourcing companies also take the initiative to avail themselves of conference calls at the client's convenience — even during off-hours.
3. Good cultural fit with Europe and US customers
Ukraine's culture has similarities with the rest of Europe and the West. In it lies the commitment to quality results, infinite strive for excellence, reliability, and strong work ethics. Working with specialists that share similar experiences and values fosters synergy. It is one of the most prominent reasons to hire Ukrainian software developers.
4. High-Class Education
With a tertiary enrollment of 83% (UNESCO, 2014), Ukraine is one of the most educated societies in the world. The country hosts over 800 institutes of higher education, producing the fourth-largest number of graduates in Europe.
Ukraine graduates over 130,000 Engineering graduates every year, more than Poland, Germany, Turkey, Romania, and France. The country also has the largest share of IT graduates among CEE countries, with over 16,000 graduates every year.
5. Strong Tech Skills
Ukraine has over 28,000 front-end developers. The skillset of IT professionals is varied and quite robust. There is a lot of interest in backend development languages, including Ruby, Java, C#, C++, PHP, and Python. You can easily hire Ukrainian developers for mobile development. Or, tap into an exclusive talent pool of senior developers boasting many years of experience in emerging technologies from Augmented Reality to Artificial Intelligence.
6. Ukrainian Developers in Outsourcing Speak English
Every tech job listing emphasizes "good communication skills." And you'll find that Ukrainian software developers speak good English. Speaking is one part. The development community is honest, telling you as it is and not promising amazing development but delivering subpar results.
7. Ukrainian Developers in Outsourcing Speak English
One of the best reasons to choose Ukraine for outsourcing is the cost-saving benefits. Hiring a Ukrainian developer or company is cheaper than in Western Europe and the States because of the lower costs of living. It costs up to 158% more to live in the United States than in Ukraine (Expatistan). Ukraine is 60.5% cheaper than the United Kingdom.
Independent developers here charge anywhere from $30 to $50 per hour, with higher rates reserved for senior experts. The biggest payoff is that value is similar compared to other developed markets.
8. Ukrainian Engineers Grow Their Skills Faster
Developers are known for their innovative thinking, problem-solving abilities, and eagerness to learn. The spirit of innovation gives rise to thousands of startups every year with runaway successes such as Grammarly, Reface, Preply, Ajax, and Delfast.
9. Support Ukraine
The world has rallied behind Ukraine. All kind souls are doing their part to pitch in, from governments donating weapons to people booking AirBNBs for refugees. The little you can do for now, which will go a long way, is to support the Ukrainian outsourcing industry with work. It's a win-win. You'll get quality work at great rates.
How to Select Safe Companies From Ukraine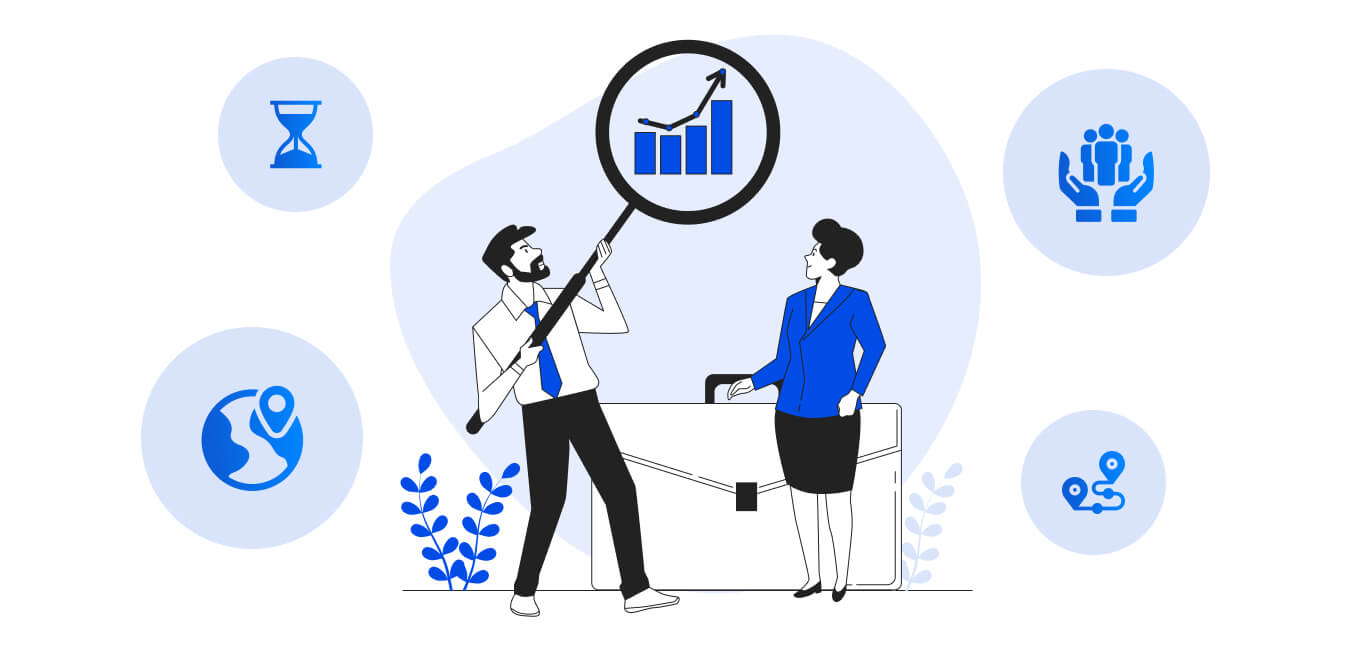 The approach to selecting an IT outsourcing company in Ukraine has changed due to the unprecedented invasion. There are new factors to consider when outsourcing software development to Ukraine to find the best company:
Relocation
For customers' interests, it's essential to have staff relocated to safer parts of the country or abroad. IT companies couldn't relocate everyone as Ukrainian males aged 18-60 are barred from leaving. But make sure to inquire about the relocation of the staff when outsourcing to Ukraine.
Employee support
Making it to the office is currently difficult due to the ongoing situation. You can ask about the employee support provided to make remote work possible when IT Outsourcing to Ukraine in 2022. Above all, the safety and wellbeing of their workers should come first.
Long time on the market
Working with experienced Ukrainian software companies works in your favor. Such companies have displayed a higher level of maturity, more preparedness, and increased motivation to continue serving their clients.
Presence of a company and accounts in America & Europe
With many clients in Europe and America, many Ukraine outsourcing companies established offices and accounts abroad. They are now quite useful for work continuity. You can consider a company with an international presence when you outsource to Ukraine.
Why outsource to Ukraine with Attract Group
Bombed but not defeated – The Blitz Spirit.
Attract Group's commitment to serving our clients remains unchanged and strengthened. We're still your favorite choice for software development outsourcing to Ukraine. You can build your software development team with us, request MVP development, make apps for mobile or the web, among other possibilities.
We fulfill the new criteria to adopt when evaluating Ukrainian software development services. The Attract Group maintains Las Vegas and Amsterdam locations with accounts open in countries striving for neutrality. We even host data securely in Germany. During the first week, we took the initiative to relocate staff to Western parts of Ukraine. Their safety continues to be our highest priority.