In recent years, the healthcare industry has seen some impressive breakthroughs. Medical IT solutions are being adopted rapidly. Clinics, hospitals, and patients all benefit from these cutting-edge technologies. Their importance has been emphasized by the pandemic, which set the stage for continued advancement in health care.
In 2020, medical systems grappled with unprecedented disruptions. At the same time, COVID-19 spurred innovation, forcing the industry to come up with quick solutions. Today, AI and other technologies are crucial, as the world is still struggling to beat the virus. Continuous innovation is also essential for future growth.
Medical technology industry trends help us understand where development is headed. While hospitals have proven systems that they rely on, they need to also embrace new methods to boost performance and efficiency. Improvements are being implemented across the board: from diagnostics to treatment. Discover the most salient healthcare technology trends in 2022.
Medical Technology in Our World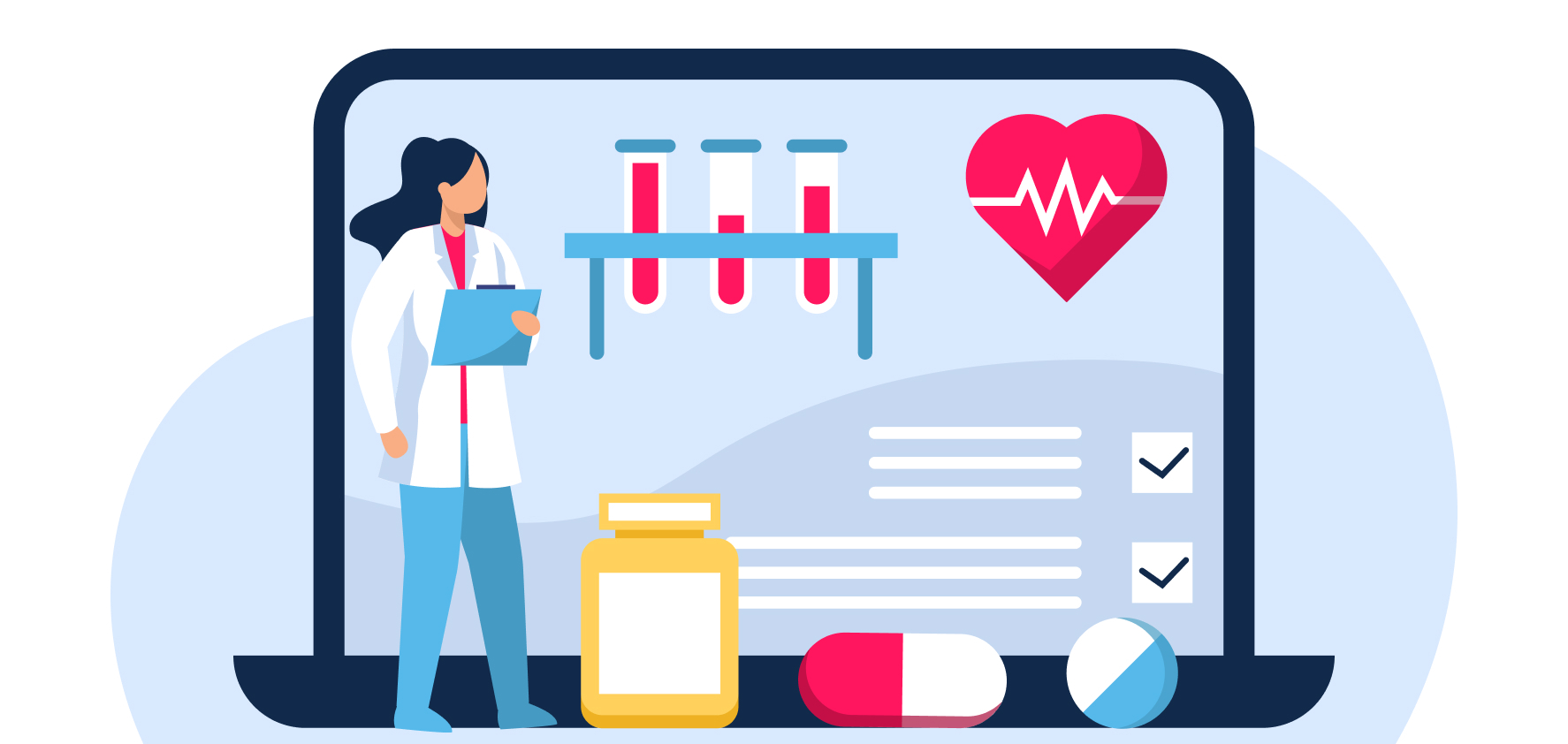 Medical technologies are present in our lives from birth. These include all the healthcare products, services, and solutions we use, from bandages to diagnostics to surgery. Modern medical professionals use smart mobile apps and gadgets to monitor and restore their patients' health. All of these things fall into the same category.
MRI scans, X-rays, and blood pressure monitors help identify causes of poor health. Stents clear clogged blood vessels. Digital tools assess health indicators and send the collected data to doctors. Medical technology is a category comprising countless objects, tools, and processes. At the same time, we are witnessing a host of trends in health information technology.
Willing to develop a healthcare project?
Drop us a line and let's discuss your idea.
These advances matter for all types of businesses, but in medicine, their effects are particularly pronounced. The industry highlights the breakneck speed of innovation. From AI to 5G, multiple MedTech trends are improving the efficiency of care globally. More smart devices are being released, making the services more convenient and accessible than ever.
This dimension of medical technology is more narrow: It includes mobile and web-based solutions for patients and staff. Today, machine learning aids diagnostics, while wearable gadgets collect and transmit patient data in seconds. Fascinating novelties in the field are emerging all the time. Discover the most exciting healthcare technology trends today.
1

AI and Machine Learning

In health care, artificial intelligence has been used for years, but it is now becoming pivotal. AI enhances diagnostics and other processes. Security-wise, the benefits are also substantial.

Sadly, healthcare systems are still vulnerable to cyber attacks. AI identifies malware and suspicious behaviors based on historical data. This is one of the top healthcare technology trends for 2022, and software applications of AI are the most salient:

Meanwhile, medical chatbots help patients cope with minor ailments. Smart shirts and other wearables register health data and even make predictions using the same technology. A wide range of biomedical tools is now enriched with AI and machine learning. Finally, oncologists are expecting new algorithms to help them read biopsies more effectively.

Since 2020, these technologies have been crucial for predictive modeling of the spread of COVID-19. Reputable organizations like Johns Hopkins, the Mayo Clinic, and the University of California have been working on tools designed for virus tracking and risk assessment.
Willing to develop a healthcare project?
Drop us a line and let's discuss your idea.
Another notable subset of AI is natural language processing (NLP). Thanks to NLP, computer systems recognize human speech and text. In health care, this technology helps employees sift through colossal amounts of patient data. Like machine learning, it will become more deeply integrated into clinical care in the future.
The key obstacle to comprehensive care is segmentation. In the future, AI developers should form alliances with healthcare organizations. Their tools will become more versatile — able to interpret multiple sources and variables at once.
2

5G Capability

The adoption of 5G is one of the biggest healthcare tech trends of 2022. This technology has multiple uses. First, it will allow lightning-speed transmission of large images. Secondly, 5G will support telehealth and telemedicine systems, ensuring smooth communication in real time. From remote monitoring devices to VR, the range of possible applications is broad.

Eventually, 5G will decrease reaction time and boost efficiency overall. Medical devices and tablets used by clinicians will download and transfer data faster. This trend is expected to complement the new generation of Wi-Fi called Wi-Fi 6.

In 2022, the use of 5G is still limited. Its capacity is hampered by the shorter range, as implementation requires more antennas. Rumors of the potential impact on health have given rise to conspiracy theories, and consumers are confused. Thus, despite the potential, there are quite a few hurdles to overcome.
3

Robotics

Automation is one of the most captivating current health technology trends. Increased adoption of robots has been spurred by the pandemic. For example, they allow professionals to limit human-to-human contact in the operating room. Paired with AI, robotic technologies help doctors perform surgeries with a lower risk of pathogen spread. As a result, hospitals and patients do not have to cancel crucial procedures.
Willing to develop a healthcare project?
Drop us a line and let's discuss your idea.
Robots have learned to manage intravascular lines, perform intubation, and control the patient's airway. However, applications are not limited to surgical environments. These latest trends in medical technology also facilitate tasks like:
digital admission,
triaging during peak periods,
reading and tracking vital signs,
sterilization with contamination feedback in real time,
delivery of medication and food,
identification of high-risk nodes,
drawing blood.
Eventually, we should see an ideal robot-assisted scenario. Contactless remote technologies should allow for surgery with the presence of the patient only. The risk of contamination will be eliminated. Additionally, remote technologies will help healthcare professionals serve remote areas more efficiently. Used in combination with AI and virtual and augmented reality, robotics will make procedures safer.
4

IoMT (Internet of Medical Things)

IoMT consists of devices and apps for disease tracking and prevention. It is a fusion of the Internet of Things (IoT), telemedicine, and telehealth. Today, wearables like EKG monitors are a fixture of the clinical environment. Their development is one of the current trends in medical technology. Smart gadgets measure a variety of indicators, from glucose levels to skin temperature. Meanwhile, the approval of the smart pill in 2017 revolutionized delivery methods.

iOT is expected to be worth $6.2 trillion globally by 2025, according to McKinsey. Healthcare devices will account for the largest share of the market ($2.5 trillion). The industry is heavily reliant on these solutions, and forecasts are very promising.

By 2025, over 75 billion medical devices are expected to be used — more than twice as many as in 2020. The market is predicted to reach $534 billion the same year, with a compound growth rate of 19.9% annually. However, despite the spectacular growth, there is still room for improvement.
When machines talk to machines, connection issues are not uncommon. Healthcare servers store immense volumes of data, which makes the consequences far-reaching. Proprietary protocols of device manufacturers are often to blame.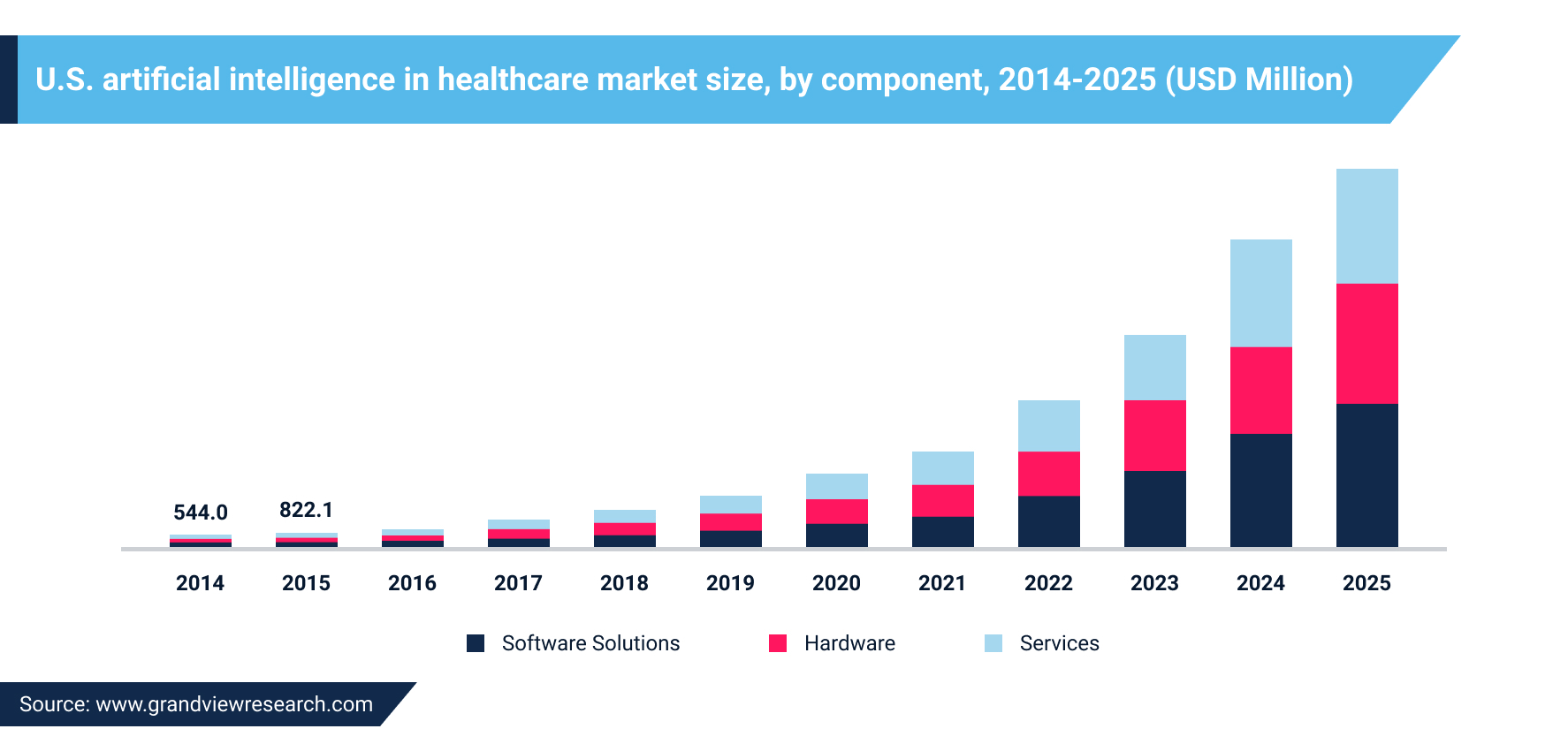 Thus, consistency of communication is one of the biggest challenges. Data from smartphones and microcontrollers must be shared seamlessly. Security is another concern. In its Sixth Annual Benchmark Study on Privacy and Security of Healthcare Data, the Ponemon Institute concludes that data breaches have been associated with 89% of healthcare operations.
5

Big Data Management

Healthcare systems worldwide are undergoing large-scale transformation. COVID-19 has highlighted the need for efficient centralized data management. Collection and reporting have been accelerated. Today, even small clinics are considering cloud-based technologies that provide secure storage of information. These new technologies are absolutely crucial for academic medical centers. For them, security of research is paramount.
Willing to develop a healthcare project?
Drop us a line and let's discuss your idea.
Dedicated solutions have been developed by Google and Microsoft. Cloud-based platforms are built using AI and machine learning. Now, EHR data is being incorporated with genomics and other kinds of information like radiology images and wait forms. All of these components are improving the quality of research and patient care.
6

New Methods of Predictive Analytics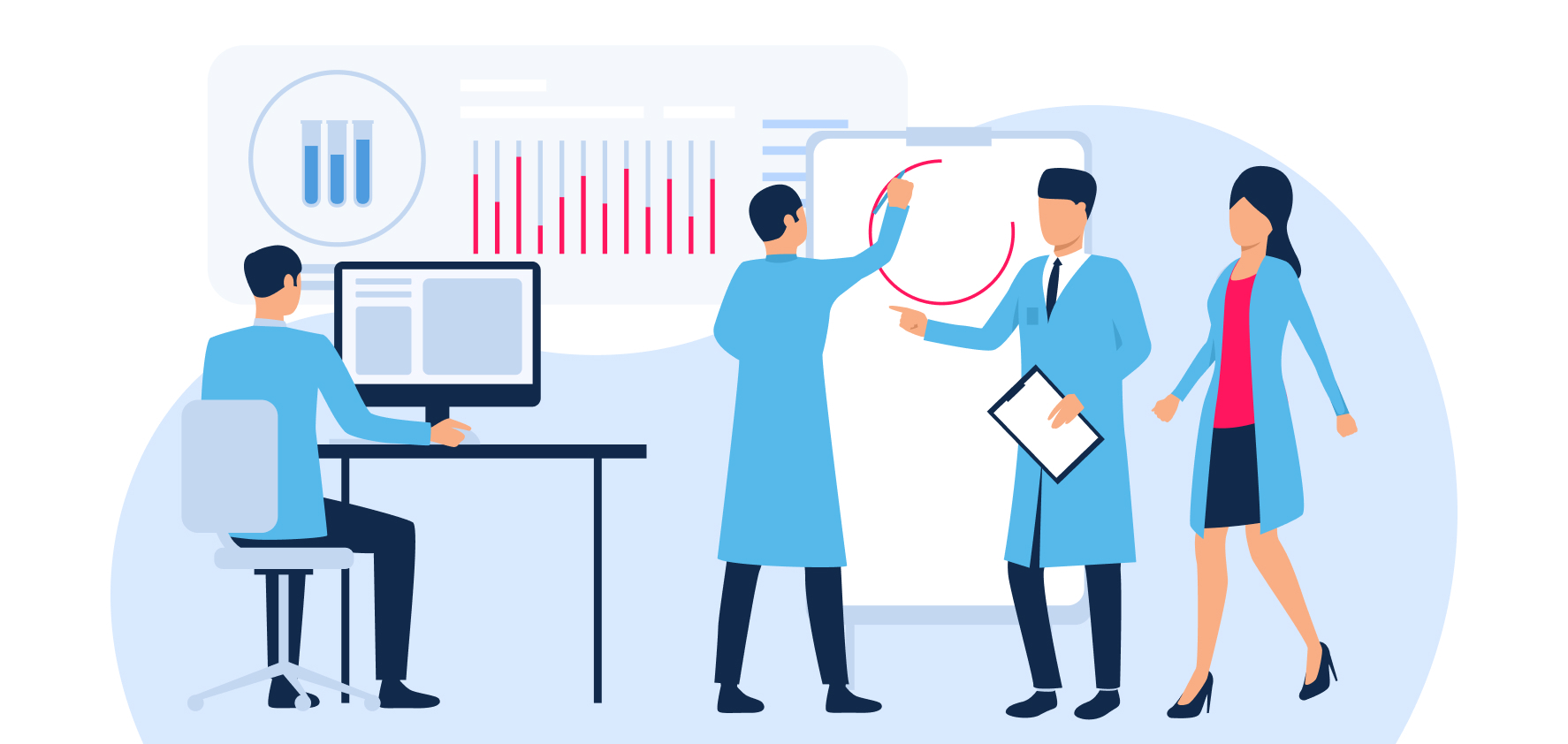 Contemporary health care is moving closer to precision medicine. This makes enhancement of predictive analysis one of the current medical technology trends. Thanks to such innovations, professionals assess and predict infection rates more accurately. For instance, models created by Mount Sinai Health System in New York are being used to evaluate high risk and mortality among COVID-19 patients.
At the moment, analytical insights are being used quite narrowly. Their implementation has been largely reactive. It is clear that predictive analytics will keep evolving. Eventually, professionals will be able to manage care more proactively and keep more people out of the hospital. Improvement of analytical capabilities is among the expected future health technology trends.
Final Thoughts on MedTech Trends 2022
These are some of the key changes shaping the future of medicine. Technology trends in healthcare 2022 reflect the accelerated pace of development. From AI to cloud-based storage to robotic surgery, there is a wealth of spectacular innovations.
These novelties have improved the quality of medical care. Diagnostics and research are now more accurate. These changes allow hospitals and clinics to enhance services, reach more patients, and boost revenues.
Attract Group keeps track of the latest trends in healthcare technology. Since 2011, the company has been developing mobile and web-based solutions for many industries. Our telemedicine apps and CRMs connect patients and doctors, making health care more efficient, affordable, and flexible. Visit our portfolio to learn more!
Willing to develop a healthcare project?
Drop us a line and let's discuss your idea.